Starting a new job where you'll be working outdoors or moving to a much rainier city and you're wondering if all work boots are really waterproof?!
Well, the truth is that not all work boots are waterproof (even though you'll read waterproof on their labels).
This article will give you all the information you'll need about how to tell if a pair of work boots are waterproof without trying them on and it will tell you the difference between waterproof and water-resistant!
Plus it will give you some advice as to whether waterproof work boots are the right purchase for you depending on what you're occupation might be.
If you want to learn more you can check out this article here: How do waterproof work boots work?
How do I know if my boots are waterproof?
Here are three tips to ensure your boots are waterproof even if you're ordering them online and so don't have the chance to try them before you buy
Look for waterproof materials in the product description- like the vinyl of rubber
Look for seamless boots- like Wellingtons, or look for waterproof seam materials.  
Check out customer reviews! If a boot claims to be waterproof and is not, there are bound to be a lot of angry customers with soggy socks in the reviews. 
If you buy in person, then another test you can implement is to feel the work boots inner' lining with your own fingers. 
The inner lining should feel thick and it should protect your feet. 
And if you have a chance to try before you buy, make sure they fit properly! An ill-fitting pair of work boots can allow water in through being too loose.  Here's our page on how work boots should fit if you need more info on that!
There are loads of fun water-based tests you can try but alas, most work boot shops probably won't let you do that in their shop. 
But maybe see if such videos exist on YouTube for your preferred brand! 
Waterproof or water resistant work boots: what's the difference?
Waterproof work boots could be completely submerged in water, a wet puddle for example, and the water wouldn't soak the materials. 
So your feet will stay dry in waterproof work boots. 

Water-resistant on the other hand only guarantees a certain amount of protection from water. 
If you dipped a 'water resistant' boot into the same puddle at the same depth, it would stay dry for a while. 
But quickly, water would soak into the fibers and soak your socks. 
Water resistant is still better than no protection at all, but it is not as good as waterproof. 
Drying your work boots in the dryer might not be the best thing to do. It's a good thing to keep in mind especially if your boots are getting wet every day and you only have a pair of work boots. Personally, I always have two pairs of work boots so I can change between the two when one of them gets wet.
Do you need waterproof work boots?
In short, it depends on the work you do and whether your worksite is more indoors or outdoorsy.  Do you work in rain or snow in the wintertime where usually your work boots will get wet faster? Or do you work indoors or in a nice area where is summer and the sun is out most of the time?
Bear in mind that waterproof work boots generally don't let water in, but neither do they let water out. So after a few hours of working, your sweaty feet may struggle in a pair of waterproof boots.  That could increase the risk of you getting an athlete's foot infection if you're not taking the right precautions!
It's also worth noting that waterproof work boots are generally made from more inflexible materials. 
This can make them more uncomfortable to wear than other types of work boots made from less rigid materials. 
So if you're indoors, and you know your feet get sweaty while working, and you value flexibility and comfort, waterproof work boots may not be for you! 
But if you work outdoors, or if you walk to work and you live in a very rainy city, then they may be worth purchasing. 
Are steel toe boots waterproof?
It generally depends on the specific brand of work boots you are buying. 
Some such as the Keen Utility are waterproof, and some, such as the Rock Rooster are unfortunately only water-resistant. 
Whether a pair of work boots contain steel toe caps or not will generally not inform you as to whether they are waterproof or not. 
Are leather work boots waterproof?
Generally no, leather boots are not waterproof, but they can be waterproofed. 
You do need to 'break in' leather work boots before waterproofing them, they need to be clean and they need to be dry. 
There are a number of excellent substances that will waterproof your leather work boots, however, the product that comes most highly recommended is the Nikwax Waterproofing Wax Cream. 
So don't let concerns about waterproofing deter you from buying a high-quality pair of leather boots, as just a bit of extra money and effort can go towards making them waterproof. 
Quick Q&A about waterproof work boots
Here's a quickfire round of questions that we didn't feel needs too much research but that you might have in mind.
1. Are timberland boots waterproof?
Timberland claim all of their work boots are waterproof. 
The uppers are water-resistant (which is not the same thing) however the lower bits and the outsole are made from a waterproof rubber. 
And the tongue is joined to the boot, to prevent leakage from below.  
2. Are Ariat work boots waterproof?
Many of them are, you have 39 to choose from, however, with 185 products in 'Men's Work footwear', some are, by their own admission, not waterproof.  
3. Are Justin work boots waterproof?
Justin's work boot selection page lists 179 total products, 91 of which are waterproof. 
If you're a fan of Justin and Ariat work boots you can check out this Ariat vs Justin comparison article in which we took a deep dive into the differences between these two well-known brands.
4. Are Caterpillar work boots waterproof
Again, some in their range are waterproof, but many are not.  
5. Are Dickies work boots waterproof?
A couple of their products, like the Cameron Safety Boot and the Trenton Pro, are explicitly listed as waterproof, but many are not listed as waterproof. 
6. Are Wolverine work boots waterproof?
Wolverine has over 150 waterproof work boots to choose from, so you will be spoiled for choice when you shop with this brand. 
However, there are also 244 work boot products on Wolverine's website in total, so by implication over 90 of their products are not waterproof.  Make sure to check out this page [Are Wolverine work boots are worth the money?] if you're still on the fence about this brand!
7. Is GoreTex 100% waterproof?
Goretex offers a 100% guarantee on their products for waterproofness. 
However, rather than just taking their word for it, I found an excellent product test on one of their work boots from a small Youtuber. 
And boom- the video shows, it's as good as they claim. Completely dry after a near-complete immersion. 
8. Does wd40 waterproof boots?
Yes,  you can use wd40 to waterproof your work boots and other shoes. 
Simply clean your work boots and ensure they are warm and dry. 
Spray over the pair of boots using the precision applicator, ensuring complete and accurate coverage. 
And leave alone until dry. 
The bottom line is
If you really need waterproof work boots go with a pair of GoreTex work boots or have a look at these pull-on work boots that are considered the best slip-on work boots and many of them are waterproof.
Keep in mind that just because it says "these boots are waterproof" on their label it means they are waterproof. Remember to look at what type of material the boots are made of (like we said above) to give you a real understanding if they are or not waterproof!
Ah, and the last tip is that if you're looking for waterproof boots it means the area you're working will be mostly wet. You'll have to check if the work boot is nonslip.

Just an extra layer of protection!
---
Team Members Working On This Page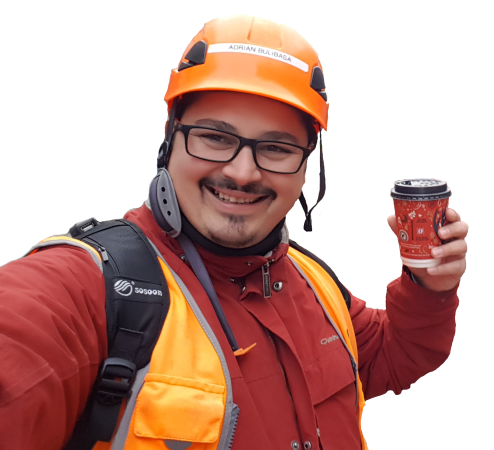 Construction Professional, driver, crane operator, cleaner, head chef … these are just some of the jobs I did in the past. Working in all these different environments taught me that having good footwear to protect your feet from different dangers at work IS PARAMOUNT for any worker! On this website, I aim to share all my knowledge and personal experience in dealing with different footwear and foot care issues, and hopefully, you can get something out of it. Enjoy!
I'm an MA student currently working on a research project for King's College London Museum of Life Sciences alongside my MA dissertation. I have been published in my student newspaper, The Spectator, and the Adam Smith Institute. I'm doing part of the research and writing of the content you'll read on BestForMyFeet.com Enjoy!