Be honest! How many times have you been tempted to invest in a pair of Danner work boots? Anyone who owns a model of the Danner work boots is almost always raving about them, but given the hefty price tag, it's a big decision!
And we're here to help you by providing some in-depth info on the Danner brand and their work boots!
But first …
The Brand: never heard of Danner before?
If you've ever looked up on the internet about a good pair of boots, chances are the name 'Danner' might ring a bell for you.
If it doesn't, then here's a little insight into the Danner Boots: almost a century back in 1932, Charles Danner had his eyes set on one goal, to make the best logging boots known to man!
And he finally breathed life into his dream with The Danner Company as he designed boots for people who had an urge to explore the world despite its rough landscape.
Since then every boot manufactured by the company since then has the same passion breathed into it!
Where are Danner work boots manufactured?
With its roots set in the United States of America, the company has its manufacturing units divided between the USA and overseas to meet the increasing demand.
While they manufacture most of their more popular designs at the Portland factory, their website has the exact details of where a specific boot is manufactured, which you can go through before making a purchase.
The quality of the Danner work boots
Your feet work the hardest on the job, especially when it involves rough and harsh environments where you want to support and durability in one boot.
Danner has one for everyone out there. If you're someone who spends most of their time working indoors and is looking for something lightweight, comfortable, and yet sturdy, you've got plenty of options to choose from.
The same applies to someone whose work involves hiking onto rugged landscapes and mountains; the possibilities are endless!
The Danner Boot is made for men and women ranging from different areas of expertise:
hunters and their hunt for the perfect boot

military-grade

trainers for the ones training to meet their full potential
the tactical ones for people who are almost always on their feet
… and many more!
Are they comfortable?
Despite the rugged materials used in the construction of these heavy-duty boots, they're still very comfortable work boot to wear and move around in.
But with specific designs catered for more challenging circumstances, durability comes first and then comfort.
So it all depends on the kind of job you have, the places you're aiming to wear it, and the style you choose.
Rest assured, the boots are way more comfortable than any other heavy-duty boots out there in the market.
Are Danner work boots durable? How long do they last?
When it comes to Danner boots, they have quite a reputation for durability. With a single pair lasting year after another for decades some users have claimed, durability is great. After all, a good pair of boots can take you places, quite literally!
How long a pair of boots will last mostly depends on how you take care of the boots.
If you've outgrown a pair and continue wearing it, there's nothing that can save your precious pair of boots from losing their shape and integrity, and don't even get me started on the discomfort it may be causing you.
So the first step to making your boots last longer is by finding your perfect fit.
Once you've found your ideal fit, know that conditioning your boots on the regular will prolong your boots' life, but then again, not all conditioners are made the same!
Considering that the shoes are of leather, anything silicone-based will ruin it. If you've wet them, letting them air-dry in a shaded area away from direct sunlight will be more than enough to ensure your boot spends the years to come safely with you!
What type of work boots Danner produces?
You name it, and they'll have it! But to make a choice less daunting for you, I've broken down every type that they have to offer, so hang tight!
Bull Run: Ideal for people living in hot temperatures since the boots are unlined.
Quarry: Ideal for comfort and built to last.
Vicious: Ideal for everyday wear
Steelyard: Ideal for almost everyone in terms of comfort, durability, and grip
Rainforest: Ideal in terms of comfort, protection, and durability for those involved in heavy, outdoor work.
Crafter: Ideal for those who want a tough exterior, soft cushion-ey interior, and the ability to withstand anything it stepped into.
Crucial: Ideal for those who work at muddy and rainy sites and look for comfort, stability, and responsiveness underfoot.
Workman: Ideal for those who want a resilient yet lightweight boot.
Danner Logger: Ideal for those who want the arch support of a classic logger heel without the added weight.
Springfield: Ideal for those who want the support of a trail boot and the durability of a work boot.
Trakwelt: Ideal for those who are in rough and tough landscapes.
Stronghold: Ideal for everything nature would throw at you.

Power Foreman

: Ideal to withstand cold and harsh landscapes.
Field Ranger: Ideal for anyone who spends most of their day on foot.
Run Time: Ideal for those who want the benefits of a sneaker, with the added durability of a boot.
Ironsoft: Ideal for those who spend long hours on hardened surfaces.
Tactical: Ideal for maximum mobility and safety against the slippery landscape.
Blackbelt: Ideal for indoor work and everyday wear.
What industries are Danner work boots good for?
From everyday wear to facing the toughest and harshest that nature can offer, there's a shoe that fits every industry, just like I explained in detail above.
Price: Are Danner work boots expensive?
Expensive is a subjective term!
For the most part, Danner boots might seem like a costly option when you take a first glance at them but considering the years that they'll spend on your feet, they're cheaper if you compare them to the cost of replacing regular boots every two years.
What do the reviews say about this work boot brand?
No matter how much a brand boasts about its features, it's the customers who put the boots through the test, with rave reviews on almost every style of boot that they offer; customers have even reported seeing their dads use the same pair; for over a decade!
It doesn't matter how good you are at making a product, you'll have some products coming out and last less or other issues. Let's be honest, there's no such thing as the best work boot brand.
But the majority of users who bought a pair of Danner work boots ended up leaving a positive comment about the product!
Does Danner provide a warranty for their work boots?
Yes, Danner does provide a warranty for their work boots. Danner offers a full-year warranty from the date of purchase in case anything goes faulty.
Where can you buy Danner work boots?
You can purchase your favorite pair of Danner boots from their official website, Amazon, and in-person from the Danner retail stores.
Top 3 Most popular work boots models from Danner
And in case you don't know where to start with these work boots, here's a quick start talking about some of the most known Danner boots models.
1. Best sold and most reviewed model
These are 100% leather with a moccasin stitch around the toe of the boot.
They have a rubber sole and come in four different colors. It is important to note that these boots do not have a steel toe.
At first, the boots might be a bit tough but after continuous wearing, they will shape themselves to fit your foot better.
This is the best soft toe work boot Danner has. They do make this model on steel toe too if you're working in an environment where safety footwear is required.
2. Most popular 8 inch
These boots are 100% leather with a synthetic sole.
The shaft measures approximately 8.5″ from the arch with a steel shank which is great for maximum protection.
3. Most rated non metallic toe protection
These boots are 100% leather with a Vibram sole. The Vibram soles give the boots the benefit of traction, durability, and comfort.
They also help make the boot more breathable so it isn't that constricting. A great feature to have if you're looking for summer work boots.
The shaft measures approximately 8.5″ from the arch giving ample protection to your foot.
There are a ton of other great models that you can find online. For the sake of keeping this article short and sweet we decided to include only top 3 models. Here's a wider selection of Danner work boots over to Amazon.
Conclusion: Are Danner Work Boots Worth The Money?
If you're looking for outdoor boots that can withstand the test of time and almost any weather, look no further.
While Danner Boots might seem expensive at first, in my opinion, they are definitely worth the money given the comfort, safety, and durability they offer in the long run, a wise investment indeed!
Team Members Working On This Page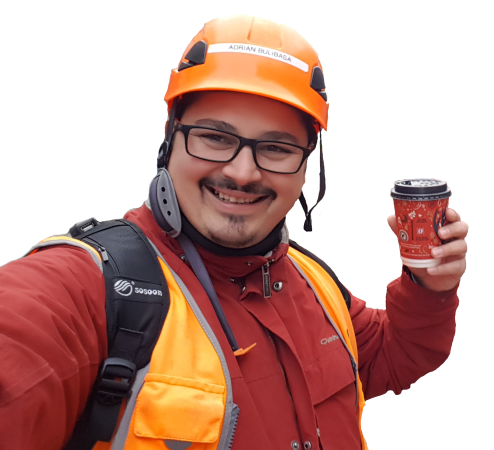 Construction Professional, driver, crane operator, cleaner, head chef … these are just some of the jobs I did in the past. Working in all these different environments taught me that having good footwear to protect your feet from different dangers at work IS PARAMOUNT for any worker! On this website, I aim to share all my knowledge and personal experience in dealing with different footwear and foot care issues, and hopefully, you can get something out of it. Enjoy!