Can you wear work boots with shorts, and if so, when is it appropriate to?  We are going to tackle this question and discuss why wearing shorts with work boots may or may not be ok. 
We will cover what dangers may exist with wearing shorts with safety work boots, where it's ok to wear shorts with work boots, and what OSHA's official position on the subject is. 
The answer may surprise you!
But to give you a quick answer, yes you can wear shorts and work boots. It will vastly depend on what type of work you're doing and also depending on how strict is the company you're working for.
Let's dive in and find out more.
First, is it safe to wear shorts with work boots?
The weather is hot and you're getting ready for work.  You want to stay cool and so reach for your shorts to wear with your summer work boots. 
You know it will help you stay cool throughout the day, but you're not sure if it will be completely safe considering the hazards you have at work.
Is it safe to wear shorts with work boots? The answer is yes and no. 
There are jobs where you need your legs fully covered as that is part of your uniform that protects (PPE) you from the hazards of your job.  Welding, concrete pouring, etc.
Firemen for example need their legs covered completely by their fire retardant suit to keep from getting burnt.
Another example would be if you were a logger and you worked in a wooded landscape with sticker bushes all over the place. You might find yourself pretty cut up at the end of the day wearing shorts with work boots.   
On the other hand, in some occupations, it can be perfectly safe to wear shorts with work boots. Our UPS men and woman show up throughout the summer wearing shorts with work boots and is quite grateful for that when it's extra warm out.
Another job where work boots and shorts are worn together could be a warm day of framing a new home.
Oftentimes when you go past a new home construction and it's sunny and hot out, you'll spot many of the laborers with shorts on instead of jeans to keep cool while working.
Wearing shorts with work boots can be ok in some work environments while not safe in others.
To know if you should or shouldn't wear shorts on the job, you'll want to ask yourself if your pants are protecting you from any hazards on the job and if your safety is affected at all.
You may also want to consider if OSHA standards are met on your worksite or at your workplace in case an OSHA officer shows up out of the blue. We'll talk about that below…
Where can you wear work boots with shorts?
You can wear shorts with work boots at jobs where your safety is not affected at all by exposing your legs.
There may be situations where shorts are preferred even. If you have a job where you are not at risk of anything hazardous splashing, scratching, or touching your legs will occur, then you can wear shorts with your work boots.
Just to mention a few:
Mail carrier or UPS truck driving
Warehouse
Grocery stores
Nurseries and Garden Centers
SOME Construction Sites
What's OSHA's position on this topic?
OSHA gives the power to the employer to decide what dress code their employees will follow but still has some guidelines pertaining to employees' safety when around certain hazardous situations. 
They recommend that an employee provides and requires protective clothing in situations where bodily harm is likely if one is not wearing proper protective clothing.  
OSHA believes that while hazardous situations could be chemical, radioactive, environmental, or mechanical in nature, hot temperatures above 80 degrees are considered high-risk conditions to work in. 
There could be a risk of overheating in those kinds of temperatures, so OSHA asks business owners to consider this factor next to the chances of exposure to the other mentioned work hazards, and decide if the risk is minimal enough to safely allow shorts to be worn.
Work boots and shorts can work together well
We discussed if shorts can be worn with work boots, what jobs they can be worn at and what OSHA's official stance is on wearing shorts in the workplace. 
While some situations are an appropriate and safe environment for one to wear shorts, other places with more hazards present in the work environment may call for fully covered legs to minimize or eliminate exposure that may cause bodily harm.
However, in some situations, the risk of exposure to those particular hazardous situations may not be as severe as the risk of overheating in too warm temperatures. 
On this occasion, OSHA gives the ok to allow for shorts to be considered to keep a person healthy and comfortable while on the job. 
So sometimes it will be ok to wear shorts with work boots, while at other times it just won't be enough protection.
Asking your employer what your workplace or job site's rules are for protective clothing or uniform requirements will help you make the best decision regarding whether you should wear shorts to work.
---
Team Members Working On This Page
Hi! My name's Sondra and I am one of the researchers and writers here at BestForMyFeet.com. I have 5 kids who I spend my days teaching and caring for. I'm married now for 13 years to my dear husband Art, who helps his folks run a housecleaning business as well as a side business of his own for general contracting and home remodel. I'm just a high school graduate who decided to raise a family and keep the home.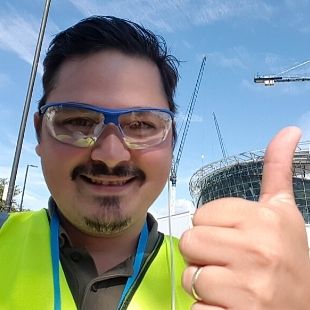 Construction Professional, driver, crane operator, cleaner, head chef … these are just some of the jobs I did in the past. Working in all these different environments taught me that having good footwear to protect your feet from different dangers at work IS PARAMOUNT for any worker! On this website, I aim to share all my knowledge and personal experience in dealing with different footwear and foot care issues, and hopefully, you can get something out of it. Enjoy!