Hey, welcome to my review of these Dr. Scholl Gel Active Work insoles. In this article we'll have a look at how good this insole is, is it comfortable or not, who is it for, would I buy it again, and much more…
If you're here for a quick answer though let me tell you that these insoles are not bad if what you're looking for is continuous support and cushioning. My biggest issue with these insoles was that they do not provide any arch support.
I'm a construction worker and as you can imagine, I stay on my feet a lot and move up and down for many hours daily.
They were very comfortable when it came to absorbing the shocks as I was walking up and down releasing some stress on my heels.
Let's get into more details…
Unboxing of the Dr. Scholl Work insoles
Nothing worthy of mentioning here other than they come in a very good package with some decent information about the inserts.
First Impressions
My first thought was that they're way too flexible. Most of the insoles I put in my work boots are more rigid.
They provide better support in my opinion (and real-life experience).
You can really feel the gel technology used in this insole especially at the back, at the heel cup. It's very soft and makes me think this will be great for most of you working on your feet all day.
I like that it comes with little holes in the sole. This will allow air to ventilate better inside your footwear and help your feet breathe a little bit better.
What features do these Scholl Work Gel Active insoles have?
According to the manufacturer here are some of the most important features you'll find in these insoles:
Anti-odor technology will help avoid stinky feet
Non-Slip design keeping the insole and your feet in place when walking
You can trim it to your size
Reduces pressure and absorbs impact when you walk providing you with a more cushioning experience during your shift
What are these Scholl inserts good for?
They're good for anybody really. You don't have to suffer from some type of foot condition in order to wear these inserts.
It's actually better to start wearing them before you develop any foot conditions.
According to the manufacturer, wearing the Scholl Gel Active Work orthotics will help:
Prevent foot fatigue
Prevent muscle fatigue in your lower legs
Provide constant comfort during your shift
Do not buy these insoles if you already have some kind of foot pain. According to the manufacturer these insoles are for providing continuous cushioning and comfort during your day. They are NOT for pain relief.
Can these help with flat feet pain?
No, they won't. These have no arch support and they are too "spongy" for a person with flat feet pain.
If you have flat feet, you need a more rigid insole with rigid arch support.
The Pro 11 Wellbeing or these EasyFeet insoles are better for that purpose.
What size are these?
Well, if you have a pair of good scissors in the kitchen, you can make these inserts as small as you need them to be. I had to trim mines down to size 10US, 42EU,8UK
So these can fit big and small feet, men and women! Just make sure when you buy them that you choose women or men. That's because the women's version is slightly smaller than the men's version.
Can you wash them in the washing machine?
Not really, you should not put them in the washing machine. The material will get damaged.
Clean them manually using some rubbing alcohol and a cloth or something along those lines. I use a lot of rubbing alcohol to clean and disinfect footwear.
Can you use them in safety work boots?
Yes, 100% you can. Especially because work boots usually are a bit bulkier so you have a bit of extra space to insert these ones in your favorite work boots.
I've used these insoles with my Timberland Pit Boss steel toe boots and they were very comfortable.
Can you use these in normal shoes?
Yes, according to Scholl, you can use these insoles with everyday shoes and trainers.
The only problem you might run into is that once you put these insoles in, you might not have enough room inside your shoe. The top of your foot will push against the shoe or trainer making it uncomfortable to wear.
Unfortunately, there's no way I could tell you if this is going to fit you or not.
My guess is that you'll be fine putting them in shoes since these are thinner than other insoles I've had in the past.
How long do they last?
Mine lasted less than 4 months. Bear in mind I work in construction. It will definitely depend on what type of work you're doing and how much you walk of course.
The more you move, the faster you'll have to replace them.
Do these go over the existing insoles?
It's up to you really but I take out the existing ones and put these ones in place. And I do that for a few reasons:
The old ones might have fungus or bacterias that I don't want to transfer those to the new ones
The old ones might be have lost their shape and by puting the new ones on top of the old ones might actually have a negative effect on my feet and even my back
Puting the new ones inside whilst the old insoles are still in there might make my footwear uncomfortable to wear since the space inside my boot or shoe is significantly reduced
What's the thickness of these insoles?
I've measured these insoles in 3 places: the forefoot section, the middle, and the heel cup.
Forefoot: ~0.2 inches (5mm)
Middle: ~0.6 inches (1.5cm)
Heel cup: ~0.8 inches (2cm)
How wide are these insoles?
They're not that thick. They fit me perfectly and I didn't have to cut them (only length-wise).
So they are about 4 inches wide (10 cm).
What other people are saying about these Scholl Insoles?
Not too many complaints about this product really. The majority of users were very happy with this Scholl GelActiv Work insole.
Of course, you'll have some users saying the insoles lasted less than expected, or they were not comfy for them, the sizing was wrong, etc. But that's normal with any product out there.
I was happy using these insoles at work as well.
Who are these good for?
The Scholl GelActiv Work insoles are best probably for people with high arches due to the softness of the insoles and the gel padding in the heel cup.
Very bad for flat feet. Do not buy them if you have flat feet because they lack arch support and they are too soft for you.
Will I buy them again?
No, I don't think I will. At least not for work.
Since I've discovered how good it is for my feet to have arch support … I don't wear anything without arch support (except for these insoles since I wasn't aware of the lack of arch support in these).
Alternatives to Scholl GelActiv Work orthotic insoles
There are a few good alternatives out there, some cheaper and others more expensive. No matter your budget there will be one for you.
Here are a few good alternatives to the Scholl Work inserts:
Last words on this Dr. Scholl GelActive Work inserts review
Not bad insoles overall for people with no pre-existing foot conditions.
If you work in a warehouse or maybe you're a mechanic or a construction professional … and you're a lot on your feet, these insoles will provide good cushioning that absorbs the shock impacts when you're doing your daily tasks.
But I'd highly recommend something with arch support which is something these insoles don't offer at the moment.
---
Team Members Working On This Page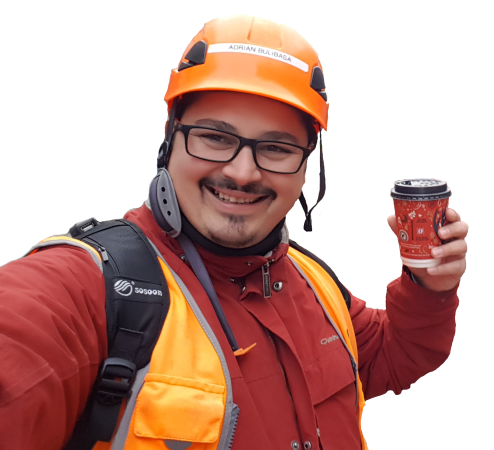 Construction Professional, driver, crane operator, cleaner, head chef … these are just some of the jobs I did in the past. Working in all these different environments taught me that having good footwear to protect your feet from different dangers at work IS PARAMOUNT for any worker! On this website, I aim to share all my knowledge and personal experience in dealing with different footwear and foot care issues, and hopefully, you can get something out of it. Enjoy!
Love technology, going to the beach, take care of my body, and writing (amongst other things). You'll see my face around here a little bit since I'm responsible for part of the research and writing of some of the articles you're reading on BestForMyFeet.com. I hope you'll find our content helpful and enjoyable! See you around, thanks for reading!