New to work boots and wondering what's the point of steel toe boots and how they protect you? Welcome then, you're in the right place.
I didn't have a clue about it a few years back either so I'm happy to share with you my knowledge and my own experience related to steel toe work boots after being in the construction industry for over a decade!
Let's get into it and learn things like what type of steel boots you can find on the market, how to know which one should you buy, and things you must know before you get a pair of these bad boys!
But first …
How do steel toe work boots protect your feet?
Steel toe work boots are also called safety work boots. Not only because in these boots you might find features such as puncture-resistant, waterproof, slip-resistant, etc … but also because they have the steel toe cap that will protect your feet and more specifically your toes from items that can fall or rollover your toes.
This is a simple feature but makes ALL the difference in the world. How many times have you banged your little toe against the couch? Do you remember that pain?
Well, imagine at work. It's much more dangerous. You can hit sharp exposed objects such as steel structures or maybe timbers with exposed nails or screws. And so much more!
There are countless situations in which a good pair of steel-toe work boots can save you from either silly injuries or prevent accidents that can put you in bed for weeks.
So basically work boots with a steel toe cap will protect you from:
Falling objects
Rollover items
Puncture your toes against sharp objects
9 types of steel toe work boots
There are a ton of steel-toe work boots brands and models on the market. This is great because you can find and choose work boots that fit not only your taste but also your industry.
Depending on the industry you're working in you might need some features but you might not need others.
For example, if you're a groundworker you might want to go for a pair of pull-on work boots instead of an ankle-high boot.
That's because the 6inch boot will not prevent soil, dirt, water, etc to come into your boots as effectively as a good pair of pull-on work boots will.
So here's a table with types of steel toe work boots you can find online or at some retail store.
How to know which steel toe work boot you should buy?
This is simple really. Don't overthink it. Think about the work you're going to do and think about the possible dangers and hazards that are awaiting you!
Here are a few examples to give you an idea:
Do you work in a warehouse?
Go for the most comfortable pair of work boots you can buy. It's important because you're going to do a lot of walking up and down. I recommend a 6inch lace-up or a slip-on work boot.
Same thing here. Go for a 6inch type of work boot. Make sure to choose a work boot with a slip-resistant sole (rubber is best) since the work floor in a garage is greasy and oily.
Do you work in a place that's too hot or too cold?
If you work in cold temperatures is best to use insulated work boots and these usually are higher than 6inch. It can prevent snow and water from going into the boot. Also, the boot manufacturers can add more insulation to the boot to help keep you warm during your shift.
If you work in hot summer weather, the lower the boot, the cooler your feet will remain during your shift. So don't go for 11,10,8 inch high boots, instead, choose 5,6-inch high work boots that are made with breathable material.
Can you buy just ANY steel-toe boots?
No! You should not buy any steel toe work boot advertised out there.ESPECIALLY if you work in industries where it's a must to wear safety toe work boots.
Do you know why?
Because not all work boots comply with the ASTM standards.ASTM is an international organization that tests all sorts of things and they set the standards for safety footwear in our case.
So if you want to buy a cool pair of wedge sole work boots online for example but the seller can not provide you with the details of whether the boot meets or exceed the ASTM standards set for your industry … DO NOT BUY THEM!!!
Also, the features of the boots must be visible on the work boots. For example, if your boots are EH (electrical rated) there must be a label on the tongue or somewhere on the sides of the boots showing that the boots are electrical hazard rated.
Same thing if the boots have a steel toe cap, antistatic, etc
So make sure you look for these things when you're out there looking for your first pair of work boots.
Who needs to wear steel-toe work boots and why?
Anybody who appreciates their feet basically must wear steel toe work boots. That's answering both questions in one sentence.
Is it mandatory to wear steel-toe work boots?
It use to be mandatory to have a steel toe cap. For the last few years, allow toe caps and composite toe cap work boots have gained a lot of traction since they are lighter than the steel toe and provides the same or almost the same protection.
With all these options available and approved by the OSHA (Occupational Safety & Health Administration) and the CSA (Canadian Safety Association) all you need to know is that as long as your work boots have a safety toe you're good to go to work.
Most jobs will give you the PPE (personal protective equipment) required for the job, but there might be times where that's not the case or you simply want something better.
If this is your first time wearing work boots just ask your manager or safety officer what safety features your boots need to have to make sure you buy the right ones.
Can you work in construction without steel toe work boots?
The safety boots I've used for construction work have always been steel-toed. Not long ago you could not step into a serious construction site without steel toe work boots.
Things have changed as I said above and now you have a few different options you can choose from:
Steel toe
Allow toe
Composite toe
You CAN NOT wear soft toe work boots on a construction site though.
How does steel toe work boots should fit?
The right pair of work boots should not be too loose or too tight. First and foremost they should not be uncomfortable around the toe area. If it's the first time working in safety work boots you might find them a bit strange at the beginning but not uncomfortable!
So basically your steel toe work boot should fit snuggly without squeezing or pressing your toes inside the toe box.
I personally like to buy 1 size up to allow some space in there for an extra pair of thick socks in winter.
There's no cookie-cutter solution though. Hence the best way to buy footwear is by going to the local store and see how the boots fit you right there and then.
How long do steel toe work boots last?
As with everything related to work footwear, how long a pair of work boots lasts will hugely depend on what type of work you do, how active you are, and what brand of boot you're buying.
I've never had a steel toe boot lasting me more than 2 years working in construction.
Where to buy steel toe works boots?
Personally, I do not have much time to go to the local store and buy safety boots. Plus, I've been buying my work boots online for a decade now and I like how convenient it is.
I like to buy on Amazon because there are a lot of options available, it's safe to buy, and also if you can take advantage of Amazon's Prime Wardrobe (now called Prime Try Before You Buy).
The good thing about buying work boots on Amazon is that they have the Amazon Prime Wardrobe where you can try on the work boots at home for a week without paying for them. If you're not happy you can send them back, no questions asked!
It's worth checking it out before buying your boots. It's quite handy and it's free if you have an Amazon Prime membership.
Other stores
Zappos
The Boot Barn
Walmart
Sears
What are some good examples of good steel toe boots?
I'll mention a few work boots in here that I know many professionals are happy with. That should give you some inspiration but feel free to keep doing your own research.
We have a work boots category page here where we have categorized all sorts of work boots based on the industry you might be in, the different environments, and the features you might need.
That makes it easier for you to find a pair of work boots that suits you but for a quick view, here are a few brands you should look at.
There are many more of course but these are to give you a few ideas.
My last two pairs of steel toe work boots were:
I've made a video review of the Caterpillar if you want to check it out:
Are there any alternatives to steel toe work boots?
Yes, there are a couple of alternatives to steel toe work boots as we've mentioned above.
If you do a quick search you'll see that most of the boots with an alloy toe are made by Keen and Timberland PRO.
On the other hand, work boots with a composite toe cap are more widely manufactured by other brands as well.
As you can see you'll find many more options if you go for composite toe work boots instead of alloy.
Last words on how steel toe work boots work
The takeaway from this article is that you will need steel-toe work boots if you work any job where the potential of something fall or rollover your feet is high. Think heavy industries, automotive, constructions, rail, etc.
Also, remember that you don't have to wear steel-toe boots if your job is more light-duty. If you must wear safety boots, you can always go for a lighter version boot choosing either an alloy toe or a composite toe boot.
Stay safe and go home to your loved ones in one piece. Take care of yourself!
---
Team Members Working On This Page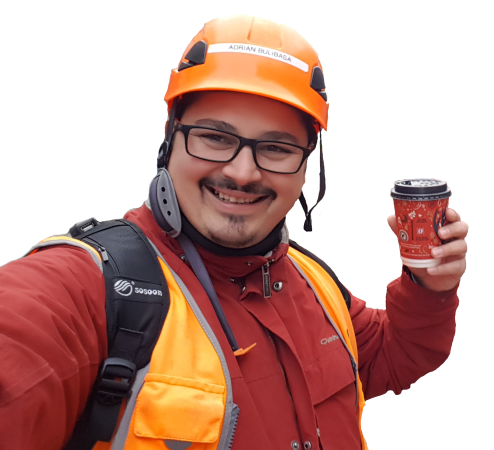 Construction Professional, driver, crane operator, cleaner, head chef … these are just some of the jobs I did in the past. Working in all these different environments taught me that having good footwear to protect your feet from different dangers at work IS PARAMOUNT for any worker! On this website, I aim to share all my knowledge and personal experience in dealing with different footwear and foot care issues, and hopefully, you can get something out of it. Enjoy!
Love technology, going to the beach, take care of my body, and writing (amongst other things). You'll see my face around here a little bit since I'm responsible for part of the research and writing of some of the articles you're reading on BestForMyFeet.com. I hope you'll find our content helpful and enjoyable! See you around, thanks for reading!