Hey there. Welcome to our round-up of the best work boots that use the Goodyear welt sole construction method.
To bring you this article we've researched over 36 websites, looked at 48 different work boot brands and models and we have read dozens of customer reviews and feedback for each make of boot that made the cut, as well as a few that did not.
Overall we've spent over 48 hours looking into all of these Goodyear welt work boots to bring you the most important information for each boot.
In this article, you'll learn about which are some of the newest and most rated Goodyear welted work boots. Also, we'll have a look at what type of materials are used as Goodyear welt and the different methods used to build a boot with Goodyear welt.
So keep reading. There's a lot of good info in here…
11 Most popular Goodyear welted safety work boots
Here's a quick comparison table if you're curious about which work boots I've included in today's round-up.
Nowadays you can find a lot of work boot brands choosing to have at least one model of their work boots built with this popular sole construction technique.
A few years back you'd find Goodyear welt sole construction boots only on some of the most expensive work boots out there such as (just to name a few) :
But nowadays this has become a common practice especially for those manufacturers that make utility boots for workers in all industries.
What's the best place to buy work boots with Godoyear welt sole?
You can buy your favorite pair of work boots at your local store but I believe the best place to buy Goodyear-welted work boots is at the online stores.
For the simple reason that you can access lots of brands and models from the comfort of your home. Plus the delivery, many times is free.

Here are a few online and local stores you might be familiar with:
Amazon
Payless
Sears
Walmart
If you have a bigger budget though go and visit a local Red Wing store or one of the brands I've mentioned above. Those guys will really take care of you!
The different types of Goodyear welt techniques
There are two types of Goodyear welt sole construction you'll find n work boots.
360° Goodyear welted footwear
This is exactly what the name suggests. A piece of Goodyear welt is stitched around the whole boot.
Sometimes you'll see some double-stitched welt in some of the heavy-duty work boots but most of the time it's single-stitched.
270° Goodyear welted footwear
And the 270 degrees Goodyear welt construction will stitch a piece of welt from one side of the heel going around the boot to the other side of the heel.
Which one is best?
In my personal opinion and experience, there's no good answer to this. It comes down to your personal taste. I'll explain,
The 360° Goodyear welt makes the work boot look more chunky.
The 270° Goodyear welt on the other hand will make the boot look slimmer with the same functionality as the 360° version.
You could argue that the 360° makes the boot more watertight by not leaving the heel exposed to water and moisture as you'd do if you go for the 270° technique.
So if you got stuck not knowing which work boot to choose because you don't know which Goodyear welt option is the best, my advice is to go ahead and buy the one you like the most.
Are Goodyear welted work boots worth it?
That's an easy question to answer.
If you prefer to buy work boots like the EVER BOOTS that cost less than 100 bucks then you might think that having a Goodyear welt constructed boot doesn't matter that much.
And you'll be right in saying so. At the end of the day, you could buy a new pair each year at that price.
On the other hand though, if you prefer top-tier, top-quality work boots that cost a few hundred bucks I'm sure you can't afford or at least you don't want to throw them away each year.
In this case, resolling them for 100-150 bucks make much more sense.
Personally, I own a few pairs of more expensive work boots but I'm the type of person that gets bored easily so I prefer to change my boots more often rather than have the same boots for 20 years.
But I'd have a Goodyear welt work boots over any other type of construction any day simply because of the waterproofing function. I like to have my feet dry and this feature helps a lot with that.
So yes, Goodyear welted work boots are 100% worth it!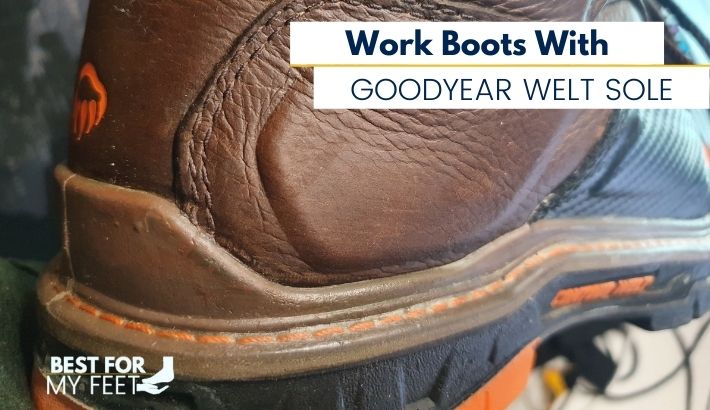 Reviewing 10 popular work boots with a Goodyear welt construction
Alright, let's jump into some detailed reviews of each one of these Goodyear-welted work boots we've included in today's round-up.
We'll start with the best rated …
1. Thorogood Heritage
When I've asked colleagues, friends, and other pros in several industries what is the best Goodyear welt boot they've had, many of them mentioned these work boots from Thorogood.
These boots are the 804-4200 model. If you're looking for the black version, look for the 804-6201.
It comes with a wedge sole which makes it great for working on flat, hard surfaces such as unpolished concrete floors. Hence many construction workers like these boots.
From general laborers to carpenters, electricians, plumbers, etc to managers and office workers, all of them love how lightweight these work boots are (even though they come with a steel toe cap).
One thing to keep in mind is that even though the wedge sole work boots are much lighter than work boots with rubber soles, they also get wasted much faster.
So be ready to either buy work boots more often or resole them. That's when the Goodyear welt comes in handy since resolling them costs much less than buying new ones.
---
2. Wolverine Overpass
I've been wearing these boots for about 1 year and I'm super happy with them. Soon I'll be cutting them in half to see how they're built (keep an eye on the BestForMyFeet YouTube channel to see when it's out)
These Wolverine work boots are excellent if you work on construction sites. The composite toe cap will keep your feet safe and at the same time will avoid you becoming tired from standing all day on your feet due to being a lightweight work boot.
The boot's upper is made of leather and textile. Not being 100% made of leather compromises the longevity of the boot but that's one of the ways Wolverine managed to reduce the weight of the boot.
It comes with a chemical and abrasion-resistant outsole to give you some extra protection when working on a job with hazardous chemicals.
Some users have mentioned the boot supported quite well their weight. That means that if you are a big guy or gal, these boots might be for you.
You can get this Wolverine Overpass boot as
---
3. Timberland PRO Boondock
These are some of the most popular work boots from Timberland PRO in the last couple of years.
These work boots don't come with a steel toe cap, instead, these work boots have a composite toe cap which makes them acceptable on all construction sites or workplaces where safety boots are required.
They're quite bulky for most people but those who do like to wear them are saying a lot of good things about these boots. And I completely understand why.
270 degrees Goodyear welt, triple and quadruple stitching, anti-fatigue technology, rubber soles with deep rugs, waterproof leather…
…are just some of the features you'll find in these work boots from Timberland PRO.

Additionally, the boot comes with anti-scuff rubber protection on the toe cap. This will avoid the leather getting damaged at the toe area as you're kneeling or crouching a lot in your line of work.
As a side note, these boots being so bulky are great for those of you out there with wide feet and also with high arches.
---
4. Irish Setter Ashby

Another good lightweight alternative to steel toe cap work boots is this Ashby boot from Irish Setter that features an aluminum safety toe cap.
Not only the toe cap makes these boots lighter but also the EVA sole. But keep in mind that although EVA sole is better than rubber soles when it comes to reducing the weight of a work boot, they also last less.
The soles are heat resistant so they're a good option if you work on hot asphalt or doing flat roof installations melting felt or similar.
Also due to the fact that the boot has no heels makes it a better option for those you working many hours on your feet on flat, hard surfaces. Your feet won't feel as tired as if you wear work boots with high heels.
These Ashby work boots come with a 360° Goodyear welt.
---
5. Georgia Logger
If you're working in the logging industry you've probably heard about these Georgia work boots.
Not only do they look amazing but also they're very well equipped to provide you with comfort and keep your feet safe whilst out there working on off-the-grid rough terrains.
The boot is 8 inches tall which is great for ankle support and also prevents soil and dirt from coming into your boot.
The high heel and deep lugs provide excellent traction and will help you move easier through soft ground.
Also, these work boots are great for linemen as well. Mostly because the high heel is an excellent feature to have whilst working on the telephone or electricity poles.
These Georgia logger boots come with a 360° Goodyear welt.
---
6. Carhartt Chelsea

A few of my electrician friends have these Carhartt work boots and they've told me that they like these boots for so many reasons.
One of the reasons they like these boots is because they look amazing, they look casual so you can look sharp as you're doing your job.
Additionally, a good pair of work boots for electricians must be EH rated (electrical hazard rated) and these Carhartt work boots have that feature.
One last thing they loved about it which seems to be a huge time saver is the ability to take them off and put them on fast and easy.
This is especially helpful for any of you doing residential works, not just electricians. You know some potential clients want you to take your boots off when going into their homes.
So not having laces to tie every time you have to take your boots off is one of the best features of these boots.
---
7. Caterpillar ExcavatorXL

If you're after a good pair of pull-on work boots with Goodyear-welted construction then check out these Caterpillar boots.
They're great for working outdoors in the mud and dirt maybe doing landscaping, all sorts of groundworks, excavations, pipe installation, or even welding (just to mention a few).
These CAT boots feature a 270° Goodyear welt construction.
In terms of safety features, the boot comes with a composite toe cap to protect against falling tools and other objects that could present a hazard for your toes.
Also if you work around live electricity you'd be pleased to know these boots are EH rated and can help protect you against open circuits up to 600V in dry conditions.
Just as we've seen in other boots above, these Caterpillar work boots come with what they call TecTuff material at the toe and heel.
This TecTuff material is a fancy way of saying the boots come with anti-scuff rubber protection that makes the boots more abrasion resistant and therefore will increase the durability of the boots.
---
8. Ariat Overdrive

Compared to the Caterpillar from above, these Wellington work boots from Ariat have less grip since the tread is not as aggressive as the one in the Cat boots.
The Ariat also comes with a 360 ° Goodyear welt construction as opposed to the 270° Goodyear welt featured in the Caterpillar work boots.
In my research, I've talked to a ton of professionals.
And those who pointed me to have a look at these work boots are working in many different industries such as truck drivers, farm-related jobs, commercial construction, diesel and truck mechanics, and more.
This means the boot is quite versatile and suits different environments.
One word of caution though. Based on what I've learned from talking to people and reading reviews it seems like the boot sizing is all over the place.
It's not a bad boot but if you want to make sure you're happy with it, you'll either have to buy it in a local store or if buying online, get the boot in advance. This way you'll make sure you will end up with a boot that fits you just right!
You can take advantage of the Amazon Try Before You program where you can try the boots for a few days before paying for them.
---
9. Twisted X

The cool thing about this boot is that the boots look very casual. You can easily go out with your friends after your shift has finished and no one will notice that you're actually wearing steel toe work boots.
In my opinion, this particular model looks amazing. But if you don't agree with my taste you have over 20 other designs to choose from.
Having a square toe cap makes it a very comfortable pair of work boots especially for those of you with wide feet since the square toe caps are usually roomier than other options out there.
I think another reason why many workers liked these cowboy work boots is that they're quite rugged and durable.
It's hard for the sole to come off these boots since Twisted X has built this boot with a double-stitched 360 degrees Goodyear welt. That sole won't go anywhere no matter what job you're doing!
---
10. EVER BOOTS

If you're looking for affordable work boots with a Goodyear-welt constructed sole then these Ever Boots are for you.
One thing I want to get out of the way quickly is that these work boots come with a soft toe cap so bear that in mind when you're purchasing.
There are many places where you won't be able to work at if you don't have safety-toe work boots.
As a side note: When I was putting together a list with the work boots that last the longest, I've asked hundreds of professionals what boots they were using and how long they've lasted.
When reading the comments, other professionals and I were surprised by how many trades in construction are not using safety toe work boots.
So if you're one of those dudes or dudettes that wear soft-toe boos at work these Ever Boots are a great option. Lots of good features and good customer feedback for a pair of work boots that cost less than 100 dollars
---
11. KEEN Philadelphia

If you have to work in freezing cold winter conditions you must have a good pair of insulated work boots to keep you warm and cozy.
These KEEN work boots come with some serious features to help you not just with being warm in winter but also to stay safe out there.
For example, to keep your feet warm the KEEN Philadelphia comes with 600grams of KEEN.WARM insulation that's rated for working in ridiculously cold conditions (-55°F/-48°C).
Walking on ice? No problem with these bad boys!
They have a very cool technology from KEEN called KEEN POLAR TRACTION which creates a cleat effect using micro-glass filaments for increased traction.
Additionally, instead of a steel toe cap, KEEN went for a composite toe cap instead.
Not just because a composite cap is lighter than a steel one but also because carbon caps will retain the heat inside the boot whereas the steel toe cap will freeze your toes.
---
Last words on these work boots with Goodyear welt construction
As you could see, nowadays there are a lot of Goodyear welt work boots options on the market.
No matter what your job is you will find a boot that fits your taste and more importantly, fit the purpose of your work.
Remember that there's not much difference between the two Goodyear welt techniques you'll see out there (360degrees or 270 degrees) so if you get stuck just choose the work boots that you like the most.
The one mentioned below is amongst the most popular choices.
---
Team Members Working On This Page