Welcome to my KEEN Lansing steel toe work boot review. I bought these work boots specifically because it's summer and it's getting really hot at the moment and I wanted to see if these boots are good to work in hot weather or not.
Reviewing The
KEEN Utility Lansing
Overall, a great steel-toe work boot to work on hotter days with a very good anti-slippery outsole that sticks to most of the surfaces I've tried them on. They're comfy and ready to go straight out of the box.
After reading hundreds of reviews I've decided to get my hands on these KEEN Lansing mid-height work boots and give them a try.
My Lansing boots are steel-toed work boots since I work in construction and I need to wear safety work boots. I couldn't find a version of these KEEN Lansing that come with a soft toe cap so I'm just going to assume there isn't one.

Today I'd love to share with you my personal experience with these KEEN work boots in case you're looking to buy a pair for yourself.
Also, I'll do an unboxing, and take some measurements of the different parts of the boots and much more. I hope it's helpful.
Buckle up cause it's quite a long review. For your convenience, I've created a menu for this page that's helpful to jump to a specific section. Just click on the "What's inside" below to open it.
Let's go!
Unboxing the KEEN Utility Lansing work boots
Features of the KEEN Lansing steel toe work boot
| | |
| --- | --- |
| Electrical Hazard Protection | YES |
| Safety Toe Cap | YES – Steel toe cap |
| Waterproof | YES – KEEN.DRY membrane |
| Boot construction type | Cemented sole construction |
| Oil and slip-resistant | YES |
| Non-marking soles | YES |
| Shank | YES – Full-length TPU shank |
| Removable insole | YES |
First impressions of the KEEN Lansing work boots
My first impression of the boot is that is much lower than
what I was expecting. If you read the product description on many websites out there, you'll see it says the boots are 6inch tall.
But these are a couple of inches shorter than that. Here's a comparison with my Thorogood moc toe 6″ steel toe boot so you can appreciate the difference better.
In all fairness, the product description says "MID" which not everybody might know right away but mid in this context stands for middle.
So they're not over the ankle but they're not a lot under it either. They're in the middle.
By the way, KEEN doesn't make an over-the-ankle version of these boots (6 or 8 inches tall). The only other version of these boots comes with a 3″ tall shaft and that really shouldn't be considered a boot. That's a safety work shoe and you can find more details about it here.
Other than that, I really liked the boot right out of the box, it seems to be quite flexible and we'll try that later on when I'll take them to work. I'll talk more about it below. Also, I can't wait to see if the ventilation panels do the job or not of keeping the boot fresh and breathable.
The KEEN Lansing on the outside
Let's have a look at the outside of the boots and see what we can learn.
1. Leather quality
The upper of these mid Lansing work boots is made with a mix of leather and fabric. The leather on these KEEN steel toe boots is full-grain leather.
On the vamp area, you'll find a few panels that are not made with leather and that have holes in them.
These should help the boot be more breathable by allowing hot air to escape from the boot and at the same time allow fresh air to come into it. Not only keeps you fresher in summer but also avoids stinky feet.
2. Rubber toe cap reinforcement
A great feature to have in a work boot for those of you that kneel or crouch a lot.
As you know when you do tasks that require to crouch, bend, or knee (mechanics, pavers, floor tilers, electricians, plumbers, etc) the material the boot is made of (leather or synthetic) is getting ripped on top of the toe cap.
This little rubber addition on top of the toe cap will raise that part of the boot a little bit helping avoid scuffs on the top of the toe box. This should help these boots last longer.
3. Fabric eyelets
Working in construction I'm not a big fan of these eyelets since they can easily get damaged, especially if you work with rebar. They can get caught in the rebar or the wire and rip them off.
It's totally fine though if you're doing more light-duty type of work even within the construction industry.
At the top of the boot, there's a speed hook that will help keep the boot nicely tight. What I liked about this hook is that once you put the lace through it, the lace will not become loose, even if you haven't tied the laces. Pretty cool.
Even though I prefer the iron eyelets and speed hooks, I have to recognize that these fabric ones will provide you with more flexibility especially when flexing, bending, crouching, etc.
4. Boot construction type
These KEEN Lansing work boots are built using the direct attach or cemented sole method. That simply means that there are no stitches involved in the process of attaching the upper to the outsole.
In this method as the name suggests the upper and sole are directly attached by using some strong adhesives.
Some people say footwear with this type of construction is less durable than footwear built using the Goodyear welt or Norwegian sole construction, etc.
This is not always true in my experience. The only pro for the Goodyear welt sole construction method I can think of is that a Goodyear welted work boot can be resolved many times, quite easily whereas a cemented sole work is harder to resole.
5. Outsole
The outsole is made out of rubber and it comes with some raised lugs that are perfect to keep you on your feet on slick floors.
I have to be honest with you and tell you that it felt a bit weird to walk on them at first since the raised lugs made me feel like I'm walking in football shoes or cyclist shoes.
But I got used to them within the first 2-3 days of wearing them for 10 hours shifts at work.
What I liked about the outsole is that it's impossible to bend it at the arch area with your bare hands. A stiff outsole provides support for your feet and protection as well, especially if you're hitting the shovel all day or stand on ladders a lot during your shift.
And even though is stiff in the arch area it's very flexible in the toe area so you can bend and flex comfortably when needed.
Inside the KEEN Lansing work boot
Now let's see what can we discover by looking at the inside of the boot…
1. Gusseted tongue
The first thing I can see is the gusseted tongue. This feature will help in my experience with a couple of things.
One it will keep things like soil, sand, and dirt in general out of your boots. And second, it will stop the tongue from flipping around inside the boot creating discomfort.
2. Removable insole
Do you need to wear a customer-made insole? The good news is that the insole on these KEEN mid Lansing is removable so you can add any insole you want to make sure maximum comfortability.
The insole that comes with the boot is not the worst insole I've had but is not the greatest either.
I'm still wearing the original insoles that come with the boots after the first couple of weeks. It's nice and comfy because it provides a lot of cushioning in the heel area and adds stability thanks to the great heel cup.
But if you need support due to having pain caused by plantar fasciitis or if you have flat feet and need a bit more support then you need to change these insoles as soon as you buy the boots.
3. Waterproof membrane
These boots feature a waterproof membrane that KEEN calls KEEN.DRY. It's a proprietary waterproof and breathable membrane that allows heat and vapor out of your boot but won't allow water in.
We'll test it later on either at work by walking through puddles of water or at home by placing the boots in a bucket of water.
One thing that worries me though is that I'm not sure if the membrane goes all the way around at the back of the heel counter. Water might be able to filter through those stitches. We'll see how it goes.
Keep reading to find out the result.
4. Lining
The lining on these KEEN Utility boots is actually the waterproof membrane. There is a bit of fabric at the top of the boot around the collar.
Where are they made?
If you're wondering where KEEN Lansing work boots are manufactured…I can tell you that mine was produced in Thailand according to the label on the pair I received.
Will KEEN Lansing mid work boots fit wide feet?
KEEN footwear is actually very famous for having wide-toe boxes due to their left and right asymmetrical toe caps.
These are not only more comfortable but also fit better people with wide feet or simply for those that prefer a bit of extra room inside the boots.
What do the letters stand for when it comes to the width of the boot? (W,M,D,E,etc)
There's a lot of confusion about these among people looking to buy a pair of work boots. Hopefully, the little table I've put together might help you understand what's that all about!
The letters simply represent how wide the work boots are.
| Letter | Meaning |
| --- | --- |
| N or A | Narrow |
| M, or D | Medium |
| W or 2E | Wide |
| XW or 3E | Xtra Wide |
Are Keen Lansing steel toe boots waterproof or not?
I always test my work boots to see if they really are waterproof.
We didn't get any rain in the last few weeks in my area so I couldn't test them on-site by walking through a few puddles but I have tested them at home.
The test consists of submerging the boots in a container with water at two different heights.
Waterproofing test 1
First I put the boots in water just to cover the sole. That's what most of us have to go through many times when working.
Waterproofing test 2
And the second part of the test I add more water into the container up to where the waterproof membrane finishes. In this case, the waterproof membrane is about 4 inches tall but I filled the container with water until I got to about 3inches depth.
The results
Both tests lasted about an hour each. So during that hour when I submerged the boots to 2 inches depth, the boots remained dry for the whole duration of the test.
When I submerged the boots to a bit more than 3inches depth for more than an hour, they also stayed dry…
…BUT once I got them out of the water container and left them to dry for about 30 minutes, I realized that the boots were getting soaked from the heel inward.
So it's safe to say that if you have to work in water up to 3inches depth your feet will stay dry for about an hour.
Personally, I can't think of any situation where you'd have to spend a full hour in water that's as deep as 3inches.
If you're a firefighter, plumber, pipefitter, or doing drainage maintenance or something along these lines you'll know you need your knee-high rubber work boots.
But for most of us working in dry or semi-dry conditions, these KEEN Lansing work boots will do a good job to keep your feet dry.
Are they lightweight? How much do they weigh?
I don't really know what lightweight means to you but to me, these KEEN Lansing boots are quite lightweight.
I'll leave you an image below with how much each boot weighs so you can make yourself an idea and decide if this is heavy for you or not.
Keen Lansing weighs 714grams or 1lb and 92oz per boot!
They are shorter than other work boots, they have fabric eyelets instead of iron. Also, they use less leather in the construction of the upper. The shank is made out of TPU instead of steel…
… all this is to say that KEEN Lansing work boots are lightweight when compared to my previous work boots. You can read reviews of my other work boots here.
Are they comfortable?
These work boots are very comfortable right out of the box. The only thing I had to get used to as I've mentioned already a few times is the lugs being raised and also the noise they make when you walk.
But they provide a lot of cushioning in the heel which is great for absorbing some of the shocks caused by the walking action. This should help with alleviating some of the back pain, knee pain, and heeps.
What I liked about these KEEN Utility Lansing is that they are also very flexible. The fact that the boots are not built just with leather, makes it easier and more comfortable to flex and bend.
They don't put much pressure on your toes since the toe area (more or less where your boot will bend) is made with breathable panels.
Are they slippery?
To my surprise, these Lansing work boots have a great grip on many surfaces. I've walked on polished and unpolished concrete, tarmac, linoleum, carpet, ceramic tiles, etc … and I haven't had any issues with slipping.
I have no idea how they'll do on ice though, if you have any experience with that, please let us know!
Do they provide support?
They do provide support under your feet. The sole is not only comfortable but also provides good support due to the plastic shank.
What you should not expect from these KEEN Lansing steel toe work boots is ankle support.
Being shorter than 6inch, it won't provide you with ankle support protection so if you have weak ankles you should not consider these boots.
Are they true to size? Do they run small or large?
They fit perfectly for me. I ordered 9.5 D which is the size I usually buy for work boots and they fit great. My feet are about 4.06inches wide and the boots are more or less 4.10inches wide.
They're wide enough to allow my toes to move freely inside the toe cap and the rest of the boot as well.
So I can say that KEEN Lansing safety boots are true to size for me both width and length-wise.
If this is the first time you buy work boots you'll have to play a little bit with the sizing until you find the right size for you. That's because people usually buy work boots a half size or one full size bigger than their shoes.
So if your regular footwear size is 9 then when buying KEEN work boots you might one to go for 9.5 or even 10.
Heel height
The heel on these work boots measures almost 2inches (1.87 to be more precise).
How tall are these KEEN Lansing mid safety boots?
As I've mentioned at the beginning of the article I was surprised to see how low the boots are.
That's simply because many stores out there put in their description that the boot is 6″ tall and I couldn't really appreciate the height of the boot just by looking at a few pics.
The whole boot is about 5.10 inches tall but if you rest the heel the upper of these work boots is about 3.22 inches tall.
So if you're after a pair of good low-cut work boots these are a good option.
Break-in period: Do they need breaking in?
Have you ever tried to break in a pair of work boots? It's really a pain in the back, especially with those most expensive work boots that are made with thick, high-quality leather.
These KEEN Lansing on the other hand require no breaking in period. They're comfy and ready for action as soon as you put them on.
Price: how much do they cost?
They're not the cheapest pair of work boots out there. You can get them on KEEN's website for around $160 at the time I'm writing this review. They go for around the same price on Amazon.
Just click here to find out the latest and most up-to-date price on Amazon on these Lansing mid work boots.
Where to buy a pair of KEEN Lansing work boots?
There are many online and local stores you can buy these work boots from. Here are a few trustworthy sites you can buy KEEN Lansing work boots:
KEEN's website
Amazon
Zappos
Mid West Boots
Boot Barn
Who do I recommend these KEEN Utility Lansing work boots to?
Machinery drivers (forklift, cranes, excavators,etc)
Light to medium-duty construction workers
Superintendents
Handymen and handywomen
Alternatives to these KEEN mid Lansing steel toe boots
There are not a lot of work boot models competing with the KEEN Lansing, but I feel like the ones I've selected below are the most notable ones.
They have lots of reviews, and lots of happy customers too.
Watch the review on YouTube if you prefer
Verdict: Are KEEN Lansing work boots worth the money?
If you're looking for a boot that's mixing the lightweight and breathability of a hiking boot with the safety features of a work boot then these KEEN Utility work boots are a great option.
They're an excellent pair of work boots for those of you working indoors and also for a few outdoor jobs.
Avoid buying these boots if you are at the airport or any place where you'll have to go through a metal detector. The steel toe cap will set off the metal detectors and you'll have to go through all that process of getting the boots off, manual search, etc, etc. Annoying
So far I'm very happy with the money I've spent on my KEEN work boots and I can't find really something bad to say about them thus far.
---
Update: 1 month of wearing these KEEN Lansing
So are these KEEN Lansing good work boots to work in summer? My answer is yes, they are a great option.
We've had a couple of windy days over here and I could really feel the wind going through those breathable panels straight into my socks. Great feeling!
When is hot you can't feel the air going in and out of the boots but overall I felt that my feet were much fresher than when I was wearing my Blundstone BL990 (those are slip-on work boots by the way so they retain much more heat).
Nothing really much to add after a month. I'm still really happy with them! I'll see you in a few months for a 6 months update.
---
Team Members Working On This Page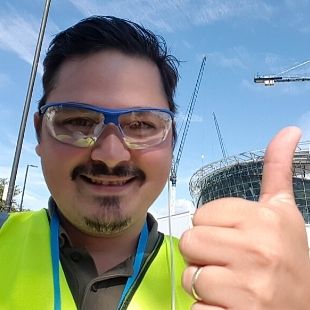 Construction Professional, driver, crane operator, cleaner, head chef … these are just some of the jobs I did in the past. Working in all these different environments taught me that having good footwear to protect your feet from different dangers at work IS PARAMOUNT for any worker! On this website, I aim to share all my knowledge and personal experience in dealing with different footwear and foot care issues, and hopefully, you can get something out of it. Enjoy!
Love technology, going to the beach, taking care of my body, and writing (amongst other things). You'll see my face around here a little bit since I'm responsible for part of the research and writing of some of the articles you're reading on BestForMyFeet.com. I hope you'll find our content helpful and enjoyable! See you around, thanks for reading!