Hey, Lucas here. Welcome to my review of these Rocky Rebound wedge sole safety work boots.
In this review, I'll share with you everything you need to know about this work boot. From how they fit and how heavy they are to waterproof, breaking in period, and everything in between based on my own experience wearing them at work as a lineman.
Overall, a very comfortable moc toe safety boot
They don't seem to be built for heavy-duty tasks but If you're after a pair of very comfortable work boots right out of the box that comes with wedge soles and a composite toe cap, these Rocky Rebound are a great choice.
Buckle up cause it's quite a long review. For your convenience, I've created a menu for this page that's helpful to jump to a specific section. Just click on the "What's inside" below to open it.
Let's go!
Who's working on this page
Lucas Chasteen
Author & Tester
Adam Rich
Editor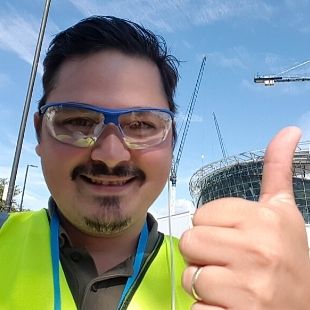 Victor Adrian
Researcher & Editor
---
The environment in which the boots are tested in
I purchased these boots to wear as a journeyman lineman. I will use these on a daily basis for most of the work I do, with the exception of climbing a pole or going into very wet or muddy conditions.
For both of those tasks, I have other boots more suited for those conditions.
These Rocky Rebound Wedge boots will be used for work associated with electrical distribution including operating bucket trucks, operating digger derrick trucks, setting new poles, stringing wire, working on underground cables, responding to power outages, and more.
With the wide variety of job sites and work to be performed, my boots need to be able to handle a lot of different tasks.
These boots are a good fit for my job because they are very cushioned and comfortable, while also providing safety features such as the composite toe, electrical hazard rating, and slip-resistant outsole.
They are lightweight at only about 1.5lbs per boot. A tiny bit lighter than the Rock Rams Horn wedge work boots I recently reviewed.
They also have a one-year waterproof guarantee with Rocky's Vapor Pass waterproofing which is also beneficial to my line of work where the jobsite changes every day or even multiple times per day.
Unboxing the Rocky Rebound work boots
Features of the Rocky Rebound moc toe work boots
| | |
| --- | --- |
| Model Tested | Rebound RKK0435 |
| Safety Toe Cap | Yes – Composite toe cap |
| Soft Toe Box Option | Yes – Model RKK0434 |
| Toe cap style | Moc toe style |
| Upper's material | Full grain leather |
| Boot height | Available in 6″ only |
| Color | Tobacco |
| Waterproof | Yes –Vapor Pass Waterproof Technology |
| Lining | Yes – Fabric liner |
| Boot construction type | Cemented construction |
| Re-solable | No |
| Sole material | Rubber |
| Midsole material | EVA |
| Sole type | Wedge sole |
| Heel height | 1.5 inches |
| Boot weight | 1.51 pounds per boot |
| Oil and slip-resistant | Yes |
| Non-marking soles | Yes |
| Shank | Yes – Fiberglass shank |
| Removable insole | Yes – Rocky Rebound Footbed |
| Electrical Hazard Protection | Yes |
| Available sizes | 7US – 14US |
| Available widths | D & W (Medium & Wide) |
First impressions of my Rocky Rebound safety boots
My first impressions when I initially opened up these boots are that the Rocky Rebounds look comfortable!
The midsole of these boots reminds me more of the level of cushioning typically seen in athletic or running shoes.
I am impressed by the looks, the light weight, and the cushion.
I expect these boots to be very comfortable, however, I do not have extremely high expectations for their durability due to past experiences with boots that are built with comfort in mind.
Time will tell for durability, but just looking at these initially, I can't wait to put them on and put them to work!
The Rocky Rebound work boots on the outside
Let's have a look at the outside of the boots and see what we can learn.
1. Type of material used in upper
The upper of this boot is made of waterproof full grain leather.
This seems to be a great quality leather, not as thick as the leather in some of my heavy-duty climbing boots, although that's not necessarily a bad thing!
The thinner leather means the Rocky Rebounds were comfortable from the moment I put them on and did not require any break-in period for me.
The leather is soft from day one and in my opinion, a beautiful color called "Tobacco" by Rocky.
2. Toe cap reinforcement
There is no toe cap bumper on these boots so if you want to protect the moc toe and the leather around the toe cap you'll probably have to go with something Tuff Toe.
3. Hardware
The Rocky Rebound Wedge boots come with six rows of eyelets.
The bottom four rows are traditional eyelets while the top two sets of eyelets provide you with the choice of lacing through them as you would with a traditional eyelet instead of using the speed hook option.
Pass-through speed hooks are a going trend that I'm seeing more and more on work boots and I am all for it.
Typically I opt for the speed hook lacing at the top of my boots but there are certain situations where I would prefer to lace through eyelets all the way to the top.
So I love having hardware that gives me the option to lace it how I choose based on what jobsite I'm going to work that day.
4. Boot construction type
These boots are put together using light and flexible cemented construction and direct attached EVA wedge midsole. Unfortunately, this means they cannot be resoled by a cobbler.
On the positive side, this type of boot construction makes the boots lighter and more flexible.
5. The sole
The outsole on the Rocky Rebound is a dual-layer EVA rubber combo.
This is very similar to the outsole on the Irish Setter Wingshooter ST and Irish Setter Ashby boots we recently reviewed. Check out the comparison between Ashby and Wingshooter here if you're interested in learning more.
It consists of a thick EVA midsole for shock absorption and extra cushion while walking. The bottom layer is a thin rubber outsole for added durability with treads for traction.
It is oil and slip resistant and I have found the slip-resistant part of this to be true as I have had good traction on a variety of different surfaces, both wet and dry.
Inside the Rocky Rebound moc toe work boots
Now let's see what can we discover by looking at the inside of the boot…
1. Tongue construction: Gusseted
The tongue on these boots is gusseted part of the way up the boot. The gusset runs up just above the fourth row of eyelets, stopping prior to the speed hooks.
That means if you stand in water higher than the fourth row of eyelets, you can expect wet boots.
But you should probably be wearing something like these Muck Chore Tall work boots if you're standing in water that deep! Which is what I wear by the way when I'm in that kind of situation.
2. Toe box
The toe box of this pair of boots is a composite safety toe. It is ASTM rated for safety standards. There is also an option for a soft toe.
The toe box is just the right size for my feet with enough room so that my toes do not feel cramped and do not rub against the composite toe.
At the same time, it's not so large that it looks clunky or unappealing to the eye, which is one of the cons of composite toe work boots. Not in this case though.
2. Removable insole
The Rebound Wedge comes with a removable insole that they call the Rocky Rebound Footbed.
There is not necessarily anything wrong with the insole but it is certainly nothing impressive. In my opinion, the insole should be better for the boot being sold at the price point it is.
I have not changed it out but I could definitely see myself putting in a different insole in the future. Here are some of the best insoles we've tested and reviewed.
3. Lining/ Waterproof membrane
These boots are lined with a waterproof membrane from Rocky known as their Rocky Recycled Vapor Pass waterproofing.
This is guaranteed by Rocky for one year to keep your boots waterproof.
4. Heel counter
There is a good size heel counter inside these boots which helps with comfort. I experienced zero discomfort and zero heel bite in these.
The other nice thing about having a dedicated heel counter in a waterproof boot is that it helps protect the waterproof liner from getting worn out in the heel area.
Which is all too common in some of the most popular work boots on the market.
To illustrate what I'm talking about check out the waterproof membrane in these Avenger A7505 work boots which lacks a heel counter.
Where are these boots made?
These Rocky Rebound Wedge boots are made in China. Here's a list of additional work boots and where are they made.
Will these Rocky work boots fit wide feet?
The specific boot I ordered would not be recommended for wide feet because I ordered the medium-width option.
This Rocky Rebound Wedge boot is offered wide width if you have a wider foot.
If you have wider feet you might want to check out these work boots round-up for wide feet to see what else is available out there.
What do the letters stand for when it comes to the width of the boot? (W,M,D,E,etc)
There's a lot of confusion about these among people looking to buy a pair of work boots. Hopefully, the little table I've put together might help you understand what's that all about!
The letters simply represent how wide the work boots are.
| Letter | Meaning |
| --- | --- |
| N or A | Narrow |
| M, or D | Medium |
| W or 2E | Wide |
| XW or 3E | Xtra Wide |
Are these Rocky Rebound boots waterproof or not?
In my day-to-day use so far I have worked in a light rain and walked through some wet, dewy grass and my feet stayed dry during those occasions.
When I tested these submerged in water they did get wet on the inside.
When the water level was under the top of the moc toe and under the gussetting and tongue as well, the boots stayed completely dry.
When I put the water up to a level where it was high enough to include the gusseting and lower portion of the tongue (obviously still below the top of the gusseting so water didn't simply pour in) the inside of the boots were wet when I came back and checked them after one hour of time.
The water level was always below the level of the Vapor Pass waterproof membrane that is inside the boot yet the inside still ended up wet.
I may very well take the steps asked for by Rocky to replace these, especially if I get to wear them for an actual wet day of work and my feet do get wet.
If I try to do a replacement through Rocky, I will update you with my experience dealing with their customer service so make to look for the updates at the bottom of this page.
Are they lightweight? How much do they weigh?
These boots are quite light for a work boot. They are one of the lightest pairs of work boots I have ever owned.
The website lists the weight of one boot in size 10 as 1.55 lbs. These are size 9.5 and they are 1.51 lbs so based on your size they may be slightly lighter or slightly heavier but definitely a lighter boot than many others.
Are they comfortable?
Comfort levels straight out of the box: These boots were very comfortable from the moment I put them on.
I would say in many ways they feel almost like lacing up a nice high top athletic shoe with the way they wrap nicely around my ankles and provide so much cushion underfoot.
I experienced no discomfort at all. After wearing these for a week or so at work the comfort level is still excellent!
These definitely are a boot that is built with lightweight comfort in mind and in my experience they do a good job with that.
Break-in period: Do they need breaking in?
These boots did not require any break-in period for me. They were extremely comfortable from the very first time I put them on.
I have had (and still have) some other really heavy-duty, more expensive work boots like the PNW boots that had brutal break-in periods.
But these Rocky Rebound Wedge boots didn't hurt my feet or even provide any discomfort whatsoever. They were good to go, with no pain at all, from the moment I put them on.
Are they slippery?
They provide quite a lot of grip on all surfaces I've worn them, both on wet and dry surfaces.
Do they provide support?
These boots provide some support, but I would rate the support as minimal.
They have some support around the ankle and heel with the structure of the boot coming above the ankle and being thicker padded.
I haven't had any issues with things like rolled ankles even when working on uneven terrain.
The arch support seems pretty minimal but having a fiberglass shank does provide some structure.
But if you specifically want a high level of arch support then I would think replacing the insole with one that has a defined and supported arch may achieve what they are looking for.
Are they true to size? Do they run small or large?
I find these boots to run true to size. I ordered my normal size and they fit great.
How tall are these boots?
The Rocky Rebound Wedge boot is listed as a 6" tall work boot. I measured it about 6.5 inches from the bottom of the sole to the top of the boot.
Heel height
Rocky's website lists the heel of this boot at 1.5 inches and my measurement is very close to that inch-and-a-half mark.
Heel-to-toe drop
There is a very minimal heel-to-toe drop in these boots.
They are not a zero drop boot but only provide about ½ inch drop from heel to toe with the heel being about 1.5 inches and the toe being about 1 inch.
Price: how much do they cost?
These boots cost approximately $200. At the time of writing this, they are $208 on Rocky's website and $198 on Amazon.
Depending on when you're reading this review, prices might be different. So in order to find the latest and most up do date prices, check out the table below.
Where to buy a pair of Rocky Rebound work boots?
There aren't many online and local stores you can buy these particular work boots from. My guess is that the reason for this is the boots are new to the market at the time of writing my review.
At the moment here's where you buy them from:
Who do I recommend these Rock Rebound wedge sole work boots to?
I recommend these to someone whose main focus is to buy something cushioned and comfortable.
These definitely hit the mark when it comes to comfort. They are light, cushioned, and I think look really nice too which is good!
They should work well for anyone working in a mild climate whether doing outdoor or indoor work.
With that being said, I do not expect to get a ton of durability from these. At least not in my line of work.
It has been my experience with boots that often times when a boot is built to be lighter and more cushioned with comfort as the top priority that durability is the trade-off that seems kind of inevitable.
I won't be able to give an accurate assessment on the durability until I wear them quite a bit more.
But my recommendation is to buy these boots if you want a very light and comfortable boot, not necessarily the longest-lasting boot at this same price point.
Here are some specific jobs and industries that come to mind for these boots:
Light to medium-duty construction workers
Superintendents
Handymen and handywomen
Factory workers
Retail workers
Office workers
Some yard work
Last notes on these Rocky Rebound composite toe work boots
After wearing these boots for a few weeks worth of work I have formed some thoughts and opinions on both the pros and cons of these.
On the positive side – these are extremely comfortable, very light, have provided good traction
They are safety rated for protective toe and electrical hazards, have the top eyelets that are an eyelet/speed hook combo, look really nice, and come with a one-year waterproof guarantee from Rocky.
Some things that in my opinion are not as good include the insole seeming like it is just some cheap foam and the performance of the waterproofing during my submersion testing.
Overall, I do like these boots quite a bit. The comfort level being in line with hiking boots or high-top athletic shoes is very appealing.
I can see myself possibly buying another pair of these in the future but I would really like to see these offered at closer to the $150 price point and believe they would be an amazing value at that price.
Overall, a very comfortable moc toe safety boot
They don't seem to be built for heavy-duty tasks but If you're after a pair of very comfortable work boots right out of the box that comes with wedge soles and a composite toe cap, these Rocky Rebound are a great choice.
---
More pictures of the Rocky Rebound composite toe boots
Check out my Instagram or Pinterest page for more pictures. Also, if you really like one of the images, you're free to borrow an image as long as you mention where you borrow it from!
Update: 1 month of wearing these Rocky Rebound
Stay tuned, it's coming soon…
Update: 6 months of wearing these Rocky Rebound
---
Team Members Working On This Page
Hi, I'm Lucas. I'm a Christian and a devoted family man who is happiest spending time with my beautiful wife and amazing children. I also love the outdoors, sports, and physical fitness.
I live in Northeastern Ohio and work as a journeyman lineman on distribution electric lines and also as a licensed Realtor. I have been a lineman for over ten years now and did tree work prior to that.
I hope my years of experience in the trades and in the woods, along with my affinity for footwear, can help me to provide quality reviews that benefit any of you looking to make a boot purchase!
Hey, I'm Adam. I'm a welder and metal fabricator. Primarily doing aluminum tig and sheet metal fabrication. Spend most of the day on my feet on concrete floors in the shop with the occasional job site visit.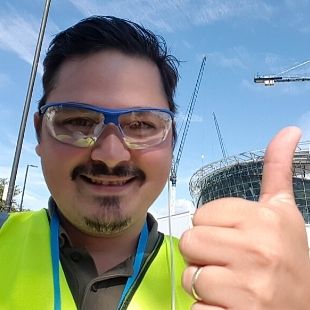 Construction Professional, driver, crane operator, cleaner, head chef … these are just some of the jobs I did in the past. Working in all these different environments taught me that having good footwear to protect your feet from different dangers at work IS PARAMOUNT for any worker! On this website, I aim to share all my knowledge and personal experience in dealing with different footwear and foot care issues, and hopefully, you can get something out of it. Enjoy!