Welcome to my review of these Timberland PRO 6″ Boondock comp toe work boots. I bought these boots for my construction work but since I can't test all the boots I'm interested in, for this review my colleague Donny is going to wear the boots for us and give us some feedback.
Reviewing The Timberland PRO Boondock Work Boots
Overall, a great safety toe work boots for those of you that need good traction under your feet. It's a comfortable boot once you get used to its weight. Also, you'd like these boots if you're looking for wide-fitting work boots. There's a lot of room in these bad boys.
The environment in which the boots were tested
Donny works as a slinger on construction sites. If you don't know what that is, a slinger is basically one of the persons working with cranes. He's the one connecting the loads to the crane using different lifting accessories.
So he might be in mud all day, water, concrete, walking on rebar as well as going up and down the stairs from one level to another in order to land loads in different locations.
In this review, we'll learn more about the boot itself, I'll do an unboxing, take some measurements of the different parts of the boots, and more importantly, we'll find out what Donny's experience wearing these boots was. I hope it's helpful.
Buckle up cause it's quite a long review. For your convenience, I've created a menu for this page that's helpful to jump to a specific section. Just click on the "What's inside" below to open it.
Let's get into it!
Unboxing the Timberland PRO Boondock 6-inch
There's not much to say here. They came with a flyer explaining a bit more in-depth the features of these boots which I always can appreciate because not everybody knows what each feature is and how can help you.
Features of the Timberland Boondock work boot
| | |
| --- | --- |
| Electrical Hazard Protection | YES |
| Safety Toe Cap | YES – Composite toe cap |
| Waterproof | YES – Waterproof membrane |
| Boot construction type | 270° Goodyear welted construction |
| Oil and slip-resistant | YES |
| Hardware | Loops and speed hooks |
| Shank | YES –Fiberglass shank |
| Lining | YES – Fabric moisture-wicking lining |
| Non-marking soles | YES – Non-marking rubber soles |
| Removable insole | YES |
First impressions of the Timberland Boondock 6″ work boots
Boy, these boots are massive! At least compared to other Timberland PRO work boots I've had, such as this Timberland Pit Boss boot.
I've heard this from other people who owned these Boondocks but I wasn't aware of how bulky they really are.
That's not necessarily a bad thing. It's just not what I'm used to. They come quite wide as well. This makes these Boodocks a good option for those of you with wide feet.
Donny said he liked that quite a lot since it's hard to find a boot that fits well for him right out of the box, width-wise.
I was a bit surprised about the weight of the boots. They're not lightweight for sure, so if you're looking for lightweight work boots, the Timberland PRO Boondock is not for you.
The Timberland PRO Boondock on the outside
Let's have a look at the outside of the boots and see what we can learn.
1. Leather quality
I can't find much info about the leather these Timbs Boondocks are made with but based on my experience with Timberland work boots, they are made with good quality full-grain leather.
Donny applied some dubbin wax to the boots before going out on-site for the first time. This should help with waterproofing and protection of the leather but also helps with the breaking in of the boots.
2. Rubber toe cap reinforcement
The composite toe cap makes these boots airport-friendly since you won't set off any metal detectors if you have to go through them in order to get to your work area.
It's quite wide, to be honest. Personally, I never had a boot that's so wide. This was great for my friend Donny since he's the one wearing them anyway. But there's a lot of room inside that toe cap.
Another good detail is the anti-scuffs rubber toe cover. This is a great feature for those of you that kneel, crawl and crunch a lot.
This rubber bumper helps avoiding the leather on the toe cap from getting damaged prematurely.
3. Hardware
The Timberland PRO Boondocks come with dual-purpose top hardware for lacing customization. On the bottom, you'll see three rows of eyelets and the last two are speed hooks.
Personally, I like this lacing system better since it makes it easy to put my boots on and take them off at the end of the shift. Much better than having 7-8 or more rows of eyelets.
I'm not sure what the eyelets and the speed hooks are made of but they seem quite heavy-duty (it could be steel, but don't quote me on that).
4. Boot construction type
This Boondock 6-inch work boot has an interesting sole construction. It's indeed a Goodyear welted work boot but it's 270° Goodyear welt (not a full 360°) and the heel is cemented.
5. Outsole
The outsole is great for those like you working outdoors.
My buddy Donny, works a combination of outdoors and indoors where sometimes he might work in a bit of soft ground and mud and other times on tarmac or hard concrete.
The outsole is made out of rubber and the deep lugs together with the heel will provide some great traction when working on soft ground.
He says the outsole provides a lot of grip on a variety of surfaces (something his old boots, the Amblers safety boots, would not provide). So he's happy about feeling safer on that front.
Inside the Timberland Boondock work boots
Now let's see what can we discover by looking at the inside of the boot…
1. Gusseted tongue
For someone working in construction, a gusseted tongue is a great feature to keep debris, soil, stone, sand, etc out of your work boots.
And these Timberland PRO Boondocks do come with a gusseted tongue which is gusseted up to a bit under the second speed hook from the top.
2. Removable insole
These boots come Anti-Fatigue technology polyurethane footbed for shock absorption and energy return.
The insole is very comfortable to be honest but it doesn't provide arch support. Being removable is great because you can add a better insole or something that suits you better.
Donny replaced the original insoles with a pair of Superfeet Green because he needs some arch support.
He's saying his heels are a bit sore which might mean that he's not comfortable wearing heeled work boots or he's starting to develop mild plantar fasciitis.
In that case, he will need a pair of work boots for plantar fasciitis or some insoles to help prevent plantar fasciitis from developing or getting worse.
3. Waterproof membrane
The Timberland Boondock work boots do come with a waterproof membrane which Donny has tested over and over again at work.
The waterproof membrane does its job perfectly thus far. This waterproof membrane goes up to where the gusseted tongue starts.
So if you're a plumber and you have to attend to flooding or other emergencies you might get your feet wet if the water is deeper than 3 inches.
4. Lining
This is a lined boot. The Boondock comes with a breathable and moisture-wicking lining with antimicrobial treatment for odor control. It's all fabric.
Where are they made?
According to the label on the tongue of my boots these Timberland PRO Boondock work boots are designed in New Hampshire, USA, and made in Bangladesh.
Are they insulated?
As you can see in the image from above, on the tongue of the boot it says that these Boondocks come with 400g ThermoLite insulation.
Some of the guys on the work boots subreddit were saying that they wear these boots up to -15°C (5°F). But if they work in colder conditions they go for the 1000g Boondocks.
Will Timberland PRO Boondocks work boots fit wide feet?
As I said at the beginning of this review these boots are quite wide and there's a lot of space inside the boot.
I never had a pair of lace-up work boots that felt so roomy. Based on this, I can say that the Boondocks will be a great fit if you're looking for work boots for wide feet.
Donny has wide feet and he says the boots fit him perfectly. This is how wide the boots became after wearing them for about 2 months.
What do the letters stand for when it comes to the width of the boot? (W,M,D,E,etc)
There's a lot of confusion about these among people looking to buy a pair of work boots. Hopefully, the little table I've put together will help you understand what's that all about!
The letters simply represent how wide the work boots are.
| Letter | Meaning |
| --- | --- |
| N or A | Narrow |
| M, or D | Medium |
| W or EE | Wide |
| XW or EEE | Xtra Wide |
Are they waterproof or not?
Yes, these Timberland PRO Boondock boots are 100% waterproof. When my buddy Donny tested the boots it was raining almost daily.
His feet were dry while wearing the boots in rainy weather and walking through puddles thanks to the waterproof membrane that comes with these composite toe work boots.
So as long as the waterproof membrane doesn't get punctured, water will never come into his boots.
Are they lightweight? How much do they weigh?
I'll leave the measurements here and you can decide for yourself if these boots are heavy or not.
The boots weighs 2 pounds and 76 ounces which is the equivalent of 1 kg and 124 grams more or less.
Usually, that's where I stop when making comments in this section. But I have to say that I was caught by surprise when I put the boots on for the first time.
The boots are quite heavy compared to the majority of work boots I've reviewed. Fair enough, these are heavy-duty boots…but I wasn't expecting them to be so heavy.
We'll see what Donny has to say about this after wearing them for a month or so (check the updates at the bottom of this page).
Are they comfortable?
Lots of cushioning in the sole and padding provided by the foam in the tongue, the collar, and probably the inner walls of the boot.
So yes, in that sense the Timberland PRO Boondock is a very comfortable work boot.
Are they slippery?
They have a great grip on the majority of the surfaces Donny is walking on.
He's mostly on unpolished concrete and tarmac but he finds himself walking on rebar, scaffold boards, or rough ground when he's working in the yard.
The Timberland Boondock provides much better slip resistance than his previous work boots.
Do they provide support?
Yes, if what you're looking for is a good work boot with ankle support, then these Boondocks are a good option altough you'll be better with the 8-inch version of the boot.
It also comes with a fiberglass shank that's going to be really supportive for your aches if you hit the shovel a lot or if you go up and down stairs and ladders like Donny does.
Are they true to size? Do they run small or large?
Based on what Donny says, the boots fit exactly as expected. In his case, he orders work boots one full size up when compared to his regular shoes.
He wears 8.5 shoes and but he ordered 9.5 Timberland Boondocks. They fit perfectly for him and that's something really hard to find he says.
But remember, Donny has wide feet so if you're like me and have a regular width foot, (D) then these boots will run large for you.
Heel height
The heel measures around 1.80 inches which is more or less normal in these type or work boots.
How tall are these Timbs Boondock work boots?
These are the 6-inch tall Boondocks but there is another version of the boot that comes with a taller upper (8-inch).
Break-in period: Do they need breaking in?
Surprisingly the leather didn't need breaking in. So the boots were comfortable right out of the box.
One thing that bothered Donny for a few days is the top collar of the boot. The rubber collar was rubbing the back of his leg causing a tiny blister.
So that part of the needed a bit of break-in. I totally forgot to mention to him to apply some mink oil to that part of the boot.
Applying a little bit of mink oil to that leather would've made it softer, sooner, avoiding blisters or any other discomfort that is common when wearing new work boots.
But other than that, the boots were ready for action as soon as Donny put them on!
Price: how much do they cost?
They're not the cheapest pair of work boots out there but they're not the most expensive ones either.
At the time I'm writing this review you can own a pair of these Timberland PRO Boondock 6-inch work boots for $190 on Timberland's website. They go for around the same price on Amazon.
Just click here to find out the latest and most up-to-date price on Amazon on these Timberland work boots.
Where to buy a pair of Timbs Boondock work boots?
There are many online and local stores you can buy these work boots from. Here are a few trustworthy sites you can buy your a pair of Timberland PRO Boondock work boots:
Timberland's website
Amazon
Zappos
Mid West Boots
Boot Barn
Who do I recommend these Timberland Boondock work boots to?
Usually, I provide a bulleted list with some professions or industries I recommend these work boots to but based on what we've learned so far about these work bots I have only one thing to say.
These boots are a good option for those of you that are looking for
wide fit work boots
waterproof membrane
lined boots
heavy duty
deep lugs
And the most important thing is that you do not walk a lot in order to do your job. Or at least you don't cover long distances.
---
Watch the review on Youtube
What others are saying about these boots?
I'm a moderator on the work boots sub on Reddit and here's what some of our redditors have to say about these boots: Join the sub here.
1. The waterproofing doesn't last
I work in the absolute worst place imaginable for boots. If they're "waterproof" after a couple of months it's a damn good pair of boots and if they last more than 6 months before the leather started cracking and splitting, they're made with witchcraft.
2. Comfortable and waterproof
I'm currently wearing the Boondocks on a movie set in Atlanta in a driving rain storm. They're super comfortable, my feet are bone dry, and I'm not slipping around in the mud.
3. One word: Magic
I had some boondocks and they were awesome. Super comfortable, like the insole and stuff was magic.
The only reason I didn't get another pair of them is because the tread is pretty aggressive and the grated floor and stuff we have at work was dangerous running on.
Especially up and down steps because until they got worn down a little bit they would grab instead of "slide/slip" down the edge of steps so I had to really slow down with them but they were super comfy and the ankle was wide enough so that when I broke my ankle, I could wear a donjoy brace and still wear them which was a life save honestly.
I've thought about getting another pair since speed isn't a big thing anymore in my new position.
4. Waterproof and slip resistant
I'm wearing a pair of this atm while treating lakes and ponds.
Pros: They are very waterproof. They are very slip resistant. They don't hold 5 pounds of mud.
Cons: They are difficult to lace tightly due to slippery laces. They can come untied easily for the same reason. The insoles tend to move around under your feet when walking at odd angles. I had to glue them in.
Update: 1 month of wearing the Timberland PRO Boondock 6-Inch work boots
A little bit over a month wearing these work boots and Donny had to start wearing his old work boots. At least he started to swap them or rotate them.
One week he'll wear the Boondocks, the next week he'll be wearing the Amblers.
This is because the boots are too heavy for the kind of work he's doing.
Don't get me wrong, the features in these boots are great … but for the amount of walking he needs to do, the boots are kinda heavy leaving him with very tired calves and legs at the end of his shift.
He'll use them more if the job requires less running up and down the stairs and walking up and down the site banking the cranes.
So based on this we can say the boots are a great option for those of you that are doing low mileage if you're job is more static rather than very active.
For example, it could be a good option for a mechanic or maybe for a commercial painter since you don't have to move a lot, but it can be a nightmare for a warehouse worker for example.
A little bit over 2 months into wearing these Boondocks, Donny says the boots don't feel heavy anymore and that the weight of the boots doesn't have a negative effect over his body as before.
Update: 6 months of wearing these Timberland PRO Boondocks
So here we are, the second update on these work boots. Donny is very happy with the boots and how they're holding up.
Construction
He finally got used to the fact that these boots have a Goodyear welt sole which was making it difficult for him at the beginning especially when he was going up the stairs.
The "lip" of the sole, that little bit of extra rubber material would get stuck under the stairs as he would lift his feet.
All the boots Donny had previously were cemented constructed boots and those boots don't have that extra bit of material.
Inside the boots
The boots are still very comfortable and warm which is great for this time of the year since we're having some miserable weather, wet, cold and windy!
Something that impressed Donny very much is the fact that the boots don't smell at all. His feet sweat quite a lot in work boots and he's positively surprised that these boots don't stink.
One of the differentiators, when you compare cheap work boots vs expensive work boots, is that cheap work boots smell pretty bad after wearing them for a few shifts.
This could be proof that better quality, more expensive work boots don't smell bad right away because the materials used to build these boots are of higher quality.
Waterproof
The waterproofing membrane is still doing what it suppose to do so the boots are still waterproof.
On top of that, I like that Donny is taking care of the boots applying dubbing to them every two weeks or so not only making them water-repellent but also keeping the leather in good, healthy condition.
Stitches and other outer features
Of course, you'll see some normal scuffs on the boots but nothing too bad worth mentioning here considering Donny is going through a lot of different settings during his shift.
But the stitches are holding up well, there are no signs of damage to the eyelets or speed hooks, and even the laces are still in good shape.
Verdict after 6 months of wearing these work boots
Still great pair of work boots for anybody working in the construction industry.
Verdict: Are Timberland Boondock work boots worth the money?
So far we can say that the Timberland PRO Boondocks boots are definitely worth the money since the quality is there.
But they're not for everybody as we found out based on Donny's experience wearing these boots on a construction site.
The materials used in making these boots are of good quality. They are a little bit on the heavy side, but they are comfortable (once you get use to them) and also durable.
Donny didn't like how hot the boots were in summer but then he loved them for that particular reason when the cold season came. So don't buy these bad boys if you work in a nice hot environment as you're feet will sweat a lot.
---
Team Members Working On This Page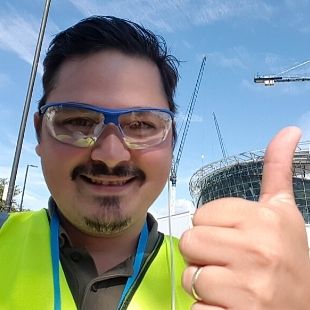 Construction Professional, driver, crane operator, cleaner, head chef … these are just some of the jobs I did in the past. Working in all these different environments taught me that having good footwear to protect your feet from different dangers at work IS PARAMOUNT for any worker! On this website, I aim to share all my knowledge and personal experience in dealing with different footwear and foot care issues, and hopefully, you can get something out of it. Enjoy!
Love technology, going to the beach, taking care of my body, and writing (amongst other things). You'll see my face around here a little bit since I'm responsible for part of the research and writing of some of the articles you're reading on BestForMyFeet.com. I hope you'll find our content helpful and enjoyable! See you around, thanks for reading!