If you're on the hunt for a new pair of comfortable boots for work, chances are you've stumbled on an entire category of footwear with a name that almost sounds too good to be true.
But are they worth it? 
Absolutely!
Here's why:
Work boots, much like their name implies. They are boots that are designed for workers. They are built from the ground up to protect a worker's foot from the risks and hazards of various job sites.
Some applications where work boots are used for
Jobs that require extra foot protection
Their ability to withstand harsh environments
Compliance with job site safety regulations
Most importantly: Preventing foot and toe injuries in different jobs
Keep reading to find out why work boots are one of the essential items in a worker's safety arsenal. We dive into what makes these boots so unique, along with how they can help you stay safe from the most common job site hazards.
Make sure to check our best work boots page where you can find a lot more helpful content related to work boots plus a huge variety of work boots based on your specific needs and situations!
Why wear work boots?
You might be asking yourself, what's so special about work boots?
We get you – after all, everything from sneakers to loafers pretty much covers a foot from outside elements and lets you walk on rough surfaces.
However, that's where the similarities end.
Work boots are a whole different breed of footwear.
They are designed from the get-go with durability, practicality, and safety in mind. This allows workers to operate in some of the harshest environments without harming their feet.
Unlike other forms of footwear worn as a fashion statement. Work boots serve one purpose only: to protect a worker from the hazards and risks of their job.
To put things into perspective, a steel toe work boot with an ASTM 75 safety rating can withstand weights up to 2,500 pounds, which is almost the same weight as that of a small compact car.
When the very safety of your feet hangs in the balance throughout your shift, it's better to be on the safe side and wear safety boots.
Who needs to wear work boots?
Work boots are made for workers to operate in industries and environments where safety isn't up for discussion.
Hard-working men and women that have to deal with everything. Everything from heavy-duty equipment, hazardous materials, and even slippery surfaces all rely on the protection and stability that their work boots provide them.
So that they can grind through a full day's workload without having to worry about losing their grip or harming their feet.
In reality, if you work at any serious company, they will make you wear safety footwear. It's for your own benefit!
Our colleague from the editorial team, Adrian, works in construction and he says he forgot how many times his work boots saved him from silly injuries that could put him out of work for weeks.
Jobs and activities that require work boots
If there's one point we can't stress enough, it's that realistically no job site or activity is immune to injuries.
For that very reason, several types of work boots exist. They offer safety and comfort features designed around the worker's needs like as:
Farmers
Contractors
Construction workers
Fishers
Electricians
Welders
Ironworkers
Carpenters
Renovators
Oil & gas workers
Plumbers
Factory workers
Firefighters
Hunters
Loggers
Police officers
And many more…
9 hazards work boots can protect you from
At first glance, a work boot might not seem like it can offer much beyond a badass look.
Make no mistake, though. Work boots are first and foremost designed to overcome the most common hazards workers face on the job, such as:
1. Slips
Some work boots have a unique feature that will make their outsole slip-resistant and have high traction. This will help you stay on your feet even when working on slippery or wet floors.
2. Falling objects
Work boots with a reinforced toe box or metatarsal body can keep your feet and toes safe and sound from the weight of a heavy object crushing them.
3. Punctures
Many heavy-duty work boots feature rugged yet flexible outsoles. These prevent sharp objects like glass or iron nails from piercing into the bottom of your foot.
4. Electrocution
Electrical hazard (EH) rated work boots are fully insulated. While their outer layer is made from a non-conductive material. The non-conductive material prevents external electrical charges from reaching your body. 
5. Burns
If you regularly deal with high temperatures or molten metals, your feet will thank you for slipping into a pair of heat-resistant work boots.
Why? Because it will guard them against extreme heat and fires.
6. Cuts
Some safety work boots are cut-resistant and built to minimize the chances of having an accident. All the while using sharp equipment such as chainsaws.
7. Fatigue
Several manufacturers emphasize the comfort, fit, and support that their work boots provide. Not only does this prevent you from having sore feet, but it'll also let you stay safe and focused on the job. 
8. Extreme weather
Whether you're facing up against a storm or extreme heat. Work boots with breathable lining, insoles, and a waterproof membrane can allow you to keep on marching through the storm no matter what while keeping your feet fresh and dry.
We have two pages that talk more in-depth about this topic. So make sure you check the best insulated winter work boots if you work in cold weather. Or if you're in the heat all day, have a look at these best breathable work boots for summer.
9. Unemployment
Although not a hazard…
… suppose your feet get injured from not wearing footwear that meets safety regulations. It could cost you your job or extended time away from work. (that's especially bad if you're self-employed. No work=no money!)
How are work boots different from regular boots?
Now that we've covered the basics of work boots and what gives them an edge over everyday footwear, it's time for the tricky part: 
Telling work boots apart from regular boots.
While hundreds of standards and features separate classes of work boots from each other. Most work boots come standard with essential safety features that often aren't found in casual boots.
To make things easier for you, we've broken down the main points to look for to identify a work boot from the rest.
Look for these features to know if the boots you've got your eyes on are designed for work:
1. Toe caps
Most work boots feature a reinforced toe box made out of either steel, composite material, TPU, or aluminum. While each material has its advantage, all safety toe caps in work boots are designed to protect toes and withstand a 100 joules impact.
2. Durable uppers
Unlike average boots, which tend to have their exterior made out of synthetic materials, work boots are usually made out of tough material. Materials like leather, nubuck, and suede.
The benefit of such materials is that alongside their durability and toughness, they're also relatively breathable.
3. Breathable lining
One of the most critical factors that separate a work boot from a normal boot is its breathability and the material used to prevent moisture from building up.
This ensures that a worker's foot remains dry from the moment they clock in until they clock out.
4. Insoles
Just as safety is a requirement when it comes to working boots, so is comfort.
The insoles used in boots made for workers are designed to provide foot support to prevent fatigue while keeping moisture out to avoid infections like athlete's foot.
Having good insoles will not only make you feel more comfortable during the day if you walk a lot but will help you alleviate pain in your knees. They are great as well if you suffer from plantar fasciitis.
By the way, if you do happen to have this condition, check out these top-rated work boots for plantar fasciitis if you need some inspiration.
5. Outsoles
Since outsoles are the first contact with outside elements and whatever unexpected danger awaits on the floor.
The outsoles of a work boot are designed to be tough to prevent sharp objects from getting through while generally being flexible to allow foot movement.
More often than not tend to be slip-resistant and engraved so that workers can stand their ground even in the slipperiest conditions.
Are work boots considered PPE?
Quick answer – yes, work boots are considered personal protective equipment.
The reason? In layman terms, when working in hazardous environments, work boots are for feet what gloves are for hands. 
To give you an idea of how crucial work boots are, several regulatory bodies such as the  Occupational Safety and Health Administration (OSHA) requires employers to either provide or ensure that their employees use protective footwear when working in areas with high electrocution risks, falling or rolling objects, or sharp objects capable of piercing through a regular boot's sole.
If you want more details read the are work boots being considered PPE page here.
Another interesting thing is that you could actually write work boots off as business expense. This is helpful especially if you are self-employed. That way you keep a bit more money into your pocket.
Conclusion 
Love em or hate em,' the bottom line is that there's no denying the fact that work boots are an essential part of every working person's protective work gear.
Not only do work boots provide reliable foot protection and last a long time compared to regular boots (even longer if you clean your work boos regularly).
But they also save you from having to spend ridiculous amounts of money on hospital bills in the long run. 
---
Team Members Working On This Page
Love technology, going to the beach, take care of my body, and writing (amongst other things). You'll see my face around here a little bit since I'm responsible for part of the research and writing of some of the articles you're reading on BestForMyFeet.com. I hope you'll find our content helpful and enjoyable! See you around, thanks for reading!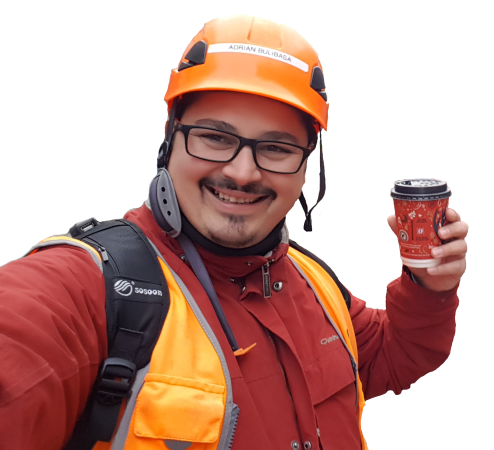 Construction Professional, driver, crane operator, cleaner, head chef … these are just some of the jobs I did in the past. Working in all these different environments taught me that having good footwear to protect your feet from different dangers at work IS PARAMOUNT for any worker! On this website, I aim to share all my knowledge and personal experience in dealing with different footwear and foot care issues, and hopefully, you can get something out of it. Enjoy!