Logger boots and stilettos share a feature in common: the high heels! But, logger boots are specialized work boots that keep the wearer safe and comfortable. So, I bet you've sat to ask why these boots tend to have a raised heel.
Here's why logger boots have high heels
Logger boots have high heels to provide enough traction and ankle support to climb steep slopes, rocks and maneuver through muddy or uneven terrain.
Different work environments need logger boots: linemen need high-heeled boots to climb the utility poles. The high heel in logger boots provides ranchers and farmers with enough traction for walking through muddy grounds.
Motorcycle riders prefer the raised heel as it holds their feet firmly on the bike. Find out here if work boots are good for motorcycle riding or not.
Short history of logger boots
Historians credit the Northwest Pacific for the Invention of logger boots back in the 19th and 20th centuries. During this time, lumberjacks in the region realized they needed more traction.
The growing demand for raised heel boots inspired the original design of logger work boots. As a result, the caulked logger boots became popular among different brands, including Danner Boots and White's Boots.
People in other Industries then realized that the logger boots were elegant and started wearing them. So, although the initial caulked boot design was for timber workers, many people and companies copied it as general footwear.
5 Reasons why logger work boots have high heels
If you're wondering why logger boots have high heels, I've got the answers for you. But you have to appreciate that logger work boots have high heels for several reasons.
Here are 5 reasons your logger work boot has a high heel
1. Provide traction
If you literally need to dig in your heels, a logger work boot is what you are looking for. For other people, it's a metaphor, but for loggers, it's something they have to do every day.
The boot's heels sink into the ground to provide enough support for:
Walking uphill on a slippery muddy slope
Pulling ropes, burrows, and carts
Mountain climbing
Pushing carts and other tools.
2. Offers performance and comfort
Some experts argue that the high heel makes logger work boots uncomfortable. But that's only true when you are using the boots for reasons other than their intended purpose.
For loggers, no other boot is more comfortable than the high-heeled work boot. Work boots with a flat sole would be dangerous for the woods.
The high heel feature adds comfort and performance to the leg, especially on even terrains. Make sure you go to the most comfortable work boots page to see what else is available on the market.
3. To provide protection
You require enough traction and protection when working on rugged ground. Logger boots have steel toes to protect the wearer from compression.
Also, nobody wants to keep skidding and stumbling, especially in a work environment with many hazards. The high heel feature keeps you grounded even when it gets slippery.
4. Durability
Your high-heeled boots will literally outlast all your flat feet work boots. The problem with flat-footed boots is that they eagerly rub with the ground and the friction causes wear and tear.
So, flat-footed boots end up losing a chunk of their size to the ground. If you're working on rough ground, get a boot that withstands all the friction and tear.
Most of your weight concentrates at the raised heel and, therefore, the other parts of the boot race on.
5. Kicking and pushing things with your feet
If you want to roll a log after cutting, you literally have to use your feet. This would be impossible if you had flat sole boots. Take an example of trying to kick a ball through a wall with your tennis shoes.
Now, when you compare that with what real-life loggers have to go through, you will understand just why the raised heel is so important. It's for this reason that most bike and horse riders prefer the high-heeled loggers' boots.
Is it good for your feet to have a high heel work boot?
High-heeled logger boots are essential equipment in the logging industry: firefighters, farmers, horse and bike riders who need traction love high-heeled boots.
However, wearing high heels comes with several health risks. You could develop impaired stability, hammertoes, and bunions. Wearing high heels could also curve your spine, feet, and legs.
Logger boots are not for everyone because they are designed for specific industries.
However, boot enthusiasts just can't resist wearing this boot once in a while. If you are a boot aficionado, there is no problem with adding a pair to your wardrobe.
Of course, there are distinct features that make logger boots design advantageous for workers.
For example, the traction and support that high-heeled boots offer are unmatched by the lower heel profiles. But, these advantages may be conditional in situations and may not be worth it.
If your job description requires you to wear light work boots, then the logger boot is not for you. For some people, the raised heel is uncomfortable.
Healthcare workers spend their time standing and attending to patients; so, they would love flat boots.
And, if you are in California or Nevada during the summer, you don't want logger boots to your office because it could become a small oven. You might want one of these best work boots for summer instead.
So, which jobs require logger boots? Take a look a few examples.
Who Should Use Work Boots With High Heels?
Not every industry will require a high-heeled logger boot. However, these work boots are life-saving gear for some work environments. Some jobs may consider logger boots as Personal Protective Equipment (PPE).
Firefighters need boots designed for traction in high temperatures.
Timber workers, loggers, and people in the logging industry require caulked boots with increased traction.
High-heeled steel toe boots are essential gear for workers in an industry that requires handling heavy cargo or equipment.
Linemen need logger boots with enough traction to climb the utility poles.
What are the benefits of high heels in logger work boots?
Improves posture on uneven grounds
Supports the torso and reduces spinal problems
It gives you enough traction to work on rugged slopes
Makes climbing easy
Logger boots are durable
Climbing spurs fit well in the gaps between the heels
Logger boots help timber workers and linesmen climb with ease
Trends through rocky, uneven terrains without a hassle
It keeps your feet dry as there's a clear distance between your feet and the ground (check out these best waterproof work boots for more diversity)
Any disadvantages of high heels work boots?
Wearing logger boots the wrong way stresses the knee and could cause joint pains.
The elevation causes an unnatural posture, and your tendons bear the stress. So, you may get muscle spasms and leg pains.
High heels tend to curve your back and cause a forward push on your pelvis. So, you might experience pressure and lingering pains in the lower back region.
Heels longer than three inches could damage your feet' ball bones.
High heel work boots vs. flat and wedge sole boots
Logger boots have higher and taller heels. So, they provide better traction than ordinary flat sole boots.
Logger boots provide better moisture control as they are raised from the surface.
The heel on logger boots makes them resistant to water, electrical hazards, and oil.
Also, heeled boots are more durable than flat boots.
Flat boots are more comfortable than logger boots, especially when you use them on flat surfaces
Difference between Logger Boots Vs. Wedge Sole Boots
Heeled Logger Boots
Wedge Sole Work Boots
Heavier than ordinary work boots
Less arch support
Provides better traction
Have high heels
Features thick treads and lugs
Wedge sole work boots are lighter
Sole distributes weight throughout the foot, providing enough arch support
No heels
Offers less traction
8 popular brands and models with high heels
These awesome logger boots are in no particular order. We just wanted to give you an idea of what you can find on the market. There are more models and brands but we feel that based on our experience and research these are some of the top brands!
1. Chippewa
Since 1901, Wisconsin's Chippewa Boots has produced stylish and sturdy work boots. For example, the Chippewa 8″ Lace-To-Toe Logger boot is everything a logger work boot should be: medium arch, 100% leather, and removable orthotics.
2. Carolina
Carolina boots have the typical mine worker in their Pennsylvania state in mind. For example, the Carolina CA8821 offers you copper, black, and brown colors to pick from.
In addition, the rubber sole gives you enough traction and electrical hazard protection.
3. White's logger boots
White's logger boots boast some of the earliest designs of high-heeled work boots. For example, the White's Boots Men's 400V Smoke Jumper Boot is a 100% full-grain leather high-heel boot with a Vibram sole. In addition, the boot meets all NFTA fire fighting standards.
4. Georgia
Since 1937, Georgia Boots have been on the frontline, manufacturing ranch boots and logging footwear.
The company boasts the hardest working logger boots in America and this Georgia Logger work boot is a clear indication of this. With the waterproof 100% full-grain leather, the steel shank boot has enough traction to climb a tree.
5. Adtec
Adtec has some amazing logger work boots you may want to look at. The Ad Tec 9 inch Super Logger work boots. Smooth lining and shock-absorbing features. Also comes with a durable Goodyear welt construction full-grain horse leather.
It's comfortable, classy, and oil and slip-resistant.
6. Irish setter
Like many Irish setter work boots, the Irish SetterMesabi Steel Toe boot is durable, safe, and comfortable. The 8-inch boot comes with a rubber sole and full-grain leather. The steel toe and raised heel make it ideal for loggers.
7. Danner
Get the top-quality loggers boots with 100% old Nubuck leather and a rubber sole. Danner Men's Logger 8″ work boot has dry waterproof protection, a raised heel, and measures 9 inches from the arch.
We have a more in-depth article looking into whether Danner's work boots are any good or not. You definitely have to check it out if you want to know more about this brand and their work boots.
8. Carhartt
Carhartt boots have some of the best construction in the market. For instance, this Carhartt leather logger boot has a 7-inch shaft and waterproof membrane. In addition, the cushioned insoles and rubber soles provide you the comfort you need.
This brand is awesome and they have lots of other great work boots. Check out the Carhartt work boots reviews page for more details.
Logger Work Boots FAQ
Let's answer some common questions you might have related to logger boots.
Are logger boots comfortable?
How comfortable high-heeled boots are depends on the work environment. Logger work boots are comfortable for climbing and trekking through rough forest terrains.
But when you're working on flat surfaces and floors, the boot may be a little uncomfortable.
Logger boots or work boots: which one should I choose?
This is a question that many people who never had to wear work boots are asking. Read this article (Work Boots VS Logger Boots) where we talk a bit more about this topic but basically, it will depend on what type of work you're doing.
Can I wear logger work boots for construction work?
No, logger boots don't belong to the construction site. Work boots come in different shapes and forms to fit specific work environments.
If you wear high-heeled boots for your construction work, they will be stiffer and heavier than what you're used to.
Can logger boots work well on concrete floors?
Although logger boots may look stylish, using them on smooth concrete floors isn't the best idea.
Logger work boots are for the rough forest terrains, and if you wear them on smooth ground, you could feel uncomfortable.
If you work a lot standing or walking these are the best work boots for standing on concrete floors all day.
What's the price of a pair of logger boots?
The price of a logger workbook depends on its size, brand, and material quality. But if you have $150 to $250, you should be able to find a good boot. (check the examples we gave above)
Will logger work boots make you taller?
Although your natural height is constant once you hit adulthood, work boots and other footwear with high heels CAN make you look taller. The added size depends on the elevation of the heel.
Conclusion: are logger work boots with high heels good for you?
The high-heel in logger boots helps you stand your ground when it's shaky, slippery, and steep.
If you're working in an environment that requires extra-traction, consider buying high-heeled logger work boots.
Like we've seen above, these type of work boots are NOT for everybody so don't just go ahead and buy one simply because they look cool. (or they make you taller). Make sure they're a good fit for your work.
For example, if you're an electrician or a security guy, don't buy high heels work boots. They'll give you a lot of pain after a long shift.
---
Team Members Working On This Page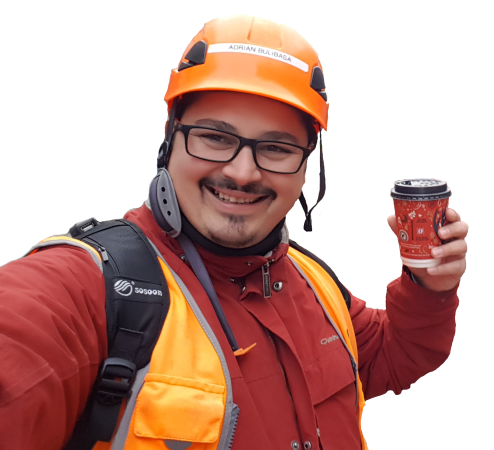 Construction Professional, driver, crane operator, cleaner, head chef … these are just some of the jobs I did in the past. Working in all these different environments taught me that having good footwear to protect your feet from different dangers at work IS PARAMOUNT for any worker! On this website, I aim to share all my knowledge and personal experience in dealing with different footwear and foot care issues, and hopefully, you can get something out of it. Enjoy!
Love technology, going to the beach, take care of my body, and writing (amongst other things). You'll see my face around here a little bit since I'm responsible for part of the research and writing of some of the articles you're reading on BestForMyFeet.com. I hope you'll find our content helpful and enjoyable! See you around, thanks for reading!