Hollywood has pretty much made tall leather boots synonymous with cowboys. But what if we told you that the boots they wore were once the work boots of their time?
While some might think that even comparing the two is like comparing apples to oranges, the two aren't all that different. When compared, work boots put up quite a fight against their more famous cousin, the cowboy boots.
Think about it, both of them are designed for work, and both tend to look pretty similar. (at least when we're talking about pull-on work boots)
So, what's the deal?
Saddle up, partner, because we're about to head to town and get straight into the gist of it.
7 Main differences between work boots and cowboy boots
There's a lot of similarities when it comes to work boots and cowboy boots. Heck, they even look almost the same to the untrained eye, and many work boots double as riding boots.
To break it down, here are the main differences between cowboy boots and work boots:
#1. Vamps
No, we're not talking about cowboys going up against vampires in a western shootout. We're talking about the top part of a boot that covers your foot.
You're bound to find all sorts of designs and patterns that adorn the exterior on cowboy boots.
After all, it is what separates them from other boots from the first look.
Yet, those designs and fancy exteriors won't last long if you intend on doing outdoor work.
Work boots, on the other hand, tend to keep it pretty simple. They focus on function over appearance. That's not to say that work boots don't have appealing looks.
Several work boots incorporate the classical appearance and decorative patterns of cowboy boots while ensuring that they don't pose a risk to a person's ability to work. You can read more here if work boots are fashionable and attractive or not.
#2. Outsoles
The outsoles of traditional cowboy boots tend to be made out of leather and are generally thinner than a work boot. The reason is it allows a cowboy's foot to have maximum flexibility.
Yet, there's a couple of apparent downsides to this.
1) You won't get much stability since leather is pretty slippery. Not to mention the amount of resolving you'll have to do.
2) Your foot can get easily injured by any object on the ground.
On the other hand, the outsoles of work boots tend to be thick and made out of good ol' rubber, providing the right amount of flexibility and maximum durability.
#3. Toe shapes
One of the most iconic classic cowboy boots features is their narrow and pointy or even pointed curled up toe compartments.
As dandy as they look, pointed toes in cowboy boots only became a thing in the 1940s. In actual day-to-day usage provide no practical benefits, sometimes even being outright uncomfortable.
Work boots, however, are meant to get things done and, aside from a few exceptions, have rounded, squared, or wide square toe boxes that tend to include protective steel or composite tips for extra protection.
#4. Insoles
Much like the outsole of a classical cowboy boot, the insoles of a cowboy boot tend to be made out of leather.
While leather is excellent for its breathability, it's not exactly the most comfortable thing out there if you plan to stand or walk on your feet. (on the other hand, these are some of the best work boots for standing all day on hard concrete floors)
With work boots, though, you've got more than just rubber beneath your feet. No, sir, when it comes to working boots, comfort is in the details.
Especially with a lot of options to choose from that are designed to adapt to the shape of afoot. All the while adding in extra stability along with arch support and steel shanks for additional foot support.
#5. Heels
The heels of cowboy boots are angled and tend to be high. The height is ranging anywhere from 1 inch up to 4 inches. So that they can hook into place on a stirrup while riding a horse. While that makes them great for horse riding, the same can't be said for walking.
While several work boots have heels, their heels are upright, flat, and usually don't go over an inch high. The reason being that the person wearing them can walk and move their feet freely while having better balance.
Some work boots such as logger boots have high heels for better traction but most work boots don't go higher than 1 inch as we said.
#6. Shaft
All cowboy boots have in common are their relatively long shafts that can be anywhere from 11 to 14 inches.
This, in part, is due to their history of being worn in places with lots of thorns, tall grass, snakes, and other elements of the wild west's terrain, along with protecting a cowboy's leg from rubbing against the stirrup of a saddle.
On the other hand, you'll find no shortage of work boots with long shafts, which sometimes include shin protection.
They even go all the way to having a metatarsal structure to support the entirety of the work boot's body while packing in extra features such as water and oil protection, depending on each model. Check out these best waterproof work boots if you want to see what's available out there.
#7. Price
Cowboy boots have a long history with riders. If you live in a famous place for its wild west adventures, you can tell how deep they run into the heritage of an area.
As a result, it's common for people to opt for handmade cowboy boots to fully experience this type of boot's classical depth. The downside, though, is unlike work boots which are factory-made for the most part.
The cost of the manual labor that goes into handmade cowboy boots can make them put a deep dent in your wallet.
Factory-made cowboy boots more or less tend to be around the same price range as western-style work boots. The only difference often being on a per model and manufacturer basis.
For your curiosity, I'll leave here an article where you can find out where the most popular brand manufactures their work boots.
Uses of cowboy boots
Cowboy boots, much like their name implies, are for riders and ranchers.
Although they share the same distinct appearance, cowboy boots have and still have two primary purposes:
Working on the ranch
Cowboy boots designed to be worked in have lower heels suitable for farmland terrain and other activities.
Riding horses
Cowboy boots' unique angled heels, especially those cowboy boots with higher heels. They are specifically designed to keep a rider's foot locked into a stirrup on a horse for as long as possible while crossing vast distances.
Uses of work boots
Work boots have been around almost as long as cowboy boots. They're meant for some pretty tough jobs in their traditional form, and much like cowboy boots.
But that's where the similarities start to get blurry.
Work boots, unlike cowboy boots, are a foot's first line of defense in a whole bunch of jobs.
Construction, farming, roofing, oil rigs, carpentry, factory lines, you name it, and work boots are pretty much the standard that you'll see on the feet of every worker who values having feet.
Put, when a job poses a risk to your safety, an excellent ol' pair of work boots is your partner around the clock.
Work boots or cowboy boots: Which ones are more comfortable?
Cowboy boots, as stylish as they are, their popularity in both the world of fashion and in horse riding aren't exactly the best option if you care about comfort. Or intend on doing anything other than horse riding.
Although cowboy boots get a plus for being flexible. They have little else to offer when it comes to wearing them while you're standing for a long time at work. The reason comes down to their insoles and foot support.
Work boot manufacturers take into account the work environment that workers have to endure for several hours. Leading them to include everything from shock absorption, & padded insoles, to breathable linings.
This ensures that no matter how long you're riding into overtime, your feet won't hurt.
Mainly thanks to their heel, ankle, toe, and overall foot support.
On the other hand, cowboy boots don't bring much to the table aside from being easy to slip on. Not to mention the height of some cowboy boots' heels, they can end up resulting in a bad case of knee and back pain.
Check out these most comfortable steel toe and composite toe work boots if you want to see some of the most popular models.
Are cowboy boots as good as work boots?
While cowboy boots in their traditional form have over time become a fashionable item. Cowboy boots don't hold their ground in a showdown against work boots.
When it comes to riding on a horse, it's pretty tough to beat a pair of tough cowboy boots. Everything from their high heels to aesthetically pleasing embroidery and designs. It gives them an edge over most work boots that are pretty hard to match.
But that doesn't mean that work boots don't put up a tough fight for the title.
More and more work boot manufacturers such as Ariat and Irish Setter have implemented cowboy boots' unique features. Thus creating work boots that are cowboy boots for the modern rider and cowboy.
Are work boots suitable for riding?
Most definitely, but you should remember a few things:
1) The heels should be at least an inch high with good traction (you don't want your foot to be slipping on a horse, trust us)
2) They shouldn't have shoelaces to avoid your foot getting tangled up.
3) They should have toe protection to avoid getting your toes crushed should your toes get stepped on by a horse.
The good thing about wearing work boots for horseback riding is they're also pretty easy to clean. As opposed to other types of boots with similar features.
After all, work boots are designed for marching through even the messiest situations. They live to see the sun for even more grueling duties the next time you slip them on. Oh, and if you're talking about riding bikes and not horses, we've put some information together here about work boots being used to ride motorcycles.
5 popular cowboy work boots that mix the best of both worlds
Most people think of work boots as footwear without much personality or character. To them, they are designed to be part of a job site's protective gear.
While that might be true a couple of decades ago, today's work boots kick style up a notch. They have become the modern option for riders who value safety and want a look that clearly shows their love for the western look.
Since we know how hard it is to hunt down every manufacturers' best offerings, we've taken the liberty of rounding up 5 of the best pull-on work boots that we think are right there at the top of the list.
There are more of course, but these should give you an idea of what you can find out there.
1. Ariat Cowboy Work Boot
Rugged, durable, & good lookin' are a few of the words customers have to say about Ariat's western-style Groundbreaker work boots. They tick all the right boxes.
They pack in the classical appearance of a cowboy boot while blending in top-of-the-line work boot features. Features like durable leather and toe protection. Things you can count on that'll keep your feet both dry and comfy.
2. Justin Western Style Work Boot
With roots dating back to 1879 and the old west. Justin's Stampede comp toe work boots carry on the company's Texan heritage. It stays true to the iconic western look down to the stitch.
Along with including everything from a composite safety toe cap to flexible rubber soles. To get a worker moving through the roughest sports while looking good at it.
We've mentioned Ariat above and now Justin. If you're curious about the differences between the two you can read this article: Ariat Versus Justin: Which one is better?
3. Rocky Pull On Work Boots
It is made with a refined full-grain leather upper and a shaft that extends mid-calf. The Rocky western is a clear choice for workers and riders that demand safety and refined looks.
It features a double row welt stitch, steel toe cap, eight-layer foot support system, and a removable dual-density polyurethane ride footbed. That packs in heel stabilization.
These boots pack all the gear you'll need to stay grounded. Be ready for anything while you ride into the horizon or march on through the shift.
4. Irish Setter Western Style Work Boots
They are built with composite material right down to the sole. This Irish Setter's Marshall pull-on boot provides more than durability for a worker. They provide comfort down to the last step with the added benefit of style and protection.
You'll need to work hard while playing hard, complete with a rugged leather exterior and shock-resistant insoles. This boot will keep you steady throughout the day.
5. Wolverine Cowboy Style Work Boots
They are designed with convenience and comfort in mind. These Wolverine work boots pack in cushioned footbeds with a moisture-wicking lining.
The lining keeps your feet dry in its square toe box for maximum foot space. In contrast, it is keeping them safe thanks to a steel toe under the boot's premium full-grain leather. Which can take a punch and look good all at once.
If you're new to this brand, read here if Wolverine work boots are any good.
Cowboy boots vs. work boots: Which one should you choose?
In essence, cowboy boots were simply the work boots of their time. Both western-style work boots and cowboy boots serve the same purpose.
They keep a worker's foot safe, But the main difference is that work boots have evolved over the centuries. They incorporate safety features for all sorts of jobs and terrains, including riding.
So, when it comes down to getting rough in the mud, though, we'd bet on a pair of work boots to get us out of a tough spot where the safety of our feet is on the line.
---
Team Members Working On This Page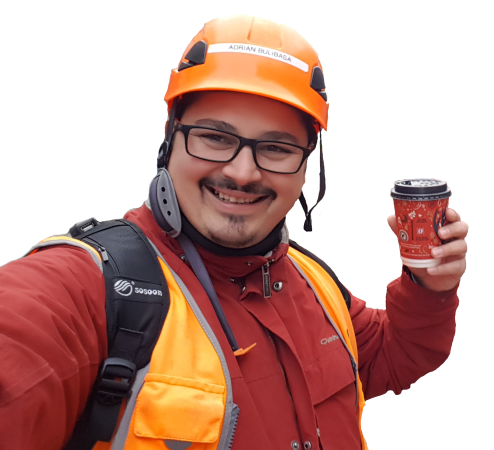 Construction Professional, driver, crane operator, cleaner, head chef … these are just some of the jobs I did in the past. Working in all these different environments taught me that having good footwear to protect your feet from different dangers at work IS PARAMOUNT for any worker! On this website, I aim to share all my knowledge and personal experience in dealing with different footwear and foot care issues, and hopefully, you can get something out of it. Enjoy!
Love technology, going to the beach, take care of my body, and writing (amongst other things). You'll see my face around here a little bit since I'm responsible for part of the research and writing of some of the articles you're reading on BestForMyFeet.com. I hope you'll find our content helpful and enjoyable! See you around, thanks for reading!