If you were looking for Bob and Brad massage gun reviews online you've landed in the right place since this is one of the most in-depth reviews of Bob and Brad's T2 massage gun.
Overall, A Great Percussion Massage Gun For Pain Relieve And Relaxation
Bob and Brad chose a very good company to make their massage gun since the device it's very well made and sturdy. It's silent, compact, and surprisingly powerful. My wife and I loved the experience!
Bob and Brad's team reached out to us asking if we'd like to try their massage gun and instantly I said yes since I'm a big fan of the "two most famous physical therapists on the internet" as they like to say in the intros of each one of their YouTube videos.
So being fully transparent with you as always, I've got this massage gun for free in order to test it out.
Of course, this was an awesome opportunity for me and the team to create a helpful article on everything you need to know about Bob and Brad massager gun.
This review should help you make an informed purchase if you're looking into buying a deep muscle tissue relaxation massage gun.
We'll talk about how to use Bob and Brad's massage gun, features, specs, price, what is it good for and who should buy this product, what my experience was using it, and much more.
For your convenience, I've created a table of content so you can jump around sections you're interested in. Just click on what's inside to go to a specific section of the review.
Let's get into it.
About the massager: Full Specs
| | |
| --- | --- |
| Product name | Massage Gun |
| Product model | QL/DMS.T2-C |
| Speed | 5 speeds (2000-3200 r/m ) |
| Amplitude | 10mm |
| Stall force | 44lbs |
| Head attachments | 5 |
| Rated power | 25W |
| Dimensions | 5.4″ x 2.4″ x 7.6″ |
| Rated voltage | 7.3V |
| Battery Capacity | 4000mAh / 29.2Wh |
| Charging time | 270 minutes |
| Charging method | USB-A to USB-C cable |
| Battery life | About 3 hours of use from one charge |
| Weight | 1 lb 94 oz (720 grams) |
Unboxing Bob and Brad's massage gun
Here's what's included in the box:
The massage gun
Charging cable (USB Type-C cable, no charger block)
Carrying case
5 massage heads
User manual
1 replacing rubber ring
First impressions
This is my first massage gun ever so I wasn't sure what to expect in all honesty but wow, the quality is 100% there.
And it makes sense. After all, Bob and Brad are two very well-known therapy physicist professionals and I'm sure they would not put their names on a low-quality product.
It's quite a small massager so you can throw it into your gym bag or even take it to work and use it during your breaks.
The massage gun comes in an elegant but sturdy carrying case that has hard edges which will protect the massager and the heads if you accidentally drop it on the floor.
I like that the massager has a silicone handle which provides a good grip making it comfortable to use, especially for me since my hands sweat quite a bit.
Great first impressions!
Is it noisy?
No, Bob and Brad's T2 massage gun is not noisy at all. It's actually quite quiet and you won't even realize it's there if you're watching TV or listening to some music.
You will hear the "bzzzzz" sound of the motor though if you're using it at night time when it's all nice and quiet.
Personally, I've used the massager mostly in the evenings after work while I was chatting with my wife about how the day went.
We could chat without being annoyed by the massager. Levels 4 and 5 might be a bit noisier but still not annoying to the point of making us stop using it because we can't hear each other.
This muscle massage gun is using the latest technology in noise reduction. It's very quiet while working, only reaching noise levels of about 35- 45dB.
I went the extra mile and actually measured the noise levels this massage gun produces.
First, I measured the noise in my room before starting the massager, and after I measure how noisy the massager was at different speed levels. Here are the results.
| | |
| --- | --- |
| What I was measuring | Data results |
| The room noise with nothing switched on | 19.8 dB |
| Level 1 (first speed) | 33.7 dB |
| Level 2 (second gear) | 35.8 dB |
| Level 3 (third gear) | 36.5 dB |
| Level 4 (fourth gear) | 38.2 dB |
| Level 5 (fifth gear) | 43.5 dB |
So you can use it without disturbing others whether that is at the gym, at home, or at work.
Is it powerful?
I was reading a couple of other reviews of the Bob and Brad massage gun available online and the author was saying that the massager is not strong enough…
Strong enough for what would be my question?
This massage gun is very powerful for the regular non-athletic, body-building person.
I'm not exactly an athletic person but working in construction makes you a tough person whether you like it or not and let me tell you that I feel the power of this massage gun every time I use it.
Maybe if you go to the gym a lot and build a lot of muscle you might need a more powerful massage gun. Bob and Brad have the X6 PRO massage gun that is better suited for demanding users if it's your case. You can find more details about that here.
Amplitude or travel
This is one of the most important features when you're looking to buy a message gun since this will tell you how far deep into the muscle tissue a massage gun can penetrate.
You can check the amplitude of a massage gun by looking at how much the head attachment is moving in and out with each percussion.
Bob and Brad's T2 massage gun has a 10mm amplitude.
There are other massage guns out there that have a deeper amplitude but I'd say the 10mm amplitude that Bob and Brad's T2 massager offers is more than enough for the majority of people.
Stall force
Another important feature you'll see other people talking about is the stall force.
If you're not familiar with this or you don't know what it means, stall force simply refers to the pressure you apply against the massager before it stops completely (the motor stalls).
In my experience using Bob and Brad's T2 massager, the motor has a lot of power and you can apply a lot of pressure before the motor completely stops.
Many times the muscle or the area I was massaging while putting pressure started to hurt before the massager stalled.
Which parts of the body can this massager be used on?
Personally, I was interested in this massager from Bob and Brad because I wanted to use it on my feet and legs.
And since on BestForMyFeet.com, we talk about everything related to feet I thought you might be interested know how good this massager is good for relieving pain and stress in feet and legs.
But if you end up buying Bob and Brad massager gun you can use it to massage many other parts of your body, such as:
Chest
Abs
Upper Traps
Upper back
Shoulders
Biceps
Triceps
Forearm
Hands
Hip Flexors
Shins
Glutes
Hamstrings
Calves
How to use Bob and Brad's T2 massage gun
It's not a hard-to-use gadget. It took me 5 minutes to familiarize myself with the massager and another 5-10 minutes to understand what massager head to use for which part of the body.
It will take you a bit longer to figure out which attachment is best for you though as we'll learn below, each head attachment is used for different parts of the body to achieve different results.
Before you use it for the first time
I know you're eager to use the massage gun and start making those nice and relaxing massages but before you do that, you must make sure you charge it fully, that's a manufacturer's recommendation.
It might take a couple of hours to fully charge the massage gun. It depends on how low the battery is when you receive your Bob and Brad massager.
Also the time it takes to charge the massager depends on where you plug it in.
If you put it to charge on your laptop's USB port for example it will take longer to charge than if you plug it straight into an outlet.
Mine came 50% full so it only took about 1 hour and 20 minutes to charge fully but if the battery is low it takes about 3 hours to charge it fully.
Choosing the right attachment
Bob and Brad's massager gun comes with 5 different head attachments. Each one has a different shape and also a different purpose and if you're wondering which one should you choose, this is the way I look at it.
The more pointy the attachment is, the more aggressive the massage will be and the muscle penetration will be deeper. On the other hand, the flatter the head is the more relaxing and soothing the massage will be.
Some of you might use the massage gun for relaxing while others for recovering from some kind of pain.
That's exactly our situation here. I'm using the massage gun to relax my feet after 12 hours shifts in construction and my wife is using it to relieve pain from plantar fasciitis.
1. Fork Head
Use this attachment when you want to massage longer muscles such as calves, forearms, and biceps.
Also, it's good to use it around the ankle, Achilles area, and the spine.
Be careful though when using this head around these last 3 areas since the attachment is made out of hard plastic and if you hit the ankle ball or your spine with the massager it will hurt quite a lot.
It's better to ask someone to massage those areas for you using the fork attachment.
2 Ball Head
This is the attachment that most people end up using with the massager.
It's a great starter attachment for larger muscle groups and you can use it for relaxing massages, before workouts in order to worm up the muscles, and also after workouts.
My wife and I use this ball head attachment every day on our feet and calves and sometimes on the back.
3. Flat Head
The flat head is different than the other attachments. This attachment has an air-cushioned head which makes it perfect to use on areas of your body that are more sensitive.
Some of those areas might be wrists, ankles, knees, traps, and around the neck. I also like to use this one to massage the tissue next to the spine.
It's less aggressive than the ball thus making the massage more relaxing at the same time as relieving pain and pressure around my lower back.
4. Bullet Head
This is the one I've used the least. Actually, I've used this head attachment only once or twice just so I can try it and see how it goes.
You can use this head with your Bob and Brad massage gun to trigger points found in glutes, hips, traps. shoulders and other complex muscles.
My wife likes this one on her feet because of her plantar fasciitis pain but I couldn't find a good use for it yet.
5. Air Cushion Head
If you've never used a massage gun before I 100% recommend you to start with this head attachment first.
What I love about this head attachment is that it's soft at the top. As the name suggests the attachment has a cushioned head which will provide less aggressive massages.
It's a great attachment to use on sensitive parts of your body. Use it on your wrists, ankles, knees, traps, and also on your neck and shoulders.
The first time I used Bob and Brad's massage gun to give my wife a massage I used the ball head and she said it was ok but a bit aggressive.
Then I tried the air-cushioned head and since then she doesn't use anything else on the neck and shoulders area. Very relaxing and satisfying massage.
Which one did I like the most?
My favorite massage gun heads are:
The air-cushioned head for back massages, especially close to the spine and neck.
And the ball head for my feet, calves shins, and the bigger muscles.
I don't really use the other ones but it's good to have them of course. Who knows when I might need them.
My wife really loved the air cushioning head for the neck and shoulders relaxation massage and the ball and the bullet heads for her feet trying to recover from the plantar fasciitis pain.
Your first massage with Bob and Brad's T2 massage gun
Alright, now it's time to actually put this baby to work. Here's a simple step-by-step process of how to use Bob and Brad's T2 massage gun.
Step 1
Once you've picked the attachment head you want to use simply connect it to the massage gun and start the device.
To start the device you simply press the On/Off button for a couple of seconds until the massager starts working.
Step 2
Step two is to choose the speed of the massage gun. In my opinion, speed levels 1 and 2 are great for a relaxing massage. The faster the device kicks, the more aggressive the massage will be.
To increase the speed of the percussion simply press the On/Off button until you get to the speed you're comfortable with.
If you think it's too much and you want to decrease the speed you'll just have to press again the On/Off button, only that this time the speed will go straight to zero.
You should try all different speeds though and see what's comfortable for you.
Step 3
Step three is to start sweeping the area you want to massage.
This simply means that you'll move the massage gun up and down, left and right, without losing contact with the area you're massaging.
Step 4
In step four you need to apply a bit of pressure on the massager if you want the vibrations to penetrate deep into the muscle.
Again, increase the pressure slowly so you can get used to the massager and see how much is TOO much for you.
Step five … ENJOY!!!
That's how easy it is to use Bob and Brad's T2 massage gun. The more you use it the more ways you'll find to enjoy this awesome product.
How long should a massage session last?
For safety reasons, the massager can't be used for sessions longer than 30 minutes. That's because the motor gets overheated and it might get damaged when used for massage sessions longer than 30 minutes.
Bob and Brad were saying on their channel that they were doing small massage sessions (5 or 10 minutes) with this device.
I haven't used the massager for more than 20 minutes. It gets tiring as well. It's a different story if someone else is doing a massage on you.
But even if my wife is using the massage gun to give me a deep muscle massage or vice-versa we never used the massager for longer than 30 minutes.
The massager has a safety feature built-in that switches off the device after 10 minutes of using it. This is so the motor doesn't get overheated and damaged.
You can switch it back on though at your own risk. My suggestion is to leave it off for a couple of minutes, go and have a drink, use the toilet and then get back to it.
How did it feel using Bob and Brad's T2 massage gun?
After using the massage gun for a few days in a row, I have to say I really like it and I'm glad I came across this handheld massager.
Both my wife and I were surprised by how great you feel after using the massager. Very relaxed and revigorated. Something that impressed us equally is how powerful this little massage gun is.
The massager is so powerful that I could not use it on some parts of my body for the first few days of owning the massager.
Why do these massage guns work?
How NOT to use Bob and Brad's massage gun
There are a few things you shouldn't do when using Bob and Brad's massager, for example:
Don't use the massager on your neck
Be careful not to use the massager over your bones, it will be very painful depending on what attachment you're using.
How long can you use it with a fully charged battery?
The massage gun can run for about 3 hours straight (depending on the settings you're using) without needing a charge thanks to its 4000mAh battery.
Just remember that according to the manufacturer, you should not use it for more than 30 minutes per session. The massager gun needs breaks of 5 minutes between 30-minute sessions to allow the motor to cool down.
When I'm using the massager for short daily sessions (around 5 minutes), the battery lasts for weeks without charging it.
This is a very big plus especially for those of you that carry the massager with you at work or at the gym.
Is the massager not charging?
If your Bob and Brad massage gun doesn't charge you might have to get in touch with their customer service.
Also, try another cable if you have one at home. My android mobile phone uses the same USB cable as my Bob and Brad T2 massage gun. If that doesn't help get in touch with support.
Who is this massage gun best for?
After using the massage gun for a while now I can confidently say this gadget is the best massage gun you can buy if it's the first handheld massager you ever own.
I have other types of massage gadgets like foot massagers, neck massagers, etc but I never had a massager like the T2 from Bob and Brad.
And my first experience was very pleasant, to say the least.
Based on my real-life experience, the Bob and Brad massage gun is best for :
1. Sedentary people
Delivery drivers, truckers, people working in the office, etc I am one of those people, or at least at the time I'm writing this review I work 10 hours sitting in the cab of a crane just using my wrists to move the joysticks of the crane.
The only physical effort I do is to walk to the canteen for my break and come back to my machine.
This job is a killer for the back and knees since I'm locked in a position for hours and hours.
I haven't used the massager on my knees and try to alleviate the stress in that area of my body but I do use it on my lower back every day.
It makes a HUGE difference.
2. People standing all day
This T2 massage gun from Bob and Brad is a great massager for you if your job requires you to stand on your feet for many hours.
I'm thinking construction workers, security guards, warehouse workers, and basically, anybody that spends most of the day working on their feet. (which is pretty much everybody, right?).
This put a lot of pressure on your lower back, legs, and feet and it can even help develop foot conditions like plantar fasciitis.
So having this Bob and Brad massage gun will help your body relax your feet, calves, and back when you're using it at the end of your shift or even during your breaks.
3. Active people
Bob and Brad's massage gun is also good for those of you that like to go to the gym or like to run and like being active in general.
I like to do some exercise over the weekend, nothing too crazy though. Just a bit of yoga, then some dumbells, and finishing with a stretching band routine.
Sometimes, the next day after doing my exercises I feel a bit of pain in my hamstrings and other parts of the body depending on what type of muscles I'm exercising.
This massage gun helps with recovery and alleviates that pain very nicely.
I'm not sure if it's good enough for those of you doing more intense workouts. Based on what I read in other reviews of the T2 massage gun seems like this massager won't have enough power and amplitude to make it work for you.
Bob and Brad have a more PRO massage gun called X6 PRO that they claim is better for more demanding users. You can read more about it here.
Who should NOT buy this handheld massager?
If you're not sure whether you should use or shouldn't use this massager, it's a good idea to talk to your physician first.
Personally, I have some varicose veins on my left leg so I won't be able to use the T2 massage gun on this leg. I don't think it's a good idea to start hammering those veins.
These are other conditions or situations where you should not use the massager:
Pregnancy
Diabetes
Epilepsy
Migraines
Herniated disk
Spondylolisthesis
Recent joint replacements or IUDs.
Also, talk to your physician before using this massage gun if you've gone through recent surgery or have any metal pins or plates in your body.
Personally, I think the massager it's a bit aggressive for elder people in their 70s or more. So if you want to buy this massage gun as a gift for your grandma, grandpa, or elderly parents, or friends I would not recommend it.
Bob and Brad have a more gentle massager that's a better fit for the elderly. Check it out here.
Having said that, not everybody ages equally. Some elderly people are stronger and fitter than others but I just want you to keep in mind that this massager is quite powerful.
Alternatively, you can go for another type of foot massager from the same brand which is the Bob and Brad 721 Shiatsu & Kneading foot massager.
Where to buy a Bob and Brad massage gun?
You can buy Bob and Brad's massage gun on Amazon. It's easy, fast, and safe.
There might be some other places where you can buy this massage gun but I would recommend you to buy it only on Amazon to make sure you're buying a genuine unit.
And also that you've covered by the warrantee it in case you get a faulty massage gun.
Price
At the time I received my Bob and Brad T2 massage gun, the device was on some kind of offer on Amazon and cost only $119 but prices change all the time so the best thing is to click here to find out the latest price.
Bob and Brad massage gun coupon code (discount code)
Personally, I don't have a coupon code to share with you, unfortunately, but Amazon always runs some kind of offers on these gadgets and you might get a good deal.
Trust me though, the massager is worth every single penny though even if you don't get it at a discounted price.
Do Bob and Brad T2 gun massager have a warranty?
Yes, Bob and Brad massage gun comes with a one-year warranty from the date you purchase the massager.
Just be aware that the warranty will be voided due to the following:
Damaged due to improper usage or storage
Damaged by attempting to repair or disassemble the massager
The period of warranty exceeded
Other Bob and Brad massage gun models
Watch my review of Bob and Brad's T2 On YouTube
Last words: is Bob and Brad's T2 massager worth it?
Yes, in my opinion, it's worth it 100%.
It's not for everybody of course but if you're like me and work either seated or standing for long periods of time this percussion massage gun from Bob and Brad will be a very helpful gadget to have at home or even when you're on the go.
It's powerful enough to penetrate deep into the muscle tissue and relieve muscle fatigue and pain boosts blood circulation and helps with muscle recovery after doing some intense exercise.
And it's also cheaper than going to a physio every week. You'll have your own physiotherapist at home helping you save a lot of money over time.
If you have any questions related to Bob and Brad's T2 deep tissue massager drop me a comment below and I'll answer to the best of my capabilities, as soon as possible.
Check Out The Latest Price Of Bob And Brad's T2 Percussion Massager Gun
---
Team Members Working On This Page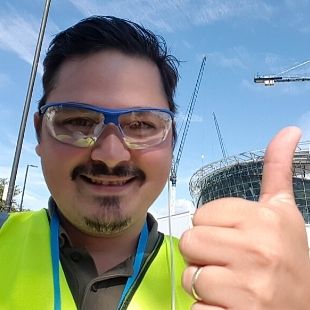 Construction Professional, driver, crane operator, cleaner, head chef … these are just some of the jobs I did in the past. Working in all these different environments taught me that having good footwear to protect your feet from different dangers at work IS PARAMOUNT for any worker! On this website, I aim to share all my knowledge and personal experience in dealing with different footwear and foot care issues, and hopefully, you can get something out of it. Enjoy!
Love technology, going to the beach, taking care of my body, and writing (amongst other things). You'll see my face around here a little bit since I'm responsible for part of the research and writing of some of the articles you're reading on BestForMyFeet.com. I hope you'll find our content helpful and enjoyable! See you around, thanks for reading!