On the hunt for a pair of quality comfortable work boots that you can count on? If you've gotten here from an endless search to decide whether Red Wing or Keen work boots are for you, then look no further.
You're in the right place to get all you need to know about two of the most recognizable work boot brands out there.
If you are looking for safety and affordability then the Keen work boots would be the better option.

With that being said there are a lot of factors that go into deciding on the best boot for your feet. I've taken the liberty of diving into the details, reviews, and endless personal tests to get the definitive answer and find out what's the actual difference between the two.
18 hours, 279 browser tabs, 1,382 customer reviews, and 4 aspirins later, I present to you: the ultimate Keen vs. Red Wing work boot breakdown.
Now, let's get into the results!
Main differences between Keen and Red Wing work boots
Keen and Red Wing are well known for their work boots and share a lot in common, especially when it comes to the quality of their construction.
On one hand, Keen work boots adapt to modern styles while incorporating more safety features to withstand extreme environments.
On the other hand, Red Wing work boots have an iconic look to them that's impossible not to recognize while generally having a higher price tag.
What type of boots do they produce?
As far as styles go, there's pretty much no shortage of choices when it comes to which brand to go for between the two manufacturers.
Red Wing, in general, is notable for its old-school style that it's maintained throughout the decades, while Keen goes for more modern styles, along with mixing in some traditional elements.
There's a style for everyone between both brands, and as the saying goes, different strokes for different folks.
Here's a breakdown of what type of work boots Keen and Red Wing offer:
Keen vs. Red Wing: How do they fit?
I've personally tried and worn a lot of work boots throughout the years from Red Wing and Keen, and based on my experience and the reviews left by customers, both brands make pretty roomy work boots.
This isn't a bad thing. In fact, Keen's sizing is generally true to size and they intentionally design their work boots to be a bit wider around the toe box to fit more comfortably and securely.
Red Wing also designs their work boots to have roomier toe boxes, but the difference is that they tend to be half a size to a full size bigger than standard boots, so it's best to go half a size or a full size down to be on the safe side.
The good news is that if you're shopping online and aren't sure which size you should order, you can use Amazon Prime Wardrobe to try out work boots without having to pay for them until you're happy with the size.
Red Wing versus KEEN: Where are they made?
A lot of manufacturers don't specify where their work boots are precisely made.
Fortunately, Keen and Red Wing aren't all that mysterious about where they assemble their boots.
Keen's Utility lineup, according to their own website, is assembled and built in Portland, Oregon, using materials sourced from across the globe.
Red Wing's Heritage lineup is also built in the USA in their factory in Minnesota, which is also where they source all the leather used in their work boots.
Going through the reviews, I noticed that many readers suspected that some work boots from both brands were made in other countries, which would make sense since the place where a boot is assembled and made isn't always the same.
We have an article related to where work boots are made here if you want to check where 30 plus brands make their boots.
Durability: How long do they last?
The durability and lifespan of a work boot are two of the most important things I look for in a pair of work boots. Unfortunately, many people consider durability and work boot lifespan the same thing, but they're not.
Here's why:
Keen's Utility work boots go above and beyond for different types of jobs. If you work in construction as I do, then a pair of Keens won't let you down, but looking at the bigger picture, you'll get around 1 year out of them.
Of course, this depends on your field of work, so if you don't deal with a chaotic and rugged work environment, the lifespan of a pair of Keen work boots can stretch up to 2 or more years, depending on how well you take care of your boots.
Red Wing work boots are a completely different category.
They're great for all kinds of jobs, just like a pair of Keen work boots, but the real icing on the cake is their ability to be repaired and resoled by Red Wing itself or by professional cobblers. So technically, if your work boots' sole breaks off and the leather is still intact, you could get them fixed and make them last a lifetime.
Comfort
In my opinion, no work boot is ever worth wearing if it hurts your feet and makes your life harder. Sure, we deal with unbearable conditions at work, but that doesn't mean we should subject our feet to that.
So while going through my pairs of Red Wing and Keen work boots to make this comparison between the two, I took a moment to focus on the comfort that I've taken for granted with these two brands, which made me realize just how much detail goes into them.
First, let's focus on Red Wing
When you get a pair of Red Wings, they look pretty old-school and might be too stiff to deal with at first, but once you break into them, they're practically designed to adapt to the shape of your feet.
Then you have the toe box, which, compared to many other types of work boots, is relatively roomy and gives your toes lots of wiggle space. For me, that's important since I wear my boots for hours on end, so the extra space does wonders to cut back on the built-up moisture.
Now let's look at Keen
Keen as a brand is a lot more recent than Red Wing. There's almost a century between the two, so think of Keen as the new kid on the block, and I mean that in a good way.
Keen designs their work boots to meet the needs of workers while blending in elements from sneakers and hiking boots, so you get a lot of flexibility and padding to take the brunt of every step.
Overall, both work boots get a high score when it comes to comfort. They feature roomier toe boxes, which is undeniably a relief when you need to be on your feet all day.
Add in the specially designed insoles, materials, and supportive components found in a lot of their boots, and you've got yourself all you need to ensure that you can get through the day without coming home to face a case of sore feet.
Keen vs. Red Wing: Differences in price
I have to admit, it's been a while since I've had to buy a new pair of Red Wing or Keen work boots, so I wasn't sure what to expect when I began my research on their prices.
To my surprise, Keen's Utility work boots made in the US aren't that expensive. The most expensive model at the time of writing this article is the Utility Philadelphia+ that goes for $245.
Other work boots by Keen, like the Utility San Jose, can go for as little as $115 putting them on the more affordable work boots side of the scale.
On the other hand, Red Wing is a lot more expensive.
For example, the Heritage Iron Ranger at the time of writing goes for anywhere between $350 to $500.
I couldn't find anything below the $200 price range on Red Wing's website, whereas on Keen's website, I found work boots for as low as $125
Scroll down to the bottom of this page where you can see a table with the most popular work boots from each brand. There you can find prices for different models from both brands.
What industries are they good for?
Features are great, but if a work boot isn't designed to beat back the hazards of a job site, then those features aren't of much use.
To that end, both Keen and Red Wing ace it when it comes to their features that protect hard-working men and women from the endless hazards in different fields and industries.
Without going into detail, the boots by these two heavyweight brands are suitable for everything from
masonry
landscaping
maintenance
transportation
the oil and gas industry
railroads
construction related and many, many more.
Red Wing is notable for designing its boots to meet the needs of workers that work in demanding conditions.
Which makes sense since Red Wing was once the supplier of boots for the US Army in WWI. At the same time, Keen offers a broader range of work boots with more safety features in more modern styles.
What do the reviews say about them?
Descriptions from manufacturers are great and all that, but I like to take a personal approach and go through reviews by actual people to see the real-world experiences people have with their purchases and see if they match up with my journey with each product.
What people had to say about Red Wing?
Customer opinions seem pretty consistent when it comes to their satisfaction with Red Wing work boots. But, many users pointed out that they preferred going to a brick-and-mortar store to try them since some had trouble finding the right foot size online.
Some users pointed out that even though their price is a lot higher than most brands, they were worth the money and lasted with them for a long time.
I should point out that a lot of users complained about having wet feet when working in wet job sites, which mostly came down to the confusion between water resistance and waterproofing. (These work boots are waterproof if that's what you're after.)
Another area many users mentioned was the long break-in time Red Wing boots require, which is something I can confirm. However, I found many follow-up reviews that pointed out that the work boots felt like the Red Wing boots were designed for their feet after the break-in period and extended wear.
What people had to say about Keen?
A lot of feedback by users pointed out how Keen's work boots handle a lot of abuse and get through the day without hurting their feet.
One user, in particular, got multiple pairs for her husband to alternate between each pair to maximize the lifespan of each since Keen work boots were the only brand that could keep up with the pace of his job.
Much like the Red Wing customer reviews, many users commented negatively on some models due to water leakages they encountered, many of which had to do with the confusion on the difference between waterproof and water resistance.
Breaking in times seemed to vary from user to user. For example, some users pointed out the difficulties they faced after getting a smaller size, making breaking in a lot more uncomfortable.
In contrast, others highlighted that Keen's customer support was prompt and more than glad to help them replace their work boots when a defect prevented them from breaking in.
The most popular Keen & Red Wing work boots models
Since I've already dug up a lot of information to bring you this article, I've rounded up the top 5 most popular models of each brand that I think are the best of the bunch to make your life easier and save you the hassle (and confusion from comparing equally worthy models).
Of course, you might find yourself liking a different model or already have your eyes set on a specific pair, so by all means, feel free to keep on exploring while taking this list as a reference.
Without further ado, here are what I would say are the top models, in no particular order.
Keen's 5 most popular models
Model
Features
Price
Utility Lansing
– Waterproof
– Steel Toe
– Slip-resistant
Check in-store
Utility Milwaukee
– Removable EVA footbed
– Heat-Resistant Outsole
– Electrical-Hazard Protection
Check in-store
Utility San Jose
– Aluminum Toe Cap
– Water-resistant
– Polyurethane Midsoles
Check in-store
Utility Pittsburgh
– Nubuck Leather
– Steel Toe
– Removable EVA PU Midsole
Check in-store
Utility Philadelphia
– Composite Toe
– Waterproof
– Heat-Resistant
Check in-store
Red Wing's 5 most popular models
Model
Features
Price
Heritage Classic
– Synthetic Wedge Outsole
– Moc Toe
– Waterproof Upper
Check in-store
Heritage Iron Ranger
– Cork Midsole
– Vibram Outsole
– Steel Shank
Check in-store
Heritage Roughneck
– Vibram Outsole
– EVA Midsole
– Deep rubber Lugs
Check in-store
Women Classic Engineer
– Polyurethane Outsole
– Breathable Leather
– Pull-On
Check in-store
Red Wing 2233
– Steel Toe
– Steel Shank
– Electrical Hazard Protection
Check in-store
Alternatives: boot brands in the same ballpark
If you don't feel like either Keen or Red Wing work boots are meant for you, I get you; after all, it's not as easy as it seems to choose what'll eventually become your daily work companion.
Not to worry, there's plenty of other reliable and durable work boots to choose from.
Here are some brands that I'd also recommend, which I've also reviewed extensively over here on Best For My Feet.
Keen work boots or Red Wing: Which one is best for you?
When it comes to quality, reliability, and features, both brands have a lot to offer that makes them very similar yet unique in their own ways.
The fact, however, remains that if you require a pair of work boots for demanding jobs, Keen has more overall safety features within an affordable price range.
That's not to say I'm crossing off Red Wing, far from it.
If a pair of Red Wing boots meet the needs of your work environment, I would say that they are a sturdy option to go for, and with proper care, you could be looking at keeping them for years on end.
The bottom line is that it all comes down to your taste in style, budget, and job requirements, because no matter which brand you go for, in terms of comfort, durability, and reliable construction, you can't go wrong with either brand.
Before I go, I want to let you know about another interesting comparison. The one comparing Red Wings And Wolverine work boots. Wolverine is also a great brand that you should consider.
---
Team Members Working On This Page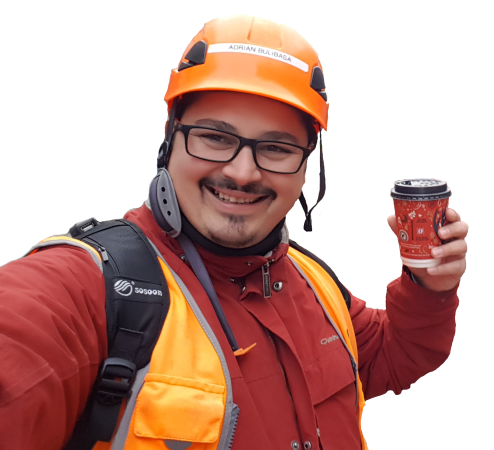 Construction Professional, driver, crane operator, cleaner, head chef … these are just some of the jobs I did in the past. Working in all these different environments taught me that having good footwear to protect your feet from different dangers at work IS PARAMOUNT for any worker! On this website, I aim to share all my knowledge and personal experience in dealing with different footwear and foot care issues, and hopefully, you can get something out of it. Enjoy!
Love technology, going to the beach, take care of my body, and writing (amongst other things). You'll see my face around here a little bit since I'm responsible for part of the research and writing of some of the articles you're reading on BestForMyFeet.com. I hope you'll find our content helpful and enjoyable! See you around, thanks for reading!