Hey, Adrian here. Welcome to my review of the NEW Brunt Marin composite toe work boots.
In this review, I'll share everything you need to know about this work boot. From how they fit and how heavy they are to waterproofing, breaking in period, and everything in between.
Reviewing The
NEW Brunt Marin Work Boots
A TL: DR version of this review is that my Brunt Marin work boots are one of the lightest and most comfortable work boots I've ever had. They're like walking on clouds after a week of wearing them at my day job as a construction worker.
Buckle up cause it's quite a long review. For your convenience, I've created a menu for this page that's helpful to jump to a specific section. Just click on the "What's inside" below to open it.
Let's go!
A quick intro to the Brunt Workwear brand
Brunt Workwear is a fast-growing work boot and apparel brand founded by Eric Girouard.
Eric is a dude who worked in the trades for a while before getting into the e-commerce space so he has some knowledge when it comes to what is required from a work boot in terms of comfort and durability.
Brunt launched in 2021 selling only footwear and only after 6 months after the lunch they started to sell clothing and accessories as well.
Even though the company is quite new to the market, BRUNT exceeded its 2021 forecast by 80%, as sales surged 119% between the first half and second half of the year. So they are doing something right!
Their marketing game is top-level. I'm sure you've seen some of their ads on Facebook and other places. That's a huge part of why they're so successful.
But let's test out their work boots and see if it's just hype or if they're actually any good!
The environment in which the boots are tested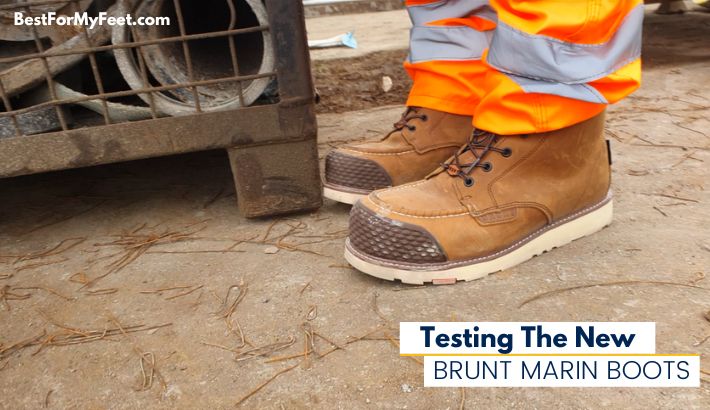 I'm going to test these Brunt Marin work boots in one of the most challenging industries out there. The construction industry!
So there are going to be a lot of different scenarios depending on the day.
But there's always going to be some mud, dirt, wet concrete, walking on rebar, walking on and around sharp objects, etc.
The boots need to be comfortable but at the same time they need to protect my feet so let's see how they do!
Unboxing my Brunt Marin safety work boots
Features of these Brunt wedged sole work boots
| | |
| --- | --- |
| Boot model | Brunt Marin Toe |
| Electrical Hazard Protection | YES |
| Safety Toe Cap | YES – Composite toe cap |
| Waterproof | YES – Waterproof membrane |
| Boot construction type | Cemented construction |
| Oil and slip-resistant | YES |
| Anti-scuff toe protection | YES –TPU toe bumper |
| Lining | YES –Fabric lining |
| Shank | YES – N/A |
| Removable insole | YES |
| Outsole material | Rubber |
| Midsole material | PU |
| Upper material | Waterproofed full-grain leather |
| Color | Only available in brown |
| Boot height | Only available in 6″ at the moment |
| Available sizes | 7 to 14 |
| Available widths | D & EE |
First impressions of my Brunt Marin work boots
I've heard a lot from my American friends about how great Brunt's marketing is and how heavily these work boots are marketed on Facebook and other places.
Being based in the UK, I can't see Brunt's ads or promo campaigns so I don't really know but I can really tell they spend lots of money on things that create a good first impression.
For example, the box my Marin work boots came in is of high quality. This might not mean much, but to me, it seems like they're paying a lot of attention to details.
Inside the box, we have the boots, of course, also a branded cloth for cleaning or oiling the boots and a flyer that's showing something interesting. Namely, Brunt's Adjustable Width System which we're going to test below.
The boots also have some really nice design details on the moc toe, the little Brunt plate, and the toe cap bumper.
In all honesty, one of the most beautiful work boots I've had. I loved everything about this design.
You can easily wear these boots off-site as casual boots, which I did by the way. I took my baby girl to school wearing these before taking them to the site and getting them all dirty.
Great first impressions.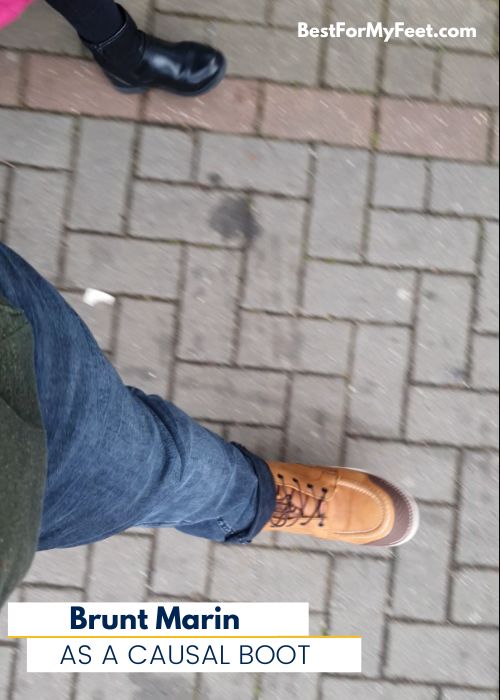 The Brunt Marin on the outside
Let's have a look at the outside of the boots and see what we can learn about these boots.
1. Upper material
The upper of these Brunt Marin work boots is made with premium waterproofed full-grain leather.
The leather is soft which means you won't have to go through months and months of pain in order to break them in.
It's a lovely brown color?! (sorry, I'm color blind so I can't really identify the color haha but it looks beautiful). I'm curious to see how they'll look once I'll apply some mink oil to them.
I might use Bick 4 on one boot and mink oil on the other to see how they compare. Which one darkens more, Bick 4 versus Mink oil?
Update: so I did end up applying those two products and here how the leather looks like:
2. Rubber toe cap reinforcement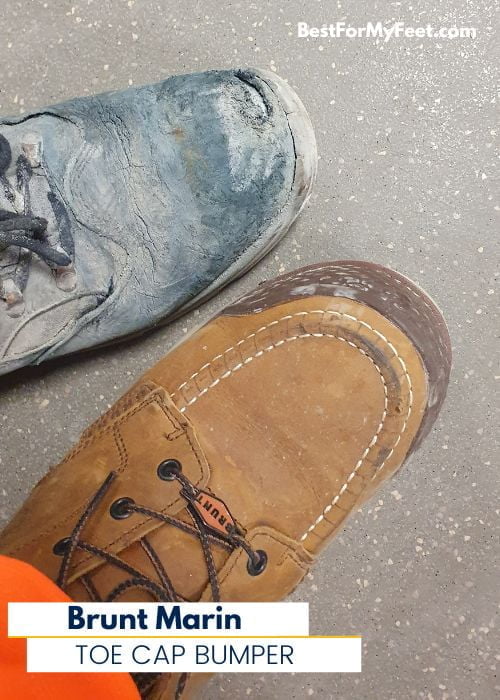 When I first shared a picture of these new Brunt Marin work boots on the work boots subreddit some people told me how happy they are to see a toe cap bumper that's not stitched to the leather.
To those people not having stitches going through the leather meant basically 2 things:
One – no stitches mean you won't have to worry about stitches getting damaged leaving you with an exposed toe cap
Two – no stitches going through the leather mean fewer changes of water finding its way into your work boots
Good points, altough a glued-toe cap bumper, also have its pros and cons. One of the cons is that the toe cap bumper can peel off easier if glued to the leather compared to if it's stitched.
Anyhow, I like this feature as I'm always kicking things around when on site. This should expand the lifespan of the boot.
3. Boot construction type
The Brunt Marin it's a cemented sole constructed work boot. If you're new to work boots, cemented sole construction simply means that the upper is attached to the sole using very powerful adhesives.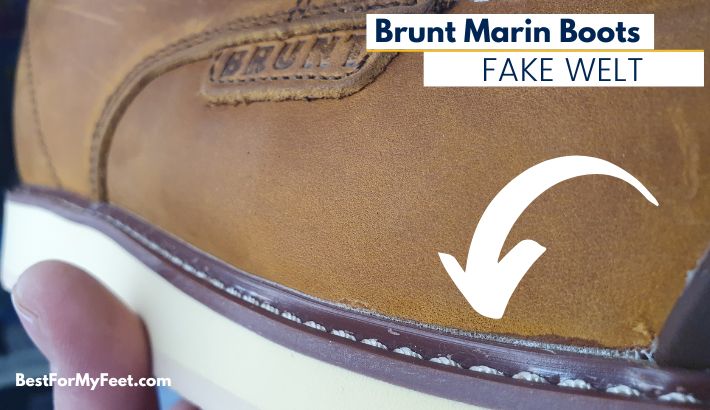 There are other types of boot constructions, some of the most well-known ones being Goodyear welt construction in which the upper is attached to the sole using a welt that's stitched first to the upper and then to the sole.
There are pros and cons of course. One of the pros of a Goodyear welted work boots is that you can resole them down the road if the sole gets damaged, punctured, or worn unevenly.
But in my opinion and personal experience, resoling work boots that cost less than $200 it's not worth it. (I can hear Goodyear Welt redditors screaming at me already haha)
Depending on where you're going to resole your boots and what type of sole you're going to add, a resoling of your work boots can cost you anywhere between $80 – $150 (or more) depending on whether you need a new welt or not.
For me, the Brunt Marin not having a Goodyear welt it's a big deal at all. I actually like it more because the boot is more flexible and lighter as well.
4. The sole
The Brunt Marin boots come with a wedge sole which makes them a great option for those of you working on flat, hard surfaces all day. Provides more stability than a heeled boot by having more contact with the floor.
The soles on these Marin boots are dual-layer soles.
On the outsole, we have a 5mm layer of rubber that helps with making the boos slip resistance on certain surfaces but also adds to the durability of the sole.
And then we have a rubber foam midsole that's shock absorbing. I think it's made out of PU (polyurethane). Just to be clear, when I say shock absorption I'm not talking about electric shocks, what I'm referring to here is stride shocks.
In other words, wedge sole work boots like these Brunt Marin are great for relieving pressure on your ankles, knees, and back, therefore, avoiding pain in those areas.
Here are a few measurements I took of the different parts of the sole.
| | |
| --- | --- |
| What I was measuring | Data |
| Midsole thickness at the heel area | 20mm (0.80″) |
| Midsole thickness at the toe area | 10.3mm (0.40″) |
| Outsole thickness at the heel area | 5mm (0.19″) |
| Outsole thickness at the ball of the foot | 13.4mm (0.52″) |
| Lugs depth | 2.6m (0.10″) |
5. Heel guard
We all kick things around when at work with either the front of the boot or the back of the boot. Both those areas come with additional reinforcement on these boots. At the front, we have the bumper cap and at the back, we have the heel guard.
The heel guard on these Brunt Marin work boots is made out of TPU which is a much harder/stronger material than leather.
This will help expand the lifespan of your work boots over time since the TPU heel guard will take most of the impact when kicking things with your heels.
Just like the toe cap bumper, the heel guard is glued to the leather instead of stitching as I've seen in many other work boots I've reviewed.
6. Hardware
The boot comes with pass-through or wrap-around lace hooks with heavy-duty eyelets. There are basically 4 eyelets and 2 speed hooks that can be used as eyelets if that's what you want or require.
I personally love the speed hooks in work boots for convenience more than anything else. It makes it very easy and fast to put on and take off my work boots before and after my shifts.
7. Stitching
These Marin work boots come with double stitching. The majority of work boots I have come with triple or quadruple stitches. So we'll see if this affects the durability of the boot.
Also, the moc toe is one piece of leather that's rolled up and stitched in order to create the moc toe aspect. People that know about work boots prefer this style of moc-toe since it's more durable.
It's exactly the same moc toe style as my Thorogood 804-4200.
Inside the Brunt Marin composite toe work boots
Now let's see what can we discover by looking at the inside of the boot…
1. Removable insole
These Marin work boots do come with a removable insole. Brunt called their insoles the Tripple Layer Comfort insole which basically consists of:
a nonstick top layer
a memory foam middle layer
a cushy bottom layer
They are very, very comfortable insole if cushioning is what you're after. Personally, I had to remove the insoles since I need more support in the arch.
These work boots are great for flat-footed people thanks to their almost non-existent heel-to-toe drop. So if you have flat feet these Brunt Marin are an excellent choice.
But if you're like me and have a regular arch or even a higher arch the good thing is that you can remove the insole and replace it with something that's more comfortable for your feet.
Also, the Tripple Layer Comfort insoles are not good if you suffer from plantar fasciitis. You'll have to replace it with something a bit more rigid or semi-rigid that provides support under your arches.
If you're wondering what are some good insoles, here are some of the insoles I've tested in the last few years.
Personally, I swap the original insoles with a pair of SOLE Active insoles and the Fitpace EcoDasher insoles. Those were great for arch support and keeping a better body posture during my day.
But if you are lucky enough to not have any issues with your feet, knees, or back … the original insoles will be fine.
I'll leave you below some measurements I took of the different parts of the insole in case you might be wondering.
| | |
| --- | --- |
| What I'm measuring | Data |
| Insole's thickness at the forefoot area | 6.7 mm (0.26″) |
| Insole's thickness at the heel area | 12 mm (0.47″) |
| Insole's width at the ball of the foot area | 95.8 mm (3.77″) |
| Insole's arch support height | 16 mm (0.63″) |
2. Adjustable width insert
One thing that got my attention when I did the unboxing of the Brunt Marin boots was the flyers saying that you can easily make these boots wider by simply removing the insert that's sitting right under the insole.
This adjustable insert it's basically another 3.2mm (0.12″) layer of foam which in addition to the Triple Laye Comfort insole makes you feel like walking on clouds when wearing these boots.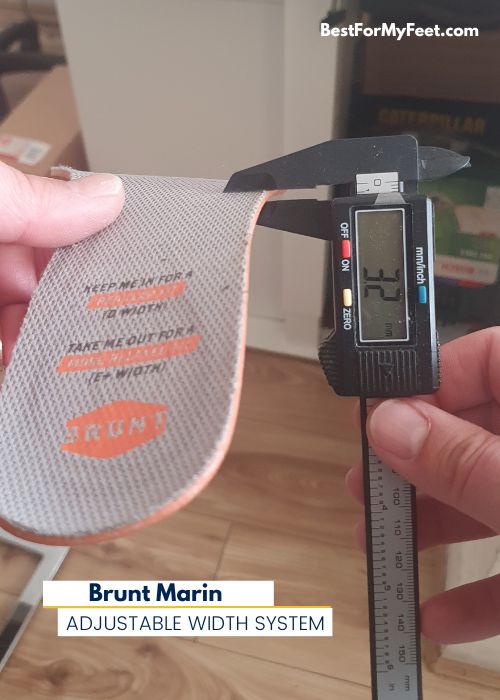 But, does it really work? Does this make the boots feel wider?
Well, I've tested this at work the other day and I felt like there's more room inside the boot for sure. The boots were loose, I felt like I needed an extra pair of socks to make them feel snug again.
I didn't feel like they were wider though.
My friend and fellow tester, Adam, has a pair of Brunt Marin soft-toe boots and he says that he couldn't notice any significant difference by removing the adjustable insert.
One thing is for sure, removing both, the insole and the adjustable insert you'll have some extra 16mm (0.63″) inside your work boots allowing you to comfortably fit any orthotic insole you want.
3. Waterproof membrane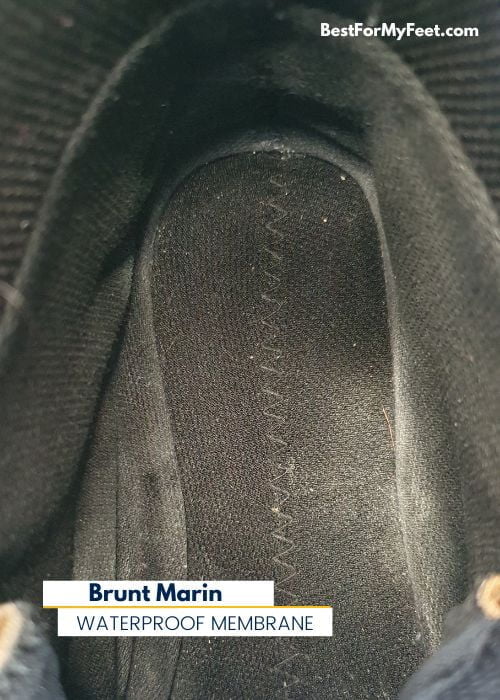 The Brunt Marin boot comes with a waterproof membrane and it's working perfectly as per my tests.
The waterproof membrane doesn't go all the way up though. It seems to me that the waterproof membrane stops at the gusseted tongue which is at the 4th eyelet.
Your feet are going to be dry as long as you don't step in water puddles deeper than 113mm (4.45″) which is the height at which the tongue is gusseted (just below the 4th eyelet).
One thing I realized when I was taking the Marin's off after a 12 hours shift is that my socks were quite humid. It's spring when I'm testing the Brunt Marin and the weather is getting warm so I think I'll sweat quite a lot in summer.
Check out the updates at the bottom as I'll come back to this review in a few months to bring the latest.
4. Safety toe cap
The good thing about these Brunt Marin work boots is that they come with a carbon fiber toe cap which not only makes the boots a tiny bit lighter but is also airport friendly.
Airport-friendly work boots simply mean that you have all the safety features of a work boot but there's no metal present in these boots that will set off metal detectors.
Usually, composite toe work boots look much bulkier than steel toe work boots.
But this new Brunt Marin model doesn't look as bulky as other boots I've had in the past such as the Timberland PRO Boondock or the Avenger A7505. Not to mention the Thorogood Emperor Toe which looks massive.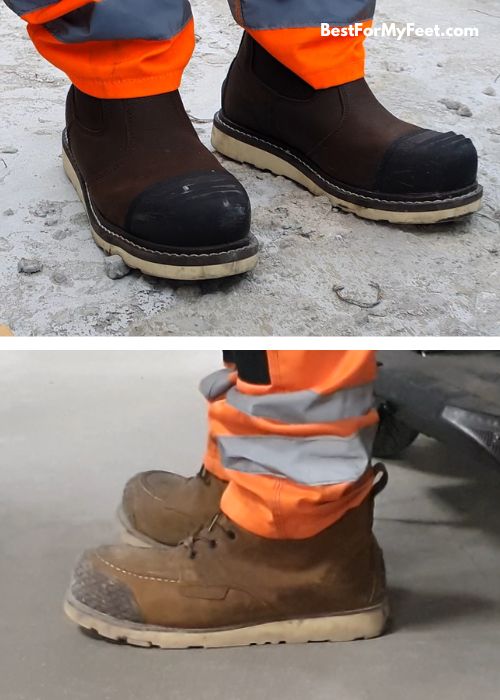 So if you're after a moc toe with a lighter safety toe cap then these Brunt Marin composite toe cap work boots are for you!
5. Lining
There is a bit of lining at the top of the boot. The lining starts where the waterproof membrane ends.
6. Heel counter
The boot doesn't have a heel counter over the waterproof lining.
I know people from Brunt will read this review so if you guys are looking for constructive feedback please look into adding some type of heel counter on top of the waterproofing membrane.
This should help prevent the waterproofing from getting damaged by the heel rubbing against it, so a heel counter could prolong the life of the boots.
Where are they made?
Where Brunt work boots are made it's a question I see people asking all the time and this specific model, the Brunt Marin work boots it's made in China according to the label of my work boots.
I know some of you inquired me about some rumors that Brunt is looking to move their boots production to the US but I can't confirm it since Brunt reps are not clear about it either.
When my colleague Theo did the research for this article: Where work boots are made, he found a social post in which Brunt was claiming the boots are made in China because they can't find a manufacturer in the US that's using the same technology without losing quality.
So I don't know. I'll update you on this as soon as I have more news!
To me, it makes no difference if the boots are made in China or anywhere else as long as the quality is there. And so far, I don't have complaints in terms of the quality of the boots.
Will these Brunt Marin work boots fit wide feet?
I don't have wide feet myself so I can't really say but the Marin does come in EE versions.
Here's how wide my boots are. Keep in mind that as the boot size is going up, the width will also increase. So the boots I'm measuring here for you are size 10 D and this boot is just a bit over 4 inches in width at the ball of the foot area.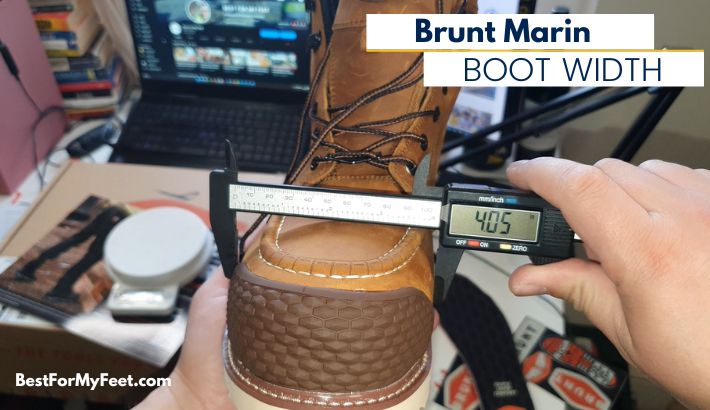 What do the letters stand for when it comes to the width of the boot? (W,M,D,E,etc)
There's a lot of confusion about these among people looking to buy a pair of work boots. Hopefully, the little table I've put together might help you understand what's that all about!
The letters simply represent how wide the work boots are.
| Letter | Meaning |
| --- | --- |
| N or A | Narrow |
| M, or D | Medium |
| W or 2E | Wide |
| XW or 3E | Xtra Wide |
Are the Brunt Marin work boots waterproof or not?
We've had a few days of rain and the boots were dry not only when I was out in the rain but also when I had to walk through deep puddles of water.
So the answer is yes, Brunt Marin boots are waterproof. And at this point, I haven't even oiled them yet to help even further with the waterproofing.
One thing I can't recommend enough though is to get yourself a boot dryer in order to dry your boots.
Even though the boots look dry on the inside, trust me, there's a lot of moisture in there that you need to get rid of by the next morning before you're going put them back on.
It doesn't have to be anything fancy, I have this PEET Original boot dryer that cost me less than 50 bucks.
Are they lightweight? How much do they weigh?
The Brunt Marin work boots are one of the most lightweight work boots I've ever had to be honest. The boots weigh 1.130 pounds or 823 grams approximately per boot.
Usually, I won't say whether the boot it's heavy or not. I simply take a picture with the weight of the boot and I leave it for you to decide whether that's heavy for you or not.
But this time I feel like I can comfortably say that the Brunt Marin are lightweight work boots.
I rotate my Marin boots with a pair of KEEN Lansing mid steel toe boots, and those look like rocks compared to the Marin. (even though they're not heavy compared to other steel toe work boots).
Are they comfortable?
Yes, the Brunt Marin is one of the most comfortable work boots I ever had. Lots of room inside the toe cap, no heel slippage, almost zero breaking in, very flexible straight out of the box…
I've seen a few comments from people talking negatively about the Marin work boots but in all honesty, I can't see the reason why. At least not when it comes to comfort!
In the beginning, they were a bit stiff but that's normal with all work boots. After a few days of wearing them at work, they're like walking on clouds.
Are they slippery?
I haven't had any issues when working on wet surfaces. I'm not sure how they will perform on greasy floors but they kept me on my feet while working or walking on:
wet polished and unpolished concrete
uneven ground
gravel
sand
Do they provide support?
As I was saying earlier, they don't provide enough arch support for people with regular or high arches. Perfect for flat feet though.
In terms of ankle support, they do a good job but if you have weak ankles I always recommend going with an 8-inch work boots version of the boot.
Unfortunately at this time, Brunt doesn't make this same model with an 8-inch upper. The older version (the one without the TPU toe cap bumper and heel guard) does come in 8 inches. You can find it here.
Are they true to size? Do they run small or large?
They were true to size for me, both in length and width wise.
There's enough room inside the boots which is great if you want to add some orthotics or some better insoles.
Additionally, they're good for those of you with a higher arch or higher in-step since once you remove the insole and the adjustable insert there's even more room inside the boot.
Heel height
These boots don't have a heel per se but the sole it's a bit thicker at the heel area so if you're wondering how tall these boots will make you look, the answer is 30.2 mm or 1.19 inches.
Heel-to-toe drop
I know some of you will want to know if there's a big difference in height between the heel and the toe area.
The boots are not quite zero-drop work boots but quite close. The heel is 30.3mm (1.19″) high and the height at the toes area is approximately 21.3mm (0.84″).
So the toe drop on these Brunt Marin work boots is 9mm (0.35″).
Based on my experience wearing these boots you can add your favorite orthotics without them flaring up if that's the reason you wanted to find out this information.
How tall are these Brunt Marin safety boots?
The Marin are 6-inch tall work boots if you measure from the top of the sole and 7.5 inches more or less if you measure from the bottom of the sole.
At the back of the leg, the boot has a slight drop (6.5″ measuring from the bottom of the sole or 5.5″ from the top of the sole).
That's an excellent feature for those of you that need to kneel and flex a lot in order to do your job and even for truck drivers or machine operators.
What this feature means for you is that the boots will not dig into the back of your leg every time you bend or drive compared to a boot that has a straight-cut collar.
Break-in period: Do they need breaking in?
Have you ever tried to break in a pair of work boots?
It's really a pain in the back, especially with those most expensive work boots that are made with thick, high-quality leather.
These Brunt Marin composite toe boots on the other hand require no breaking-in period. They're comfy and ready for action as soon as you put them on.
The only thing I had issues with was the top of the boot. The collar is quite stiff and it was digging into my ankles when I'd put my leg in specific positions, especially when I was driving or operating machinery.
It took a few days before the leather at the top of the boot became softer and stopped hurting me.
Price: how much do they cost? 
At the time I'm writing this review you can buy a pair of the Brunt Marin Toe work boots for $169.
But prices, as we all know, go up and down all the time so if you want to see if the price has changed, you can click here to see the most up-to-date price on Brunt's website.
Where to buy a pair of Brunt Marin work boots?
Many of the work boots I review here on BestForMyFeet.com are available at different online and local stores but the Brunt Marin boots can only be bought on their official website.
New Brunt Marin work boots vs the previous model
If you're wondering what's the difference between the older version of the Brunt Marin work boots versus the new one let me tell you it's not much.
I've asked the same question to my contact at Brunt workwear and he told me the only difference is the addition of the patent pending toe cap bumper and heel guard.
So if you don't like the toe cap bumper and you thought you were missing out on something by buying the older version, don't worry.
You'll have the same great features you'll find in the new model with the exception of the toe cap bumper and heel guard.
Ah, I almost forgot, one more difference would be of course the price. The new Brunt Marin Toe boots are a tiny bit more expensive than the previous model.
Who do I recommend these Brunt Marin work boots to?
Plumbers
Machinery drivers (forklift, cranes, excavators,etc)
Superintendents
Handymen and handywomen
Alternatives to Brunt Marin work boots
Nowadays you can find tons of work boots that are in the style of the Brunt Marin and here are some of the most popular models out there…
Watch my Brunt Marin Toe review on YouTube
Verdict: Are Brunt Marin safety boots worth the money?
So far I'm very happy with my Marin work boots. I'm wearing them a few days per week in rotation with my Thorogood 6″ Crazyhorse steel-toe work boots (I'm retiring the KEEN Lansing next week).
I have no other complaints about my pair of Brunt Marin boots other than the ones mentioned above in this review namely being a bit stiff around the ankle and provoking some pain in the heel and overall foot for the lack of arch support.
In terms of comfort and design, they are 100% worth every single penny. I still need to see how long they last but if I get a year and a half of them I'm happy with them.
I need to make a quick disclaimer here. As you might know, we buy most of the products we review on our site but there are times when companies send us some boots to test them out.
In this case, Brunt reached out to us asking if we want to test out any of their boots and we said yes.
So I got these boots for free. But rest assured that I'm not praising the boots because of that but because that's my own experience wearing them for work. This is probably one of the most if not THE most honest reviews you'll read about the Brunt Marin work boots.
If I miss anything in this review please leave a comment below and I'll do my best to answer your questions or comment!
If you're after some very comfortable work boots that require little to no breaking in period these Brunt Marin boots are what you're looking for.
---
More pictures of the Brunt Marin composite toe boots
Check out my Instagram or Pinterest page for more pictures. Also, if you really like one of the images, you're free to borrow an image as long as you mention where you borrow it from!
Update: 1 month of wearing these Brunt work boots
So far, so good. The boots stopped giving me any type of pain I had experienced a few weeks back due to the collar being a bit stiff and also not provide enough arch support for my feet.
Now that the boots are broken in and have the right insoles for my feet…they feel like leather slippers :)) Very comfortable work boots!
The stitches and all other components of the boots are still intact!
In the next update, I'll share with you any updates I have about the boots but also how they look after oiling them.
Update: 6 months of wearing these Brunt Marin work boots
Still testing. Stay tuned.
Update: 12 months of wearing these Brunt Marin work boots
Still testing. Stay tuned.
Update: 12 months of wearing these Brunt Marin work boots
Still testing. Stay tuned.
---
Team Members Working On This Page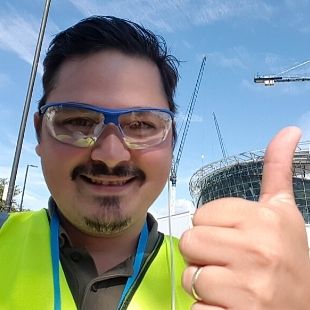 Construction Professional, driver, crane operator, cleaner, head chef … these are just some of the jobs I did in the past. Working in all these different environments taught me that having good footwear to protect your feet from different dangers at work IS PARAMOUNT for any worker! On this website, I aim to share all my knowledge and personal experience in dealing with different footwear and foot care issues, and hopefully, you can get something out of it. Enjoy!
Love technology, going to the beach, taking care of my body, and writing (amongst other things). You'll see my face around here a little bit since I'm responsible for part of the research and writing of some of the articles you're reading on BestForMyFeet.com. I hope you'll find our content helpful and enjoyable! See you around, thanks for reading!