If you're looking for your next pair of durable and comfortable work boots I'm sure you've considered any of these two brands.
But which one should you go for? Red Wing work boots or Carhart work boots?
In this article, you'll find some helpful information I've put together to help you out a little bit. I've done a lot of research. It took me and the Best For My Feet team somewhere north of 31 hours of hard work to put all this information together.
We'll talk about the different types of boots Carhartt and Red Wing produce, the differences in price, fit, size and so much more!
So make sure you keep reading to learn more about the differences between Red Wing and Carhart work boots.
Let's get into it…
What type of boots do they produce?
Both Red Wing and Carhartt have an extensive range of great-looking work boots for every taste and style out there.
Here's a table with the type of work boots each brand produces:
I'm sure there might be more and we might have missed one or two but don't worry, we're always updating these pages.
Do Carhartt and Red Wing boots fit the same?
Now that we've seen a few examples of what type of work boots Carhartt and Red Wing make, let's quickly check out how they fit.
As always, this is the hardest part when it comes to buying work boots online.
It's not going to be easy to purchase a work boot that's comfortable from day one, especially online.
But this section should give you an idea of what action should be taken when purchasing Red Wing or Carhartt work boots.
Both brands have too many boots to go through individually. What I did instead was I picked some of the most sold boots from Carhartt and Red Wing and looked at what people have said about how they fit.
How do Carhartt work boots fit?
For Carhartt, I've chosen the CMF6371 model. These boots come with a composite safety toe.
And I mention this because most of the time, the work boots that don't fit well are those that have some kind of toe protection in them.
This model has over 2000 reviews on Amazon alone plus another few hundred on other online stores altogether.
Not everybody left feedback about how their boots fit, but 967 awesome people did leave a comment about the size and fit.
Out of those 967 buyers, 808 of them said the boot fit them perfectly. So their Carhartt boots were true to size.
Some small numbers of people said the boots were either small or big for their feet.
This is the breakdown of people's feedback on that particular work boot size and how it fits.
| | |
| --- | --- |
| Too Small | 24 |
| Somewhat small | 37 |
| True To Size | 808 |
| Somewhat large | 65 |
| Too large | 26 |
How do Red Wing work boots fit?
For the safety toe Red Wing work boots I haven't seen any customers saying the boots are running small.
Most of the time they fit perfectly. Sometimes they run a bit large or wide. That's what I've seen on their website after reading hundreds of customer feedback.
It's the same on Amazon. If we look at their classic Moc Toe boot, out of 1543 buyers who left feedback about the size and fit…
1025 of them have said the boots fit them perfectly. So they were true to size.
This is the breakdown of people's feedback on that particular work boot size and how it fits.
| | |
| --- | --- |
| Too Small | 70 |
| Somewhat small | 106 |
| True To Size | 1025 |
| Somewhat large | 242 |
| Too large | 100 |
When you buy work boots online getting the right size and fit is the most challenging part of the buying process. You never know what you're going to get.

Some people were saying that they bought the same pair of boots for years from both brands, however, the last pair they bought was either too small or too tight or large…
The good thing about buying work boots on Amazon is that they have the Amazon Prime Wardrobe where you can try on the work boots and you won't pay for them until you're happy with the product.
OF COURSE … keep in mind that there's a limited time for this. You can't wear them for 2 months and then say: "Hey, these boots are no good" 🙂

It's worth checking it out before buying your work boots. It's quite handy and it's free if you have an Amazon Prime membership.
Anyway, it seems that both Red Wing and Carhartt work boots fit the same way if you're looking at the numbers. In both cases
Most people said the work boots were true to size
Some people said the boots were a bit large
And a small minority said the boots run small
Red Wing Vs Carhartt work boots: Where are they made?
Where work boots are manufactured is not an easy piece of information to find nowadays. I've searched the web for the most sold models from each brand and looked at where those boots were made.
Here's what I found…
Red Wing work boots
Red Wing takes a lot of pride in manufacturing their boots in the USA, but like most of businesses nowadays, they have moved some of their production overseas. 
You can look on the Red Wing website and see that some of the Red Wing boots in some of the below series are manufactured overseas. For example:
Cambodia (King Toe series)
Vietnam (Flex Force, Truhiker)
China (Tradesman, Flexbond series)
Carhartt work boots
As you can see, based on customer feedback I've gathered from the reviews online, Carhartt work boots are made overseas.
Some old reviews were saying some of Carhartt's work boots were made in America. But it seems like that's not the case anymore.
If you find an online store that sells Carhartt work boots made in the US, make sure you ask them to send you pictures of the inside label of the boot.
That's where it should say where it's made. Also, look for the American flag on the tongue or on the side of the boot.
Those should be indicators that the boots are made in the US.
Carhartt vs Red Wing: Differences in price
Carhartt boots are not the cheapest work boots you can buy online but they're not as expensive as Red Wing boots are.
For example, you can buy a pair of Carhartt work boots for around $100 on the low end and the most expensive work boots from Carhart are not going too much over the $200 mark.
This model for example cost $199.99 on the Carhartt website. Here's how much costs on Amazon.
When we look at Red Wing boots though … it seems like their lower range prices start at the top of Carhartt's.
That means that the cheapest Red Wing work boots you can buy are around $200. The lowest price I found is this hiker boot model (Truhiker) that goes for $164.99.
The most expensive Red Wings work boots go for close to $400 with models such as this Tuwelt leather work boot with metatarsal protection.
So it's clear that if you want to own a cool pair of Red Wings, you have to have a more healthy budget.
What industries are they good for?
Both Red Wing and Carhartt have a wide range of work boots you can choose from.
I'm sure that no matter what industry you're in you will find a boot that you like from either of them. It will come down to your taste and budget.
But Carhartt and Red Wing work boots are good for:
Food industry
Farming & agriculture sector
Good for office work
Retail
Drivers
Soldiers and police officers
Carhartt VS Red Wing: What do the reviews say about them?
Both brands have TONS of reviews online. It was a bit harder to go through Carhartt reviews since this brand doesn't sell only footwear. They have a lot of clothing gear available as well.
But here's what customers have to say about these two brands…
What people are saying about Carhartt work boots?
If you do a simple Google search you'll see how many bad reviews Carhartt has on Trustpilot, Yelp, and other review sites.
The majority of disappointed customers who left a review were complaining about the customer service being too slow or non-existent (not necessarily about Carhartt products).
However, when I look at specific online stores that sell Carhartt footwear such as Zappos, Amazon, and a few more…I see a lot of happy customers.
The few unhappy buyers were mostly complaining about the sizing of the boots. The sizing is all over the place some customers were saying.
So make sure when you buy Carhartt, you buy them either at the local store if possible, that way you'll know on the spot if the boots are going to fit you or not.
Or if you buy online make sure the store you're buying from has a clear and easy-to-understand return policy just in case you need to return the boots.
I've mentioned this before, but in case you've missed it, Amazon has a great service called Amazon Prime Wardrobe that allows you to try the products before you buy them. Read more about it here.
What people are saying about Red Wing work boots?.
Red Wing work boots have built a great customer base. These customers will not wear anything but Red Wing footwear. That's how good some people feel about Red Wing work boots.
You can't blame them. This company has been making great quality footwear for decades right here in the USA.
And this is one of the things customers have said when asked what they like the most about Red Wing.
So the users liked that Red Wing still kept producing boots in the US whilst many of their competitors are making work boots overseas nowadays.
Generally speaking, based on the hundreds of reviews I've read for this article, buyers are very happy with the work boots made by Red Wing.
The only downsides I've seen a few people mentioning are:
the price tag being a bit too high
not too many models available online
and the breaking period being too long
Other than that, the Red Wing work boots are worth every single penny.
Red Wing & Carhartt's most popular work boots models
Let's find out which work boots models are selling the most from each brand. The boots I'm sharing below are listed in no particular order. The last one is as good as the first one.
Carhartt's top 5 most sold boots
Red Wing's top 5 most sold boots
Alternatives to Red Wing & Carhartt: boot brands in the same ballpark
If you don't feel like either Carhartt or Red Wing work boots are meant for you, I get you; after all, it's not as easy as it seems to choose what'll eventually become your daily work companion.
Not to worry, there's plenty of other reliable and durable work boots to choose from.
Here are some brands that I'd also recommend, which I've also reviewed extensively over here on Best For My Feet.
Red Wing VS Carhartt work boots: Which one is best for you?
The thing about Red Wing work boots is that you can't find too many models for sale online.
This makes Red Wing quite unique on the work boots market because if you want to own a pair of Red Wings work boots you have to either go to a local Red Wing Store or travel to a close one.
This is actually the best way to make sure you buy work boots that fit you right from day one!
The downside is that if you like the convenience of buying a pair of work boots from the comfort of your sofa, I'm sorry but you won't have too many options if you opt for Red Wing boots.
Both Carhartt and Red Wing produce great-looking boots (at the end of the day Carhartt was part of the Red Wing family not too long ago) …
… and ultimately choosing between Carhartt and Red Wing work boots will come down to preference and budget.
---
Team Members Working On This Page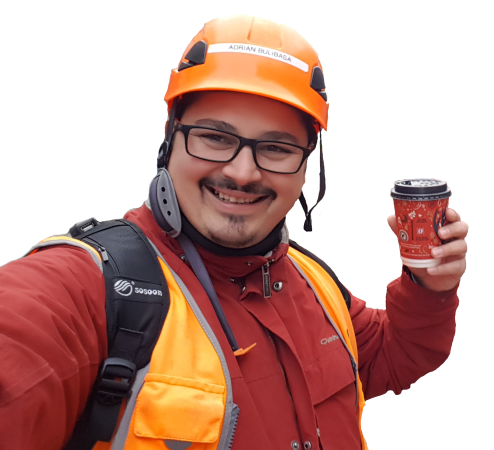 Construction Professional, driver, crane operator, cleaner, head chef … these are just some of the jobs I did in the past. Working in all these different environments taught me that having good footwear to protect your feet from different dangers at work IS PARAMOUNT for any worker! On this website, I aim to share all my knowledge and personal experience in dealing with different footwear and foot care issues, and hopefully, you can get something out of it. Enjoy!
Love technology, going to the beach, take care of my body, and writing (amongst other things). You'll see my face around here a little bit since I'm responsible for part of the research and writing of some of the articles you're reading on BestForMyFeet.com. I hope you'll find our content helpful and enjoyable! See you around, thanks for reading!