Hi and welcome to our best non-steel toe work boots round-up review for 2022 (updated for 2023).
To bring you this review we have researched 41 websites. We have looked at 35 soft-toe work boots brands and models. Plus we have read dozens of reviews on online stores for each model looking for experiences from real users.
Overall we have spent over 40 hours on this article to bring you the highest quality information about work boots in the soft toe category.
You don't always need a steel-toe work boot to get the job done. Soft toe work boots, as well as being more lightweight and generally less expensive, offer excellent comfort around the toe box compared to steel toes.
And when it comes to safety standards for the outsole grip or protection of your upper feet, these boots still possess impressive safety features.
This is our list of the top 9 best soft-toe work boots
Here's a quick comparison table if you're curious about which work boots we've included in our round-up.
Top 9 best soft toe work boots review
Alright, let's jump into some detailed reviews of each one of these great soft work boots we've included in today's round-up.
We'll start with the best rated …
1. Pit Boss 6" lace-up work boot with a soft toe box

The PRO Pitt Boss 6" Lace Up comes from Timberland, an established manufacturer of high-quality work boots that have been in the business for nearly seven decades.
Timberland has hundreds of high-quality models, but we think this Timberland PRO Pit Boss work boot is the very best in their range because of the top-quality craftsmanship and leatherware available with this pair.
The boot's upper materials are made from 100% leather which meets ASNI standards for protection from abrasion and slips.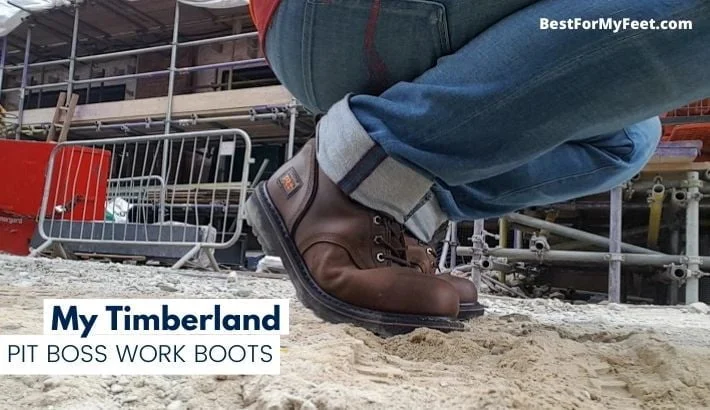 The 6" arch alongside the oil-resistant outsole creates the perfect system of foot support, allowing you to work in comfort all day every day.
Finally, customers simply love the endurance on these bad boys, with the durable leather and feet support systems allowing the boots to last for months on end.
Several reviewers have said that they have not needed to buy a new pair in years after buying these boots.
---
2. Keen Pittsburgh waterproof soft toe boot

The KEEN Utility Men's Pittsburgh is the best soft-toe work boot produced by Keen. Another trusted brand for making work boots that have hundreds of thousands of happy customer reviews across their numerous products.
The main advantage of the Pittsburgh over many other boots in this roundup is that it is waterproof. It features a breathable membrane liner that lets vapor out without letting water in.
This membrane thus allows you to work in the outdoors, on farms, or on rainy outdoor worksites, without worrying that your feet are going to get wet.
But it lets vapor out, so it's also the perfect work boot for summer months when you want to keep your feet as cool as possible.
As well as being waterproof, this boot also provides excellent ankle support which features a 90-degree heel with a TPU interlocking torsional plate. For more waterproof work boots just like this one, read our best waterproof work boots page here.
This boot thus offers you protection from the strains of long working hours on your feet and prevents the development of long-term feet or knee conditions.
Finally, one big advantage of this boot is the removable dual density EVA footbed that is used for additional comfort on the insole, and also features anti-microbial technology for odor protection.
---
3. Ad Tec crazy horse leather work boots

The Ad-Tec Men's Lug Sole is the best work boot in this roundup for those of you in logging or forestry.
Featuring a completly shock absorbent outsole and 9-inch arch, this boot is perfect for the worker who faces an uneven forest terrain.
The upper material is made from Full-Grain Crazy Horse Leather. This is a type of leather that is made by applying a special wax type to full-grain leather.
This enhances the leather, ensuring that when it is scratched or scathed the natural color changes ensure it gets an antique, vintage appearance.
Crazy Horse Leather was popular with manufacturers of horse saddles, hence the name, and it is renowned for its durability, its strength and the unique look that it generates.
It's the perfect boot for toughness and support for those working in the great outdoors.
This stylish leather look, alongside the vibrant orange laces, means that you are sure to stand out on the worksite.
With both safety and style, these boots have it all.
---
4. Caterpillar Threshold industrial work boot

The Caterpillar Men's Threshold Waterproof Industrial Boot is the best boot manufactured by Caterpillar, a designer of work boots who also manufacture industrial equipment.
So they know exactly what their work boots need to be protecting you from. For this boot to be the best soft-toe cap boot in their extensive range is quite the accomplishment.
One of the key features of this pair of soft-toe work boots is the seamed seals that ensure all-around water protection and comfort.
So if your worksite is outside in a rainy city, or you're dealing with a lot of steam and droplets in a furnace, then this pair of soft-toe work boots may be for you.
And, though this is a soft-toe boot, don't think it compromises on important safety standards. The slip-resistant outsole actually exceeds ASTM standards for grip on low traction surfaces.
It also meets ASTM F2413-05 1/75 Electrical Hazard regulation protection. This means it will protect you against open circuits of up to 600 volts in dry conditions.
So whether you are working with a lot of slippery surfaces, or with a lot of electric wires, this work boot has a feature for you.
---
5. Ariat Groundbreaker Westen style work boot

The Ariat Groundbreaker combines style with safety, with a full-grain leather base and suede upper section.
It's the best slip-on work boot in our round-up. Slip-on work boots have the advantage of being easier to get on and off, so you're not wasting time with laces or straps.
And you avoid the trip hazard of laces as well!
These boots come with a square toe box. This square toe box means your toes will have even more room to move and breathe in these bad boys, and they are also stylish.
While the upper section is made from suede, the base is protective from all sorts of hazards, from electric shocks to punctures.
With an 11-inch shaft, this boot thus offers an extreme amount of ankle and leg support, much more than those in the shorter work boot and even more premium ankle and leg support than that offered by shorter work boot brands like the Pit Boss or Pittsburgh.
On the other hand, a taller shaft also compromises freedom of movement and breathability, and so this boot may come to feel a little bit less comfortable over time than those shorter makes.
---
6. Wolverine Floorhand waterproof pull on boot

The Wolverine Floorhand Soft Toe Work Boot is made from 100% waterproof full-grain leather. There are a lot of waterproof boots in this roundup.
However, this boot has the advantage over all the others of also being a pull-on work boot too, allowing you to take them off quickly and put your feet by the radiator after a long rainy day at work.
Another benefit of these work boots is that they contain a shaft that measures approximately 10.75″ from the arch, meaning this boot offers excellent support for people with weak legs or weak knees.
Finally, the slip-resistant rubber outsole will allow you to safely keep your footing in slippery conditions.
So this is the perfect waterproof soft toe work boot for those of you working in rainy conditions or on slippery surfaces, with excellent stability and support.
---
7. Classic Moc soft toe from Red Wing

If you think supporting American manufacturing jobs is important, through good times and bad, then you should consider buying your work boots from a manufacturer who makes their boots in the United States. Red Wing is one such company.
So buying from Red Wing is a way of demonstrating your values as a consumer. And best soft toe work boot manufactured by Red Wing is the Heritage Men's Classic Moc 6″ Boot
What makes this work boot stand out from all the others in Red Wing's excellent range is the timeless style and durability that makes the boot an instant classic.
The full-grain leather that the upper boot is made from wicks away water, keeping your feet dry in treacherous conditions.
Nonetheless, the breathable membranes wick away internal moisture, keeping the inside of your boots cool and dry on a hot summer's day.
Plus, Red Wing has their own in-house repair facility based in Minnesota, USA. They will repair whatever is wrong with your work boots, usually for less than the cost of buying a new pair.
---
8. Timberland Direct Attach 8 Inch boot

Having a work boot with a long enough shaft for support is like Goldilocks.
You don't want it to be short, then it doesn't offer enough support.
You don't want it to be too long, then it restricts maneuverability.
For many consumers of work boots, an eight-inch shaft is just right. And for us, the best eight-inch work boot is the Timberland Direct Attach 8″ Soft-Toe Work Boot.
This soft toe work boot contains 400g of Thinsulate. So it's the perfect work boot for the cooler months of the year when temperatures begin to go below 50 degrees Fahrenheit but the boss still wants you on site 10 hours a day (if you're lucky).
The laces that support the full grain upper material allow you to generate a customizable fit within your size, and the synthetic rubber sole will protect you from the punctures and sharp objects you might find on a dangerous work site.
Finally, despite the large amounts of Thinsulate, this boot weighs in at just 1.88 pounds per boot. So you don't need to worry about these lightweight bad boys from weighing you down or tiring you out.
---
9. KingShow great budget soft toe work boot

If you're looking for a work boot that encapsulates comfort and extra value for money, then the KingShoW Men's 1801 is the one for you.
By far the cheapest pair of work boots included in our roundup, don't think that this means they have nothing of value to you or the work that you do.
They are constructed from high-quality Nubuck leather, a make that has a similar feel to suede but is much more durable owing to the fact it comes from the top grain of the hide.
However, while Nubuck is very durable, it is also stainable. That means this boot is less suitable for workers in which there is a lot of dirt and grime- such as farmers or oil field workers.
Also top-grain leather is not quite as durable as full-grain leather.
For the price you pay, these boots are excellent value for money, with thousands of delighted customers on Amazon.
---

Let's check out some of the things we think you should consider when it comes to buying soft-toe work boots either for work.
What is a soft-toe work boot? What does it mean?
Soft-toe cap work boots are generally work boots that do not provide comprehensive protection against drops. The toe box is not made from solid material toe caps.
So they are thus different from both steel toe cap and composite toe caps.
Generally, soft toe boot caps will be made from the exact same kind of material as the rest of the upper.
Why should you choose soft-toe work boots?
There are several advantages to buying soft-toe work boots.
The most obvious is that, all other things being equal, soft toe boots will be much lighter than steel toes or even composite toes. This will reduce the amount of effort you have to put into traversing around the worksite, and reduce the chance of injuries or strains on your knees.
Generally, soft-toe work boots will also have a roomier toe cap space. This will allow you to have greater comfort while wearing the work boot, preventing the blisters, sores and athlete's foot that can come from having toes squeezed too tightly together.
Finally, and again this is all other things being equal, not having a steel toe cap will reduce the price of the work boot.
In short, the argument for soft-toe work boots is why should you subject yourself to extra expense and discomfort if you do not need to?
Pros and Cons of wearing soft-toe work boots at work
Pros
Friendlier Price, allowing you to keep more of your hard-earned money for yourself
Less risk of magnetic risk than steel toe cap boots
More toe room generally than steel toe cap boots
Lighter weight and less consequent risk of knee or joint pains.
Cons
Soft toe work boots will not protect your toes from a wide risk of hazards, meaning if you are on a worksite with a lot of drops, they are unsafe.
Some work site managers prohibit soft-toe work boots on their worksites for safety reasons.
Are soft-toe work boots and composite-toe work boots the same thing?
This article is defining them as being different.
Soft toe boots are boots that have their toe section made from the same materials as the upper material of the boot i.e. rubber.
Composite toe caps are not toe caps made of steel, but they are made of more solid materials than the upper.
Examples of common composite toe cap materials include
Ceramic
Plastic
Rubber
Kevlar
carbon fiber
or some combination of all of those materials.
Particularly if composite toe cap boots include kevlar or carbon fiber, this will generally make them more expensive than both standard soft toe work boots and standard steel toe work boots.
However other websites may carelessly use the two terms interchangeably so do be careful when doing your own research.
Features to look for in a work boot with a soft toe cap
Just because you do not have a steel toe cap, does not mean there are not a lot of other cool features to look out for. This section of the article will show you common features and why are beneficial to you.
1. Injury Protection
While most soft-toe boots will not protect you from tools being dropped on your toes, this does not mean they are entirely bereft of safety features.
There is generally some reinforced rubber in the toe boxes of most makes of soft-toe work boots. This provides them with some safety and protection for that area of your feet.
Most high-quality soft-toe work boots will also come with an excellent outsole, constructed to provide underfoot protection from electrical hazards. This gives them an advantage over steel toe, whose steel may conduct electricity and thus be dangerous.
Outsoles will also be slip-resistant, so if there are a lot of oils or slippery liquids on your worksite you can be sure that you will maintain your footing in a well-fitted pair of soft-toe work boots.
Disclaimer: Always check with your worksite's safety officer or human resources to check the specific work boot safety requirements of your worksite. It may be that despite the other safety features mentioned, soft-toe work boots are simply not protective enough.
2. Construction Material
Different materials will have different benefits.
Upper Material
For example top-grain leather, while not as durable or tough as full-grain, will have the benefit of being slightly more breathable.
Outsole Material
The material the outsole is made of is just as important as the material the upper is made out of.
To be safe on a worksite the soles need to be thick enough to resist a puncture by any sharp object that you may step on a worksite, such as broken glass or inactive power tools.
But boot outsoles (the outer bit) are generally made of three different kinds of material. Each, like full-grain and top leather, has its pros and cons.
The most common material you will see for work boot soles is rubber.
It's abrasive, and possesses good traction to prevent oil or wet floor spills. It has a lengthy storage resistance, meaning that even if the boots you buy stay in the shop for a long time they will not lose any of their strength.
The downside to rubber soles, is that they are heavier than the next two kinds of sole material we will discuss: TPU and Nitrile.
TPU- or Thermoplastic Urethane, is another excellent material for outsoles. It's lightweight compared to rubber, but still very slip and abrasion resistant.
The main downside to TPU is that it is expensive compared to rubber and it is not as temperature resistant as regular rubber.
Finally there is Nitrile
The main benefit to Nitrile over TPU is that it is extremely temperature resistant- again resisting temperatures of up to 572°F. Another benefit to Nitrile over regular rubber is that it is lightweight and has a superior resistance to abrasions and punctures.
The downside?
Nitrile is expensive and it's harder to find in outsoles on the market. (particularly in a brand/style of work boot that you like)
You should carefully consider when you are looking at both upper and outsole materials why you are buying safety work boots in the first place, and thus what material is suitable for your work purpose.
3. A good waterproof system?
How can you tell if a pair of rubber work boots that claim to be waterproof are truly so!
Customer reviews are one excellent place to look- if there are a lot of complaints about soggy socks this could be a warning sign.
If they are available, Youtube tests for your preferred brands are also a really visual way for you to see just how effective the boots you are
Good materials for waterproof work boots to generally look out for include Primaloft interior insulative system is an excellent choice if you want to keep your socks as dry as possible whilst working.
Goretex is considered one of the best waterproofing membranes on the market owing to the nine-billion pores per square inch which ensure no water gets through.
It's used by the US military in their waterproofed products, so you can be sure it is right for your safety work boots.
4. Comfort Features
There is always a trade-off between comfort and safety when you are purchasing work boots.
Soft toe work boots, with a lighter toe box and with more space and toe room will necessarily be lighter and therefore easier on your feet and more comfortable than steel toe cap work boots.
Other features for comfort to look out for when buying soft-toe work boots are underfoot cushioning, reinforced shanks and the right upper dimensions, to ensure your feet remain well supported and comfortable throughout the long work day.
Good materials for the shanks of work boots are steel or plastic. Steel is obviously stronger, and unlike steel toe caps, the shanks are relatively lightweight and provide excellent support.
Shanks made of plastics are less protective, however, they are much softer and so they are better for comfort.
Also of importance for comfort are the materials that the outsoles are made from. If the outsole is made from high-quality rubber, this will provide high-quality shock absorption, reducing the long-term risk of knee pains from long walking shifts.
It is also worth investing in a good insole or padded cushion for your work boots. As well as being good for absorbing the shock caused by your movements, they are usually perforated which allows for increased airflow, keeping your feet nice and cool.
Many of them will also have anti-microbial qualities for odor control.
5. Durability Features
Durability is a huge concern amongst people who wear soft toe caps, as if anything is dropped on the toe or if it is subjected to much stress and strain then the boot will crack.
It's the last thing any construction or DIY professional wants – to buy a pair of work boots only for them to fall apart at the first sign of pressure.
Common features of durability to look out for in soft-toe work boots include a strong upper rubber material, preferably rubber or full-grain leather, and a steel shank for maximal outsole protection.
While everyone has a one-off negative experience, customer reviews are an excellent place to see how durable work boots are. If there are a lot of customers complaining that work boots don't last as long as promised, then this should be a red flag as to their durability,
Finally, look at the kinds of leather the upper boot is made from. Full-grain leather will generally be tougher than top-grain as the latter has been sanded down quite a lot.
How Important should 'Brand' be for your purchase of soft-toe work boots?
Some people think paying more money for a brand like Timberland, Ariat or Wolverine is a waste of money. Surely you can find an off-brand pair of work boots for $50-$100 less which is just as good?
Sometimes this is definitely the case. But it's hard to find these one-off examples, and so often you will end up ordering something that looks like a bargain but turns out to be a pair of work boots that will crumble the moment you put them on or a pair of boots that mislead you as to what they are made of.
Buying from a Brand is a way of establishing trust and supporting innovation. These brands have thousands of delighted customers upon which you can rely upon.
And they are also incorporating the results of millions of $ worth of Research and Development which will go into a boot that provides comfort and support to your feet, protects them from slips and hazards, and will remain durable throughout years of usage.
Brands also tend to be better than independent/small manufacturers at offering warranties, money-back guarantees, and refunds.
They will also have well-developed customer service helplines, and some, such as Red Wing, will have their own in-house repair facility.
So you can buy high quality work boots from them with greater confidence.
Final Verdict On The Best Soft Toe Work Boot
When you're buying a soft toe work boot, you are generally saving money and compromising on a safety feature (toe protection) that is not important to the line of work that you are in.
But this does not mean that you should not consider the other safety features of a work boot, such as an oil-resistant outsole, an arch that gives you support during long days of working on your feet, and a shank that provides protection against punctures or sharp objects.
For these safety concerns and its waterproof membranes and anti-odor footbed, we have chosen the Timberland PRO Pit Boss work boot as the best soft toe work boot for our round-up.

---
Team Members Working On This Page