Hey, welcome to our Wolverine Overpass work boot review. Adrian from our editorial team bought this composite toe work boot for his construction job and he wanted us to create a nice and in-depth review of this boot.
Buckle up. There's a lot of good info in here. So, Adrian, let's get into it
Overall, A Great WorkBoot From Wolverine
One of the most comfortable work boots I had lately. Very light due to its composite toe cap and ultra-light PU outsole. Lots of great features inside and outside.
100% recommended!
Unboxing the Wolverine Overpass work boots
I've just received my pair of Wolverine work boots today and I'm pretty excited since I never had a pair of Wolverines before.
Let's see what's inside…
First impressions
WOW! When you open the box you'll see an awesome work boot in terms of design with really nice details.
Straight away I can see the Contour Welt feature which is unique to this Wolverine Overpass boot and it helps with bending and crawling.
It's more comfortable for you as a user and the chances of splitting the sole from so much bending decrease.
I can smell the quality of the leather on these boots. They look very light even though their safety boots.
Also, the outsole seems to be very rugged with deep lugs which can be good for many different jobs out there.
A bit bulkier than the previous work boots I had, the Caterpillar Outline so these won't do the trick of going out wearing them as casual boots.
It's looking really good so far. I'm very keen to start wearing them.
Features and specs
Here are some of the most important features of the Wolverine Overpass 6 inch:
| | |
| --- | --- |
| Cap protection | Composite toe cap |
| Outsole | Dual compound rubber and PU |
| Slip-resistant | Yes |
| Oil resistant | Yes |
| Shank | Nylon shank |
| Insole | Removable Ortholite |
| Upper | Leather + synthetic |
| Electrical rated | Yes |
Wolverine Overpass on the outside
Let's have a look at this boot from the outside.
1. Leather quality
The Wolverine Overpass is built with 100% leather and some type of synthetic material (I don't know what that material is but I've reached out to Wolverine. Come back at a later dater to find out what they've said).
2. Are they waterproof?
Yes, it seems like they are (for now anyway). I've tested this at home and also at work going through some deep puddles of water.
I could definitely feel the cold from the water, but the inside of the boots was completely dry. The test lasted about 30 minutes at home and about 5 minutes at work.
For the last few months of wearing these boots we've had a lot of rain in my area, and all these months my feet stay dry.
So I can say that these Wolverine Overpass work boots are waterproof (for the first few months anyway. I'll update you when things change).
3. Good outsole?
The Overpass 6-inch comes with a slip-resistant sole (or so Wolverine claims) so you'll be fairly protected against slipping on wet floors and other slippery surfaces.
I've walked on different types of surfaces at work, from gravel, dry unfinished concrete, polished concrete, mud, and grass to carpet and lino tiles…and all these were fine in dry conditions.
But when I had a bit of water on a lino flooring for example…the boots will not hold very well.
So just be careful if you have to work on that type of surface (retail, warehouse, supermarkets, etc).
The outsole is semi-rigid offering great support for those of you with flat feet and those of you suffering from plantar fasciitis.
I've walked with these boots on sharp stones, steel, and sharp metal, over nails and glass and I haven't had a problem with something puncturing my feet.
4. How about the midsole?
The midsole is made of PU (polyurethane) which is more breathable and lighter than EVA.
5. Shaft height
The shaft measures 6 inches if you measure from the bottom of the heel. If you measure it from the inside, the shaft is about 5.5 inches high.
6. Heel height
The heel is about 1.5 inches high.
If you're interested in this data because you might want to buy a boot that makes you look taller these boots will add an extra inch if you add some inserts such as the PRO 11 Wellbeing insole or the EASYFEET insoles.
In total, this boot plus the insole will make you look about 2.5 to 3 inches taller!
7. Eyelets
This boot has 4 eyelets and 2-speed hooks. Both, the eyelets and the hooks look like they're made out of some heavy-duty plastic. These might sound bad in terms of durability.
But another awesome detail in these Wolverine Overpass work boots is that the eyelets and the speed hooks have been stitched individually to the upper of the boot.
This not only makes them look really cool but they'll also increase the lifespan and durability of the hooks and eyelets.
On the inside of the Wolverine Overpass
Now that we know so much about the exterior part of these work boots, let's check what's going on on the inside.
1. Gusseted tongue
This is one of the things I like to see in any work boot. It might seem a silly detail for those new to work boots.
But if you're like me and you had to wear safety boots at work for years, you'll know how annoying it can be to have that stupid tongue flapping around.
That's one thing. A second annoying thing is when mud or sand or whatever gets in my boot through the space on each side of the tongue.
This detail on these Wolverine work boots helps keep that dirt out of my boots. Lovely detail!
It's the first time I see a boot with the tongue so high (it measures 5.5 inches if you measure from the sole).
This is actually almost like a slip-on work boot with a fake tongue which is there simply for the design.
Removable insole
Many work boots out there don't come with a removable insole.
And that sucks. Because if you want to replace it down the road with a new one due to stinky feet or simply because it's worn, you can't!
The insole is removable and you can replace it. Usually, I'd recommend you to replace it from day one. But the insole that comes with these Wolverine Overpass work boots it's actually quite decent.
It's an Ortholite insole that has some really good features such as the heel cup to keep your feet in place. The metatarsal pads are for extra cushioning when you step on them and decent arch support.
So use these for a few months and then replace them with a new pair of insoles.
Is the Wolverine Overpass good for wide feet?
I'd say my feet have an average width (if that's even a thing lol) I never had a problem with a boot being too tight for me right out of the box.
But here's how wide my foot is and how wide the Wolverine Overpass is so you can have an idea if this is too tight for you.
My feet are about 4 inches wide and so is the boot. In the image, you can't really appreciate it but the boot is a bit wider than 4 inches so it fits very comfortably.
Apparently, on Amazon, they have these boots in wide as well. But in all honesty, I do not know how wide they really are.
Wolverine Overpass overall quality
Overall, I'm very happy with my Wolverine Overpass work boots. For the few months that I've had these boots, I have to say I don't have any complaints.
They are roomy, comfortable, and not heavy, and come with a ton of features.
They're a bit bulky but I'm not intending to use them as casual boots so I don't care about that aspect personally.
The Overpass are not the cheapest work boots out there, but if you want quality, you have to pay for it and these boots are worth the money in my opinion.
Are they lightweight? (How much do they weigh?)
The composite toe makes these Wolverine Overpass boots lighter than other work boots I've had in the past such as the Timberland Pit Boss that comes with a steel toe.
The Wolverine Overpass boot weighs about 1 pound and 129 oz per boot (that's ~819grams per boot).
It's not the lightest work boot I've had. the Caterpillar Outline work boot was lighter but I think the bulkiness of the Wolverines makes it a bit of a heavier boot. It certainly doesn't feel heavy when you wear the boot!.
Are they comfortable?
Yes, these Wolverine Overpass work boots are very comfortable for me. Actually, I've included them in the list of the most comfortable work boots in the world.
Do they provide support?
Yes, as a matter of fact, the Wolverine Overpass boot provides great support The outsole is somehow flexible but still semi-rigid in order to provide you with the support and stability that you'll need.
The insole that comes with the boot provides decent arch support and cushion in the heel and at the forefoot.
And if you're looking for ankle support, this work boot does a great job with that too.
For extra support, I like to tighten the laces all the way up using the speed hooks to increase the tension in the laces thus making the boot stick to my feet and ankles like glue.
Are they true to size? Do they run small or large?
I bought size 10 US (9UK,43EU) which is more or less half a size up from what I usually wear with my regular footwear.
I do that because I like to have a bit of a room for the colder days when I need to wear thicker socks. So in summer, they run a tiny bit big and wide and in winter they fit perfectly!
In my opinion and experience, they are true to size and they definitely feel a bit wider. I think that's simply because they're just a roomy boot. They're bulky and they have a lot of room inside.
If you're going to use them just in summer and in good weather, my suggestion is to go for your exact size. If you pretend to wear them only in winter then go for half a size bigger to allow some room for those thicker socks.
And if you're going to wear them as I'm wearing them, a few months in summer and a few months in winter go for a half size bigger as well.
What colors do they come in?
Unfortunately, there aren't too many options here. Or at the time I'm writing this review, there's only one color you can get this Wolverine Overpass and that's summer brown.
Break-in period
Break-in period? What's that?
As soon as I took them out, my Wolverine Overpass boots were ready to go. Honestly, no complaint whatsoever.
Usually, I need a few days to either get used to the boots and especially to break in the leather but these Wolverine boots didn't require any of that!
Where are the Wolverine Overpass made?
On my label says they're made in Cambodia.
Who do I recommend these work boots to?
After wearing these boots for a few months I can say with confidence that these boots will fit most workers out there.
The boot is rugged enough for workers in construction but also light enough to be used in so many other industries:
Electricians
Delivery drivers
Warehouse workers
Some of the activities I'd not recommend the Wolverine Overpass for includes:
Tile installation (simply because they're very slippery on shiny surfaces)
Pipe installation
Groundworkers
Basically, avoid using these work boots for outdoor works. You'll be better off choosing pull-on work boots in this case.
Actually, there's a 10" Wellington model that you can check out here.
How long do the Wolverine Overpass boots will last?
How long your Wolverine Overpass work boots last will depend on the type of job you're doing. The more heavy-duty your job is, the easier they'll break.
But from what I've seen from other users it could last anywhere from 6 to a couple of years.
The majority of the users though say their work boot lasted at least one year to one year and a half.
I've had mine for less than 6 months at the time I'm writing this review, but I'll update this post when the boots break or after 1 year of wearing these boots.
Are these CSA Approved?
For a work boot to be CSA approved, the boot needs to have the safety features tags visible somewhere on the exterior of the boot.
And these ones don't have that. So the Wolverine Overpass it's not CSA approved (at least my boot didn't show any of those tags printed or stitched anywhere on the outside of the boot).
Price: how much does Wolverine Overpass cost?
It varies from shop to shop. As well as if a shop is local or online.
You'll find a lot of different prices for the Overpass work boots. But if you want a rough number, the Wolverine Overpass work boot can cost anywhere from $140 all the way to $200 plus.

The best way to find out an up-to-date price is to check for example on Amazon by clicking here.
Where to buy Wolverine Overpass work boots?
Of course, the best place would be your local shop. You can feel the work boots, check if it fits you properly, and own it the same day.
But nowadays it's so convenient to buy online. It's easy, safe, and even if you don't like it, or it does not fit you, you can send it back at most online stores. Especially the bigger ones such as Amazon.
Here are a few examples of stores that sell Wolverine work boots:
Amazon
Wolverine official store
Zappos
5 Alternatives to Caterpillar Outline work boots
For whatever reason you're still not sure about these Wolverine Overpass work boots, check out these other brands and models that are good alternatives to Wolverine:
Wolverine Overpass Review On YouTube
If you prefer to watch a quick video instead of reading then check out the video below…
Wolverine Overpass: The takeaway
These work boots look horrible with a pair of jeans. So if you care about how stylish you look at work, these Wolverine Overpass boots are not for you my friend.
They're beautifully designed but too bulky.
In terms of features, these boots have it all. The Contour Welt feature will provide you with some great flexibility when you need to bend or crawl if you work as an electrician or a mechanic.
If you work as a landscaper or plumber, for example, these boots have shown me so far that they have great waterproofing that works even when walking in deep water puddles for a few minutes.
It's lightweight due to the PU outsoles and the composite toe cap plus it has some good anti-fatigue technologies in there as well helping you return home not only safe but also less tired.
Reviewing The Wolverine
Overpass Work Boots
Ome of the most comfortable work boots I had lately. Very light due to its composite toe cap and ultra-light PU outsole. Lots of great features inside and outside.
100% recommended!
---
Team Members Working On This Page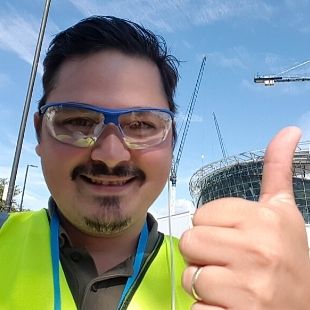 Construction Professional, driver, crane operator, cleaner, head chef … these are just some of the jobs I did in the past. Working in all these different environments taught me that having good footwear to protect your feet from different dangers at work IS PARAMOUNT for any worker! On this website, I aim to share all my knowledge and personal experience in dealing with different footwear and foot care issues, and hopefully, you can get something out of it. Enjoy!
Love technology, going to the beach, taking care of my body, and writing (amongst other things). You'll see my face around here a little bit since I'm responsible for part of the research and writing of some of the articles you're reading on BestForMyFeet.com. I hope you'll find our content helpful and enjoyable! See you around, thanks for reading!