Today we have a review for you on the Irish Setter WingShooter ST boots. So far I've been wearing them for about two weeks and I've been absolutely impressed by them!
But don't worry this isn't a, I wore them a few times, kind of review. I definitely put them through their paces and intend to wear them for as many shifts as I can in the coming months so I can provide updates about how they are holding up.
Reviewing The Irish Setter
Wingshooter Safety Toe Work Boots
If you don't have time to read the whole review at the moment. My TL: DR is, So far I love them, and if you walk a lot on concrete or other hard surfaces these boots provide phenomenal comfort.
But before we get into the review let's look at who Irish Setter is and the history behind the boots in case you are unfamiliar with the brand.
This is a very in-depth review which of course makes it a bit long. For your convenience, below I've created a table of contents so you can jump around specific sections you're interested in. Simply click on "show" to see the different sections.
A quick intro to the Irish Setter brand
For those of you who don't know. Irish Setter is owned by Red Wing Shoe Company. In fact, the current flagship and world-famous 875 and 877 heritage boots were once Irish Setters.
In 1950 Red Wing introduced a 9 inch lace up sportsman boot, style 854, for hunters in the now world-famous Oro-Russet color that the 875s and 877s come in.
That Oro-Russet color was the inspiration behind the name Irish Setter because, well, it looks like the color of the fur on an Irish Setter dog.
As you may have guessed it, that 9in 854 style boot was essentially today's 877 with a heel.
In 1952 style 877 was born, replacing its forerunner the 854, the 877 that we have all come to know as one of Red Wing's flagship boots kept the Moc Toe but replaced heel for a wedge sole.
As time went on the Irish Setter line evolved and grew and became a world-renowned hunting boot line.
The WingShooter was introduced in 2003 as a hunting boot. But it became popular at job sites across the country.
So in 2017 Irish Setter/Red Wing launched the WingShooter ST, a safety toe version of its popular hunting boot geared more towards construction work.
And that boot is what we are reviewing today. So let's jump into this.
The environment in which the boots are tested
Before we go into the review I'd like to share with you the type of environment I'll be working in when wearing these boots. This is very helpful when it comes to choosing the right boot for your work.
I'm in welding and sheet metal fabrication so some of the hazards these boots will face are abrasions and gouges (lots of sharp and pointy objects at the shop).
Walking around on metal shavings and being exposed to sparks and splatter from welding, grinding, and plasma cutting.
Why do I think they'll be good? The wedge sole. I'm on concrete floors all day.
Sometimes walking, sometimes standing in front of a press brake, sometimes standing on one foot while the other foot is working a pedal when I'm doing some out-of-position tig welding(I know I know, I should be using a torch-mounted amp control for out of position).
For me comfort is key and a wedge sole is typically more comfortable than a boot with a heel.
Watch the review on YouTube
Unboxing the WingShoot ST work boots
On the front of the box, you'll find the Irish Setter logo and the Red Wing name.
Upon opening the box you'll find the boots wrapped in paper and two cardboard cards attached to them.
One is about the history of Irish Setter and the other is about the features of the boots.
Irish Setter Wingshoot safety boots features
| | |
| --- | --- |
| Model number | 83632 |
| Toe cap | Non-Metalic safety toe cap (composite cap) |
| ASTM Standard: | ASTM F2413-18, M/I/C, EH |
| Leather type | Full grain, waterproof |
| Height | 6-inch (available in 9-in as well) |
| Waterproof | UltraDry™ Waterproofing System |
| Construction | Goodyear leather welt |
| Footbed | Removable PU insoles |
| Last | 157 |
| Outsole | Rubber-EVA Traction Tred |
| Weight | 887g each boot |
The outside of the Wingshooter ST work boots
Let's check out some of the most important components on the exterior of these boots.
The leather on these work boots
The leather on these is a full grain embossed leather. Embossed means that they pressed an artificial pattern into the leather.
I'm not the biggest fan of it because it gives the leather an almost plastic-like feel.
Definitely not as nice as the premium leather on my Thorogoods boots or 1000-mile boots.
But they are work boots so it really doesn't matter that much. Don't get me wrong I think the boots look great!
I have noticed that the leather seems to be abrasion resistant so far. I do welding and sheet metal fabrication for my day job (so lots of pointy objects) and I definitely had some scratches and gouges in my Thorogoods by this point. The Wingshooters not so much.
Look good enough to wear as a casual boot. The wife however hates them and thinks they are bulky and ugly. So maybe don't wear them out if you're trying to meet some ladies. LOL
The tongue
So moving down the boot, we have a fully gusseted tongue.
Only the center of the tongue is leather. The gusset area of the tongue is the waterproof lining with the leather tongue sewn on in the middle.
The toe box
Coming in at 100 mm or 3.93 inches the toe box is wide enough to be comfortable for most people.
This particular pair is a D width (normal), you can also get these in EE (wide). If you have really wide feet these boots may not be for you and you may want to consider something like the Timberland Boondocks Pros.
The toe also features a non-metallic safety toe that meets ASTM F2413-18 safety standards.
The welt
These boots feature a leather Goodyear welt construction.
I know a lot of people prefer a leather welt over the synthetic welt materials some bootmakers and brands use.
That's because the synthetic welts are prone to cracking which could result in a more costly resole as the cobbler may need to replace the cracked synthetic welt.
The outsole
The outsole on these boots is one of the more interesting features they have.
It's a Rubber-Eva Traction treaded outsole. Meaning that these have an EVA midsole with another thick layer of EVA material followed by a thin rubber traction red layer.
They did a really good job at blending in athletic shoe tech without making the boot look like one of those tennis shoe/boot hybrid abominations.
It definitely adds to the comfort level and feels more comfortable than a traditional wedge sole work boot.
The outsole is also heat resistant up to 475°. Meaning you can safely walk on material or surface up to 475° before the outsole begins to melt.
They also meet ASTM safety standards for electrical hazards so they can make good work boots for electricians or anybody working with or around electricity.
Outsole thickness at heel comes in at 1.25-in thick and at the ball of the foot is .750-inch thick.
Do they have a shank?
These boots do not have a shank. Redwing/Irish Setter does make a version of these with a 90° heel that does have a steel shank but the wedge sole version does not.
Which isn't a big deal. I haven't personally noticed a lack of support and many people think wedge soles don't need them anyway.
Extra stitching for durability
Moving on to the next feature that these have is, the outsole around the toe is stitched to the welt.
The toe stitching is something I really like a lot as it provides another layer of protection making these boots a little more durable.
The reason for the stitching is to prevent the outsole from separating from the midsole if the glue/cement holding the midsole to the outsole ever begins to degrade. This is also known as sole delamination.
I've seen many people who spend a lot of time at work doing things that cause them to drag their toes on the ground and complain about the outsole separating.
So the stitching is a big plus in that regard as it will keep the outsole and midsole together.
Inside the Irish Setter Wingshooter boots
Now let's move on to the inner parts of these work boots and see what we can find.
Waterproof lining
These boots feature Irish Setter's Ultra dry waterproofing system. Their description states it combines a moisture management lining with waterproof components for dry long-lasting comfort.
Autumn is currently coming to a close here in Florida and it's also very dry this time of year so for the waterproof test I made a pan and swished each foot around for about a minute.
The results were as expected, my feet stayed dry.
I know there are a lot of people that dislike waterproof liners or just regular liners because they can make your feet sweat but I haven't noticed any issues with excessive sweat.
I know it's cold in a lot of places right now but in my part of Fl highs are still making it into the low 80s.
So while not scorching hot like summertime, it still gets warm in the shop and I don't feel like my feet get any sweatier than they do in unlined boots.
In fact, these are always dry the next morning, unlike my unlined boots which can still feel damp inside.
The waterproof lining on the tongue stops at the first speed hook.
The footbed
These boots have a removable single-layer polyurethane insole. I think it's pretty comfortable and seems to be forming to my foot pretty well.
The good thing about being able to remove this factory insole is that you can replace it with something more comfortable.
Or maybe if you need more arch support or suffer from plantar fasciitis you can use your favorite over-the-counter insole in these boots.
Arch and ankle support
If you need good ankle support the Wingshooter ST has it. The thickness of the padded area at the top of the boot is .625 or ⅝ of an inch thick.
The reason it's so stable around the ankles is because of the waterproof lining inside the boot and on the tongue combined with the padding at the top of the boot.
Notice how thick the boot is from the ankle area up to the top. It's almost like a rigid sleeve that's comfortable but allows good mobility. Trust me it's comfortable.
These boots do have fairly good arch support if you have medium-sized arches but not so much that someone with a smaller arch/flatter foot would be uncomfortable.
If you have high arches you will probably need to get a different insert/footbed as mentioned before.
How do they fit?
I'd say these fit pretty true to size. I wear an 11.5D in my Reebok Nanos and ordered the Wingshooter STs in 11.5D and they for like a glove.
So starting with your athletic shoe size is probably your best bet at getting the correct size.
As I mentioned earlier in the Toe Box section of this review, the toe box has plenty of space for the average to slightly above-average foot. These boots also come on EE (wide) for those who need a wide boot.
Are they comfortable? Do they need to break in?
These boots are very comfortable straight out of the box. They don't need breaking in as the leather is quite soft.
We'll see if the padding around the ankle will cause blisters (as we've seen with Donny testing the Timberland Boondock boots) where the thick padding was rubbing against the back of his leg causing a bit of discomfort for the first few days/weeks.
But for now, no sign of discomfort!
Are they lightweight? How heavy are these boots?
Weighing 887 grams (roughly 1 pound) per boot, these Wingshooter work boots are one of the most lightweight work boots I've ever had.
Are they waterproof?
As we've seen above, when I stepped into the water pan, my feet were dry. But the test lasted only a couple of minutes and the boots are brand new.
We'll see how they do in the long run. That's why it's a great idea to come back to this review and check for the updates at the bottom of the page.
Where are they made?
According to the label of my Irish Setters, these Wingshooters ST are made in Vietnam.
Where to buy them?
In the US you can get them at brick-and-mortar stores such as
They are also readily available online at the same places or on Amazon which is where I purchased mine.
While I'm not sure if you can get them throughout Europe. I do know that you can get them on Amazon in the UK, though, Amazon seems to have limited size options.
I reached out to Redwing and they provided me with two places in the UK where one can find Irish Setter boots.
Footwear Country
Thorn Cottage,
Holy City,
Axminster,
Devon, EX13 7JZ
United Kingdom
Steve Flowers (Manager) – [email protected]
Phone: 01460 221720
http://www.footwearcountry.co.uk/
House of Bruar
BY BLAIR ATHOLL
PERTHSHIRE, Scotland – PH18 5TW
UNITED KINGDOM
Bogdan Darabus (Manager) – [email protected]
Phone: 01796 483236
http://www.houseofbruar.com/
Hopefully, you have enjoyed the review. Please stay tuned for our updates on how the Wingshooter STs are holding up.
Do they make them CSA-approved?
Yes, if you're looking for wedge sole work boots that are CSA approved then you're in luck because Irish Setter does make these Wingshooter boots with the CSA sticker.
This is the particular Wingshooter CSA boots: Style 83674
Ashby compared to Wingshooter
A question that comes up a lot on the social media platforms we're active on is what's the difference between these two work boots, so we thought it might be helpful if we create an Irish Setter Ashby VS Wingshooter comparison article.
You can also watch us talking about it in this video on YouTube.
Last thoughts on these Wingshooter ST work boots
So in closing, despite my concerns, I think these boots are a solid choice if you are on concrete all day or walk a lot at your job or get your boots wet frequently at work.
They are one of the most comfortable work boots I've worn in a while. They don't even feel like you're wearing boots and I can't feel the safety toe when I walk.
Since I've been wearing them the plantar fasciitis problems I've been having in my left foot have significantly improved.
In the coming months, we'll see how these boots are handling my work environment and if any of the concerns I have will become problematic. I'll be in these boots for a while providing updates.
Overall, A Very Comfortable Work Boot
Lightweight, safety toe caped, waterproof, comfortable padding, wedge sole…these are some great features to have in a work boot. So far I'm very happy to wear these boots at work.
---
Concerns
So after being in these boots for about two weeks I've come up with a list of things, that while not a problem, I can see how they could potentially be weak spots that could affect the longevity of these boots.
The stitching around the toe box
My concern is that if the stitching in this area, where these three sections of leather meet get damaged it will cause the toe box to come apart
The welt is not consistent
I've noticed that the welt on these is two separate pieces of leather as opposed to one like a lot of Goodyear welted boots.
The above pics are from the right boot. First is in the arch area and the second is towards the front of the big toe.
The left boot also has two separate pieces of leather for the welt, however, they meet together in different locations than the right boot.
Not sure if this will have an effect on the cost of a resole or not. Like I said, it's just a concern.
The outsole
The features that make the outsole on these boots so comfortable is also the reason I have concerns about their longevity.
Now I'm sure many of you have seen that classic wedge sole wear like the above boots have.
My concern is what happens when the rubber traction tread on the WingShooter wears down like that?
Could this cause the rubber traction tread to separate from the EVA when there is plenty of life left on the treads, causing you to have to get them resoled prematurely?
Maybe, maybe not, but it is a concern of mine.
It looks like Redwing considered this and made the rubber on the Wingshooters heel thicker…
If this will solve the problem or not I don't know just yet. I'll have to wear them for a few more months to see what happens.
We'll update you below of course!
---
Update: Wearing the Wingshooters ST for 1 month
Construction
So far they are holding up well. Nothing falling apart, which is good!
Comfort
As far as comfort goes, they've only gotten more comfortable since I've been wearing them.
The insole has really molded to my foot and the heel has broken in well. Still one of the most comfortable work boots I've worn.
The toe box
The toe box has stretched out just a bit and is about a ¼ inch wider than when I first started wearing them.
Cold weather
Shortly after writing the initial review, we got an unseasonably blast of cold air from a cold front that went across the US.
While you may not think 30°F for the low temp isn't that bad, it's frigid in Florida. So that gave me the opportunity to wear these boots in just below-freezing weather for 3 days.
While my feet weren't warm and cozy like they would be in a truly insulated work boot, the waterproof lining added a layer of protection that kept my toes and feet from getting too cold.
They were noticeably warmer than my unlined leather boots.
I'm definitely loving these boots and look forward to seeing how they control wear. I've got high hopes for the Wingshooter St.
Update: Wearing the Wingshooters ST for 6 months
Update: Wearing the Wingshooters ST for 12 months
Update: Wearing the Wingshooters ST for 18 months
Update: Wearing the Wingshooterrs ST for 24 months
---
Team Members Working On This Page
Hey, I'm Adam. I'm a welder and metal fabricator. Primarily doing aluminum tig and sheet metal fabrication. Spend most of the day on my feet on concrete floors in the shop with the occasional job site visit.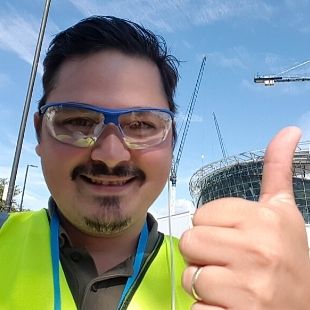 Construction Professional, driver, crane operator, cleaner, head chef … these are just some of the jobs I did in the past. Working in all these different environments taught me that having good footwear to protect your feet from different dangers at work IS PARAMOUNT for any worker! On this website, I aim to share all my knowledge and personal experience in dealing with different footwear and foot care issues, and hopefully, you can get something out of it. Enjoy!