Hey, welcome to my review of these SOLE cork insoles. In this article, we'll have a look at how good this insole is, whether is it comfortable or not, who is it for, if it's worth the money or not, and much more…
As you probably know, I buy foot-related products, I test them, and then I write an in-depth review about my experience with a certain product. But it will be impossible to do it all by myself.
I simply can't test as many products as I'd like to and because of that I gift some of the products I want to try to my work colleagues and they'll provide us with some really helpful feedback.
So this time, our own Jimmy, the crane driver and author of some of the articles on this website got to try the SOLE Performance THICK cork insole. And representing the ladies out there my wife is going to test the SOLE Performance MEDIUM cork insole.
By the way, I didn't buy these insoles. Alex from SOLE reached out to us and offered to try a few insoles for free and see if we like them or not.
Keep reading to find out more about this SOLE Performance insole and how well it performed.
If this is the first time wearing insoles with arch support they will feel a bit weird at first.
To me, it was like having mud or soil or something on my sole and I was always looking to get them cleaned. But in reality, it was the arch support elevation that I wasn't accustomed to.
It took me a week to get used to the arch support.
It's the same thing if you buy the SOLE Performance insole that comes with a met pad. It will take a few days to get used to the pad.
Unboxing the SOLE Performance ReCORK insoles
This SOLE Performance compared to SOLE Active comes in a box. I prefer it this way to make sure it comes without any damage.
There are some helpful instructions on the box related to fitting.
These insoles can mold to your fit achieving a more custom fit by either wearing them or to speed up the process, you can put them in the oven.
First Impressions
You can see and feel these are good-quality insoles as soon as you get them out of the box.
Sturdily built using cork on the bottom side of the footbed and on the top of the insoles it comes with different cushion thicknesses in order to accommodate your different types of footwear.
This is actually a great feature since most insoles out there come with one single thickness and that's all you get making it impossible to fit in some shoes or boots.
What features do these SOLE Performance footbeds have?
According to the manufacturer here are some of the most important features you'll find in these insoles:
You can trim them to your size if needed
Anti-odor technology will help avoid stinky feet
Deep heel for better support and stability
High, rigid arch support is good for body alignment and recovery from plantar fasciitis
Zero drop (heel and forefoot are at the same level)
Thick cushioning
Wear or oven mouldable
Available with or without met pad
Three different thicknesses to accommodate different types of footwear
– Thin
– Medium
– Thick
What are these SOLE Performance inserts good for?
They're good for anybody really. You don't have to suffer from some type of foot condition in order to wear these inserts.
It's actually better to start wearing them before you develop any foot conditions.
According to the manufacturer, wearing the EasyFeet orthotics will help:
Prevent foot fatigue
Alleviate plantar fasciitis pain and other foot-related pains
It helps correct flat feet condition
Prevent muscle fatigue in your lower legs
Provide constant comfort during your shift
Helps to realign your body helping you have better posture whilst you're on your feet. This will help to relieve pain in your back, ankle, neck, lower back, joint, and other foot-related issues.
Can these help with flat feet pain?
They can definitely provide you with great support if you have flat feet but in my honest opinion, I think the arches on these insoles are a bit too high for someone with flat feet.
However, if you have pain in your feet talk to a podiatrist first since most of the time the pain you'll experience in your feet it won't be related to the fact that you have a flat foot.
It could be other problems!
Will they help with plantar fasciitis?
Yes, these SOLE Performance insoles are great if you suffer from plantar fasciitis. Actually, that's why my wife is wearing them. She suffers from mild plantar fasciitis.
When she doesn't wear these insoles she has quite a lot of pain after we go for a long day out walking, visiting places, or even sometimes when we're shopping for the whole day.
Of course, it's NOT just the insole. She also uses a massage gun like this Bob and Brad T2 in order to achieve full recovery by making massages to her feet.
Additionally, I gifted her some supportive flip-flops to wear at home instead of wearing those flat rubber Havaianas flip-flops.
The insoles alone will NOT cure your plantar fasciitis but they will help enormously as part of the recovery process.
What sizes do they come in?
Well, if you have a pair of good scissors in the kitchen, you can make these inserts as small as you need them to be.
Both insoles I'm writing about fit perfectly though. So they're very accurate in terms of sizing.
Just make sure when you buy them that you choose women or men. That's because the women's version is slightly smaller than the men's version.
SOLE makes insoles starting from size M 2.5 – 3 / W 4.5 – 5 all the way up to M 21.5 – 22 / W 23.5 – 24 so they mostly have a cork insole that fits your feet too.
Can you wash them in the washing machine?
Not really, you should not put them in the washing machine. The material will get damaged. Clean them manually using some rubbing alcohol or something along those lines.
I use rubbing alcohol a lot to clean and disinfect my work boots so this is better than putting them into the washer.
Can you use them in safety work boots?
Yes, 100% you can. Especially because work boots usually are a bit bulkier so you have a bit of extra space to insert these ones in your favorite work boots.
My colleague Jimmy is wearing these SOLE Performance insoles in his shoes and safety boots as well.
Initially, before I gave him the insoles I put them into my KEEN Lansing steel toe boots and also in my Avenger Romeo work boots to see how they fit and they fit perfectly.
So yes, you can use the SOLE Performance thick insole with your work boots.
Can you use these in normal shoes?
Yes, you can use the SOLE Performance insole with your regular day-to-day sneakers and shoes.
The only problem you might run into is that once you put these insoles in, you might not have enough room inside your shoe.
Since the orthotic is going to raise your foot a little bit, the space inside the shoe might become too tight and uncomfortable.
But as I said at the beginning of this review, the beauty of these insoles is that they come in different thicknesses.
The one my wife is wearing in her sneakers is the SOLE Performance medium which is about 4.5mm (0.17″) thick at the forefoot area.
So you can definitely wear these cork insoles with your shoes and sneakers as long as you can take out the original insole of the shoes.
Otherwise, you might run into the same problem of not having enough space inside the shoe.
What's the thickness of these SOLE cork insoles?
I've measured these SOLE Performance insoles at the forefoot area and at the arch.
Also, I've measured both insoles, my wife's (SOLE Performance MEDIUM) and Jimmy's (SOLE Performance THICK). So here is some data.
| | |
| --- | --- |
| SOLE Performance MEDIUM (women, size 7) | Data |
| Thickness at the forefoot | 4.6mm |
| Thickness or arch height | 28.7mm |
| | |
| SOLE Performance THICK (MEN, size 10) | Data |
| Thickness at the forefoot | 6mm |
| Thickness or arch height | 34.4mm |
How wide are these insoles?
The footbeds I'm writing about in this review are not wide but if you have wide feet you can find these SOLE Performance insoles in wide.
The wide version of these insoles is about 104mm wide at the forefoot area for men. The women's version measures about 91mm at the forefoot.
But if you're interested in the ones we have in standard widths here are some more measurements.
| | |
| --- | --- |
| SOLE Performance MEDIUM (women, size 7) | Data |
| Width at the ball of the foot | 87.5mm |
| Width at the arch area | 67.2mm |
| Width at the heel area | 63.8mm |
| | |
| SOLE Performance THICK (MEN, size 10) | Data |
| Width at the ball of the foot | 98.1mm |
| Width at the arch area | 77.7mm |
| Width at the heel area | 70.6mm |
What's the weight of each insole?
They're not that heavy of course but I've realized they're more lightweight when compare to the SOLE Active insoles which are made out of EVA instead of cork. That was interesting.
| | |
| --- | --- |
| SOLE Performance MEDIUM (Women, size 7) | SOLE Performance THICK (Men, size 10) |
| 39 grams | 66 grams |
Do they have a metatarsal pad?
Jimmy's insole, the SOLE Performance THICK insole came with a met pad which he found great for his feet. My wife's SOLE Performance MEDIUM insole didn't come with a met pad.
The good news is that you can choose whether you want the met pad or not in your SOLE Performance cork insole.
How's the arch support? (stiff or flexible)
The arch support in these SOLE Performance corked insoles is semi-rigid. It's not as rigid as in other insoles we've seen out there like these PowerStep Original or the Wellbeing PRO 11.
The arch in these ones will collapse a tiny bit as you step on them making them comfortable enough for those of you with flat feet but supportive enough to help prevent excessive pronation and also to help recovery from plantar fasciitis.
It's not as stiff as the ones we've seen in the SOLE Active insoles since the SOLE Performance insole base is made with cork which is more flexible than EVA.
Can you put them in the oven to mold them?
Yes, as I said at the beginning of the review, these SOLE Performance insoles are wear moldable or oven moldable.
You simply pre-heat the oven (NOT MICROWAVES), "bake" the insoles for about 2 minutes, and then put them into your shoes or boots straight away.
Then the magic happens. You just have to stay straight for another two minutes and that should be it.
You don't really have to do this since the insoles will mold to your feet in just a few days but they might be uncomfortable until they do so the "baking" will help avoid that.
What other people are saying about these SOLE cork Insoles?
Here's a taste of what other people are saying about these insoles.
Not the most durable out there
Some people who bought these insoles work quite demanding jobs and they said the cork started to disintegrate after a few months.
So if for example, you work in construction or you're doing landscaping, roofing, etc these cork insoles might not be the most durable for you.
In this case, the SOLE Active insoles are a better choice since they're more durable.
Great for plantar fasciitis
Some users were very happy that their plantar fasciitis pain went away after just a few days/weeks of wearing these SOLE Performance insoles.
Keep in mind what I said above that in my opinion and experience, insoles ALONE will not fix your plantar fasciitis problem.
In most cases, there are other factors that come into place such as changing the type of footwear you wear, having daily foot massages, exercises ,and stretches, etc.
Having said that some people got rid of plantar fasciitis pain simply by wearing these insoles.
Expensive
Most people are happy to pay for quality insoles. Especially because many times these insoles are as good as custom orthotics which cost hundreds.
On the other hand, people are saying they wish the insoles could be less expensive. That way they could buy a few more so they can rotate the insoles and avoid stinky feet.
How long do these SOLE Performance insoles last?
It will definitely depend on what type of work you're doing and how much you walk of course. The more you move, the faster you'll have to replace them.
As we've seen above some people working in hard environments were saying the cork started to come apart after just a few months of wearing them.
I'm sure that's not the case if you work for example as a security guard standing still or moving from position A to position B for the majority of your shift.
Jimmy and my wife are still wearing their insoles at the time you're reading this review. I'll update the post if they break down or when they stop wearing them for whatever reason. They started to wear the insoles at the beginning of JULY 2022.
Other SOLE Footbeds options
Not everybody will feel comfortable using these SOLE Performance insoles (for whatever reason).
The good news is that SOLE has more options you can choose from.
Last words on this SOLE Performance inserts review
Overall great quality insoles for your work boots, day-to-day shoes, running shoes or hiking boots.
They're not just comfortable but they are also very versatile allowing you to fit them easily in any type of footwear thanks to the fact that they have different thicknesses options available.
On top of all these things, SOLE is a company committed to reducing its carbon footprint so we can all have less waste and a better planet overall.
Look out for the updates I'll be sharing with you below as I gain more feedback from Jimmy and my wife.
---
UPDATE: First week wearing these insoles
My colleague Jimmy is extremely happy with the insoles. He says they're very comfortable and that they're very helpful for his back pain.
It was all good until I told him how much they cost haha. He said they're too pricey but in the end we both agreed that if they work and if they what they're suppose to do, they're worth every penny.
My wife is very happy with her insoles (SOLE Performance medium) since they help a lot with her plantar fasciitis.
She had a pair of EasyFeet insoles in her shoes which were good for her but since I've asked her to try these ones for us she did and she says they're great too.
UPDATE: First month wearing these insoles
---
Team Members Working On This Page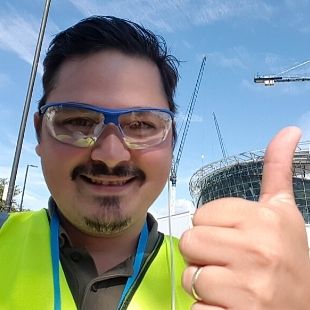 Construction Professional, driver, crane operator, cleaner, head chef … these are just some of the jobs I did in the past. Working in all these different environments taught me that having good footwear to protect your feet from different dangers at work IS PARAMOUNT for any worker! On this website, I aim to share all my knowledge and personal experience in dealing with different footwear and foot care issues, and hopefully, you can get something out of it. Enjoy!
Love technology, going to the beach, taking care of my body, and writing (amongst other things). You'll see my face around here a little bit since I'm responsible for part of the research and writing of some of the articles you're reading on BestForMyFeet.com. I hope you'll find our content helpful and enjoyable! See you around, thanks for reading!