Welcome to my review of these stylish steel-toe work boots from Doc Martens. I've bought these work boots for myself to try them on and see why I haven't seen anybody wearing these on a construction site.

Reviewing The
Doc Martens Icon 7b10
These steel toe work boots from Dr. Martens will make you look stylish and provide excellent ankle support. It's not for everybody for sure, but if you like to work in style then it's a boot you should consider.
Buckle up cause it's quite a long review. For your convenience, I've created a menu for this page that's helpful to jump to a specific section. Just click on the "What's inside" below to open it.
Let's go!
Just a quick note to let you know that Dr. Martens has a NEW Icon model and this one comes with a more natural leather look than the one I got. Click here to check more details on Amazon…
Unboxing the Dr. Martens Icon boots
They come with a useful user information book which I always like to see to learn more about the boot, what features they have, and what those features are good for.
First impressions of these Doc Martens steel toe boots
They look really nice and just by looking at them, there are a few things that come to mind: punks, fashion, military.
They use to be worn by punks in the '80s (and they still wear them) but later on, fashionistas started to wear them as well rocketing Dr. Martens into fame. That not only made the brand be more recognizable but also spiked up the prices.
And military because they do look a bit like military-style boots (without the famous yellow stitching of course).
Also just by looking at them, I feel like I'm going to be suffering for a few days to break them in and that's in line with what I've been reading when doing research for this review.
So far so good, I'm very keen to put them on and see how they perform.
Features & specs of the Dr. Martens Icon work boot
| | |
| --- | --- |
| Toe cap | Steel toe protection |
| Sole construction | Goodyear welt |
| Sole material | PVC |
| Acid resistant sole | Yes |
| Oil resistant sole | Yes |
| Heel height | ~3.3 cm (1.3in) |
| Boot height | ~20cm (8in) |
| Upper material | Leather |
| Removable insole | Yes |
The Icon work boot on the outside
Let's check out the outside of the boots first and then we'll see other things we can find on the inside of these Dr. Martens work boots.
1. The upper
These are not the vegan Dr. Martens's work boots. I could not find what specific type of leather these are made with but on the sales page, it says the boot is made out of 100% leather.
2. The sole
These steel toe boots come with the Dr. Martens iconic transparent sole that's made out of PVC. This is the first time I wear work boots with this type of sole. Usually, I get boots with rubber, TPU, PU, EVA, or a mix of these.
Anti-slippery
The good thing about Dr. Martens PVC sole is that is quite soft and that makes it grippy. Some said they are great for some type of roof work.
But the downside is that when working in cold conditions the sole becomes super rigid and won't provide any grip if you're working on flat surfaces.
It's fine if you're off-road, it's actually good since the lugs dig into the soil and give you extra traction … but once you get out of the mud onto a hard, flat surface you should be careful as you might find yourself on the floor especially if it's icy.
So depending on your work environment, these might be good or bad for you.
Acid-resistant
Personally, I don't work with or around any type of acid but if that's your case, these Dr. Martnens work boots have acid-resistant rated soles.
Additionally, you might like to know that the soles are also oil, fat, diesel, alkali resistant.
Support
What I've learned by talking to podiatrists over the last few years is that a sole that's easy to bend is not good for your feet if you suffer from plantar fasciitis.
You want a sole that's rigid but comfy kinda like the ones you see in work boots for flat-footed workers. But these Dr. Martens's sole is not that rigid so if you suffer from heel pain this boot might not be for you.
Is better than the soles we've seen in the Caterpillar Outline work boots but still not supportive enough in my opinion.
Check out these work boots for plantar fasciitis pain. It's a good round-up and some great tips from one of our podiatrists in the expert's panel.
3. Sole construction
Dr. Martens Icon boots are Goodyear welted work boots. But this is not your typical Goodyear welt constructed sole. Doc Martens have a weird way of putting the upper and the sole together and that's by melting them together.
Check out the beginning of this video to see what I mean.
Now I don't know if they do this in order to be "different" than the competition or something like that. And I don't know if there's any benefit in doing it this way either.
One thing I know is that it makes the cobbler's job a bit harder when it comes to resoling these boots!
Can you resole Dr. Martens work boots?
Yes, Dr. Martens's work boots can be resoled. Any good cobbler should be able to fit a new sole to your beloved Doc Martens industrial boot.
4. Eyelets
These Doc Martens steel toe boots come with 7 heavy-duty metal eyelets and that's kind of scary for the same reason I've mentioned before. Being so tall it's great for ankle support but I'm afraid it will rub my ankles a lot and leave me in pain for days.
The fact that these Dr. Martens Icon boots don't come with speed hooks, especially the lower hooks which help lock in place the heel, my heel is dancing inside these boots.
It moves a lot and that makes me walk in a weird way (I don't how to explain it)…but I'd rather have those speed hooks to avoid heel movement as much as possible.
5. Shaft height and width
This Doc Martens steel toe boot is an 8-inch tall boot so it goes over your ankle.
And the shaft width is 77.5mm x 101.7mm
6. Heel height
The heel is 33.1mm high or 1.3inches and that's kind of normal on work boots. In the majority of work boots I've owned, the heel was about 1.5inches tall so these are not going to make you look much taller.
5. Other details of the exterior of the boot
Of course, you'll have the Doc Martens iconic yellow stitch around the boot (combines well with my yellow trousers haha).
The laces are too short for me. I'd love to have a bit more in order to try and lace my work boots in different ways.
The tongue is gusseted only up to the 3rd eyelet.
If you step in a deep puddle of water higher than the 3rd eyelet you'll have to change your boots or work with your feet wet for the rest of the shift since water will come into your boots.
Inside the Dr. Martens Icon safety boot
Here are a few things I think are worth sharing about the interior of the boot.
1. Removable insole
The bad news is that the insole is not the best out there and it's kinda the norm with most work boots out there.
The good news is you can remove it and stick in there a good quality orthotic insert that fits your feet and conditions.
2. Lining
These work boots are lined. They come with a moisture-wicking lining and it seems to have some padding as well since it feels nice and soft when you put them on.
I don't think they're insulated and I haven't seen any mention of a waterproof membrane either.
3. The steel toe cap
Personally, I didn't have any problems with the steel toe cap in these boots.
4. How wide are they?
Will Dr. Martens Icon industrial boot fit wide feet? I can't say if they will fit wide feet, but what I can share with you is how wide the boots are and you can make a judgment based on that.
The bigger the size of the boot, the wider it will be as well.
I've measured them at the ball of the foot, right before the steel toe box and it measures 94.9mm (3.73in).
What the letters stand for when it comes to the width of the boot? (W,M,D,E,etc)
There's a lot of confusion about these among people looking to buy a pair of work boots. Hopefully, the little table I've put together might help you understand what's that all about!
The letters simply represent how wide the work boots are.
| Letter | Meaning |
| --- | --- |
| N or A | Narrow |
| M, or D | Medium |
| W or 2Es | Wide |
| XW or 3Es | Xtra Wide |
Are they lightweight? How much they weigh?
This is a tricky question, since what might be lightweight for me might be heavy for you.
What I can say is that it's not the heaviest steel toe work boot I've had but I'm inclined to say that no, these Doc Martens Icon boots are not lightweight.
They weigh about 972grams or 2.23 pounds per boot.
Are they comfortable?
They're not the most comfortable pair of work boots I've had straight out of the box like the DeWalt Newark or the Wolverine Overpass but they became comfortable after wearing them for about a week.
Break in period
Yes, there is a breaking-in period and it will depend on how much you wear them. If you wear them for a full shift as I did (10 hours) they'll be comfortable the second or the third day.
Applying a little bit of mink oil or some kind of leather conditioner will make the process smoother since will soften the leather a little bit. This also should help avoid blisters.
This is how I break in my leather work boots if you're looking to learn more.
I have a few recommendations for you:
Don't throw away your old boots since you might need them to alternate until the new Dr. Martens are broken in
Use tall, thick socks if you want to avoid rushes and huge discomfort at the ankle area
Don't lace them all the way up until they break in
Are they true to size? Do they run small or large?
They were true to size for me. I wear 8 in normal shoes and 9 in work boots. I ordered size 9 and they fit as expected.
Where are they made?
My Doc Martens Icon work boot was made in China based on the label that comes with the boot.
Price: how much Dr. Martens Icon boot cost?
Some people think these boots are super expensive but they're not THAT expensive.
Depending on when you're going to read this review the prices might differ so the best thing to do is to click here to find out the latest price on Amazon.
Where to buy the Doc Martens Icon boots?
I've bought mine on Amazon but there are other stores you can find them on, mostly online though.
Dr. Martens safety boot overall quality
In all honesty, they're not the highest quality work boots I had in terms of the materials used to build this boot.
I have a feeling the leather will easily crack and split where the foot flexes as you bend and the same goes for the sole. The sole will crack right under my foot.
We'll see how it goes but I think it's an OK work boot.
Who do I recommend these work boots to?
Whatever you do, don't buy these work boots if you're doing heavy-duty work. I don't think they'll last.
Some trades in construction for example are hard on their boots and I just don't think they'll hold up in a harsh environment.
Personally, I think you could get a year or so out of them if you work light-medium duty jobs. A great choice for office workers, retail workers, warehouse workers, factory workers, or something along those lines.
There are a lot of work boot models competing with the DMs Icon steel toe but I feel like the ones I've selected above are the most notable ones.
They have lots of reviews, lots of happy customers too.
Watch the review on Youtube
Verdict: Are Dr. Martens Icon Steel Toe Work Boots Worth The money?
When I've shared a picture of my new Dr. Martens work boots with people working in construction many of them called me all sorts of things:
City boy, office boy, they've told me it was a bad investment or that people wearing Doc Martens are not real construction workers…
…and I'm not the type of person that gets offended but it struck me how much some construction workers dislike this brand.
And I still don't understand why. Some argue that the price is too high for what the boot is: a fashion boot with steel toe.
Although I agree is NOT the best work boot out there, it is a decent boot for those who like to look fashionable at work.
So far I'm happy with the boot and I think it's worth it if this is the type and style of boot you like. We'll have to come back to this in one year's time and see if I've changed my mind but for now (once I've gone through the pain of breaking them in) I'd say they were a good purchase for light duties work.
---
Update: 1 month of wearing Dr Martens Icon boots
The boot really needed breaking in. I was lucky I had tall and thick socks at home that I could wear with these boots.
It's true what others have told me about the boot being stiff and needed breaking in. That's one of the reasons most people will avoid buying Dr. Martens for work.
This is where the boot was the hardest to break in.
It feels better now after 1 month of wearing them every day.
The heel slips a little bit inside the boot and I think that's because I wasn't tying the laces too tight to avoid blisters. I hope that won't be the case moving forward.
Overall, the first week was dedicated to getting used to the boot, the weight, the style, breaking them in, and slowly things were improving and I was more comfortable wearing them.
---
Team Members Working On This Page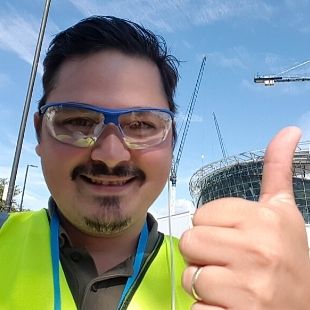 Construction Professional, driver, crane operator, cleaner, head chef … these are just some of the jobs I did in the past. Working in all these different environments taught me that having good footwear to protect your feet from different dangers at work IS PARAMOUNT for any worker! On this website, I aim to share all my knowledge and personal experience in dealing with different footwear and foot care issues, and hopefully, you can get something out of it. Enjoy!
Love technology, going to the beach, taking care of my body, and writing (amongst other things). You'll see my face around here a little bit since I'm responsible for part of the research and writing of some of the articles you're reading on BestForMyFeet.com. I hope you'll find our content helpful and enjoyable! See you around, thanks for reading!