Hey, welcome to my review of the PEET Original PEET dryer for boots. This boot and shoe dryer is a best seller not only within PEET's product range but also amongst other boot dryer brands.
It has a ridiculous amount of ratings. On Amazon alone, over 12.000 customers left feedback about this boot dryer which indicates that PEET Original (M97) has sold more than 12k units on Amazon alone plus hundreds on other online stores.
I bought this model since it's one of the cheapest boot dryers out there and I needed to test one to see if dries my safety work boots or not.
I never had a gadget like this so I was curious if it works. Because if it does it's going to be a game-changer for me since my boots are always wet or humid by the end of my 12 hours shifts working in construction.
About the boot dryer
| | |
| --- | --- |
| Brand | PEET Dryer |
| Model | M97-FSB |
| Dry time | Overnight |
| Dry method | Natural convection with warm air |
| Fit | One pair of shoes or boots at the time |
| Fans | This boots dryer doesn't come with fans |
| Voltage | 110-120 |
| Watts | 36 |
| Material | This boots dryer is made of fiberglass |
| Warranty | 25 years |
| Price | Check the latest price |
How does a PEET boot dryer work?
PEET boot dryer is one of the most simple products I ever had to review. There's not much to it really. It's a simple but clever device.
This particular boot dryer (PEET Original 2) uses convection technology where a heating element warms up the air inside the dryer and then the warm air raise up naturally through the tubes of the device drying your boots, shoes, and gloves, etc.
Some other dryers use fans to push the air through the dryer system but not this one. PEET Original boot dryer relies on natural convection where the heat is transferred naturally throughout the dryer.
How does the PEET dryer turn on?
Other PEET dryers might be a bit fancier with switch-on/off buttons and stuff but in order to turn on this PEET Original dryer all you have to do is plug it in.
How do you know the dryer is on?
There are no light bulbs or anything like that to indicate that the boot dryer is on, which I thought was a bit of a con really.
I bet it's not that expensive to add a little bulb or led into the design to let you know if the divide is on or off.
Not a big problem though. Just place your hands on top of the tubes and you should feel warm air coming up.
That's how I know my PEET boot dryer is on. It will take about a minute to warm up though so be patient.
Is it just for boots? Can you dry shoes and sneakers as well?
No, PEET's boot dryer is not just for boots. I've used this PEET boot dryer for my work boots but also for shoes, sneakers, gloves, beanies, and socks.
Basically, whatever you can fit on the pipes you can dry with this PEET dryer.
Can you dry kids' boots and shoes on this PEET dryer?
Yes, you can dry kids' shoes and boots as long as your kid's footwear can fit into the dryer's tubes. Some shoes or boots might be too small and they won't fit.
I've used this PEET dryer to dry my 6-year-old daughter's school shoes and Wellies boots. It worked very well.
You just have to make sure your kid's boots are at least 153.5mm in length.
If they're less than that you might struggle to put the boots onto the support or they just won't fit.
Is it safe for all materials?
They say on the box: "All materials love PEET". Quite a bold statement. Also on the box of my PEET dryer says that it can safely dry all types of materials such as:
leathers
rubber
synthetics
nylon
felt
fleece
GORE-TEX
How long does it take to dry boots with a PEET boot dryer?
The time it takes to dry a boot with the PEET boot dryer depends on a few things:
1. How wet the boots are
Of course, it will take longer to dry soaked boots than it will take to dry a pair of boots that got wet simply because you stepped into a small puddle of water.
Most of my colleagues have one single pair of work boots. If they have to work through the whole day stepping in water or working in the rain, their work boots are going to be completely soaked by the end of the shift.
I've tested this using my own work boots and here are the results:
| | |
| --- | --- |
| What I was testing | Results |
| Drying completely soaked work boots | Overnight |
| Medium wet work boots | 4 hours |
| Lightly wet work boots | 2 hours |
2. What material they're made of
Different boots are made with different materials. Some are made with leather and some are made with synthetic materials, GORE-TEX, fabric, or a mix of the two.
Leather usually takes longer to dry than synthetic materials.
3. How thick the material is
If your work boots are made with thick leather it will take longer to dry than if the leather is thin. Some of my leather work boots have a thickness of 2.5mm and some others just 1.5mm.
What NOT to do when using the PEET Original boot dryer?
Although it's a safe product to use there are a few things you should be aware of when using it:
Do not place the boot dryer close to another source of heat
Do not obstruct the air vents at the back of the dryer's base
You must keep a minimum distance of 6 inches from the top of the boot and the base of the dryer. Less than that the dryer won't work properly.
Do not place your work boots or anything really directly onto the AirChamber tubes without DryPort attachments.
If you do that thinking that the boots are closer to the heat source and that will dry them faster you should know that this will actually obstruct the air to circulate properly and overheat the dryer.
Are Peet boot dryers safe? (Can you leave it on overnight?)
The manufacturer says you can leave it on 24 hours a day, 7 days a week if you want to. It's completely safe.
Where PEET boot dryer is made?
PEET boot dryers are proudly made in Idaho, USA as stated on my PEET boot dryer box.
Other PEET boot dryer models
Watch this review on YouTube if you prefer
Last words: Is it worth it to buy a PEET boot dryer?
Working 10-12 hours per day wearing the same pair of work boots there's a big chance that bacteria and fungus will develop inside your boots, shoes, and sneakers. Especially if you work in hot or wet environments.
This summer my supervisor had to deal with Athlete's foot for the first time in his 55 years of life. What was different this summer is that we had more rainy days than usual and his boots were not getting dry fast enough and were always humid.
Wearing wet or humid boots to work is asking for trouble!
For this reason alone I'd say it's worth it to have a PEET boot dryer at home. I've personally had Athlete's foot and it's not something funny to deal with.
This boot dryer will help avoid getting to that point by drying your boots and not allowing fungus and bacteria to build in your boots.
---
Team Members Working On This Page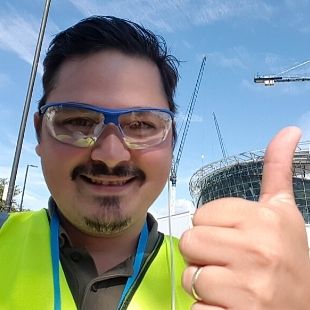 Construction Professional, driver, crane operator, cleaner, head chef … these are just some of the jobs I did in the past. Working in all these different environments taught me that having good footwear to protect your feet from different dangers at work IS PARAMOUNT for any worker! On this website, I aim to share all my knowledge and personal experience in dealing with different footwear and foot care issues, and hopefully, you can get something out of it. Enjoy!
Love technology, going to the beach, taking care of my body, and writing (amongst other things). You'll see my face around here a little bit since I'm responsible for part of the research and writing of some of the articles you're reading on BestForMyFeet.com. I hope you'll find our content helpful and enjoyable! See you around, thanks for reading!