Hey, welcome to my review of these PRO 11 insoles.
Are you after a good pair of insole for your footwear and you're considering the PRO 11 insoles?
If you're here for a quick answer, let me tell you that they're not bad at all. My biggest issue with these insoles is that they get stinky, VERY FAST.
I'm a construction professional and as you can imagine, I stay a lot on my feet and move up and down doing heavy-duty work.
They were awesome in terms of support, but it's a shame that I could not use them for more than one week due to how bad they would smell.
When I bought my insoles, there was an offer of some kind on Amazon where you were getting a pair of 3 packs (6 insoles). Check here to see if the offer is still available.
Keep reading to find out more details. We'll have a look at what other people are saying about these PRO 11 Wellbeing insoles, what are they good for, alternatives, and much more…
Unboxing of the PRO 11 insoles
As mentioned above, I bought a specific offer so I had a nice pack of 3 pairs of PRO 11 Wellbeing insoles inside my delivery box.
If you prefer to watch my quick video review on the YouTube channel just hit play below:
First Impressions
In all honesty, I didn't expect much from these PRO 11 orthotic insoles. I said:" at this price, there's no way you can get a pair of decent insoles." But I was surprised!
They're of course super light made of EVA which is a type of foam with great shock absorption properties (perfect for a guy like myself who walks a lot wearing safety work boots)
Then on top, they have a nice smooth velour top covering which helps the foot to breathe and also keeps your foot in place inside the boots or shoes not allowing the foot to slide as you walk.
And even though it's flexible, I can see it's quite rigid and durable. This provides great support for your feet.
Great first impressions!
What other features do the PRO 11 Weelbing inserts have?
As I said earlier, these insoles are made of medium-density EVA.
Poron metatarsal and heel cushion
With a high-density Poron metatarsal and heel cushion, they give great support just where you need it. They're quite comfy when you walk on them.
That heel cushion worked really well for me as it absorbs the shocks very well. Helping me avoid some heel pain as I walk heavily on my heels.
Shock Absorption
These inserts come with a shock absorption system and contoured, cupped heel designed by leading podiatrists to naturally and effectively help reduce the impact on the heel of the foot.
Arch support
Personally, I don't have flat feet or any problem with the arches for that matter. But I do feel like I needed some arch support due to my weight and the pressure I put on my feet and arches during my shift.
So I felt very comfortable wearing these inserts in my safety boots for arch support. I think I even felt less knee pain at the end of my shifts.
That could be due to the arch support feature. This feature will not allow your arches to collapse as you walk, so your body keeps a more correct posture during the day!
It might feel a bit strange at the beginning if you never had orthotic inserts with arch support before. For the first few days, I was looking to clean my outsole every time I was making a few steps.
I was thinking I had mud or wet concrete or something on my soles.
When in reality it's just the fact that you have this risen bit of the insole that keeps your arches higher than before (hence you might think you have mud or something on your soles haha)
The feeling will go away in a week or so!
What are these PRO 11 Wellbeing inserts good for?
It's perfect for anybody really. You don't have to suffer from some type of foot condition in order to wear these inserts.
It's actually better to start wearing them before you develop any feet conditions.
So according to the manufacturer, wearing the PRO 11 Wellbeing orthotics will help prevent pain and symptoms such as:
Runners's knee
Shin splints
Achilles tendonitis
Metatarsalgia (ball of foot pain)
Patello-femoral syndrome (knee pain)
Lliotibial band syndrome
What other people are saying about these PRO 11 Insoles?
They have a lot of happy customers for sure.
I personally will rate them as 3 out of 5 stars simply because they get smelly super fast.
And I don't really have time to wash them. Usually, I wear a pair of inserts for a few months, and then I throw them away. These ones though, I had to throw them away after only 1 week.
There are people with plantar fasciitis, shin splints, and other foot conditions who bought these PRO 11 orthotics, and most of the users who left a review on either Amazon or another online store felt a big difference after starting wearing these Wellbeing inserts.
Not too many complaints about this product except for myself and a few more people saying they were uncomfortable for them.
What size are these?
Well, if you have a pair of good scissors in the kitchen, you can make these inserts as small as you need them to be. I had to trim mines down to size 10US, 42EU,8UK
So these can fit big and small feet, men and women!
Can you wash them in the washing machine?
Not really, you should not put them in the washing machine. The material will get damaged.
Clean them manually using some rubbing alcohol or something along those lines (I use a lot of rubbing alcohol to clean and disinfect footwear)
Can you use them in safety work boots?
Yes, 100% you can. Especially because work boots are a bit bulkier than shoes or regular boots so you have a bit of extra space to insert these ones in your favorite work boots.
Can you use these in normal shoes?
Yes, of course. The only problem you might run into is that once you put these insoles in, you might not have enough room inside your shoe.
Since the orthotic is going to raise your foot a little bit, the space inside the shoe might become too tight and uncomfortable.
Unfortunately, there's no way I could tell you if this is going to fit you or not. You just have to buy it and try it I guess.
Also, if you're wondering about the size in length, don't worry, you can cut these to size with a pair of scissors.
Blue or Black PRO 11 Insoles?
Personally, I received the black ones (even though on Amazon is showing the blue ones). I didn't care about the color. And to my knowledge, there's no difference between the two.
Alternatives to PRO 11 Wellbeing Orthotic insoles
I personally always go to Dr. Scholl for an extra pair of insoles. They are more expensive but they are worth every penny in my experience.
Here are a few good alternatives to the PRO 11 inserts:
Last words on this PRO 11 inserts review
These insoles were great for me. As I said, I wear them inside my Caterpillar safety work boots and they gave a lot of support. (Read the Caterpillar Outline review here)
I love the feeling when I walk in these. It feels like my back is straight and my feet are aligned with the rest of my body.
The only downside is that THEY STINK!!!

I'd probably buy them again. They're not expensive at all. And if those ones smell bad as fast as these ones…then I'll never buy them again!
---
Team Members Working On This Page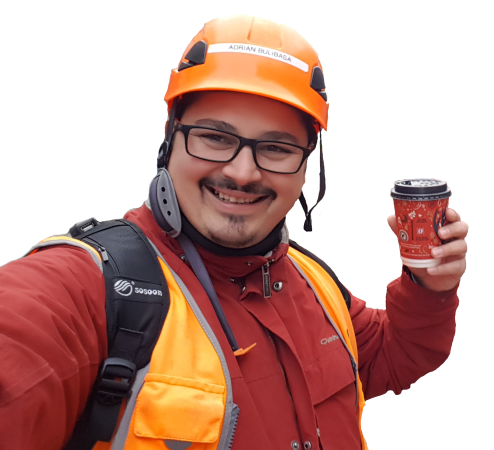 Construction Professional, driver, crane operator, cleaner, head chef … these are just some of the jobs I did in the past. Working in all these different environments taught me that having good footwear to protect your feet from different dangers at work IS PARAMOUNT for any worker! On this website, I aim to share all my knowledge and personal experience in dealing with different footwear and foot care issues, and hopefully, you can get something out of it. Enjoy!
Love technology, going to the beach, take care of my body, and writing (amongst other things). You'll see my face around here a little bit since I'm responsible for part of the research and writing of some of the articles you're reading on BestForMyFeet.com. I hope you'll find our content helpful and enjoyable! See you around, thanks for reading!