Hey, welcome to my review of these SOLE Active insoles. In this article we'll have a look at how good this insole is, is it comfortable or not, who is it for, and much more…
These insoles provide good arch support and they are good for most feet, especially for those of you that are looking for support for your feet.
I do not have any pre-existing foot conditions such as flat feet or plantar fasciitis or anything similar really. But I do like to have a good pair of insoles for my feet for both extra comfort and support for my feet.
Doing this will actually help prevent some of the most common foot conditions you'll see out there.
Having said that, my wife does suffer from a little bit of pain in her heel due to the plantar fascia being inflamed so we'll see if she likes these insoles or not as well…
If this is the first time wearing insoles with arch support they will feel a bit weird at first.
To me, it was like having mud or soil or something on my sole and I was always looking to get them cleaned. But in reality, it was the arch support elevation that I wasn't accustomed to.
The first time I used these types of insoles it took me about a week to get used to them.
Unboxing of the SOLE Active insoles
My wife's insoles came in a box while mine came in an interesting package. I have no idea why that's the case but in my opinion, the footbeds should come in a box.
That'll protect the insoles from getting damaged when they're out for delivery. Not too big of a con though. Mine was just fine when it was delivered.
You'll find some simple instructions on the packaging related to how to heat mold your SOLE insole if you want to so that's helpful.
First Impressions
It seems like the quality is there. They have some padding which is great for comfort.
It also comes with a deep heel cup which is good for providing stability, especially lateral stability.
This comes in very handy if you work as a logger or as a landscaper or any work done outdoors on rough terrains or on steep surfaces.
The insoles come with high arch support which I'm sure many of you out there with excessive pronation and plantar fasciitis will love.
It seems it has a solid build to it which gives me the impression that this insole will last more than others I have tried.
Good first impressions.
SOLE Active footbed features
According to the manufacturer here are some of the most important features you'll find in these insoles:
Anti-odor technology will help avoid stinky feet
Custom heat or wear moldable benefit from a customized fit
You can trim them to your size
Deep heel for better support and stability
Semi-rigid arch for support and comfort
Medically accepted
Available with met pad
Zero drop insole
Three different volumes to accommodate different types of footwear
What are these SOLE Active inserts good for?
According to the manufacturer, wearing the SOLE Active orthotics will help with:
Metatarsalgia
Supination
Prevent foot fatigue
Alleviate plantar fasciitis pain and other foot-related pains
It helps correct flat feet condition
Provide constant comfort during your shift
Excessive pronation
Helps to realign your body helping you have better posture whilst you're on your feet. This will help relieve pain in your back, ankle, neck, lower back, joint, and other foot-related issues.
What size do they come in?
The SOLE Active insoles come in pretty much all sizes. The smallest size they do is size 3 for men and 5 for women all the way up to 22 for men or 24 for women.
Is the sizing accurate?
Yes, both insoles (my wife's and mine) fit perfectly and we didn't have to trim them at all. At least that's our experience.
My wife wears size 7 (UK 4, EU37), and she uses her SOLE Active with her regular tennis shoes. I wear size 10 (UK9, EU 44) and I like to wear my SOLE Active insoles with my work boots.
Can you cut them to size?
As I said above I didn't need to cut them at all since they fit perfectly but if for whatever reason you have to trim them the answer is…
…yes, you can cut them to size but unfortunately, they don't come with trimming guiding lines.
Not a big problem though. To cut them to size simply place your older insoles on top of these SOLE Active insoles and trim them as much as needed.
How thick are they?
So I've measured these SOLE active insoles in two different places: the forefoot area and the arch.
Keep in mind that my wife's insoles are the SOLE Active MEDIUM and mine are the SOLE Active THICK.
So here are some measurements:
| | |
| --- | --- |
| SOLE Active MEDIUM (Women, size 7) | Data |
| Thickness at the forefoot | 4mm |
| Thickness or arch height | 27.5mm |
| | |
| SOLE Active THICK (Men, size 10) | Data |
| Thickness at the forefoot | 5.8mm |
| Thickness or arch height | 34.4mm |
How wide are they?
Same as before I've measured both insoles, my wife's and mine at different parts of the footbed, and here are the measurements:
| | |
| --- | --- |
| SOLE Active MEDIUM (Women, size 7) | Data |
| Width at the ball of the foot | 87.5mm |
| Width at the arch area | 67.2mm |
| Width at the heel area | 63.8mm |
| | |
| SOLE Active THICK (Men, size 10) | Data |
| Width at the ball of the foot | 98.1mm |
| Width at the arch area | 77.7mm |
| Width at the heel area | 70.6mm |
What's the weight of these insoles?
They're not that heavy of course but if this is something important to you here's the weight of these SOLE Active insoles:
| | |
| --- | --- |
| SOLE Active Medium (Women, size 7) | SOLE Active Medium (Men, size 10) |
| 51grams | 70grams |
Do they have a metatarsal pad?
Neither mine nor my wife's SOLE insole came with the metatarsal pad but there is a version of these insoles that do come with a metatarsal pad and you can find it here.
How's the arch support? (stiff or flexible)
The arch support in these SOLE Active insoles is semi-rigid. It's not as rigid as in other insoles we've seen out there like these PowerStep Original or the Wellbeing PRO 11.
The arch in these ones will collapse a tiny bit as you step on them making them comfortable enough for those of you with flat feet but supportive enough to help prevent excessive pronation and also to help recovery from plantar fasciitis.
Can you put them in the oven to mold them?
Yes, you can put these SOLE Active insoles in the oven. Actually, these are my first type of heat molded insoles. Never heard of this before.
You simply pre-heat the oven (NOT MICROWAVES), "bake" the insoles for about 2 minutes, and then put them into your shoes or boots straight away.
Then the magic happens. You just have to stay straight for another two minutes and that should be it.
You don't really have to do this since the insoles will mold to your feet in just a few days but they might be uncomfortable until they do so the "baking" will help avoid that.
Can these help with flat feet pain?
They can definitely provide you with great support if you have flat feet.
However, if you have pain in your feet talk to a podiatrist first since most of the time the pain you'll experience in your feet it won't be related to the fact that you have a flat foot.
It could be other problems!
But if you have flat feet this insole is great for you since you need a more rigid insole with rigid arch support and this insole provides exactly that.
Related: best work boots for flat feet might be helpful if you have flat feet and if you're looking for a pair of good work boots.
Will they help with plantar fasciitis?
Yes, these SOLE Active insoles are great if you suffer from plantar fasciitis. Actually, that's why my wife is wearing it. She suffers from mild plantar fasciitis using these insoles.
When she doesn't wear these insoles she has quite a lot of pain after we go for a long day out walking, visiting places, or even sometimes when we're shopping for the whole day.
Of course, it's NOT just the insole. She also uses a massage gun like this Bob and Brad T2 in order to achieve full recovery by making massages to her feet.
Additionally, I gift her some supportive flip-flops to wear at home instead of wearing those flat rubber Havaianas flip-flops.
The insoles alone will NOT cure your plantar fasciitis but they will help enormously as part of the recovery process.
Can you wash them in the washing machine?
Personally, I could not see anything about this on the package or the labels of the insole. From my experience though you should not put your insoles in the washing machine.
They will get damaged. Simply wash them by hand in the sink with a nylon brush and whatever cleaning product you prefer and then leave them to dry naturally.
I use a lot of rubbing alcohol to clean and disinfect my footwear.
Can you use them in safety work boots?
Yes, 100% you can use the SOLE Active Thick insole with your work boots.
Especially because work boots, in general, are a bit bulkier than shoes or tennis so you have a bit of extra space to insert these ones in your favorite work boots.
I've used these insoles with my KEEN Lansing steel toe boots and they were very comfortable.
Can you use these in normal shoes?
Yes, you can wear these SOLE Active insoles with your regular walking shoes or running shoes. Just mind the thickness of the insole you're going to buy.
My wife is wearing the SOLE Active MEDIUM and fits perfectly into her day-to-day tennis shoes.
Also, it's good to check if you can remove your shoes' original insole.
Sometimes, it's not possible to do so, and wearing the SOLE Active insole on top of another insole might feel a bit too tight, therefore uncomfortable.
What other people are saying about these SOLE Active Insoles?
Let's quickly check what other SOLE customers are saying about their experience wearing these SOLE Active footbeds.
A bit pricey
Yes, these are not the cheapest insoles out there so they might seem a bit pricey for some but the quality is there. It's one of the most common comments I've seen.
It's much cheaper than going for custom-made orthotics that can cost hundreds of dollars.
The insoles last less than months
Of course, this depends on how much you're going to use them and in what type of environment and other factors as well including the person's weight.
I'm a heavy guy myself and my insoles don't last more than 12-14 months, no matter what brand it is.
The person saying the insoles last less than 12 months was using the SOLE Active insoles in a pair of hiking boots. Also, the customer added that these were the most durable insoles he had in a long time.
Great fit and support
The insoles fit exactly as expected so if you order size 10 you should expect them to fit your size 10 shoes, boots, sneakers, etc.
Also, the support they provide is excellent for someone with a flat foot doing work around the house.
Great cushioning
If you like to walk for long distances these insoles will provide good support and cushioning.
Warranty is BS
The majority of complaints I've seen out there regarding these SOLE Insoles are related to the refund policy.
Keep in mind that these customers DID NOT buy their insoles directly with the company via their official website (YourSole.com).
They bought them elsewhere from third-party vendors and unfortunately some of these vendors did not have good customer service or a clear refund policy.
Therefore people are complaining about not being able to send back the insoles and get a refund or an exchange.
That's why I recommend you to buy directly from the official website!
How long do these SOLE Active footbeds last?
Bear in mind I work in construction so I'm sure I'll need replacement quite soon. It will definitely depend on what type of work you're doing and how much you walk of course.
The more you move, the faster you'll have to replace them.
As we've seen above some people mentioned that their SOLE Active footbeds lasted less than 12 months.
That's good enough for me though, especially when compared to the SOLE Performance cork insole that lasts just a few months in harsh environments (According to some reviewers).
So if you're in construction like myself, is best to go for this SOLE Active versus the SOLE Performance on this occasion since they're more durable.
Other SOLE footbeds options
If these are not for you here are some other insoles you could try on.
Who should not wear these SOLE Active insoles?
There aren't too many counter indications when using this insole but the company advises you to talk to a health professional first using this product if:
you are a diabetic
have poor blood circulation
lack of sensation in your feet
Can you ask for a refund if you didn't like the insoles?
Yes, you can. I like brands that stand behind their products. Not everybody is going to be happy with the product, that's normal.
If you buy these SOLE insoles on third-party websites this might get a bit hairy but if you buy directly from YourInsole.com (the official site) then this shouldn't be a problem.
You have 90 days to see if these are good or not for you. That's more than reasonable. Get in touch with their customer support and they'll sort you out.
Last words on this SOLE Active inserts review
Overall, it's a good insole for different types of feet and different types of activities.
Most of the insoles I buy have just one thickness and that's it. So it might fit in my pair of work boots but they might not fit in my fitness shoes.
You can choose between the different thicknesses levels which is what makes it so versatile and that's a big pro in my book.
Also, good semi-rigid arch support provides enough support but at the same time, it won't push into your arches creating pain making them uncomfortable to walk in them as a rigid arch insole might do.
If you want a good quality insole for your work boots, running shoes, or everyday shoes, then these are a good option. I recommend them!
---
UPDATE: First weak wearing these insoles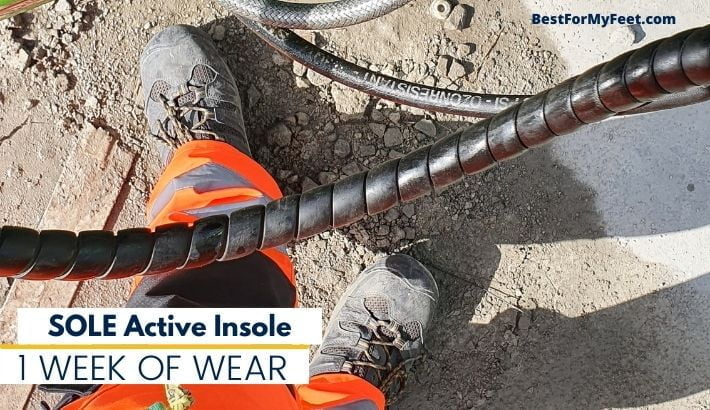 So far so good. I'm quite happy with the support and the cushioning the insole offers. Nothing else to add for now.
By the way, this first week is the week of adaptation for those of yout that never had insoles with arch support before.
It might be a bit annoying as I said at the begining of the article but by the end of the first 4-5 days your feet should be use to the arch support.
UPDATE: First month wearing these insoles
Coming soon
Team Members Working On This Page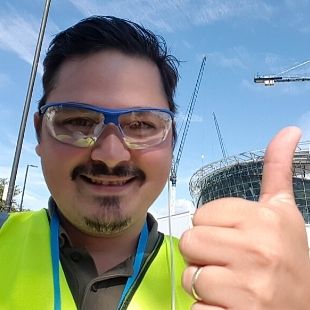 Construction Professional, driver, crane operator, cleaner, head chef … these are just some of the jobs I did in the past. Working in all these different environments taught me that having good footwear to protect your feet from different dangers at work IS PARAMOUNT for any worker! On this website, I aim to share all my knowledge and personal experience in dealing with different footwear and foot care issues, and hopefully, you can get something out of it. Enjoy!
Love technology, going to the beach, taking care of my body, and writing (amongst other things). You'll see my face around here a little bit since I'm responsible for part of the research and writing of some of the articles you're reading on BestForMyFeet.com. I hope you'll find our content helpful and enjoyable! See you around, thanks for reading!