Are you looking for high-quality leather work boots, and you can't decide the brand? It's always a tough decision to choose between Wolverine and Red Wings work boots because both brands are at the top of their game.
Both Red Wing and Wolverine claim to be the best of their kind, but we can find some differences between the two, for sure.
To help you decide which one is the best one for you we've put together some very helpful information in this comparison article such as features, facts, price comparisons, reviews, each brand's most popular models, and much more.
We have shortlisted only the best of these brands to reduce the amount of research that you need to do.
So let's get into it…
What type of boots do they produce?
The renowned brands have a variety of boots ranging from casual-looking work boots to heavy-duty safety boots. Here are some of the types of work boots produced by Wolverine & Red Wing.
Red Wings vs. Wolverine Sizing: How do they fit?
As always, this is a tricky question since it's very hard to make boots that fit EVERYONE from day one.
With so many products on their shelves it's hard to compare how they fit … so what I did instead I took their most sold work boots and compared them (Classic Moc Toe from, Red Wings and Overpass from Wolverine) Just to give you an idea of how people felt about their Red Wings or Wolverine boots in terms of how they fit.
How do Red Wings fit?
At the time of writing this article, Red Wings Heritage Classic Moc Toe has 1700 ratings on Amazon alone. Also on their own website, this model from Red Wings has an additional 351 reviews. And a lot more if you look at other online stores.
So let's take a look for example at the users who left comments on Amazon related to the fit. Out of 1700 people who bought the Red Wings Heritage Classic Moc Toe…
1023 of them said the boots fit them perfectly so there were true to size.
Very few people said the boots were too small and some said the boots might run a little bit big.
This is the breakdown of people's feedback on that particular work boot size and how it fits.
| | |
| --- | --- |
| Too Small | 70 |
| Somewhat small | 106 |
| True To Size | 1023 |
| Somewhat large | 242 |
| Too large | 100 |
How do Wolverine boots fit?
For Wolverine's, I looked at the Overpass 6″ model which has a whopping 5700+ ratings on Amazon. Not everybody left feedback regarding the fit but around 1500 people did take the time to leave a comment. And by the way, you can read my full review of the Wolverine Overpass work boot here.
So out of 1506 customers who gave feedback, 1231 of them said the boots fit them perfectly. They were true to size.
As you can see the majority of people said the boots fit right and a small majority said that either the boot was small or big.
This is the breakdown of people's feedback on that particular work boot size and how it fits.
| | |
| --- | --- |
| Too Small | 46 |
| Somewhat small | 78 |
| True To Size | 1231 |
| Somewhat large | 107 |
| Too large | 44 |
When you buy work boots online getting the right size and fit is the most challenging part of the buying process. You never know what you're going to get.
The good thing about buying comfortable work boots online at Amazon for example is that they have the Amazon Prime Wardrobe where you can try on the work boots and you won't pay for them until you're happy with the product.
It's worth checking it out before buying your boots. It's quite handy and it's free if you have an Amazon Prime membership.
Anyway, it seems that both Red Wings and Wolverine work boots fit the same way if you're looking at the numbers. In both cases
Most people said the work boots were true to size
Some people said the boots were a bit large
And a small minority said the boots run small
Wolverine vs Red Wings break-in periods
After reading tons of customer opinions online and on the forums I've learned that Wolverine work boots have little to no break-in period while work boots made by Red Wings almost always require a break-in period.
So keep that in mind, that if you need a new pair of work boots straight away you have to go for a pair of Wolverines since they're comfy right from the get-go. But if you're not in a rush, then go for the Red Wings work boots.
That's because if you don't need the boots straight away you'll have some time to stretch out the boots a little bit and make them comfortable.
Color options
Wolverine provides an outstanding color range that is vibrant and exclusive. You can choose from bright blue to sharp red and nude tan. You will also find traditional colors like white, black, brown, grey, gold, yellow.
Red Wing has darker shades like brown, maroon, and black. The use of pure leather has made it difficult to tamper with colors.
Safety features
Here are some of the most important features you'll find in Wolverine and Red Wings safety footwear. You'll find that some boots will have more than one of these features. The more, the better!
But keep in mind that's not always the case. For example, if you work in a light-duty type of environment, you might not need the extra weight of a steel toe cap work boot. A soft toe work boot will do the job just fine.
| | | |
| --- | --- | --- |
| FEATURES | WOLVERINE BOOTS | RED WINGS BOOTS |
| Steel toe cap | YES | YES |
| Composite toe cap | YES | YES |
| Soft toe cap | YES | YES |
| Waterproof | YES | YES |
| Insulated | YES | YES |
| Electrical Hazard | YES | YES |
| Static dissipative | YES | YES |
| Metatarsal guard | YES | YES |
| Puncture resistant | YES | YES |
| Heat resistant | YES | YES |
| ASTM Approved | YES | YES |
| CSA Aproved | YES | YES |
Red Wing Vs Wolverine: Differences in price
I'm sure I don't need to tell you this but Red Wings are more expensive than Wolverine work boots. Just to give an example, a pair of 8″ work boots from Wolverine such as the Raider Durashocks can cost you in the region of $155 whilst a pair of 8″ safety boots from Red Wings such as this King Toe model can cost you around $200.
I could not find anything cheaper than $150-$180 on Red Wings website whereas on Wolverine online store I could find boots for as low as $95 for a pair of safety toe boots.
Where are they manufactured?
Let's have a look at where Red Wings and Wolverine are making their work boots. For some of you this is an important detail, so let's check it out.
It's not easy to find this type of information as for some reason, some boots manufacturers don't make it easy for us to find this piece of data.
But one of the most important reasons to read articles such as this one is that we (my team and I) take the time to read hundreds of reviews and customer feedback to find out all these little details.
So, according to the reviews I've seen online here's where Wolverine and Red Wings make their work boots:
Wolverine work boots
As I was reading reviews online on a few online stores there was some kind of mixed information about where Wolverine boots are made. Most people were saying the boots are made overseas where one or two people were saying they think the boots are made in the US.
If this is something that matters to you, then my suggestion is to ask the seller where your boots are made before you buy them.
Red Wings work boots
This is probably the biggest difference between Wolverine and Red Wings. All Red Wings work boots are made in the US whereas Wolverine's boots are made overseas according to the reviewers.
The downside is that you can not find too many Red Wings models online. I mean this could be a positive thing if you love going to a local shop and get the boot that you like and that fits you perfectly. Personally, I just buy my boots online to save some time.
What industries are they good for?
Wolverine work boots and Red Wing Work Boots can be great for all sorts of industries since both brands manufacture lots of different styles of boots with different safety features.
Here are some examples:
Chemical industries
Oil factories
Petroleum plants
Electric Power plants
Steel Mills
Warehouse
Drivers
Office workers
and many, many more
What do the reviews say about Red Wings & Wolverine boots?
Both Wolverine and Red Wings have accumulated a massive amount of reviews from customers. The majority of their customers seem to be very happy with their purchases, so let's see what they say about each brand.
What do people say about Red Wings work boots?
People who bought Heritage-style work boots said these types of work boots are old-school types of boots. They're made to last, build with 100% leather inside and outside. They're tough to break in, but boy, once their break-in and become comfortable these are the best boots they've ever had.
One of the best things about Red Wings works boots is that you can resole the boots. Not only extending the lifespan of your favorite work boots but also saving money in the long run.
The fact that you can't buy many Red Wings models online makes many people very happy because the in-store experience is amazing.
And it's something you don't get to see too much anymore (sadly for some customers).
This, by the way, is the best way to make sure you buy work boots that fit you and they're comfy from day one.
Another thing that customers seem to REALLY appreciate is the fact that Red Wings keep manufacturing their work in the United States. That keeps American families fed and footwear quality standards very high!
The quality of Red Wings work boots is unquestionable. The only complaint people seem to have about Red Wings is that the boots are a bit too pricey and that some of their models are a pain to break in.
What do people say about Wolverine work boots?
I'll start with myself. I really like the design of Wolverine work boots. To me, it's important to look good as well as being protected at work. So if that's something important to you as well, let me tell you that myself and other Wolverine customers have mentioned that the boots look amazing!
Compared to the Red Wings Heritage boots, many Wolverine work boots owners said the boots are comfortable and ready to go as soon as you get them out of the box. No break-in period is required!
The biggest concern for customers is that the boots are not made in the USA as we've seen in the table above. That result in two things:
The quality of the boots might not be the best it can be in terms of how well they're assemblled and the materials used to build the boot.
The work boots are more affordable
Of course, most people love point #2 but they're not happy about the first one.
Anyway, the majority of the reviewers said the boots are not that bad, even though they're imported. And apparently, the fact that the boots are made overseas has not affected how comfortable Wolverine work boots are. And that's the most important thing at the of the day!
Wolverine & Red Wings' most popular work boots models
I just wanted to make your life easier by selecting here the top best-sold models from each one of these brands. Feel free to keep doing your own research though as there are many models, especially from Red Wings that are not sold online.
The models are listed in no particular order.
Wolverine's Top 7 Most Sold Models
Red Wings' Top 7 Most Sold Work Boots
What are some alternatives to Red Wings and Wolverine?
We're getting to the end of this Wolverine vs Red Wing comparison and I hope the information I've put together was helpful in some way.
It's possible that even after reading this comparison you still want to know what other options you have.
Here are a few good alternatives to Wolverine and Red Wings:
Which is better: Red Wing or Wolverine? The Takeaway
Both brands have excellent work boots for women and men. In terms of quality, Red Wings is a clear winner since all their work boots are made in the USA. But Wolverine makes great comfortable work boots even though the boots are manufactured overseas.
One downside (for those of you who like to buy online) is that many of the Red Wings boots are not sold online. That's a bummer if you don't have a Red Wings store in your area. So Wolverine wins this one since they have a lot of safety work boots available online.
If you have the budget, go for Red Wings. They last longer and also you can resole them. If you want to save some money go for Wolverine. Still comfy, but for less money!
---
Team Members Working On This Page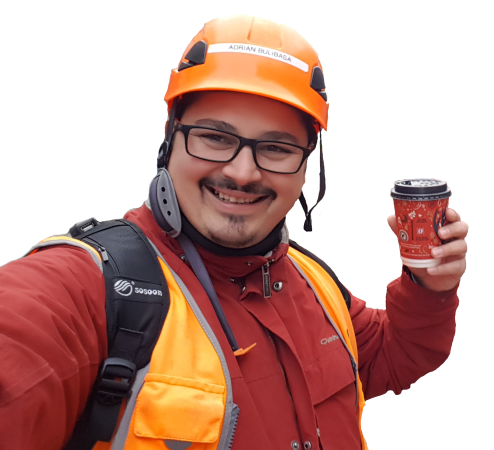 Construction Professional, driver, crane operator, cleaner, head chef … these are just some of the jobs I did in the past. Working in all these different environments taught me that having good footwear to protect your feet from different dangers at work IS PARAMOUNT for any worker! On this website, I aim to share all my knowledge and personal experience in dealing with different footwear and foot care issues, and hopefully, you can get something out of it. Enjoy!
Love technology, going to the beach, take care of my body, and writing (amongst other things). You'll see my face around here a little bit since I'm responsible for part of the research and writing of some of the articles you're reading on BestForMyFeet.com. I hope you'll find our content helpful and enjoyable! See you around, thanks for reading!
I'm an MA student currently working on a research project for King's College London Museum of Life Sciences alongside my MA dissertation. I have been published in my student newspaper, The Spectator, and the Adam Smith Institute. I'm doing part of the research and writing of the content you'll read on BestForMyFeet.com Enjoy!