Whether you're looking to buy your first cowboy style work boots or get yourself a new pair of work boots these two brands are always coming up. So if you want to know what's the difference between Ariat and Justin's work boots this is the place to be.
I've done in-depth research to see what people are saying about Justin and Ariat work boots, which one is better, how they fit, where to buy them, and much more.
It took me 21 hours of hard work reading hundreds of reviews and customer feedback on 14 websites to come up with this helpful information for you. So let's get into it because there's a lot of good stuff in here.
What type of boots do they produce?
Both Ariat and Justin are known for making country/western-style work boots. They do try to create different models of boots here and there, but they stick mostly to what each knows how to do best.
And that is creating cowboy-style work boots.
Here's a table of the type of work boots each produces:
As you can see they produce all sorts of work boots, lace-up, pull-on, slip-on, etc. But what are the differences between some of these? If you're new to boots check out these articles to learn more:
What industries are they good for?
Both Justin and Ariat work boots are known in the western cowboy culture. Usually, people looking into buying Ariat or Justin work boots are working on the farm.

So these boots are great if you're working with animals and if you're in the agriculture sector.
Why are they good for that type of industry?
Well, it's not only a matter of how cool these boots look but having a higher shaft they're also protecting you from the different hazards whilst working in the field.
That could be fertilizers, animal waste, water, dirt coming into the boot, etc.
But Justin and especially Ariat work boots are also good for other industries such as construction, warehouse workers, drivers, and more. I said especially Ariat because they have a wider range of work boots that are not only cowboy western style.
Do Justin and Ariat boots fit the same?
This is one of the most complicated things to achieve as a manufacturer. I don't think any brand can really achieve a perfect fit for everybody since our feet are not the same.
After checking hundreds of customer feedback and reviews on a few different online stores, here's what I found:
It's very hard to check all the boots these two brands have and see how they fit, so instead what I did is I looked at their most rated work boots (Original Stampede from Justin and Groundbreaker from Ariat) and look at what people have said regarding how these two boots fit on them.
How do Justin work boots fit?
Out of 1445 people who bought the Justin Original Stampede boot on Amazon, 1110 of them decided to take a minute and leave some feedback regarding the size and fit.
791 of them said the boot fit perfectly. So it's true to size.
Very few people mentioned that the boot was a bit small and about 250 customers said the boot is large or too large.
This is the breakdown of people's feedback on that particular work boot size and how it fits.
| | |
| --- | --- |
| Too Small | 30 |
| Somewhat small | 36 |
| True To Size | 791 |
| Somewhat large | 167 |
| Too large | 86 |
How do Ariat work boots fit?
For Ariat, I've looked at the Groundbreaker model since it has a whopping 5600+ reviews on Amazon alone.
Of course, not everybody will take the time to leave feedback, but almost 1500 of them left a note about how their new Ariat boots fit them.
So out of 1441 customers who gave feedback, 989 of those said their Ariat work boots fit them perfectly. They were true to size.
A small portion of those said their boots were somewhat small and almost 300 said the boots were somewhat large or large.
This is the breakdown of people's feedback on that particular work boot size and how it fits.
| | |
| --- | --- |
| Too Small | 70 |
| Somewhat small | 101 |
| True To Size | 989 |
| Somewhat large | 176 |
| Too large | 105 |
When you buy work boots online getting the right size and fit is the most challenging part of the buying process. You never know what you're going to get.

Some people were saying that they bought the same pair of boots for years from both brands, however, the last one they bought was either too small or too tight or large…
The good thing about buying comfortable work boots on Amazon is that they have the Amazon Prime Wardrobe where you can try on the work boots and you won't pay for them until you're happy with the product.
OF COURSE … keep in mind that there's a limited time for this.
You can't wear them for 2 months and then say: "Hey, these boots are no good" 🙂 You have 7 days to check out the boots before you send them back!

It's worth checking it out before buying your boots. It's quite handy and it's free if you have an Amazon Prime membership.
Anyway, it seems that both Justin and Ariat work boots fit the same way if you're looking at the numbers. In both cases
Most people said the work boots were true to size
Some people said the boots were a bit large
And a small minority said the boots run small
Justin vs Ariat: Where are they made?
Now let's have a look at where these work boots are manufactured. Unfortunately, this is a piece of information that many work boots manufacturers don't like to share, or at least they don't make it easy to find.
But that's the good thing about reading reviews and customer feedback. You can ask and see what people are saying about a specific product.
All work boots have a label where you can find where those specific models have been manufactured.
So according to the reviews I've seen online, here's where Justin and Ariat are made:
Justin work boots
All boots made in China have received great feedback from customers. Their only downside is that they're not made in the US so the quality is NOT as high as it could be. On the positive side, not being made in the US they are selling a bit cheaper.
Ariat work boots
I wasn't expecting this. I remember seeing a few Ariat work boots made in the US but I could not find them to include in this article.
And what's strange to me is that the price tag is quite high for a pair of work boots made overseas. Nevertheless, from the hundreds of reviews I've read, I can say the majority of buyers are very happy with their Ariat work boots.
Ariat vs Justin: Differences in price
Even though I was expecting to see some differences in prices, at least I was expecting to see the Justin made in the US models to be very expensive. They're not that expensive.
The most expensive model Justin has at the time I'm writing these lines is the Casement Steel Toe boot that's available on their website for $274.95. Again, this model is made in the USA.
You can get your hands on a pair of Justin work boots for just a little bit over $70 and you can go as high as a couple of hundred bucks.
Ariat on the other hand has a higher price tag on some of their boots such as this Ariat Linesman 10" work boot that you can get for almost $400.
On the affordable side, you can buy a pair of decent Ariat work boots for as little as $60 depending on the size that you're choosing. Most of the time the bigger the size you need, the bigger the price tag.
If we compare Ariat and Justin's most sold work boots on Amazon (at least based on the number of reviews each one has) … then Justin boots are cheaper work boots than Ariat just by a few bucks.
The models I've compared are Ariat Groundbreaker and Justin Original Work.
Most boots from these brands are priced quite similarly. So at this point, it's a matter of taste or preference which one you're going to choose: Ariat or Justin.
What do the reviews say about them?
These two combined have a lot of reviews. Thousands upon thousands of good feedback from owners. So let's quickly check if workers are happy with their boots from these brands or not.
What do people say about Justin boots?
Most people mentioned that their Justin work boots look great and fit them well. And most importantly that they are comfortable.
It depends on what model you buy but it seems that some users have had some issues with the interior rubbing their calf quite a bit. Of course, this was a minuscule percentage of buyers but it's a good thing to know.
Some users are disappointed that many of the Justin work boots are made overseas nowadays whilst others don't mind it since they can afford a good cowboy-style work boot without breaking the bank.
Justin boots are great work boots for riding horses, riding motorcycles, working on the farm, in construction, and more.
What do people say about Ariat boots?
Ariat work boots are very comfortable as well and they're great for both heavy-duty work around the ranch or construction and also great for lighter jobs.
Most people buying Ariat work boots are using these boots for both, work and casual work boots. So users are pleased with how cool the boots are (especially the cowboy style boots).
As with many other work boots brands, whenever you buy online you will have issues with the size and width of the boot. If you remember from the previous section, the majority of the buyers felt happy with how their Ariat boots fit them…
…but you'll find many reviewers mentioning that the boots run a bit large. Especially the western-style boots.
The quality of the boots is quite good (even though Ariat is manufacturing their work boots overseas) and they seem to be quite durable. As always, it depends on how much work you put them through.
Justin's & Ariat's most popular work boots models
I just wanted to make your life easier by selecting here the top 5 best-sold models from each one of these brands. Feel free to keep doing your own research though.
The models are listed in no particular order.
Justin's top 5 most sold boots
Justin's top 5 most sold boots
What alternatives are to Justin and Ariat brands?
We're getting to the end of this Justin vs Ariat comparison and I hope the information I've put together was helpful in some way.
It's possible that even after reading this comparison you still want to know what other options you have.
Here are a few alternatives to Ariat and Justin western style work boots
Ariat or Justin work boots: Which one is best for you?
As you could see, I could not find Ariat work boots made in the US but I could find a few from Justin.
So if that's something that's important to you, then Justin is better than Ariat in that respect.
One thing Ariat wins over Justin is that they have many more options to choose from. Ariat work boots can satisfy a bigger pool of buyers since they have a wider range of work boots models and styles.
Keep in mind that if you want to buy Ariat or Justin work boots to ride horses you should avoid the boots with rubber outsole.
That's because rubber is used in work boots to give you extra grip. When you ride horses though, you do not want that extra grip. You want a smooth sole in case you fall or for whatever reason you need to quickly jump off the horse.
You do not want your foot getting stuck and potentially cause you some serious injuries.
In terms of price, comfort, durability, I can't say I've seen a huge difference between them. So if you have to choose between Ariat or Justin, it all comes down to your taste and preference! Based on my research you can't go wrong with either of them!
---
Team Members Working On This Page
Love technology, going to the beach, take care of my body, and writing (amongst other things). You'll see my face around here a little bit since I'm responsible for part of the research and writing of some of the articles you're reading on BestForMyFeet.com. I hope you'll find our content helpful and enjoyable! See you around, thanks for reading!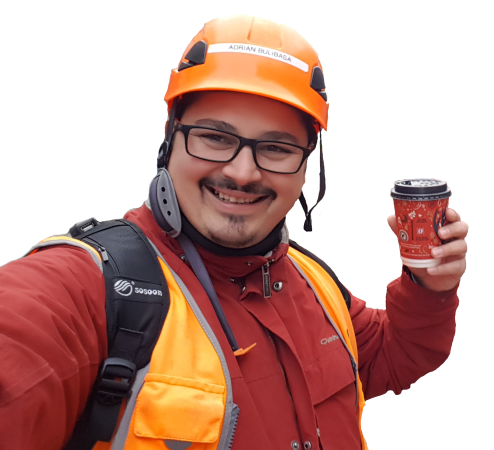 Construction Professional, driver, crane operator, cleaner, head chef … these are just some of the jobs I did in the past. Working in all these different environments taught me that having good footwear to protect your feet from different dangers at work IS PARAMOUNT for any worker! On this website, I aim to share all my knowledge and personal experience in dealing with different footwear and foot care issues, and hopefully, you can get something out of it. Enjoy!
I'm an MA student currently working on a research project for King's College London Museum of Life Sciences alongside my MA dissertation. I have been published in my student newspaper, The Spectator, and the Adam Smith Institute. I'm doing part of the research and writing of the content you'll read on BestForMyFeet.com Enjoy!