Yes, Skechers do make work boots. In this article, you'll find out a little bit more about the brand and what type of work boots Skechers produces, and if Skechers work boots are any good or not.
Also, we'll look at what the reviews say about Skechers' work boots, what are some of their most popular work boots models, and much more!
So keep reading to find out all you need to know about Skechers' work boots!
First…
The Brand: never heard of Skechers before?
Skechers is much more known for their sneakers and athletic gear rather than work boots. Even though that's how they've started initially making utility-style boots and later on they've started to focus more on casual and athletic footwear and gear in general.
The company has been around for a few decades now. And if you're wondering if Skechers is a Chinese or Indian company let me tell you that Skechers is an American company founded by Robert Greenberg in 1992 in California, US.
What type of work boots do Skechers make?
Skechers have quite a good variety of work boots. From ankle work boots such as this Workshire Relaxed Fit model all the way to Wellington type of work boots like this Ruffneck model and everything in between.
They also make work boots with different types of toe caps. So depending on what industry you're working on you can choose what type of toe cap you need:
Soft toe cap (if you're in light work environments with little to no hazards)
Steel toe cap (for many jobs where safety is a must such as construction for example)
Composite toe cap (for when safety toe cap is required but you want a lighter work boot)
So just to mention a few types of work boots Skechers make:
Lace up work boots (ankle high)
Slip on work boots
Wellington work boots
Wedge sole work boots
Waterproof work boots
Hiking work boots
Rubber work boots
Leather work boots
Synthetic work boots
What industries are they good for?
Since Skechers has a good variety of work boots with lots of different features and the latest technologies, they really fit a lot of industries, if not most. A few examples:
Construction
Warehouse work
Delivery drivers
Military and special forces
Are Skechers work boots quality boots?
Even though many work boots manufacturers have decided to make their boots overseas (including Skechers according to some users) the quality of Skechers work boots is quite good. By the way, you can find here where work boots are made. We've included a lot of brands so make sure you check it out after reading this page.
You can't really compare them with Thorogood or Danner for example, but Skechers are good and affordable work boots if you have a low budget.
Are Skechers work boots durable? How long do they last?
How long work boots should last is a question most workers ask. Skechers, being on the budget side of the spectrum they won't last you for a decade. Most Skechers users have said their work boots lasted anywhere from 6 months (if you're unlucky) all the way up to a couple of years. (if you're lucky)
Are they comfortable?
Yes, Skecher's work boots are comfortable. It's not very often you can find a user complaining about their Skechers work boots not being comfortable.
Most of the time, users are not happy with their Skechers work boots due to the size being wrong, or maybe the width is not correct. But nothing really related to being uncomfortable.
It seems that if you get the right boot (size, width, etc) you will be happy with how comfortable they are.
Are Skechers work boots true to size?
According to the reviews I've seen on 5 different online stores, it will depend on the model of work boot you buy.
The best thing to do is to buy your work boots at your local store if you're worried about this.
Alternatively, you can take advantage of Amazon's Prime Wardrobe where you can try the work boots in this case and you won't pay until you're happy with them (you have a limited time to try them on before sending them back though. So make sure you read the terms)
It's also free if you have an Amazon Prime membership.
Anyway, from what I've read, MOST users have said their work boots are true to size.
Here's an example. Out of 2174 people who bought this Workshire Relaxed Fit work boot, 1781 have said the boot was true to size.
This is the breakdown of people's feedback on that particular work boot size and how it fits.
| | |
| --- | --- |
| Too Small | 73 |
| Somewhat small | 95 |
| True To Size | 1781 |
| Somewhat large | 158 |
| Too large | 40 |
Price: Are Skechers work boots expensive?
No. Skechers' work boots are quite affordable and some I'd say are very cheap.
Towards the bottom of this page, you'll find some reviews of some of the most popular Skechers work boots where I've included some of the cheapest, some of the most expensive, most rated, etc.
You'll find more there.
Where are Skechers work boots manufactured?
It's not always the easiest thing to find out about your work boots. For some reason, manufacturers don't make it easy to find this information.
But according to some users who left an online review of their work boots, the label of the boots was stating: "Made In China"
Where can you buy Skechers work boots?
You can check your local stores but I believe the best place to buy Skechers work boots is at the online stores.
For the simple reason that you can access lots of brands and models from the comfort of your home. Plus the delivery, many times is free.

Here are a few stores you might be familiar with:
Amazon
Zappos
Sears
Walmart
Skechers
What do the reviews say about Skechers work boot brand?
I've checked the reviews about Skechers work boots on 5 different online stores and also on websites such as TrustPilot, BBB, and similar.
Most people who took the time to complain about Skechers products online were not necessarily complaining about the product itself, but about how they were treated by Skechers customer service. (This is especially where you read reviews on BBB and similar websites)
After reading some reviews it seems like Skechers is doing a good job at getting back at unsatisfied customers (after submitting complaints on BBB) and dealing with their issues.
In terms of how happy customers are with their Skechers work boots…the majority of people who bought Skechers work boots on Amazon, Zappos, Walmart, etc were quite happy with the product they've bought.
Most people are very happy with their Skechers work boots. But as is the case with all brands out there, Skechers also mess up sometimes with their products and make some products that people will have bad experiences with.
Reviews of the top 7 most popular work boots models from Skechers
Now let's look at some of the best work boots from Skechers to find out more about each one of these models. The reviews are in no particular order. We've done the research and now we're sharing our findings with you.
This traditional steel toe work boot is a great option for both men and women. In this case, it's especially good for women because Skechers are making these boots in very small sizes to fit ladies feet too.
It goes from size 5 all the way up to size 11.
It's the most rated steel toe work boot from Skechers with over 3500 reviews on Amazon alone.
If you work in construction and other industries where ASTM must be met, rest assured that these Skechers' work boots meet the standards.
The boots are made from 100% leather but they're not waterproof. They are water-resistant so keep that in mind. Not all work boots are waterproof!
A great benefit of this work boot is that you can remove the insole. That's very helpful because you can add your own custom insoles and also because if the footbed of your boots gets stinky, you just replace it with a brand new one.
If your workplace is a bit more relaxed and there are fewer chances of something heavy rolling on your toes and harm your feet, then these soft toe work boots are a great choice.
It's also one of the best-looking, stylish work boots from Skechers. You can easily wear these work boots as casual boots when going out with friends for a drink. No one will notice they are work boots.
If you're looking for an ankle support work boot, this could be for you since the boot totally covers the ankles and once you tighten them up it will keep your ankle in place whilst doing your work.
Also, they provide great grip thanks to the thick lugged sole that will provide you with extra traction when needed.
Just remember that even though these work boots look great, they are not safety boots so you should not buy them if your job requires you to wear safety footwear.
If you're in the agriculture sector or maybe working on a farm, these Skechers work boots are perfect for the job. Being approximately 10.5 inches high from the arch will help prevent mud, soil, and other things from going into your boot, keeping you comfortable whilst doing your tasks.
The outsole's made of rubber and has quite a good depth giving you traction when working on uneven ground as we said maybe on the farm or on the field. Also, the sole being made of rubber will help prevent slip and falls when working on wet surfaces.
You can use this pair of Skechers work boots in other industries too. Especially in areas where a safety toe is required since these pull-on work boots have a steel toe.
If you need good waterproof safety boots keep in mind that these are not waterproof. They'll keep the water away for a little bit but if you work a lot in the rain or wet areas, these are not for you.
They look like a pair of insulated work boots but they're not. They have the typical line interior but not insulation whatsoever so they're not that great for wintertime. A good option for all the other seasons though.
If you want a pair of pull-on work boots like the ones above but lighter, these composite toe work boots are perfect for you.
These Skechers work boots are perfect for electricians and people working in areas where both water and electricity might be present.
Contrary to steel toe caps, the composite toe caps are not conducting electricity saving you therefore from getting electric shocks when you're doing a job where electricity and water are close to each other.
Although these work boots are very comfortable, keep in mind that they are made in China so they might not last long. It will mostly depend on what type of work you're going to submit them to. The tougher the job is, the less they'll last.
These work boots are also breathable since it's made of a mix of leather and CORDURA nylon fabric and that makes them better for working in summertime than other work boots in this post.
These wedge sole work boots are the most stylish work boots from Skechers. This pair of work boots are what's known as a "wide relaxed fit" which simply means that after using it for a while the boot will stretch and adapt to your foot if necessary.
That comes very handy especially if your feet are wider than the average the boot will become more comfortable as you wear it.
The upper of this boot it's made of 100% leather which makes it look very fashionable. You can wear it with your favorite pair of jeans to any event without no one knowing that you actually are wearing your work boots.
If you need to wear special or custom-made insoles this boot it's for you because you can remove the insole that comes with it, with the one that suits you best.
One thing to know about this model before you go ahead and buy it is that these work boots have a soft toe. That means it will not provide you with the safety toe protection you'll need in a hazardous environment such as a construction site or a garage for example.
You can perfectly use them if you work in retail, warehouse, sales, delivery drivers, security, etc. Basically, they are a perfect work boot for people who stand a lot on their feet (as long as you don't need extra protection for your feet).
This is another pair of lightweight work boots from Skechers. And what makes these ones lighter is the fact that they're made out of a mix of leather and synthetic material and also the toe cap is non-metallic, it's a composite toe cap.
Another benefit of these boots is that they're waterproof. If you work cutting grass or similar jobs where your boots might be constantly in a humid or wet scenario, these Skechers work boots are great for that.
By reading the reviews and customer feedback of this model it seems that all people who bought these work boots were the right fit. So if you wear a size 10, order a size 10.
Some customers mentioned that you should go one size up in case you want to use these work boots in wintertime with a pair of thick wool socks (that's what I personally do as well when I buy work boots for myself).
Because of the fact that these ones are insulated work boots, they won't be that great in summer. Even though they have only 400gr of Thinsulate they will make your feet sweet in excess when it's hot outside.
One of the best things I like in a pair of work boots is the ability to take them off and put them on as quickly and as easily as possible (I know, it sounds lazy but after 12 hours on a construction site, trust me, it's a good feature to have)
That's exactly what this Burgin Glennert work boot from Skechers is.
The leather and the material this boot is made of is very rugged and it might need some breaking before becomes comfy. This makes them a good pair of work boots for construction professionals.
They come with a composite toe cap protection to keep your toes safe whilst working with heavy material and plant. It's less heavy than the steel toe work boot models and that's always a benefit.
Can you use them on jobs where safety toe work boots are required?
Yes, you can. Composite toe work boots do pass the ASTM requirements and are OSHA approved (at least the boots that are made by known brands).
Although they are nice to put them on and take them off quickly and easily, the downside is that they are going to be a bit lose on your feet since you can't tighten them up tight to your legs as you would do with a lace-up pair of boots.
One last benefit worthy of mentioning about this boot is that they are electrical hazard rated (EH)
Alternatives to Skechers work boots
Not convinced with Skechers work boots? Well, if there's one great thing about today's market is that we have a ton of options to choose from.
Below I list just a few other brands you can look at if you're after a new pair of work boots.
They're listed in no particular order. So the first ones are not better than the last ones and vice-versa. I did my best to list work boots that are in the same price range or very close to Skechers, some will be more expensive and other cheaper.
Anyway, here are some alternatives to Skechers work boots…
Conclusion: Are Skechers Work Boots Worth The Money?
Yes, Skechers' work boots are worth the money. As I've mentioned in the article Skechers work boots are in the affordable work boots category.
So if you don't want to spend too much money on a new pair of work boots as you would spend on a pair of Thorogoods, Carhartt, Danners, Timberland PROs…then go for Skechers.
They will last sometimes as much as the most expensive ones, but for less money!
---
Team Members Working On This Page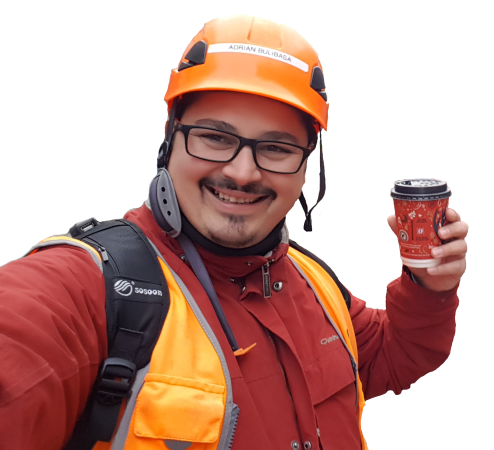 Construction Professional, driver, crane operator, cleaner, head chef … these are just some of the jobs I did in the past. Working in all these different environments taught me that having good footwear to protect your feet from different dangers at work IS PARAMOUNT for any worker! On this website, I aim to share all my knowledge and personal experience in dealing with different footwear and foot care issues, and hopefully, you can get something out of it. Enjoy!
Love technology, going to the beach, take care of my body, and writing (amongst other things). You'll see my face around here a little bit since I'm responsible for part of the research and writing of some of the articles you're reading on BestForMyFeet.com. I hope you'll find our content helpful and enjoyable! See you around, thanks for reading!