Welcome to my Blundstone BL990 steel toe boots review. I've bought these slip-on work boots for my day job working in the construction industry.

Today I'd love to share with you my personal experience with these safety toe work boots in case you're looking to buy a pair for yourself. I hope it's helpful.
Reviewing The
Blundstone BL990 Safety Boots
These work boots are very comfortable right out of the box with little to no break-in period. They look great, they're rugged and not that heavy for being a safety steel toe work boot.
Buckle up cause it's quite a long review. For your convenience, I've created a menu for this page that's helpful to jump to a specific section. Just click on the "What's inside" below to open it.
Let's go!
Unboxing the Blundstone BL990
First of all, I'm not very impressed by the fact that the boots were shipped in a plastic bag. What the heck happened to the box? I'm sure they can afford a box for a boot with this price tag.
Anyway, not a big deal as long as the boots are not damaged. And they weren't damaged lucky enough even though the bag had already a big hole in it.
First impressions of these Blundstone 990 style boots
Amazing-looking work boots for those who like a pair of sturdy and heavy-duty boots. Just look at that toe cap and the ridiculous outsole.
I already know these Blundstone steel toe work boots are great for working outdoors in general and maybe at the farm around animals since the sole will provide great traction.
I love the aesthetics of the boot overall and although it looks like a rugged work boot, also it seems like it's a comfortable pair of work boots. We'll see how it performs.
Features of the Blundstone steel toe work boots
| | |
| --- | --- |
| Electrical Hazard Protection | Yes |
| Toe Cap | Steel toe cap |
| Heat resistant sole | Yes (300°C – 5720°F) |
| Oil/Acid resistant sole | Yes (resistant to most chemicals) |
| Sole construction | Cemented sole construction |
| Sole material | Rubber |
| Upper material | Leather |
| Slip-resistant | Yes (good grip on most surfaces) |
| Waterproof | No (but it's water-resistant) |
| Shank | Yes (steel shank) |
| Removable insole | Yes |
The Blundstone BL990 on the outside
Let's check out the outside of the boots first and then we'll see other things we can find on the inside of these Blundstone 990 steel toe work boots.
1. The upper
This Blundstone BL990 steel toe work boot is made out of leather. I don't know what type of leather it is but according to the Blundstone website, it is Platinum Quality Waterproof Leather.
2. Good outsole?
The outsole on these bad boys is ridiculous. They're going to perform excellently in mud and soft terrain since the lugs on the outsoles of these boots are quite deep.
I've used them mostly on flat, hard, concrete floors and they did very well for me.
Slip-resistant
The outsole is made out of rubber. It's better than work boots made with wedge soles since rubber can grip much better on most surfaces. On the other hand, the rubber is heavier than wedge EVA soles.
The only surface I didn't like how the boot performed was wet linoleum. The boot was very slippery on that type of floor so be careful when walking or working on linoleum whilst wearing these boots.
Deep lugs for extra traction
As I've mentioned at the beginning of this review, the lugs on these Blundstone work boots are quite aggressive which makes them perfect for outdoor tasks.
The downside is that all the dirt, mud, soft ground, etc that you'll walk over, it will get stuck on the sole adding to the weight of the boot.
Heat-resisting
If you work as a roofer, maybe doing hot melt or maybe you work with asphalt, these boots are a good option for you as long as the heat of the surface it's not higher than 300°C – 5720°F.
Acid-resistant
Personally, I don't work with or around any type of acid but if that's your case, these Blundstone 990 style work boots have acid-resistant rated soles.
Arch support built-in
The Blundstone Bl990 comes with arch support already built in the sole which is great for support.
But this might not be that good if you like to wear or if you have to wear orthotic inserts. Especially if you have to wear insoles with arch support. I've had this happen to me whilst wearing the PowerStep Original insole with my Caterpillar Outline work boots.
The Cat boots have also a high arch built-in and when I've added the insole (also with high arch) it forced my foot arches to the point where I had to stop using them.
So before buying new insoles for your Blundstone work boots, try them on with the original insole for a few days and see how it feels. If you still think you need inserts, get the ones with soft or semi-rigid arch support instead of the ones with rigid arch support.
So lesson learned for me. I won't use high arch insoles with these Blundstones!
3. Sole construction
The BL990 Blundstone work boots are made with what is known as Direct Attach or cemented construction.
This simply means that the upper is attached to the sole using very strong adhesives. There are no stitches involved.
This is good because the boots are usually lighter and less bulky than Goodyear welted work boots for example but the downside is that you can't resole them easily.
Additionally, it might not even make sense from a financial point of view to resole them because even if you find a cobbler that will do it for you, it's not going to be cheap.
4. Toe reinforcement
I know many of you are going to like this feature since many work boots will get scuffed at the toe area. And that's worse if you work a job where you have to crunch, flex or bend a lot.
Well, this TPU toe cap reinforcement should help with that and expand the lifespan of your steel toe cap and boot in general. I'm wondering if the leather ends right at the beginning of the toe cap reinforcement or goes all the way under it.
I'm afraid we won't find out until I cut them in half so make sure to subscribe to the BestForMyFeet YouTube channel to find out when that video or article goes live.
It's a great feature to have tough, especially if the leather goes all the way through.
5. No laces
So these Blundstone BL990 are a slip-on work boot. There are pros and cons to this but the most obvious thing is that you won't have to tie and untie laces.
Very convenient, very comfortable for those of you that work in the garden and you have to go in and out of the house all the time.
Also, they can be great if you go to customers' homes to quote them on something and you have to take your boots off. Or even for truckers, drivers, equipment operators like myself, etc
Easy to put on and off it's a big bonus.
6. Heavy-duty elastic band
The elastic bands on these boots are hard enough to withstand abuse but at the same time, they're flexible enough to pull them and get your feet in there nice and easy.
7. Shaft height and width
These Blundstone steel toe boots are 4.20in x 3.30in wide and they're a 6-inch tall boot (measured from the floor).
Inside the Blundstone BL990 steel toe work boot
Alright, let's jump to see what we can find on the inside of these boots…
1. Removable insole
These Blundstone steel toe work boots come with a very good insole. These are not good for support though since they are very soft but they will provide a lot of cushioning if that's what you're after.
The insole they come with is not good if you suffer from plantar fasciitis though so in that case you might want to change them.
By the way here are some great work boots for plantar fasciitis if you want to have a look at what's available out there.
But overall the original insoles are pretty decent with soft arch support and heel cup to keep the heel in place. Also, they're antibacterial and washable.
2. Lining
I can't see properly the lining is this boot. We'll see more when I cut them in half. But from what I can see now, the boot is lined at the front of the foot only.
Around the ankle and heel areas, there's no lining and I'm not a big fan of that. It could be that the stitches and the heel counter can rub the back of my feet and create hot spots and blisters.
For now, it's all good since I've been wearing them with thick socks so I couldn't feel anything. We'll see if things are different in summer when I'll wear thin socks.
3. Are they insulated
Nope, there is no insulation in these Blundstone work boots so I won't recommend them for you if you work in cold winter conditions unless you wear some really thick socks or thermal socks.
My feet were freezing when wearing these on a few really cold days here at work.
4. Are they waterproof?
I stood in deep water puddles wearing these work boots at work and although I felt the cold of the water, my feet remained dry at all times.
There is no waterproof membrane in these boots but Blundstone makes the leather for their work boots waterproof.
Keep in mind I wasn't working in water for the whole shift so I can't really say these will hold the water for the whole day.
5. The toe cap
This is a steel toe cap work boot and I didn't have any issue with it thus far. It's quite roomy for me and it fits perfectly
How wide are they?
Will these Blundstone BL990 work boots fit wide feet? I can't say if they will fit wide feet, but what I can share with you is how wide the boots are and you can make a judgment based on that.
The bigger the size of the boot, the wider it will be as well.
I've measured them at the ball of the foot, right before the steel toe box and it measures 102mm (4.04in).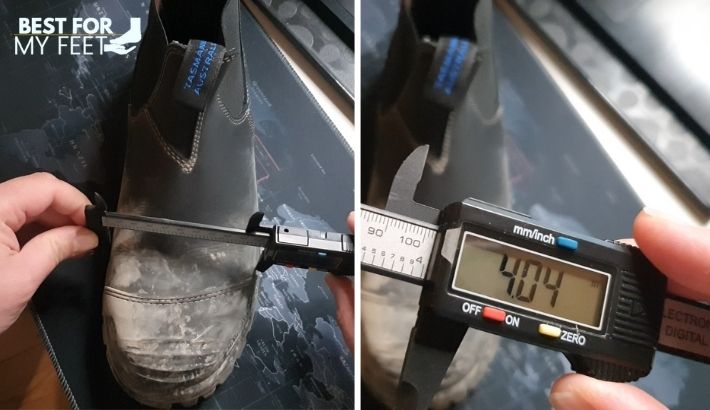 What the letters stand for when it comes to the width of the boot? (W,M,D,E,etc)
There's a lot of confusion about these among people looking to buy a pair of work boots. Hopefully, the little table I've put together might help you understand what's that all about!
The letters simply represent how wide the work boots are.
| Letter | Meaning |
| --- | --- |
| N or A | Narrow |
| M, or D | Medium |
| W or 2E | Wide |
| XW or 3E | Xtra Wide |
Are they lightweight? How much the boot weighs?
This is a tricky question, since what might be lightweight for me might be heavy for you.
What I can say is that it's not the heaviest steel toe work boot I've had but I'm inclined to say that these Blundstone work boots were lightweight FOR ME.
They weigh about 827grams or 1.132 pounds per boot.
Are they comfortable?
These work boots are extremely comfortable as soon as you put them on. They're not as stiff as the Dr. Martens 7b10 were when I put them on.
I believe that the fact that the Blundstones come with 2 elastic panels one on each side makes them easier to wear and less uncomfortable when you first put them on.
Break in period
I've read a couple of comments saying these boots were hard to break in. I don't know why those people needed to break in these Blundstone boots, they were great for me since day one.
The only thing I wasn't too happy about is the fact that the boot is pressing against the top of my foot. I think that's just how these types of work boots are built.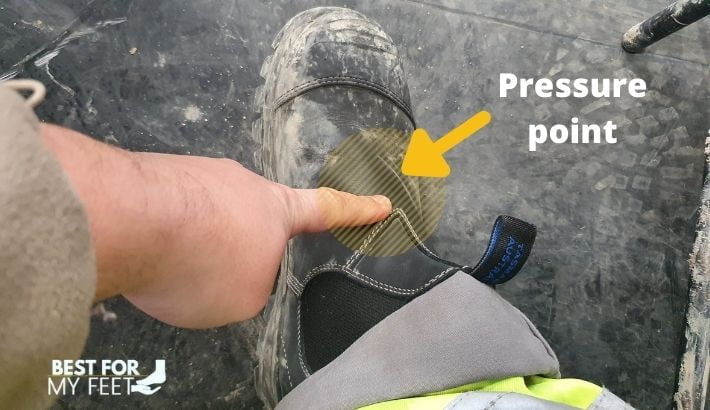 In order to compensate for the lack of laces and to avoid too much movement, the slip-on boot is built to hug your feet if that makes sense. And that hug is a bit too tight at the beginning.
Maybe this is what they meant when they said the boot need breaking in.
You can apply some mink oil or similar if you want to break them in faster or you simply want to soften the leather a little bit and make it more comfortable.
Do they provide support?
They do provide good arch support and heel support. Zero ankle support though. But that's the trade-off of wearing slip-on work boots like these BL990.
They're comfy and convenient but you step wrong, you can say bye-bye to your ankle and that could put you in bed for a few days if not weeks.
That's one of the reasons these types of work boots, pull-on work boots, and Wellington work boots are banned from many big construction sites. According to the safety officers, there are too many accidents involving wearing these work boots.
Are they true to size? Do they run small or large?
They fit me perfectly. I wear 8 for regular shoes and 9 for work boots. I ordered size 9 and fits like a glove.
Where are they made?
The Blundstone BL990 steel toe work boots are made in Vietnam. At least that's what it says on the label of the boots I've got.
Price: how much Blundstone BL990 cost?
Depending on when you're going to read this review the prices might differ so the best thing to do is to click here to find out the latest price on Amazon or here if you prefer to buy them on Blundstone's website.
Where to buy Blundstone BL990 work boots?
Blundstone is one of the most popular work boots out there nowadays, so you can probably find it even at a local store.
But the easiest and most comfortable way to get your hands on a pair of Blundstone BL990 work boots is by looking at a few online stores that sell work boots.
Blundstone BL990 overall quality
Personally, I like the quality of the boot. They seem to be well made, rugged, tough, and comfortable. That's all it matters to me.
The fact that they didn't come with a box let me down but I don't think it's Blundstone's fault, more like the third-party seller's fault.
Who do I recommend the Blundstone BL990 work boot to ?
Based on my experience wearing these work boots and based on the features it comes with here's who I think these boots are going to be good for:
Residential or commercial carpenters
Landscapers
People working at the farm
Yard work
Warehouse workers
Truck drivers
Construction equipment operators
Firefighters
There are a lot of work boot models competing with the Blundstone BL990 steel toe work boot, but we feel like the ones we selected above are the most notable ones.
They have lots of reviews, lots of happy customers too.
Check out the review on the YouTube Channel
Verdict: Are Blundstone BL990 Steel Toe Work Boots Worth The money?
Yes, in my opinion, Blundstone BL 990 work boots model is worth the money. They are very well made, they are comfortable and rugged at the same time. They are a bit on the expensive side though.
The only argument I have against them is that they're not easily resolable. For a boot in this price range, you should get something that's resolable.
If you spend a few hundred bucks on a pair of work boots you should be able to put a new sole on them at least once. Assuming the upper is cleaned and maintained with the years.
---
Update: 1 month of wearing Blundstone Bl990 style work boots
After wearing these Blundstone work boots for a little bit over a month now I really don't have anything bad or negative to say about them.
The top of the boot did push against the top of my foot for a while and there were times when it was uncomfortable. But now it's all good.
That's why I don't really think these are going to be a good choice for you if you have a high instep or high arches.
At the time I bought these boots the weather was quite cold and unfortunately the boots didn't keep my feet warm.
Other than that, I have no complaints or anything else to add about the boot in this update.
Update: 7 months
I've just cut these Blundstone work boots in half after wearing them for about 7 months for my construction work. So if you want to learn even more about this boot make sure you check out the article.
The boots were still in great condition, nothing wrong with them but I want to try another pair of work boots.
Watch it on YouTube if you prefer
---
Team Members Working On This Page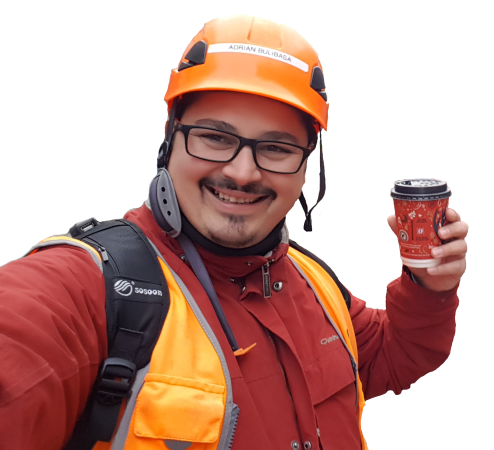 Construction Professional, driver, crane operator, cleaner, head chef … these are just some of the jobs I did in the past. Working in all these different environments taught me that having good footwear to protect your feet from different dangers at work IS PARAMOUNT for any worker! On this website, I aim to share all my knowledge and personal experience in dealing with different footwear and foot care issues, and hopefully, you can get something out of it. Enjoy!
Love technology, going to the beach, taking care of my body, and writing (amongst other things). You'll see my face around here a little bit since I'm responsible for part of the research and writing of some of the articles you're reading on BestForMyFeet.com. I hope you'll find our content helpful and enjoyable! See you around, thanks for reading!