Hey, welcome to my review of this Renpho shiatsu foot massager machine.
Overall, A Great Foot
Massager For Under $200
This foot massager with heat and kneading functions from Renpho is a good option for those who don't want to break the bank when it comes to having a foot massager machine at home. My wife and I use this almost every day!
I've had this foot massager for a few months now, almost a year since I bought it on Amazon and I wanted to share with you my experience using this foot massager.
Unboxing and what comes in the box
Let's do a quick unboxing of this Renpho foot massager and see what's inside the box.
The unit itself
a user's manual
and remote control which is pretty sweet.
By the way, here's an important note related to the remote control.
If you want the model that has the remote control click here or simply look for the model that ends with an R.
For example, if the model you're looking to buy reads like this: Model: RF-FM059 this doesn't come with remote control.
It has to read like this: Model: RF-FM059R. For your convenience here are the links to both models on Amazon where you can check out both of them.
You can check out this review on YouTube as well if you want (the article is more in-depth though)
Renpho Foot Massager Machine YouTube review
First impressions of the Renpho massager
There's not much I can really say about the unit itself. The foot massager is made of plastic and it's a bit bulky. I like that's not heavy at all.
It's pretty lightweight than even my 5 years old baby girl can carry it around for daddy (when I'm lazy :D)
It comes in two colors: black and white. I went for the black version simply because it won't get dirty as easily as the white version will.
Specs and features of this Renpho massager machine
| | |
| --- | --- |
| Input | 12V/2.5A |
| Product size | 16.8L15.3W9.7H inch |
| Weight | 10.85lbs |
| Timer program | 15 minutes and 30 minutes sessions |
| Kneading program | Yes |
| Air Compression | Yes |
| Heating Area | The bottom part of the feet |
| Heated Temperature | Below 50ºC/112ºF |
| Remote Control | Yes (model with R at the end: RF-FM059R) |
| Batteries for remote | CR2025 Battery (it came included with my machine) |
| Material | ABS+Fabric |
Let's go through the functions of this foot massager
This Shiatsu foot massager has basically 4 functions on the dashboard:
Timer
Knead
Air compression
Soothing Heat
Here's how to use the Renpho foot massager
This is a simple-to-use machine and it's pretty much self-explanatory really. But here's a quick tutorial on how to use the functions of this foot massager:
1. The Timer
When you switch on the unit, the first thing you have to do is to choose the time you want to be on the massager.
If you press the timer once it will go red which means you have chosen the 15 minutes program. And if you press it one more time, the LED will go blue which means you'll be on the machine for 30 minutes.
If this is the first time using a shiatsu foot massager go with the 15 minutes session and see how you feel about it.
Then slowly increase the time as you feel more comfortable with this machine.
It's not recommended to use it for more than 30 minutes per session since you might start to feel mild pain.
I could stay for hours if a human hand is massaging my feet but not this machine. At the end of the day this robot is made of plastic and that hurts a bit.
And before you ask me, yes, you can stop the program anytime, no problem.
So if you've selected the 30 minutes program but you feel you've had enough after 20 minutes you can stop it by pressing the switch-off button.
Do not use it without socks. It will hurt and make the experience unpleasant.
2. The kneading function
You can adjust the kneading intensity to your personal preference. You have 3 options here:
Low intensity
Medium intensity
High intensity
I'm going to repeat myself a little bit here, but I have to. If this is your first time using this type of foot massager, go slowly and change the settings according to your needs and level of comfort.
3. The air compression function
This is the same as with the kneading function. You have 3 options to choose from: low, medium, high.
Take your time and switch between the different squeeze intensities and find out which one is the most comfortable for you.
4. The soothing heat function
You can switch on the heat function or leave it off. It's up to you really.
In my experience, it doesn't make THAT much of a difference but I do feel a bit more relaxed after using the foot massager with the heat on.
Please note that the heat function is manufactured according to International safety standards, which limits how fast the product can heat up. Therefore, the heating-up may seem a bit slow, 7-10 minutes before you can feel the obvious heat.
So if you want to use the heat function, just switch on your Renpho massager and leave it to do its thing for the first 15 minutes whilst you're doing your household tasks. And then you can use it.
This is like preheating the oven to bake cakes 😀
Personally, I use the machine for 30 minutes, with the heat on most of the time, medium kneading, and high air compression.
What parts of your feet does this massager work on?
It looks like your sticking your feet into the unit and it will massage all parts of your feet.
But not really!
This Rephno model will only massage the parts under your feet (the blue line).
It will work on your arch, under your heel, under your toes, and forefoot but it will not massage the sides or the top of your feet.
Only when it comes to the air compression function you'll feel that the massager squeezes all around the feet.
It will squeeze the sides of your feet, a tiny bit of the heel, and the top side of your feet as well.
Does this foot massager fit all foot sizes?
According to the manufacturer, this foot massager will fit all feet up to size 12 men or 14 for women.
I'm a size 10 and my wife wears a size 7.5 and the massager fits us perfectly.
Who is this Renpho massager good for?
Active working-class
People doing sport (as a hobby or pros)
Senior citizens
I'd say this is good for anybody working on their feet for long hours which is pretty much everybody right? I'm a construction professional myself so I use it at least twice per week.
It's good to relax after a long day at work and it helps improve your blood circulation as well.
So if you have poor blood circulation or bad veins (I have varicose veins) it's good to use this massager to help with your circulation.
Is this foot massager good for plantar fasciitis?
Yes, it is. That's one of the reasons I bought it. My wife was suffering from mild plantar fasciitis and it served very well to alleviate the pain and get rid of mild plantar fasciitis my wife was dealing with.
I'm not saying it will cure your plantar fasciitis but it can definitely help because one of the ways you can get rid of plantar fasciitis is by massaging the plantar fascia ligament and that's one of the things this foot massager does.
Keep in mind we've used the massager for almost a year, so if it helps, it's not going to be overnight!
Need gift ideas?
If you remember, above I said I bought this for massager for my wife because she was having some heel pain caused by an inflammation of the plantar fascia ligament.
So it was a gift not only because I wanted to help her relieve that pain but because she simply loves to have her feet massaged.
If you're looking for gift ideas for someone you love this is a great option!
Is it noisy?
It's not that noisy. I wouldn't recommend using it when someone is sleeping in the same room you're using the massager. That will annoy the sleeping person.
If you're enjoying a massage whilst watching tv or doing something on your computer then you won't hear it!
Also, if your idea of relaxation is just hearing the birds and the wind whilst the machine is making you a massage, then this is not going to be that type of relaxation because it does a bit of noise.
The noise's not constant though. It seems like the noise comes mostly from the air compression function.
Pros of the Renpho shiatsu foot massager
Easy to use
The ability to control the massage intensity
The ability to control the squeeze intensity
Heating function
Remote control
A small and compact unit
Lightweight
You can wash the liners if they get stinky
Cons of this Renhpo foot massager machine
Not really a con but I'd love to have more squeeze intensity. Maybe I'm a sado (lol) but I'd love to have a bit more squeeze power in there.
Also, again not necessarily a con but I'd love to see some more padding around the unit edges. In my experience, when I put my feet inside the foot massager and start relaxing, naturally my legs will fall on the sides.
This makes my ankles rub against the edges and makes it very uncomfortable after a few minutes of staying in that position.
A bit of extra foam or gel around that area would've been great.
Where can you buy your own Renpho Shiatsu Foot Massager?
There are a few places you can purchase it from:
Where this product is made?
The Renpho foot massager is made in China.
What other people are saying about this Renpho machine?
This machine has received around 3600 reviews online between Amazon and the Renpho official store. Here's the summary of what people were saying in their reviews!
Worth it
The vast majority of users agree with the fact that the product is a good product and "it does what it says on the tin".
It's an affordable foot massager that you can use to relax whilst watching TV, listening to your favorite podcast or even working on your laptop.
Also, when you read the reviews you can easily see that people who bought this foot massager are quite diverse. You have active people, workers, elderly people with mobility issues, people with foot problems…old and young, women and men.
So that's definitely a bonus!
Easy to use
This foot massager it's easier to use than a microwave :).
Put your feet inside, switch it on, select the amount of time you want to use it for and the intensity of each one of the functions.
And boom … you're ready to enjoy a relaxing foot massage!
Good as a gift
Many people in the reviews section (including myself) bought this foot massager as a gift. Just between you and me, I bought it so I can have more free time since the wifey wants me to do massage every day lol.
Jokes aside, if you're looking for a good, affordable gift this massager is a good option.
The heat is not there
This product doesn't have too many negative reviews but those customers who left a 1-3 star review most of the complaints were related to the fact that the heat function was not functioning.
I don't know if these users knew or not about the fact that due to regulations (according to the manufacturer) this massager it's limited in terms of how fast the machine can heat up.
Sometimes it can take up to 10 minutes before you start to feel any heat under your feet.
But who knows, maybe the machines were not functioning properly. I can't tell. Mine works properly!
5 Alternatives to Renpho foot massager
I think I've done a good job sharing as much information as I could about this Renpho foot massager machine with heat and kneading functions, but if you want to keep digging…
…here are some other brands that are competing with Renpho that you might want to look into.
The takeaway from this Renpho foot massager review
In my opinion and personal experience, this foot massager is worth the money. At the end of the day is not that expensive anyway. I recommended it to anybody that wants a relaxing massage after a long day at work or after doing exercise.
It helped my wife relieve the pain from plantar fasciitis and I'm using it to help promote good blood circulation since I have bad veins.
Talk to your podiatrist if you have any kind of feet condition before you start using it though.
Personally, I'd love to have more squeezing power but maybe that's just my case. Other than that, very good foot massager for the money.
---
Team Members Working On This Page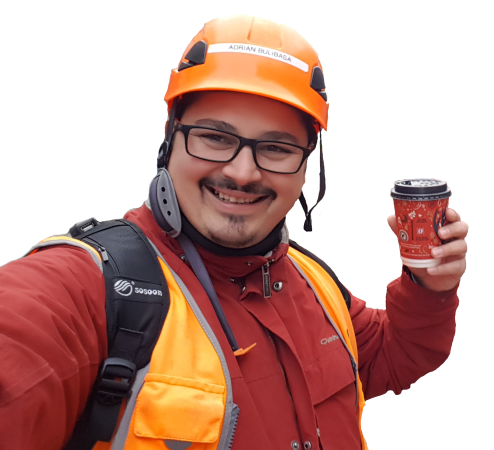 Construction Professional, driver, crane operator, cleaner, head chef … these are just some of the jobs I did in the past. Working in all these different environments taught me that having good footwear to protect your feet from different dangers at work IS PARAMOUNT for any worker! On this website, I aim to share all my knowledge and personal experience in dealing with different footwear and foot care issues, and hopefully, you can get something out of it. Enjoy!
Love technology, going to the beach, taking care of my body, and writing (amongst other things). You'll see my face around here a little bit since I'm responsible for part of the research and writing of some of the articles you're reading on BestForMyFeet.com. I hope you'll find our content helpful and enjoyable! See you around, thanks for reading!