Work boots, if either fitted improperly to your feet or made from inferior materials, can definitely cause the buildup of ankle pain.
This article will explain how work boots cause ankle pain, give you some tips for how to avoid ankle pain in both your footwear choices and daily routine.
And give some brand recommendations for what boots you should consider buying in order to alleviate knee pain caused by your boots.
Fact: Ankle pain in a recent study has been estimated to be prevalent amount 11% of adults. So don't think you're immune to ankle pain and that it's not something that will ever concern you.
Even if you're young and limber now, bad habits and bad footwear will cause you issues down the road, potentially affecting your ability to work productively. So take ankle pain seriously.
Disclaimer: The Following Article isn't written by an expert Podiatrist. Please seek expert medical advice if you feel that you're experiencing serious ankle pain. Contact your doctor or consult trusted health authorities in your country for more information on ankle pain.
Why do work boots cause you ankle pain?
As we've established already, safety boots CAN cause ankle pain. One of the reasons work boots cause ankle pain is that the solid and rigid material designed to protect you from the dangers of a worksite ends up restricting the natural movement of your feet.
This causes unhealthy proprioception and exacerbates the strain on the ankle.
Boots with inadequate ankle support will also make this worse by allowing the ankle to roll back and forth, putting strain on the joint and leading to pain problems in the long run.
How do you stop your work boots from hurting your ankle?
Great Britain's NHS (National Health Service)recommends wearing boots that are wide and comfortable with a low heel and a soft sole. This will ensure your feet are supported while you are working in the work boots.
They also recommend the purchase of additional accessories such as soft insoles and heel pads should the boot be initially a little bit uncomfortable.
Are there any work boots that offer ankle protection?
The following three work boots are good for offering ankle protection. They will also provide toe protection and other great features if you work in a tougher environment such as construction!
The Caterpillar Diagnostic
The Caterpillar Diagnostic is a great choice for professionals in construction or related jobs who require a pair of boots offering good ankle support.
With gel cushion technology planted into the soles, and steel shanks for durability, these boots are a bargain and come highly recommended by reviewers.
The Timberland PRO Titan 6 Inch
The Timberland PRO Titan 6 Inch is a slightly more expensive choice, but you can't put a price on ankle protection, especially if you live in a country where healthcare is not free!
These boots protect your ankle through a breathable leather material that won't restrict your feet's natural movements, and a high-quality Nylon diffusion shank providing an excellently stable structure that will prevent rolls and injuries
Dr. Martens Men's Winch
A more stylish choice, the Dr. Martens Men's Winch Cushion Safety Toe Boot also offers excellent ankle protection through their padded ankle support collar and PVC sole that ensure you have an excellent balance and prevent injuries through ankle rolling.
There are plenty of other excellent ankle support boots however we think these are the best.
They encompass a range of styles and budgets, so there should be one there for you no matter what!
How to prevent ankle injuries whilst wearing work boots?
It is of course essential to make sure the work boots you purchase offer ankle protection, and they fit you properly. However there are a number of things you can do while working to avoid ankle injuries.
Firstly, ensure the work surfaces you are working on are well lit and free from obstacles. This can prevent accidents of which twisted or broken ankles are one.
Secondly, avoid working on uneven surfaces. Doing so results in poor balance, which distributes a lot of strain to your ankle and knees. This won't result in 'accident' but overtime the strain can result in sprains and the long term buildup of pain.
Finally wear supportive socks, as these can also ensure the entire structure of your feet remain in place while you are doing heavy construction labour.
Outside of your work time, doing regular stretches during your breaktime and in your spare time is one recommended way of reducing your risk of ankle sprain. A good list of stretches can be found here.
Losing weight can also be helpful to reduce your risk of feet pain. Reducing the weight you are putting on your feet reduces the strain and thus the long term risk of injury.
What to do about ankle boots that rub your legs?
You've probably heard about boots that are specific for ankle protection. But you've probably heard that ankle boots can rub your ankles (it can be painful and annoying)
To stop your boots from rubbing your ankles raw it's recommended to place moleskin between your boots and the area in which they're most commonly rubbing your legs.
Wearing two pairs of socks is also recommended, so that the socks rub up against each other, deflecting a lot of the friction from your legs.
Conclusion: Are work boots bad for your ankle?
Wearing the wrong kind of work boots for your job, or boots with inadequate ankle support can cause ankle pains through poor pronation.
These rolls, and poor balancing, will add to the strain on your ankles and run the risk of injury.
However, even if you're wearing boots that are far from ideal, you can reduce your own risk of ankle pain by losing weight, doing stretch exercises, and avoiding uneven surfaces in the workplace.
---
Team Members Working On This Page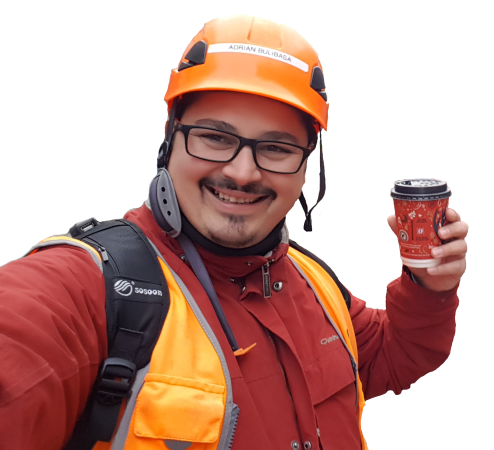 Construction Professional, driver, crane operator, cleaner, head chef … these are just some of the jobs I did in the past. Working in all these different environments taught me that having good footwear to protect your feet from different dangers at work IS PARAMOUNT for any worker! On this website, I aim to share all my knowledge and personal experience in dealing with different footwear and foot care issues, and hopefully, you can get something out of it. Enjoy!