Welcome to my Timberland PRO Pit Boss steel toe review. I've bought these work boots for myself about a year and a half ago and they look pretty solid still.

Today I'd love to share with you my personal experience with these safety work boots in case you're looking to buy a pair for yourself. I hope it's helpful.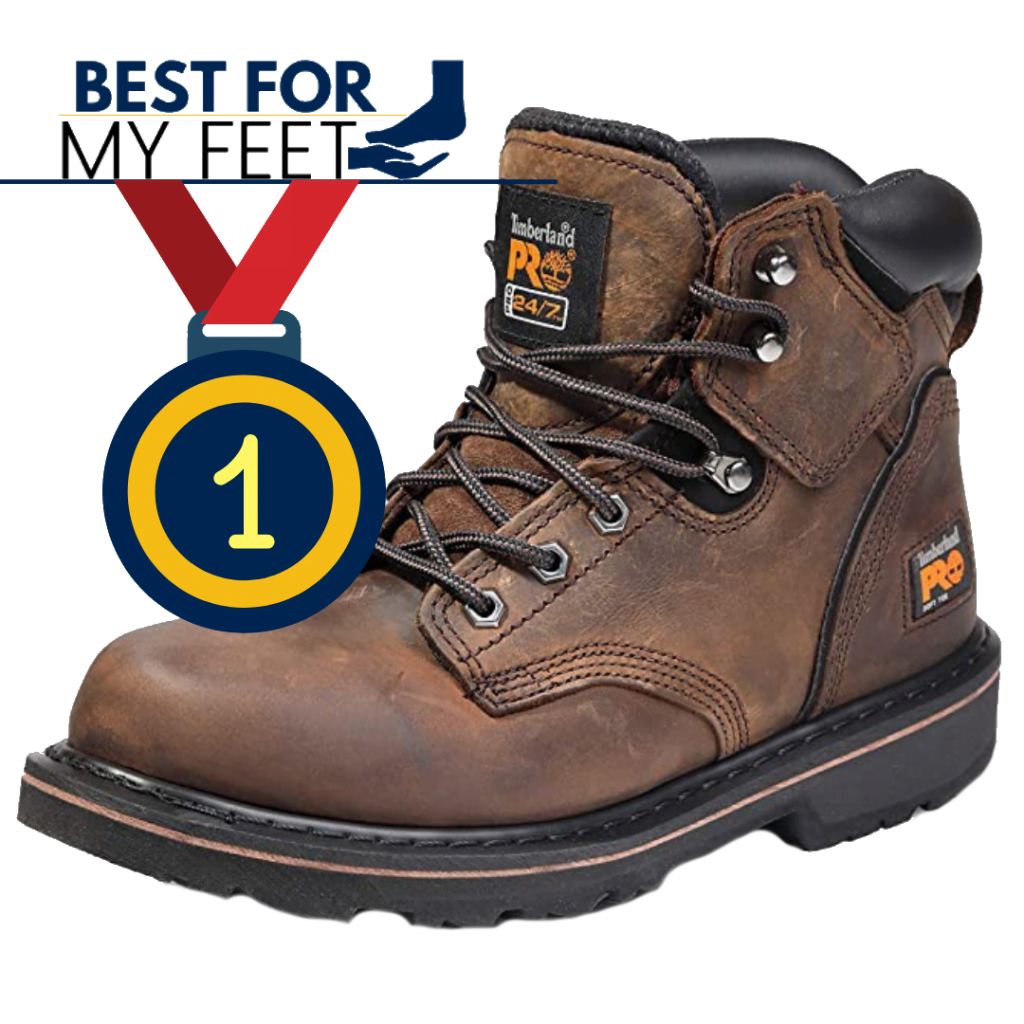 Reviewing The
Timberland Pro Pit Boss
I loved these boots. They were the first work boots I ever bought from Timberland and I wasn't disappointed at all. After 1 year of wearing them at work, they're still going strong! 🙂
Buckle up cause it's quite a long review. For your convenience, I've created a menu for this page that's helpful to jump to a specific section. Just click on the "What's inside" below to open it.
Let's go!
When you finish reading this article, check out our Timberland PRO work boots reviews page where you'll find some of the best models from this sub-brand of Timberland.
Also, I've cut this Timberland boot in half to see what's inside, so check it out if you're curious how the boot is structured.
Unboxing the Timberland Pro Pit Boss
I just received my Pit Boss work boots from Amazon. Let's see what's inside.
First impressions of the Pit Boss boot
As soon as you open the box you can smell the 100% authentic high-quality leather.
I love the cast iron hooks on these. They're great for when you want to wear your boots a bit more tight (or loose depending on the situation)
Lots of stitching which makes me believe it will last longer than other boots. Lovely padding around the shaft and inside as well to give you more comfort.
It feels quite heavy compared to the previous work boot I had.
Love this brown color.
So far so good…
Now let's examine the boot a little bit more in detail and talk about the material it's made of and the features it comes with.
Features of the Timberland Pit Boss steel toe work boot
| Feature | Details |
| --- | --- |
| Electrical Hazard Protection | Protects against live electrical circuits, electrically energized conductors, components, or apparatus by providing secondary underfoot protection. ASTM F2412-11, ASTM F2413-11, and ASTM F2892-11 specifications are met. |
| Steel Safety Toe | It comes with an asymmetrical steel toe cap. Not only protecting you from dropped objects but these types of caps also adapt to your toes to help you feel more comfortable whilst wearing the boots. |
| Timberland PRO® 24/7 Comfort System™ | This is a foot-supporting, arch-supporting, and cushioning system from Timberland that helps minimize foot fatigue. (feeling less tired after a long shift) |
| Timberland PRO® Rubber Outsole | The outsole is made of a heat-resistant, long-lasting rubber compound that resists slip, oil, and abrasion providing a good grip whilst working on wet or slippery surfaces. |
| Antimicrobial Odor Control | This is to help prevent developing microbes in your boot and also to avoid the boots becoming stinking. |
| Hard Foot Bed | Helps you with having more stability and more comfort during the day. |
The Timberland Pro Pit Boss on the outside
First, let's have a look at the leather.
1. Leather quality
Timberland used some thick leather to increase the durability of these boots. In spite of what people might say online about the Pit Boss work boots being waterproof… they're not!
Even though the leather is high quality, it's only resistant to water. So if you work a lot in rain or snow, the Timberland Pit Boss is not for you! Check out these great work boots for winter if you want some ideas.
You can make the Pit Boss leather water repellent though if you apply some mink oil or wd40 to the leather. (but that might not be enough for your situation) 
And don't worry about staining them if you decide to use oil on the leather… the brown color will dissimulate nicely any stains you might cause.
2. Good out-sole?
Timberland claims that the Pit Boss has a slip-resistant sole so you'll be fairly protected against slipping on wet floors and other slippery surfaces.
It's definitely anti-puncture. You won't get any glass, sharp stones, nails, or screws into your feet whilst wearing these boots. I didn't 🙂
There's nothing you can guarantee these days.
But in my experience, wearing these boots every day on construction sites I never had a puncture of any type.
Great solid rubber outsole.
Inside the Timberland Pro Pit Boss work boot
Here's something I don't see in every boot…
1. Adding an extension to the tongue
This is one of the things I like to see in any work boot. It might seem a silly detail for those new to work boots.
But if you're like me and you had to wear safety boots at work for years, you'll know how annoying it can be to have that stupid tongue flapping around all day long.
That's one thing.
A second annoying thing is when mud or sand or whatever, gets into my boot through the little gap on each side of the tongue.
This little tongue extension on the Timberland Pit Boss boot helps to keep out that dirt out of my boots. Lovely detail! (saves me the pain of cleaning my work boots in the middle of the shift)
2. Removable insole
Many work boots out there don't come with a removable insole.
And that sucks because if you want to replace it down the road with a new one due to stinky feet or simply because it's worn, you can't!
The Pit Boss work boot insole is removable and you can replace it. Actually, I suggest you replace it from day one.
And that's because the insole really is probably the cheapest thing Timberland has put in this boot. Very thin and it just looks and feels cheap.
I bought these Dr Scholl's insole for myself.
3. Hard foot bed
The footbed is probably the first thing that falls apart in almost any work boot. Especially if you're the type of person that puts their feet down on the heel first. (I walk like that)
The Timberland Pro Pit Boss footbed though it's made of hard plastic.
I liked that very much because it's super comfortable to have that hard support under my foot and you might like it too, especially if you have flat feet.
As you might know, people with low arches are recommended by their podiatrist to get footwear with hard soles. (contrary to people with high arches who need to get footwear with a much softer sole in order to avoid pain)
You might still need some special insoles though for your flat feet. But at least you know you have a great, solid platform to put the insole over.
Will Timberland Pro Pit Boss fit a wide feet?
I'd say my feet have an average width (if that's even a thing lol) I never had a problem with a boot being too tight for me right out of the box.
But here's how wide my foot is and how wide the Timberland Pro Pit Boss is. I hope this will give you an idea if this work boot will be too tight for you or not.
What the letters stand for when it comes to the width of the boot? (W,M,D,E,etc)
There's a lot of confusion about these among people looking to buy a pair of work boots. Hopefully, the little table I've put together might help you understand what's that all about!
The letters simply represent how wide the work boots are.
| Letter | Meaning |
| --- | --- |
| N or A | Narrow |
| M, or D | Medium |
| W or 2E | Wide |
| XW or 3E | Xtra Wide |
Are they lightweight?
Ummm… nope. Totally the opposite!
The Timberland Pit Boss work boots are not lightweight.
Adding the steel toe cap, the heavy-duty outsole, the thick leather, the plastic foot bed, etc… all these add up and make the boot heavier.
Boot weight
Like I just said, the Timberland Pit Boss boots are heavier than other steel toe work boots I owned.
My work boot weighs around 2 pounds as you can see in the image.
With the passing of time, I got used to their weight and it's not an issue for me.

Are they comfortable?
Yes, these Pit Boss work boots are very comfortable for me.
Just because the boot is heavy doesn't mean it's not comfortable.
After a few days of wearing it at work, I got used to the weight and now I don't even think about it. Very comfy all day long!
Do they provide support?
Yes, as a matter of fact, the Pit Boss boot provides great support if you happen to have flat feet. But not only that…
… the boot is very firm and provides great stability.
And if you're looking for ankle support, this work boot does a great job with that too.
For extra support, I like to tighten the laces all the way up using the iron hooks to increase the tension in the laces thus making the boot stick to my feet and ankles like glue for the whole duration of my shift 🙂
Are they true to size? Do they run small or large?
Usually, I wear size 8 for my normal footwear. But for work boots, in general, I go one size up. I like to have some room inside the toe box, especially if it's a steel toe box.
So I got myself the Timberland Pit Boss size 9. But again, that's because I need a pair of extra socks in winter and I like to have a bit of room in there for my toes.
Many users out there are saying they do fit to size.
Break in period
It was great to wear the Pit Boss boot straight away. Personally, I didn't have any issues whatsoever. So, no break-in period for me!
Timberland's Pit Boss overall quality
Overall, the Pit Boss is a great boot with a lot of helpful features. Most users leaving reviews online agree with me that the boot is of high quality.
You will have of course unsatisfied customers like with any other product, but most owners were happy with their Pit Boss work boots.
You can always check other owners' opinions about this boot by visiting Amazon's review section here.
Price: how much Timberland Pro Pit Boss cost?
It varies from shop to shop. As well it varies if a shop is local or online.
So you'll find a lot of different prices for the Timberland Pit Boss work boots. But if you want a rough number, the Pit Boss boot can cost anywhere from $90 all the way to $160.
The best way to find out an up-to-date price is to check on Amazon by clicking here.
Where to buy Timberland Pro Pit Boss work boots?
Of course, the best place would be your local shop. You can feel the work boots, check if it fits you properly, and own them the same day.
But nowadays it's so convenient to buy online. It's easy, safe, and even if you don't like it, or it does not fit you, you can send it back at most online stores. Especially the bigger ones such as Amazon.
Who do I recommend the Timberland Pit Boss work boot to?
It's definitely not for everybody.
I don't know what's your trade or what you do for your day job. But my first recommendation would be for…
or people working mostly indoors such as
plumbers
electricians
warehouses, etc.
If you work outdoors with pipe installations, excavations, landscaping, and groundwork in general, I don't recommend you this work boot. Simply because it's NOT WATERPROOF!
Other than that, I recommend this work boot to anybody who has the budget for it. If you have a low budget, here are other good cheap work boots.
Oh BTW, they have a soft toe version of this boot too. If that's the type of boots you're after, check out this list of good soft toe work boots for those of you working a job where safety toe is not required.
Update: 1 year of wearing the Timberland Pro Pit Boss work boots
I'm pretty happy with these Timberland work boots after wearing them for more than 400 days 🙂
The only thing that was worn out for me was the outsole and the treads are almost gone.
They've started to get a bit stinky too since there were days where I'd go home and not dry them after a long rainy day.
But overall I'm pretty happy with my pair of Timberland Pro Pit Boss work boots after all these days!
One detail to keep in mind as I mentioned in the above section talking about who I'd recommend these boots to is that these boots are not for heavy use.
The lighter your job is, the longer will last. (especially if you take good care of them)
Timberland Pit Boss Alternatives
There are a lot of work boot models competing with the Timberland Pit Boss, but I feel like the ones I've selected below are the most notable ones.
They have lots of reviews, lots of happy customers too.
Here's some more helpful information if you want to learn more:
Verdict: Are Timberland Pro Pit Boss Steel Toe Work Boots Worth The money?
Yes, based on my own experience, the Pit Boss is a great work boot with a lot of great safety features and it's worth every single penny.
With an astonishing 22.000 (plus) customers who left a review or some feedback related to the boot on Amazon and other online stores, the Timberland Pit Boss is one of the most sold work boots out there.
And most certainly is the professional's preferred work boot model from Timberland!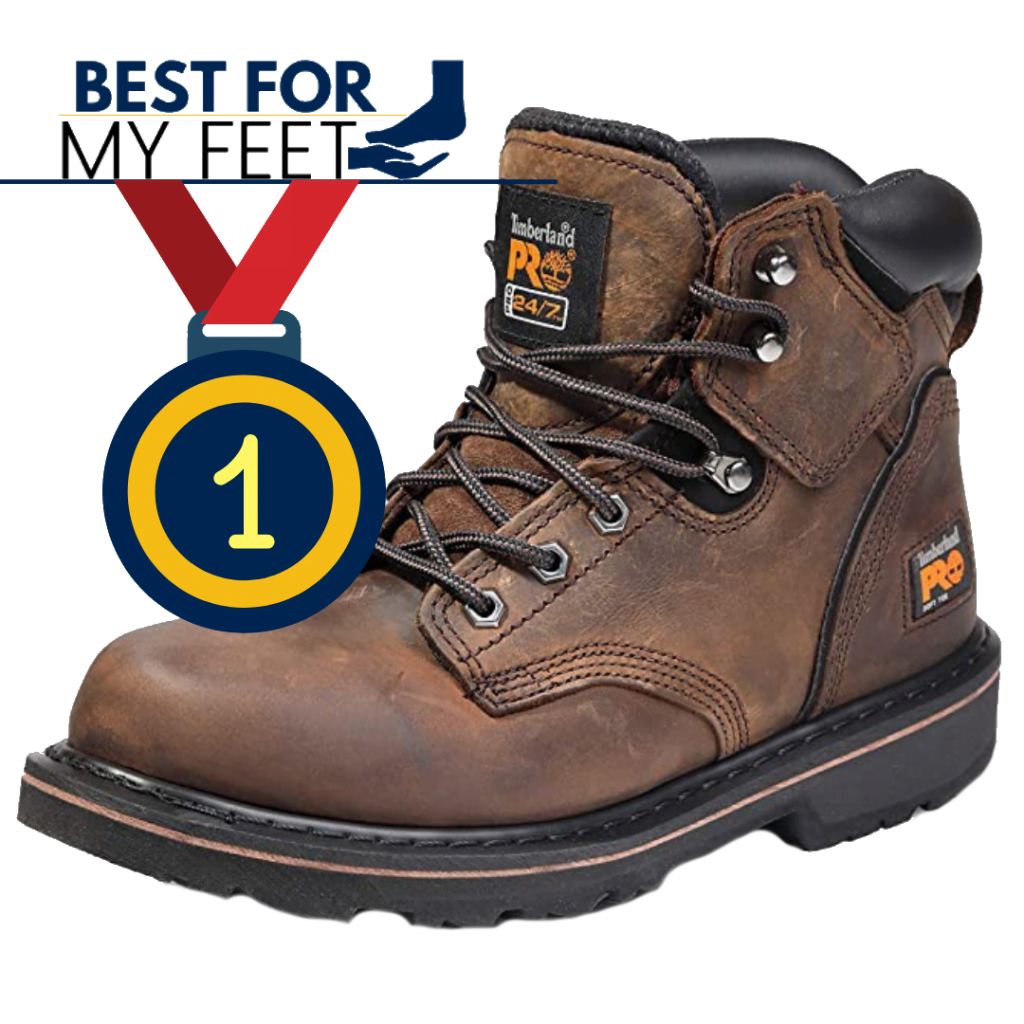 I loved these boots. They were the first work boots I ever bought from Timberland and I wasn't disappointed at all. After 1 year of wearing them at work, they're still going strong! 🙂
---
Team Members Working On This Page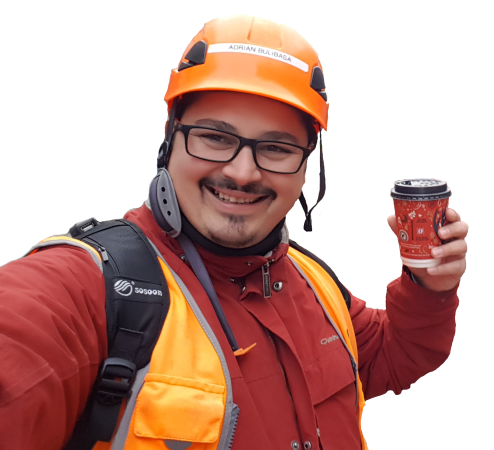 Construction Professional, driver, crane operator, cleaner, head chef … these are just some of the jobs I did in the past. Working in all these different environments taught me that having good footwear to protect your feet from different dangers at work IS PARAMOUNT for any worker! On this website, I aim to share all my knowledge and personal experience in dealing with different footwear and foot care issues, and hopefully, you can get something out of it. Enjoy!