So you've seen the Try Before You Buy icon on Amazon and you're wondering what does "try before you buy means"? Well, in this short article, I'll talk exactly about that.
I'll review this program based on what's my experience with it.
Also, we'll talk about what this service is and how it works in case you haven't had the time to learn more about it.
Let's get into it. First…
What is Amazon's Prime Try Before You Buy?
This program used to be called Amazon Wardrobe Try Before You Buy and recently has changed to Prime Try Before You Buy.
Simply put, Try Before You Buy is an Amazon program that allows you to try a few items before you actually buy them.
We all know that the biggest downside of buying footwear and clothing online is the fact that we can't touch these products and we cannot wear them to see how they fit us.
Having the ability to try a few different pairs of shoes or work boots before we actually buy them is simply amazing for us as customers.
Many times you'll read 1-3 star reviews saying the footwear's size was wrong, they were too narrow, it wasn't what they were expecting, etc…
…so in my opinion, the Try Before You Buy program will solve a lot of those problems.
How?
Well, let's say you want to buy a new pair of boots but you're not sure about the size and width of the boot and how they'll fit you. In this case, what you can do for example is order 3-4 pairs of the same boot:
Order one pair with your exact size (let's say size 10)
Order one size down (size 9)
Oder one size up (size 11)
Order the wide version as well just in case
With so many options you're almost sure one of these pairs of boots will fit you properly.
How does it work?
I gave you a brief view of how the Try Before You Buy program works in the example above but let's dive in a bit more to make sure you have all the information you need.
Is this a free service?
Try Before You Buy is a free program for Prime members. So in a way yes, it's free, but if you're not a member you have to pay the monthly Prime membership in order to use this service
If you're already a Prime member you can start using this straight away, you don't have to do any additional steps.
If you're not a Prime user yet, you can start a Prime 30 days trial membership. This will enable you to try the Try Before You Buy program as well. You can cancel at anytime if you're not happy with it.
What products can you buy using the Try Before You Buy?
At the time I'm doing this review you can't just buy any product on Amazon using the Try Before You Buy Program. Only some products and categories are eligible for this program, such as:
Men and women clothing
Kids and baby clothing
Shoes and boots
Accessories
How many items can you try?
There is a maximum of 6 items at the moment. If that changes I'll update the post as soon as possible.
How long is the try-on period?
You have 7 days to try your items. The try-on period starts when the parcel gets to your home not when you bought it. If the items don't come together on the same day, then the try-on period starts when the last item arrives at your home.
Methods of payment
You have to use your credit card for this program. Debit cards, prepaid cards, and gift cards are not accepted.
Does Amazon Wardrobe charge your card?
Yes, Amazon does charge your card as soon as you placed the order. Not to worry though. This is kinda like renting a car or going to a hotel (at least in my head that's how I think about it).
These companies will charge you a specific amount (for their safety) but you'll receive your money back as soon as Amazon receives back the items you didn't want to keep.
Keep in mind that Amazon might change their T&Cs or anything else related to this program at their own discretion, at any time. Even though the content on this site is updated frequently I'll leave you some very important links at the bottom of this page. These will take you to Amazon's Help Center where you can read the most updated info on this topic.
How to place your Try Before you Buy order?
If you're not sure how it works, here's how I use Amazon's Prime Try Before You Buy program to buy footwear and other eligible products.
Step 1: Find eligeble products
When looking at the products you want to buy, look for the Prime Try Before You Buy sign/icon. This can be found underneath the product description.
As you can see from the image above two products in this example are eligible for this program whilst the other two are not.
Step 2: add items to your cart
As you browse looking for products you'd like to try, add them to your Prime Try Before You Buy cart.
Be aware that there are two carts and checkouts available:
there's your normal Amazon checkout and
your Try Before You Buy checkout.
Make sure you add the products you want to try to the right cart!
To do that you have to click on the product you liked and once you are on the product's page toggle on the Prime Try Before You Buy little button as you see in the pic below. This will activate the Add To Cart And Try For Free button as well.
Step 3: checkout (and maybe authorize your card)
Now you just have to check out and I don't know if this is going to be the case for everybody but in my case, I had to authorize my card.
This is time-sensitive so make sure you look out for an email from Amazon in the next few minutes after you placed your order. If don't do this step they will cancel your order.
Step 4: wait for your order
Now all you have to do is wait for your parcel to arrive. It should be at your door in the next 4 to 6 business days. Once you have all your items try them on to see how they feel and how they fit you for a period of 7 days since the last item came through.
Step 5: keep or return
You probably already know what you're going to keep after a few days of trying your items. To return what you don't want to go to Your Orders and mark the products you're sending back.
Remember, you have to do this within the 7 days timeframe!
Use the re-sealable Prime Try Before You Buy box and the enclosed prepaid return label to send back the items you don't want to keep. You can select a different method of returning the items if that's what you want. You can find more return options in Your Orders.
All done: you've made your first Prime Try Before You Buy purchase
You're all done now. You'll receive a return confirmation from Amazon via email and now all you have to do is enjoy your new purchase. The money will be refunded to you once Amazon has received the products you didn't want.
Amazon's Try Before You Buy program: Is it worth it?
All the benefits go to the existing members I'd say. I am a Prime member and I use Amazon quite a lot, not just for shopping.
So the fact that this is a FREE service for its members, makes Amazon even a better online store.
I think the best part of this program is that you'll save money in return fees. How?
If you have a credit card you can buy a few products that you like, and when you receive them just keep what you want and send back what you don't want.
I've done this a lot! You don't need to have to use the Try Before You Buy program.
The downside is that sending back the items you don't want to keep might cost you money. With Try Before you Buy it's FREE!
I don't see any other benefits other than the one mentioned above. In my honest opinion, Amazon Try Before You Buy is worth it IF you're planning to buy a lot of clothing and footwear online. If not, it's not worth it to pay a monthly subscription for the Prime membership if you buy one pair or two of shoes per year.
Links you might find helpful:
---
Team Members Working On This Page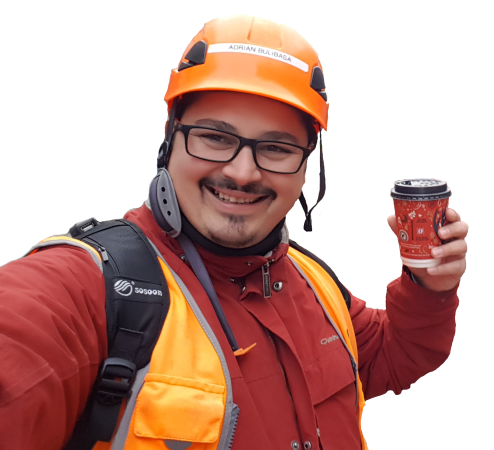 Construction Professional, driver, crane operator, cleaner, head chef … these are just some of the jobs I did in the past. Working in all these different environments taught me that having good footwear to protect your feet from different dangers at work IS PARAMOUNT for any worker! On this website, I aim to share all my knowledge and personal experience in dealing with different footwear and foot care issues, and hopefully, you can get something out of it. Enjoy!
Love technology, going to the beach, taking care of my body, and writing (amongst other things). You'll see my face around here a little bit since I'm responsible for part of the research and writing of some of the articles you're reading on BestForMyFeet.com. I hope you'll find our content helpful and enjoyable! See you around, thanks for reading!