Many times you can't get all the information you need related to a work boot you're about to buy. Sometimes you buy what seems to be a great work boot for your feet and for your specific environments and safety requirements…
…only to find out the boots weren't as described in the product description!
That's annoying!
So by cutting my own work boots in half, I hope we can learn together more about how work boots are made, the materials used to make boots, what makes a good and comfortable work boot, and much more.
About the boot
| | |
| --- | --- |
| Brand | Timberland PRO |
| Model | Pit Boss |
| Shaft height | 6-inch from that arch |
| Heel height | 1.5 inch |
| Color | Brown |
| Toe cap | Steel toe box |
| Upper | Leather |
| Sole construction | Goodyear welt |
| Price | Goes for around $100-$150 depending on where you're buying |
How the boot was used
I've used these boots for construction work most of the time either operating plant equipment or doing light work on site. So I wasn't walking as much as a site manager or putting them through a lot of punishment as many of you might do.
How long it lasted
I've had the boots for about 18 months before I've decided to retire them. The sole gave up on me at the heel and water was coming through. It was time for a new pair of work boots. I went with the Caterpillar Outline steel toe cap boot if you're curious what was my choice.
Let's start with the sole of the Pit Boss
1. The outsole
If you go to Timberland's website and read the product description you'll see they say the sole is made of rubber. It's a heat-resistant, durable rubber compound that provides slip, oil, and abrasion-resistant.
Although after cutting my Pit Boss Timbs in half it seems like the way they've made the boot is by using a 5mm TPU (thermoplastic polyurethane) outsole that's a bit harder and more durable than the normal rubber.
2. The midsole
On top of that 5mm TPU outsole, you have a 22mm thick PU midsole (at the heel) and around 6.5mm thick midsole on the rest of the boot. This material (PU) is softer than the TPU and is what actually provides comfort and cushioning in your heels. This helps reduce foot fatigue.
3. Goodyear welt
You can resole this boot since it's Goodyear welt constructed. This will expand the lifespan of this boot assuming you're taking good care of the upper.
The downside is that the welt is made of some kind of plastic and it will crack and split much faster than the leather welt.
Some boots out there will have a fake stitch around the outside of the boot making it look like a Goodyear welt but the stitches are for design purposes alone. So be careful!
4. The footbed
The footbed is a simple 2.5mm thick piece of PU and fiberboard that sits right under the insole.
5. Where's the shank?
Bro, where's the shank?! That was my question as I was dissecting these awesome steel-toe boots. So I couldn't find a shank in these Timberland boots because they don't have one.
Instead, Timberland has used a Nylon Shock Diffusion Plate in their Pit Boss work boots. In all honesty, I couldn't tell until I cut them in half. These boots are one of the most comfortable work boots I've ever had.
This plasticky plate does an awesome job when it comes to giving you support and torsional rigidity.
6. The insole
The insole doesn't show in the image above but it's a very cheaply made insert that you should change it ASAP for a better quality one.
7. The heel
If you're wondering how tall these boots will make you, you will gain about 1.5 inches in height when you're in these boots.
You should stick to flat soles if you have back or knee problems but these aren't that bad since a 1.5-inch heel it's not considered to be that high.
8. Arch support
If you have flat fleet or you suffer from plantar fasciitis having a boot with arch support is paramount for your commodity whilst being on your feet for 10 hours or more doing your job.
This Timberland PRO comes with very little arch support (not to say none). I recommend you to go for some arch support insoles to give you that extra support.
9. Puncture resistant
I couldn't find anything inside this boot sole that can make it puncture-resistant. So if that's super important for your line of work don't go with these boots (or buy a Kevlar insole if you prefer).
Personally, after wearing these boots for almost 2 years on construction sites I never had something going through the sole (nails, screws, glass, you name it).
The upper of these Timbs Pit Boss
1. Upper material
The upper of these Timberland PRO boots is made of full-grain leather that's about 2.3mm thick which is quite a decent thickness in a work boot.
2. The lining
These boots have a breathable and moisture-wicking lining.
3. The counter
The counter is made of some kind of plasticky material. This helps the boot to maintain its shape making it more comfortable to wear for longer. Talking about comfort, I like that they've put the counter in between the lining and the leather upper.
That way it won't bother you when walking. Some boots have the counter on the inside and the stitching and the counter itself can quickly become very annoying (and even give you blisters).
4. Toe cap
Since we're talking about the steel toe model, well guess what, this boot has a steel toe cap. Timberland has a soft-toe boot version of this boot as well so make sure you buy the correct one when you're browsing online.
5. Waterproof
I don't think the lining in this boot is what makes it waterproof. I couldn't see a waterproof membrane or a sealer or something that could make this boot waterproof.
Personally, I didn't have to walk too much through deep puddles of water or work a lot in rain and wet conditions but when I did, I didn't get my feet wet.
At the end of my boot's life, I started to get some water through the sole though, not the upper.
From the reading I've done I've learned that Timberland treats the leather to make it waterproof so maybe that's the case with these boots as well. I'm not sure. I'll update the post if I can confirm this.
6. The stiching lines
I know when a boot is made for heavy-duty purposes when I see triple or quadruple stitching. This helps to keep the different parts of the boot together when you're putting the boots through the harshest environments.
These Timbs come with quadruple stitching so you can be sure these bad boys won't break anytime soon.
7. Insulation
The Pit Boss is not an insulated work boot so it's not the best one if you're working in freezing conditions. You can make it work by putting on some good wool socks assuming you have enough room inside the boot to accommodate thicker socks.
8. Padding
There's a lot of padding in this boot to make it comfier and avoid blisters thanks to the 15.5mm thick foam you can find in the collar and the tongue of this boot.
Last words
I hope cutting my Timberland work boots in half helped you in some way. It certainly helped me learn more about how boots are made and how are they structured.
Now I finally understood why these boots were some of the most comfortable I've ever had (even though they were also one of the heaviest 6″ boots I ever had).
You can check out the video on YouTube if you prefer, here's the link:
---
Team Members Working On This Page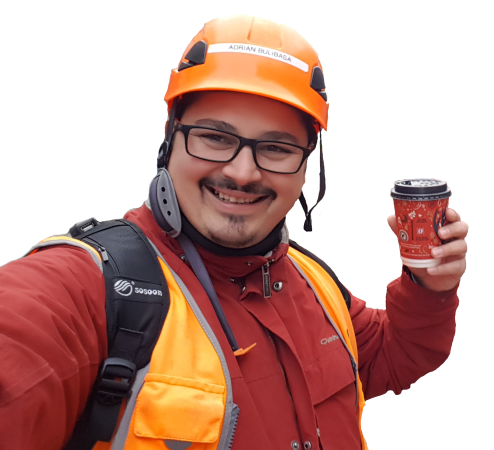 Construction Professional, driver, crane operator, cleaner, head chef … these are just some of the jobs I did in the past. Working in all these different environments taught me that having good footwear to protect your feet from different dangers at work IS PARAMOUNT for any worker! On this website, I aim to share all my knowledge and personal experience in dealing with different footwear and foot care issues, and hopefully, you can get something out of it. Enjoy!
Love technology, going to the beach, taking care of my body, and writing (amongst other things). You'll see my face around here a little bit since I'm responsible for part of the research and writing of some of the articles you're reading on BestForMyFeet.com. I hope you'll find our content helpful and enjoyable! See you around, thanks for reading!