Where are your boots made? It's an important question to ask because you want to ensure that the quality and safety of your footwear are maintained. This blog post will discuss where work boots are manufactured and some tips on finding the best work boots deal possible!
Are your work boots made in the USA? It's not a question to ask just any company! There are many overseas manufacturers who produce footwear for American companies.
You'll want to look at where they're manufactured, what materials and processes go into the manufacturing process, and how much of their production is exported before you make your purchase.
We'll look at over thirty different work boot brands and ask if they manufacture their work boots in the USA or elsewhere, and the extent to which they do make USA boots.
1. Ariat
While Ariat has design facilities in the United States, their primary locations for manufacturing are in Italy, China and Mexico.
According to reviews of the Ariat Workhog, these work boots are made in China and even though it seems to be a good work boot, there is disappointment among their customers that such products aren't made in the USA given the premium price-point of the boot.
2. Avenger
Their motto is 'When the going gets tough, the tough wear Avenger.' They're marketing themselves as the all-American, tough-man's brand. But where are Avenger work boots made?
It's disappointing that companies are often not more upfront with this information since it is very important for consumers to know which country's economy they are supporting. After an extensive amount of research we found a Pinterest pin that indicates that, at least one of the products in their women's line, is made in China.
3. Brunt
While an American company that sells directly to American consumers, it is not entirely clear from their website or other sources where the boots are actually made.
Brunt is a relatively new player in the space, only being founded in 2019 by Eric Girouard, and their specialism is comfortable boots that are long-lasting.
With this in mind, Brunt workwear claimed in a recent social media post that their boots are manufactured in Jinjiang, China because the technology the boot uses 'isn't here in the US and can't sacrifice comfort.
Their offices and warehouses are based in Maine, USA.
That said, Brunt says once they become big enough they hope to open a factory in either New Hampshire or Maine.
4. Bata
Bata Industrials is a Dutch company and so a large number of Bata work boots are produced in Brabant, a province of the Netherlands.
Some of their other gumboots are made in New Zealand, this is according to the New Zealand version of their website.
5. Blacksmith
Blacksmith work boots are a division of Red Wing. Models such as the Men's Six-Inch Boot in Copper Rough and Tough Leather are part of their Heritage Line which means they are manufactured exclusively in the United States of America.
Customers who bought this product loved the fact it was made in the USA, as well as the excellent support it provides to aging and well-worn feet.
6. Blundstone
Blundstone is an Australian company that predominantly manufacture their products in Vietnam, India, China, and Mexico. However, their gum boots are made in Hobart, Australia.
I've had a pair of Blundstones for work and you can check it out here: Blundstone BL990 style work boot review.
7. Caterpillar
One model of Caterpillar work boots, the Liberty ST – Brown, is made in the USA. However, a recent Footwear Distributor and Retailers of America (FDRA) announcement implies this is their first all-American invention, implying that they do not manufacture their other products in the USA.
However, they are committed to supply chain transparency and corporate responsibility in their manufacturing protocols.
8. Carolina
While Carolina does not make all of their work boots in the United States, there are 33 different styles, that are specifically "Made in America," at their Martinsburg Pennsylvania Factory.
Why is there such demand for made in USA work boots from Carolina?
They incorporate only the best globally sourced materials and components available, and in buying these boots you are supporting American jobs.
They are also an approved vendor for the government of the United States of America.
9. Cody James
Cody James work boots are made in China.
This should be obvious from the low price-point they offer their work boots at, as well as the cheap leather and construction materials they use. Check out this selection of the best cheap work boots if you're looking for similar boots.
10. Carhartt
Much of Carhartt's manufacturing takes place in Mexico however they have an extensive Made in the USA range, not just of work boots but also coats and other apparel.
Carhartt have four factories in the United States of America, including one in Kentucky and one in Tennessee.
No brand in the world makes more rugged footwear in the United States than Carhartt.
Looking for more from this brand? Check out this Carhartt work boots reviews article we've put together where we looked more in depth at over 20 models and picked only the best ones.
11. Dewalt
As well as manufacturing high-quality power tools, including drills and laser levels, Dewalt has recently expanded into the work boots market.
As with many of their other products, Dewalt work boots are predominantly made in China. They justify this by claiming it passes savings onto consumers.
Even though they're made in China, boots like the Newark are very comfortable. You can read the DeWalt Newark safety boot review here.
12. Double H
Double H work boots are made in Pennsylvania, USA from global components.
Double H are a work boot brand footwear with state-of-the-art technology, safety, and comfort features. They think it is important to be consistently innovating in the space to ensure that workers are getting the best value.
And this can be best done by manufacturing close to their corporate headquarters in Pennsylvania.
13. Danner
A large number of Danner work boots are made in their Portland Oregon facility, though not all of them are.
Though some of their manufacturing has moved overseas, Danner is still committed to using the highest quality craftsmanship in their products.
14. Georgia
Nearly all of the manufacturing for Georgia work boots is based in Atlanta, Georgia, where it has been based since 1937.
15. Irish setter
Another division of Red Wing, Irish Setter work boots are manufactured in the USA as part of their heritage line.
Irish Setter work boots are focused on ensuring you can keep going all day. When you are working 12-14 hour shifts all day on your feet, having durability in a work boot is important.
You don't want to be constantly replacing your wares.
Check out this article about the best concrete work boots for standing all day if you want to compare them to Irish Setter.
16. Iron age
According to customer reviews of the Iron Age Men's GroundBreaker work boot, this particular brand is made in China, which the users see as a drawback, albeit the only drawback for the owners of an otherwise excellently constructed work boot.
17. Justin
Between 75-80% of Justin's work boots are crafted overseas, with even their Cowboy work boots being manufactured in China.
18. Kodiak
Part of Kodiak's manufacturing operations have recently been relocated to Canada, a homecoming for the company, having ceased all operations in the country in 2000 before returning in 2006.
Kodak was founded in Canada in 1910, and kept manufacturing in Berlin, Ontario throughout the Great Depression and WW2.
Though the opening of a new plant in 2006 was huge news for the region, it should be noted much of their manufacturing currently still takes place overseas.
19. Oliver
Oliver is one of those manufacturers of work boots based in Victoria, Australia.
While they kept manufacturing in Australia for as long as possible, in 2018 it was announced they would be moving much of their manufacturing to East Asia to 'drive greater efficiencies.
20. Red Wing
All Heritage Red Wing Boots are manufactured in the USA by hand. These include makes such as the Moc Toe and the Chelsea Rancher.
Other work boot lines such as the Irish Setter Boots, Vasque, and Worx are made overseas.
Additionally, even some of the materials in the USA-made 'Heritage line' are sourced from Cambodia; so even there it is not an entirely 'American made' boot.
21. Rocky
Rocky work boots are made in China, where the working conditions have been criticized by labor rights activists.
22. Rockrooster
Rockrooster work boots are also made in China. We can discern this from customer reviews on Amazon, one of the largest e-commerce websites in the world.
A few owners of ROCKROOSTER Work Boots indicate that their boots are made in China (that's what it says on the boot's label)
23. Rossi
Rossi is an Australian company which has been manufacturing work boots in Australia since 1910. They now have a modern, well-equipped factory in Adelaide, South Australia where they combine tried and true blue craftsmanship with state of the art technology.
They make Ripple Sole Desert and Mulga Boots in Australia, all other work boots are manufactured overseas.
24. Redback
Another Australian based company, Redback work boots have been based in Australia since the early 1900s. All work boots are hand-made in Australia.
So of the Australian companies in this roundup, if a commitment to domestic manufacturing is important to you, this is the company to go for.
25. Reebok
While some Reebok work boots are manufactured overseas, they have an extensive range of work boots that are made in the USA.
26. Skechers
Skechers are the third largest athletic footwear brand in the United States, however, and this they are less known for, they also make work boots.
You can view their extensive range here.
Skechers, for both their athletic footwear and work boots, utilizes, by their own admission, 'many factories and suppliers in Asia'.
The company remains committed to enforcing a supplier code of conduct to ensure the highest ethical standards in their foreign-sourced products.
27. Steel blue
Steel Blue work boots are manufactured in Australia, though they also have manufacturing facilities in Indonesia.
28. Terra
Though historically based in Canada, Terra work boots maintain an extensive overseas network of manufacturing.
That said, they are one of the few Canadian companies to still manufacture boots in the province.
29. Thorogood
Thorogood has an extensive range of USA-made, union made work boots including boots in the American Heritage, 1957 Series, and Logger lines, that are ideal for the working professional seeking to express solidarity with their fellow tradesmen.
As with a lot of brands, this does not necessarily mean they are all made in the USA.
Find out more about some of their best-rated model in this Thorogood work boots reviews article.
30. Timberland
Timberland boots are manufactured in three countries, the USA, China, and the Dominican Republic.
You can find their extensive range of USA-made products here.
However most of their products are made outside of the USA.
31. Wolverine
Wolverine is another excellent brand for producing American-made work boots for the working professional.
Their boots are produced right out of their plant in Michigan USA, as well as others around the continental United States. Do you want to know more? Find out here if Wolverine work boots are any good.
What are the pros and cons of buying work boots in the US?
The most obvious pro is supporting American manufacturing and American workers, giving them more money to in turn buy goods and services from other American businesses.
Keeping American manufacturing domestic also boosts a sense of patriotism and community cohesion.
It reduces carbon emissions by avoiding the emissions produced by international shipping.
And it can result in a quicker turnaround if the delivery is just from an American factory to your door.
The downside to buying work boots made in the USA is that you get less of a variety of materials, since companies who emphasise American manufacturing will source materials local to the Americas.
And paying American manufacturers western wages does boost costs, sometimes, though not always, resulting in American-made work boots costing more.
Which work boots last longer? (US-made or overseas?)
American-made work boots tend to last longer over time. American-made boots typically have higher quality, and they are usually patterned with more attention to detail.
They also tend to be built of better materials such as leathers from domestic cattle, tanned hides, and rubber soles.
In general, they will last longer because less effort is made in potential damage due to lower-cost materials such as petroleum products for synthetic timber or low-quality tree bark for leather tanning.
However, these advantages can also come at a higher price which might explain why some people prefer the cheaper price, which may suit those who purchase work boots that do not need to last for as long a time period.
Conclusion
This blog has given you a quick overview of where some of the most popular work boots brands are made.
Some companies are not as forthcoming with this information and so we had to do a bit of digging and work by inference.
Some also split their manufacturing base across different countries, with some specific products of some brands being made in the USA and some not.
In fact, very few brands are entirely made in the USA, but the ones which make more of an effort are Red Wing and Blacksmith.
---
Team Members Working On This Page
Love technology, going to the beach, take care of my body, and writing (amongst other things). You'll see my face around here a little bit since I'm responsible for part of the research and writing of some of the articles you're reading on BestForMyFeet.com. I hope you'll find our content helpful and enjoyable! See you around, thanks for reading!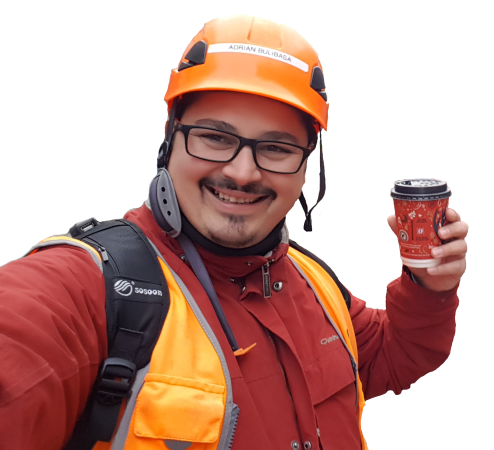 Construction Professional, driver, crane operator, cleaner, head chef … these are just some of the jobs I did in the past. Working in all these different environments taught me that having good footwear to protect your feet from different dangers at work IS PARAMOUNT for any worker! On this website, I aim to share all my knowledge and personal experience in dealing with different footwear and foot care issues, and hopefully, you can get something out of it. Enjoy!
I'm an MA student currently working on a research project for King's College London Museum of Life Sciences alongside my MA dissertation. I have been published in my student newspaper, The Spectator, and the Adam Smith Institute. I'm doing part of the research and writing of the content you'll read on BestForMyFeet.com Enjoy!