Yes, you can wear ankles socks with work boots…but should you? That's the question.
I mean, I get the appeal especially when you're working on the hot summer days. Less fabric around your ankles will give you a fresher, breezier feeling…
But have you thought about comfortability?
Most work boots have an interior lining that's made out of leather or some kind of textile. Find out what's inside a pair of Timberland work boots here.
Can you imagine your ankles rubbing against that lining with every step you take or every bend and flex you make?
That's a horrible thing to deal with for long shifts like the ones that I do which are no shorter than 10 hours per day.
You can definitely wear ankle socks with sneakers and shoes but personally, I still prefer to put on some crew work socks even when is burning hot outdoors.
You're more vulnerable wearing ankle socks
It depends on what type of work you're doing and what hazards you're exposed to.
But for a construction worker, such as myself, is better to wear taller socks rather than ankle socks because you're more protected against chemicals, sparks from welding, rashes from working with insulation, scratches if you're doing gardening or landscaping, etc.
So by wearing ankle socks you're leaving your lower legs exposed to injuries and that can easily be avoided by wearing crew socks or similar.
But, Adrian, is way too hot man, is there any alternative?
One alternative is to wear breathable work boots like these ones made by KEEN and instead of ankle socks, you wear a good pair of calf-high cotton socks.
The textile panels on these boots allow air to go in and out of the boot and have better air circulation overall. These will prevent your feet from sweating as much as in other boots and also help avoid your work boots stinking at cat pee.
The takeaway
I don't recommend using ankle socks when wearing work boots. You'll probably be fine if you're wearing sneakers whilst working on a roof but not with work boots.
---
Team Members Working On This Page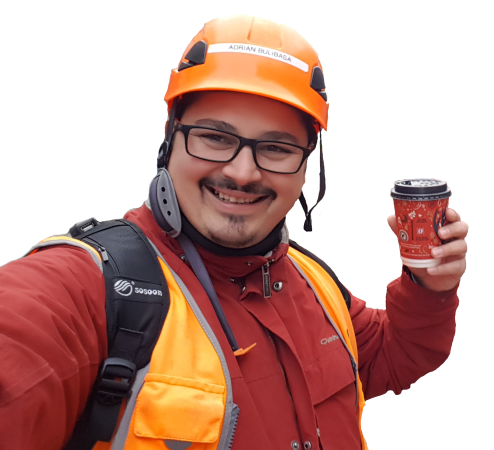 Construction Professional, driver, crane operator, cleaner, head chef … these are just some of the jobs I did in the past. Working in all these different environments taught me that having good footwear to protect your feet from different dangers at work IS PARAMOUNT for any worker! On this website, I aim to share all my knowledge and personal experience in dealing with different footwear and foot care issues, and hopefully, you can get something out of it. Enjoy!
Love technology, going to the beach, taking care of my body, and writing (amongst other things). You'll see my face around here a little bit since I'm responsible for part of the research and writing of some of the articles you're reading on BestForMyFeet.com. I hope you'll find our content helpful and enjoyable! See you around, thanks for reading!