Whether you have an old pair of work boots that smell like cat pee or are brand new, you should use a boot deodorizer.
Ideally, you use a boots deodorizer with your brand-new work boots so you can avoid your boots getting stinky in the first place.
But if you haven't done that already (like many of us) and your boots got stinky you might want to try a boot deodorizer to get rid of the bad smell.
Here's how I apply deodorizer to my work boots:
Step 1: Make sure the boots are dry
If you just got back from work and your boots are completely soaked you should dry them first. I use this PEET Original boot dryer and it works great.
There's no point to deodorize your work boots if they're wet. That's one of the most common reasons work boots get stinky in the first place. By the way here's how I waterproof my work boots to avoid as much as possible water getting into my work boots.
Step 2: Remove the insole
Many work boots nowadays come with a removable insole. Once the boots are dry, remove the insole and spray the deodorizer on the boots.
Immediately after that put the insole back and apply the deodorizer one more time with the insole inside the boot.
Step 3: Wear the boots or leave them to rest
You don't have to allow for the deodorizer to dry or anything like that. You can wear your boots straight away.
Actually, that's what I do in the morning before I go out to work. Spray the deodorizer, put my work boots on, and ready for a 12-hour shift.
Different types of boot deodorizer
You can find boot deodorizer in a few different forms which are:
Boot deodorizer inserts like the Banana boot deodorizers using
Ball scent deodorizers
Spray deodorizers
Some boot dryers even offer this function. Check out this one if you want to know more
Should you spray it on your feet as well?
Check the product's label. I wouldn't apply it directly on the skin but I have applied it after putting my wool socks on.
Do boot deodorizers leave stains?
I haven't experienced that myself but I've heard some people saying some boot deodorizers do stain. So I'm guessing it depends on the product.
Last notes
If your work boots smell bad already, what I would recommend you to do first is to clean your work boots, especially inside. I also sanitize my work boots using rubbing alcohol.
This is important because a boot deodorizer won't be that effective if your work boots have acquired a bad smell because of sweating too much or because they got wet.
Using a deodorizer in this case would make things worse in my experience.
Take some time over the weekend to wash your work boots inside out, dry them naturally or use a boot dryer (avoid drying them in the tumble dryer), and only after that start using the boot deodorizer.
You can watch it on YouTube if you prefer
---
Team Members Working On This Page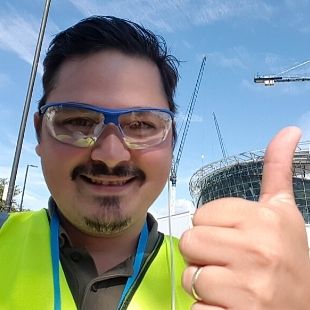 Construction Professional, driver, crane operator, cleaner, head chef … these are just some of the jobs I did in the past. Working in all these different environments taught me that having good footwear to protect your feet from different dangers at work IS PARAMOUNT for any worker! On this website, I aim to share all my knowledge and personal experience in dealing with different footwear and foot care issues, and hopefully, you can get something out of it. Enjoy!
Love technology, going to the beach, taking care of my body, and writing (amongst other things). You'll see my face around here a little bit since I'm responsible for part of the research and writing of some of the articles you're reading on BestForMyFeet.com. I hope you'll find our content helpful and enjoyable! See you around, thanks for reading!