Yes, a good quality pair of wool socks will make a huge difference when you're working 10-12 hours in your work boots.
Below we'll talk more about when and why is good to wear wool socks with work boots so keep reading to find out more.
First of all, are wool socks itchy, or not?
For many, many years I thought wool socks are itchy and uncomfortable. Back where I'm from, a cold little corner in Eastern Europe, we used to knit a lot of wool clothing items ourselves.
First, that saved us some money, and also our moms would keep us busy inside the house where it was nice and warm, especially in wintertime. But if there's something from those days that remained vivid in my memory till today is how itchy the socks, the jerseys, or the beanies use to be.
Little did I know that the wool socks you find today on the market are not itchy at all. At least the ones I bought on Amazon, were super nice, and soft, and didn't make me itchy or irritated my skin at all.
Fair enough, these socks are not 100% wool. My Danish Endurance wool socks are made with
30% Merino wool
36% Nylon
33% Acrylic
1% Elastane
The reason Merino wool socks for example are not irritating your skin is that the wool used to make these socks is of high quality. Virgin wool for example is thick and comes with dense fibers which is what creates the itchiness when it comes in contact with our kin.
Merino wool on the other hand has thinner and softer fibers than other types of wool which is what makes it gentle and comfortable. So if you want wool socks for your work boots, make sure you buy Merino wool socks, NOT JUST ANY WOOL SOCKS!
Benefits of wearing wool socks with work boots
I've asked around what people think about wool socks and here are just a few of the benefits of wearing wools socks with your work boots:
1. It keeps your feet warm on the cold days
Of course, this is not a surprise, right? As a kid, I use to go out and play hockey on the frozen river in my town and guess what I was wearing on my feet?! Exactly! Wool socks and winter boots.
Now that I'm older I'm doing the same but I've swapped hockey with work. I know, it was a bad move but hey, life!
So if you work in cold temperatures, you might want to get a pair of insulated work boots for winter but if you don't have the budget, you can go for a good pair of wool socks. They'll keep your feet warm!
2. Keep exterior moisture away from your feet
I don't know what industry you're working in, but in my industry (construction) I get my boots wet almost every day. Whether that's because it's raining or we're working with wet concrete or using the jet wash…my boots get wet. By the way here's how I waterproof my work boots if you want to learn how to do that too.
Anyway, even though the majority of work boots I buy are waterproof, the moisture is there. The boots will stay wet and humid on the outside the whole day.
And even though water doesn't get into my boots, moisture will. And that's when a pair of good wool socks come in handy because it helps keep the exterior moisture away from my feet.
3. Keep sweat away from your feet
I sweat quite a bit in my work boots. I don't know if that's your case as well but if you're like me and you're in your work boots 10-12 hours a day…you will sweat no matter what.
Sweating is a problem because it creates humidity inside the boots and then the next thing you know your work boots will stink of cat piss. Yeah, you know what I'm talking about.
Not only that but then if you're not careful, bacteria and fungus build up in your boots and that's how you developed Athlete's foot.
A good quality pair of wool socks will help absorb the moisture from your sweat and wick it away leaving you with dry, healthy feet. Also wool takes longer than nylon and other materials to become stinky.
I've had some cheap synthetic socks I've used for years and they would get stinky before my first break. That's how bad pure synthetic socks are.
4. Extra comfort
They really feel comfortable. Maybe it's the design of the socks I buy which seem to be quite high in quality. They come with extra cushioning in the heel area and also under the forefoot.
Also, they don't move up and down your feet with each step you take. That's so annoying. I've had socks that I had to pull up every 10 steps. They were sliding down all the time. Not with wool socks. At least not in my experience.
5. Bye-bye blisters
People wearing work boots and wool socks never had a blister in their life. This is great for those of you that like to wear slip-on work boots for example.
These types of work boots have a bit of heel slippage since they don't have laces. So one thing you can do in order to avoid blisters is to wear wool socks.
I've experienced blisters in the past while wearing lace-up work boots too. Some of the boots I had in the past took a bit longer to break-in than others and that caused me blisters. So if you want to avoid blisters wearing work boots get yourself a good pair of thick wool socks.
Are they good to wear all year round?
Yes, just as I said above, wool socks can be used with work boots in winter as well as in summer.
Your wool socks will keep your feet warm in the cold season and will keep them fresh on hot summer days. I know it sounds counter-intuitive but trust me on this one.
That's the consensus anyway. Rarely someone said wool socks were too hot to wear with work boots.
Some people prefer to wear lightweight wool socks in summer. Also commonly known as Coolmax because they have little wool in their composition. Usually less than 50% wool. (Just like the ones I bought)
And other people said the thicker the wool sock is the more you'll benefit from the wool's temperature regulation properties.
In my opinion, you'll have to test this for yourself and see what weight you're comfortable with.
Last notes on wearing wools socks with work boots
I've always heard people talking about wool socks in forums in my industry but I never thought I should buy some for myself because I thought they were itchy therefore really uncomfortable.
That's until I decided to buy a few pairs in order to test them out and share my experience with you here. Now I only buy wool socks to wear with my safety work boots. They're so soft and comfortable on my feet.
So don't be like me and avoid buying them for years. Go ahead and buy some Merino wool socks and you won't regret it. I can't recommend them enough for work.
Please share with me your experience or opinion of wearing wool socks in the comments section below!
Also, you can check out our conversation about this topic on the work boots subreddit.
---
Team Members Working On This Page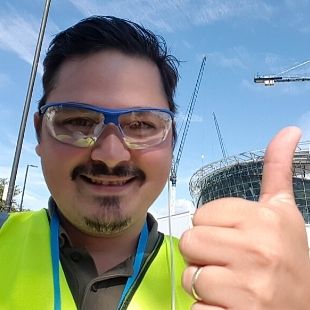 Construction Professional, driver, crane operator, cleaner, head chef … these are just some of the jobs I did in the past. Working in all these different environments taught me that having good footwear to protect your feet from different dangers at work IS PARAMOUNT for any worker! On this website, I aim to share all my knowledge and personal experience in dealing with different footwear and foot care issues, and hopefully, you can get something out of it. Enjoy!
Love technology, going to the beach, taking care of my body, and writing (amongst other things). You'll see my face around here a little bit since I'm responsible for part of the research and writing of some of the articles you're reading on BestForMyFeet.com. I hope you'll find our content helpful and enjoyable! See you around, thanks for reading!