I've had these work boots for about a year before I cut them in half. I've used them for light duties tasks in construction, mostly indoors or operating plant and construction equipment.
What struck me from day one is how comfy and lightweight these were. Previous to these boots I was wearing Timberland Pit Boss and the difference in weight was significant.
The boot was still in good condition when I've decided to cut it in half as with many other work boots I'll cut. And that's because I always have at least 2 pairs of work boots I can alternate for many reasons.
For example, just to mention a few reasons, they'll last longer overall, avoiding stinky feet and athlete's foot, conditioning them, washing them every now and then.
About the boot
| | |
| --- | --- |
| Brand | Caterpillar (CAT) |
| Model | Outline |
| Shaft height | 5.50-inch from that arch |
| Heel height | 0.89 inch |
| Color | Yellow |
| Toe cap | Steel toe cap |
| Upper | Nubuck leather |
| Sole construction | Cemented sole |
| Price | Check on Amazon |
If you prefer, you can watch it on YouTube
How the boot was used
As I've already mentioned, I did a lot of indoor activities combined with some forklift and crane operating during the time I've had these Caterpillar work boots.
I was working mostly on flat, polished, and unpolished concrete floors. Sometimes I'd walk through a little bit of mud due to rain and bad weather.
How long did it last?
The boots were still in good condition when I've stopped using them so I can't really comment how long they lasted.
But I think it's fair to say you'd get at least 12-14 months out of it doing any lightweight to medium duties.
Cool, let's dig in a bit more
Let's start with the sole of this Caterpillar Outline
We'll start with the sole and make our way up…
1. The outsole
The first thing that came to mind straight away is the thickness of the outsole on these boots. The sole is very thin.
At the forefoot area, it's about 12mm thick and 24mm thick at the heel area.
I don't remember having a boot with such a thin outsole before.
The good thing is that being so thin the boot is very lightweight even though it's a steel toe cap work boot. On the other hand, you will be very close to the ground meaning that you'll feel everything you're stepping on.
I recommend you to buy these only if you work mostly on flat surfaces, not for rough terrains. A good insole will be helpful as well.
2. The midsole
The midsole (if you can consider it a midsole) it's a thin layer of white foam. Not sure what material it is but it seems like it's polyester. Don't quote me on that.
But it's a spongy layer that's 1.5mm thick with the exception of the heel area where it's almost 9mm thick. It's thicker at the heel to provide cushioning and shock absorption.
3. The insole
Nothing to mention here other than the fact that the boot comes with a removable insole. It's a poor-quality insole.
It will be fine for the first month of wearing these boots but later will become as thin as printing paper, uncomfortable and stinky.
So if you can, get yourself a good pair of insoles for your feet.
4. Does this boot have a shank?
Yes, these Caterpillar Outline boots (to my surprise) come with a shank. It's a plastic or fiberglass shank, not 100% sure.
The shank is about 103mm long and 3mm thick.
But the important thing is that it has a shank which is helpful for a better boot structure. Also helps avoid developing pain in the arch area by not allowing the boot to bend in that area as you take each step.
5. Heel counter
The heel counter helps keep the boot in a good shape especially if you don't like to untie your boots before you take them off.
Also, it helps the boots keep their shape, especially when you're not wearing them. Nothing to mention in this section really other than maybe that the heel counter in this boot is made out of some kind of hardened paper.
6. Arch support
These Caterpillar work boots come with arch support which is quite nice. One thing you should keep in mind if you buy these boots is to use insoles with a low arch, or with flexible arch support.
That's because if the insole comes with high RIGID arch support you might have some trouble wearing them. I had to stop wearing them since it was causing me a lot of pain.
7. Puncture resistant
There's nothing in the sole of these Caterpillar Outline work boots that could make it puncture-resistant.
The Dewalt Newark does come with a steel plate in the midsole, but these boots have none of that.
So if that's an important feature to have in your work boots go for something else.
8. Construction type
The Caterpillar Outline is put together using the cemented sole method through which the upper is attached to the sole by using strong adhesives. There's no stitching.
The few stitches that you see in the image below are part of the upper and I could not take them out easily. Those are the stitches that put together the upper and the sockliner.
This is good because it makes the boot a tiny little bit lighter than using other types of footwear sole construction but on the other hand, you can't resole easily and cost-effective work boots with this type of sole construction.
Let's talk about the upper on these boots
We've seen what's in the sole, now let's have a look at upper components.
1. The upper's material
These Caterpillar work boots are made out of nubuck leather and it has a really good thickness. The leather is about 2mm thick which is more than most work boots in this price range.
This is was a big plus in my view.
2. Lining
There is a nylon mesh lining in these boots that will help wick moisture away from your feet.
3. Waterproof
The leather is now waterproof and there is no waterproofing membrane in these boots so I'll say that these boots are not waterproof.
You can treat them to be water repellent by using different products and tricks. Here's how I waterproof my work boots.
Also if you're curious these are some great waterproof work boots you should check out after finishing reading this article.
4. Insulation
These Caterpillar Outline work boots are not insulated either. So if you work a lot in cold weather you should look into getting a good pair of insulated work boots.
These work boots are better for summer or if you work in cold areas you could use them only if you work indoors otherwise you're feet will freeze in these.
5. Padding
There's a little bit of padding behind the nylon mesh lining and also around the ankle. At the ankle area, it's a bit thicker and all this provides good cushioning making the boot very comfy to wear.
6. Toe cap
This is a safety toe boot and it comes with a steel toe cap. So if you need a boot for construction work or any other industry that requires you a safety toe work boot, then this is a great option!
The toe cap itself is quite tough and it seems that I need to up my tools game here since I couldn't cut through the steel with my Bosch jigsaw.
You'll see how thick it is in the image above plus how wide and tall it is in case you need to know if your feet will fit in these boots.
Last words
I hope I didn't miss anything. Cutting my Caterpillar Outline in half helped me learn a bit more about the work boots I wear and I hope it helped you in any way as well.

These work boots were not expensive and I'm happy with what I've got for the money I paid for them.
By the way, If I did miss anything, please leave a comment below and I'll make sure to answer it asap.
---
Team Members Working On This Page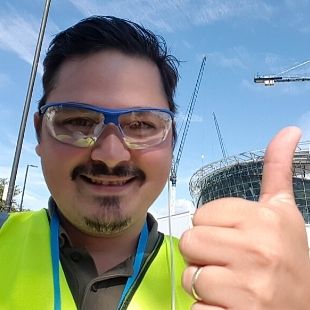 Construction Professional, driver, crane operator, cleaner, head chef … these are just some of the jobs I did in the past. Working in all these different environments taught me that having good footwear to protect your feet from different dangers at work IS PARAMOUNT for any worker! On this website, I aim to share all my knowledge and personal experience in dealing with different footwear and foot care issues, and hopefully, you can get something out of it. Enjoy!
Love technology, going to the beach, taking care of my body, and writing (amongst other things). You'll see my face around here a little bit since I'm responsible for part of the research and writing of some of the articles you're reading on BestForMyFeet.com. I hope you'll find our content helpful and enjoyable! See you around, thanks for reading!