Today we are going over how work boots and snow boots compare to one another. We will touch on what a work boot is, what a snow boot is and look at a few snow boot options.
We will look at how snow boots and work boots compare to each other and how they are different or similar.
If you are trying to decide whether to get snow boots or work boots, then keep reading, you're in the right place.
What is a work boot?
I know the following two subheadings might look silly but we need to quickly address these questions in case you're new to these types of boots.
So simply put, a work boot is a necessary component to working in any trade where physical labor is involved or there's potential to harm your feet.
Usually, a good work boot will be made with a leather upper, thick rubber soles, and possibly steel toe caps for added protection and other features that are either added to the boot to provide you more comfort or more safety, and in some cases, both.
Work boots are made to withstand heavy items falling on top of them, protecting your feet from harm.
What is a snow boot?
A snow boot is a boot made with waterproof and insulating materials that keep one's feet dry and warm in the frigid cold of snow.
You will find yourself with frostbitten toes if you decide to forgo snow boots for an extended amount of time in the snow.
Snow boots may be made from EVA (Ethylene- Vinyl Acetate), leather, nylon, shearling, and more.
As long as they keep the feet dry and warm, a snow boot can be made with any material that provides these important features.
Types of snow boots
There are a variety of snow boots to choose from when shopping for a pair.
You may be in need of something very light and used for walking through light snow but not necessarily spending time in for an extended period of time.
Or you may be needing something very heavy-duty and warm because you'll be trekking the Arctic Tundra.
Whatever the adventure, it would be good to get acquainted with the different kinds of snow boots available to you so that you can make the best decision suited to your needs.
Let's take a look…
1. All-Weather Winter Boots
All-weather winter boots are boots with all snow conditions in mind. They are ideal for when it first starts to snow and there's a light dusting and icy nip in the air.
They'll be lighter than other snow boots and great for when the snow just starts or when it's ending and beginning to melt.
All-weather boots will be a great go-to when having mildly wet and chilly conditions.
One all-weather boot to check out is the Weatherproof's All-Weather Insulated Winter Boots. Check them out on Amazon to learn more about them.
They keep your feet dry and warm in wet and cold snowy weather but provide you with the convenience of a slip-on boot.
2. Snow boot
A regular snow boot is what you are usually buying for yourself or your kids when you're planning a snow day in the mountains or have one heading your way.
They will usually have a thick rubber sole and Thinsulate or some sort of insulation to keep your feet warm in negative temperatures. They will always be waterproof as well as tall enough to keep the snow from entering into your boot.
A nice pair is Dream Pair's Warm Faux Fur Lined Mid-Calf Winter Snow Boot. They have been rated very favorably on Amazon and they're not very expensive.
They are also a slip-on boot if you use the zipper, but there is a full set of laces for lacing up nice and tight. They have 200g Thinsulate insulation to keep your feet warm in temperatures as low as -25 degrees Fahrenheit. You can find them here.
3. Extreme cold weather snow boot
Extreme cold weather winter boots are built to withstand extreme cold weather conditions.
These boots are going to be made with very thick rubber soles and insulated with special insulation that provides protection from cold temperatures as low as -40 Fahrenheit!
There are several places in the world that people live or travel to that get that low in temperature. Fortunately, there are plenty of quality and durable boots to choose from, one being Kamik's Nationplus Boot.
The Kamik Nationplus Boot is insulated with 3MTM Insulate and a genuine leather upper.
The soles are made of thick rubber and are seam sealed to guarantee durable waterproofing capabilities. If you're looking for heavy-duty cold weather snowproof boots, these are some of the many other extreme weather boots available on Amazon. Check them out here.
Work boost and snow boots main differences
When you look at work boots and snow boots side by side, you're going to see a lot of differences. These differences we talk about here may help you decide on what kind of boot you need.
Snow boots are built specifically for cold
A snow boot will have either a thicker upper or else a thick liner inside, made to keep the feet warm in cold temperatures.
Work boots are made for moving around a worksite easily and comfortably. Some work boots will have some insulation from the leather upper, but socks are usually the only help you'll have when keeping your feet warm in a work boot.
Mid-calf and ankle
Another difference between work boots and snow boots will be the height of them. Snow and winter boots are likely to be mid-calf and higher due to the need to keep snow out of the inside of the boot.
Work boots are most often ankle height, but some will go as high as the knee or very close such as:
Materials used in their construction
There is a difference in the materials used in snow boots vs work boots.
The use of leather is the same, but snow boots will be made with a variety of other materials as long as they are waterproof and provide insulation.
The insulation itself is also different.
Snow boots will have a thick inner liner or sewn in the material of Thinsulate, a synthetic material that works very well at keeping feet warm in negative temperatures.
Another difference is the soles.
Winter and snow boots are made with heavy-duty rubber that elevates and insulates the foot well. Work boot soles are made with work in mind, so are made with thinner rubber, EVA, or TPU to allow for a flexible sole.
Similarities between work boots and snow boots
Snow boots and work boots are similar in some ways…
There are some things that are similar in the construction of work boots and snow boots. We will go over a couple of points to see how similar they are.
Lace-up and slip-on
Both work boots and snow boots come in a lace-up option or pull-on option.
The lace-up option makes the boot snug around the foot, ankle and mid-calf or higher depending on the height of the boot. This is important in both snow boots and works boots.
Snow boots you need to have tightened enough to keep snow out, and work boots need to be snug to keep debris out. Slip-on options are nice too depending on the type of work or whether you find yourself in.
Find out more differences between pull-on and lace-up work boots here.
Non-slip Sole
Both work boots and snow boots are usually made with non-slip soles. This feature is important with snow boots when you find yourself walking on icy surfaces.
Work boots also benefit from non-slip soles as you may find yourself on a surface that may be wet, greasy, icy, or uneven to walk on.
Here are some examples of slip-resistant work boots.
Work boots or snow boots: It all depends on you
When looking at buying either work boots or snow boots, you'll want to ask yourself what kind of work you'll be doing and what kind of weather you'll be in.
Work boots give you comfortable heavy-duty protection that is flexible and solid, while snow boots focus more on keeping your feet dry and warm in cold wet weather.
If you work in the snow, a pair of good snow boots may be what you're looking for.
If you have a job at a construction site or in a warehouse where the weather conditions are dryer and warmer, work boots should be just fine.
It all depends on what you are looking to provide yourself with. The key point to remember here is that each one of these boots, work boots, and snow boots will provide a different set of safety features based on the environment you're going to wear them on.
---
Team Members Working On This Page
Hi! My name's Sondra and I am one of the researchers and writers here at BestForMyFeet.com. I have 5 kids who I spend my days teaching and caring for. I'm married now for 13 years to my dear husband Art, who helps his folks run a housecleaning business as well as a side business of his own for general contracting and home remodel. I'm just a high school graduate who decided to raise a family and keep the home.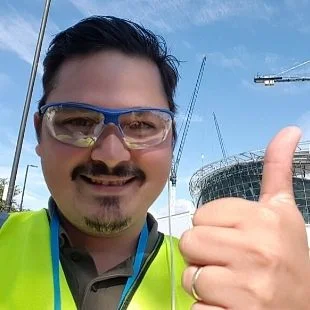 Construction Professional, driver, crane operator, cleaner, head chef … these are just some of the jobs I did in the past. Working in all these different environments taught me that having good footwear to protect your feet from different dangers at work IS PARAMOUNT for any worker! On this website, I aim to share all my knowledge and personal experience in dealing with different footwear and foot care issues, and hopefully, you can get something out of it. Enjoy!