Yes, Target sells work boots online. You'll find a very short section of work footwear under their men's shoe section.
I've done some research and put together some interesting data about this store and their work boots section compared to other stores and a lot more interesting data.
Let's get right into it.
Is Target a legit site?
If you're worried that Target might be a flight-by-night website or business, the answer is no. It's not a scam. Target IS a legit website and a legit business with its headquarters in Minneapolis, MN. [1]
They are one of the biggest retail stores in the US and they've been around for more than 100 years (maybe with another name) and the first Target store was opened in 1962 in Roseville, Minnesota.
The website Target.com [2] came to life in 2004 and since then they've attracted millions of visitors per year.
Can you buy work boots at Target online?
Yes. Target does sell work boots and footwear in general online. According to their website, they do same-day delivery as well. Also, you can order ahead of time and collect it in-store.
What work boot brands can you buy at Target?
The catalog on work boots models and brands that Target offers is quite limited compared to Amazon, Zappos, and other online stores.
Here are the work boot brands they're selling at the time I'm writing these lines:
Georgia
Iron Age
Rocky
Timberland
Timberland PRO
S Sport (Skechers)
SlipGrips
Michelin
Lehigh Outfitters
You might recognize a few big names in that list, but as you can see the choices are very limited. Additionally, when you go to check the specific models from any brand on that list, again, the options are super limited.
Let's take the Timberland brand for example. If you select just Timberland, again, at the time I'm writing this page, they have only 2 models.
Pros and cons?
You'd think that a store of this size would offer you many more options to choose from. So one of the obvious cons is that you don't have many work boots available on their online store.
A pro is that you could buy online and collect in-store. So, in theory, if you order in the morning before you go to work for example, by the time you finish your shift they should have your product ready for you to pick it up!
What do the reviews say about Target?
One of the reasons you might think Target.com is not a legit online store is because of the high number of poor reviews from their customers.
I was literally shocked to see the number of disappointed users. During the research for this article, I found about 245 reviews on BBB (Better Business Bureau) [3], 2258 reviews on TrustPilot [4], and another few hundred on Yelp.[5]
I looked mostly for what people were saying related to shopping online.
It seems that online shoppers are not happy at all with the Target customer service. Also, some users had bad experiences when it comes to products being out of stock right after submitting the order, even though before that action on the website was saying "in stock".
It's impressive to see such a big store having such a poor rating. On TrustPilot, they have been rated 2.2 stars out of 5 based on 2258 reviews.
And on BBB they are rated 1.12 out of 5 based on 245 reviews.
You should always take the reviews with a pinch of salt since nowadays anybody can leave a bad review about your business…but it seems like there are way too many!
Target alternative stores to buy work boots online
Here are a few other online websites I like to shop for work boots. My favorite one is Amazon.
For the only reason that the catalog is huge, you have same-day or next-day delivery and also you can send them back if you're not happy with them.
You can check this page for the best work boots on which you'll find very comfortable work boots for men and women for different situations or different jobs and industries.
Most of those boots you can find on
Amazon
Zappos [6]
ShoeZone [7]
Amazon vs Target: is there a difference in price?
I did a quick check before wrapping this article up. Just for curiosity I went and checked which store prices their work boots higher.
There are not too many products I can compare since the list is quite short. But when I looked at Georgia Athens steel toe work boots, at Target it was $186 and on Amazon, it was $148.60.
Whereas other work boots will have exactly the same price, $168.00. I guess this is not that strange. I see this pattern with many other products. When it's cheap in one store it's expensive in another. Later on, this changes.
The takeaway
So Target.com it's not a fake website or some scam. It just seems that they're doing a poor job at serving their customers and that's why you'll read so many poor reviews.
If you want to shop work boots online at Target.com just keep in mind that the options are very limited.
Anyway, I hope this was helpful to you. Good luck buying good work boots!
---
Team Members Working On This Page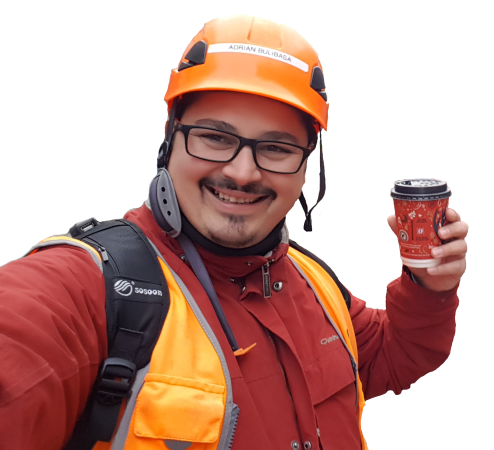 Construction Professional, driver, crane operator, cleaner, head chef … these are just some of the jobs I did in the past. Working in all these different environments taught me that having good footwear to protect your feet from different dangers at work IS PARAMOUNT for any worker! On this website, I aim to share all my knowledge and personal experience in dealing with different footwear and foot care issues, and hopefully, you can get something out of it. Enjoy!
Love technology, going to the beach, take care of my body, and writing (amongst other things). You'll see my face around here a little bit since I'm responsible for part of the research and writing of some of the articles you're reading on BestForMyFeet.com. I hope you'll find our content helpful and enjoyable! See you around, thanks for reading!