Just as we talked about Target in this article, many of you will ask yourselves if WorkBoots.com is a legitimate website or not due to the number of poor reviews from users.
To give you a quick answer, no, WorkBoots.com it's not a scam.
They might not be the best online store, but you can buy from them if they have a product you really like. They're not going to steal your money (if that's what you're asking yourself).
Here's what I have found in my research. If you want to know more about it. Let's start from the beginning.
What is WorkBoots.com in the first place?
WorkBoots.com it's an online store just like Amazon, Walmart, Target, etc, but they focus mostly on boots and work gear.
WorkBoots.com location, do they have an office?
The website itself, the brand, doesn't have a physical location like the Target or Walmart website, where you can buy online and pick it up in-store for example.
WorkBoots.com is part of CAT5 Commerce and this company does have a physical location. [1]
CAT5 Commerce is based in Spirit of St Louis Airport, Missouri United States.
This company is an Internet Retailer Top 500 e-retailer business [2] founded by Chad Weinman [3] in 2004 and they manage a portfolio of online stores such as
WorkBoots.com
RunningShoes.com
TacticalGear.com
What do the reviews say about this website?
You've probably already seen a few WorkBoots Reviews by looking in Google and that's probably the reason you're here too. To investigate even deeper.
Reviews on their own website
There are a lot of happy customers buying products on WorkBoots.com, some of them have been happy with this website's services for over a decade.
If you check out the WorkBoots.com reviews on THEIR OWN site, you'll see you have 95% positive feedback based on data collected by Google and or its partners.
Personally, I couldn't find any reviews on Google about this website in particular. So I don't know where those Google reviews are coming from.
Also on their site, you can read 2500+ reviews and it's mostly positive. People had a good experience buying at this online store.
Reviews on third party websites
When you have reviews about your brand on your website that can be a bit biased, right? The feedback gets a bit less positive when you read reviews on third-party reviews websites.
On the other hand, anyone can leave a review on a website such as TrustPilot or BBB, and others. And you don't really have to be a buyer or anything. So keep that in mind when you're doing your research!
On TrustPilot [4] for example, WorkBoots.com has 30 reviews with a mix of great, excellent, and bad feedback. They have an average of 3.8 out of 5 stars.
People mostly complain about the quality of the customer service as being poor when dealing with customers' issues. It's taking too long for customer service to answer emails and resolve people's queries.
Also, one customer mentioned that WorkBoots.com sent a pair of wrong size work boots and when the client sent them back, WorkBoots.com charged the customer a "Restocking Fee" of 30 dollars.
So make sure you read the return and refund policies before you buy. Just to make sure you're covered in case something doesn't go according to your plan.
What work boot brands can you buy at WorkBoots.com?
The catalog on work boots models and brands that WorkBoots.com offers is not as limited as what Target's website offers, it's actually quite impressive to see so many brands in their catalog.
Here are the work boot brands you can find on WorkBoots.com
Avenger
Ariat
Bates
Bogs
Carolina
CAT (Caterpillar)
Chippewa
Dan Post
DeWalt
Dickies
Dr Martens
Double H
Durango
Florsheim
Georgia
Grabbers
Harley Davidson
Helly Hansen
Irish Setter
Iron Age
Knapp
Kodiak
LaCrosse
McRae Industrial
Merrell
Michelin
Nautilus
Propper
Puma Safety
Reebok
Rockport Works
Rocky
Terra
Tony Lama
Pros and cons?
An obvious pro of WorkBoots.com is that on this website you can find a lot of brands that are available in big stores such as Amazon too. So you have plenty of options to choose from.
The con is that the website, according to some buyers, it's not doing a great job at fulfilling the orders.
WorkBoots.com alternative stores to buy work boots online
If you feel like you can't trust WorkBoots.com for whatever reason, don't worry, there are a few other alternatives where you can buy work boots both online or at a local store. My favorite one is Amazon.
The catalog is huge, you have same-day or next-day delivery, and also you can send them back if you're not happy with the product you received and the process is super easy. (Full disclosure as I like to be transparent, Amazon also pay our business a small commission at no extra cost to you if you end up buying on Amazon using our links)
You can check this page for the best work boots on which you'll find great work boots for different situations or different jobs and industries.
Most of those boots you can find on
Amazon
Zappos
ShoeZone
Amazon vs WorkBoots.com
There is an obvious first difference here. Amazon's a huge website with a lot of trust from the users. I don't think anybody will go on Google and type: "Is Amazon.com a legit website?"

So Amazon it's a trustworthy business that has been around for years. It has lots of footwear products and brands that you like and trust. The buying process and the delivery process are quite effortless for Amazon.
It's easy to navigate and not very hard to find what you're looking for.
On the other hand, WorkBoots.com it's a much smaller website. In theory that's better since the website is niched down and very specific to a certain audience. As we said above, they are mostly focused on selling work gear.
Being a smaller size website you can find much faster the products you're looking for.
The takeaway: Is WorkBoots.com A Scam?
So WorkBoots.com it's not a fake website nor a scam. It just seems that they're doing a poor job at dealing with unhappy customers and that's why you'll read so many poor reviews.
No business is perfect and no business will have 100%, happy customers.
It's perfectly fine if you want to shop for work boots online at WorkBoots.com just make sure to read their refund and return policies properly to avoid surprises.
Anyway, I hope this was helpful to you. Good luck buying good work boots!
More related content and resources on the topic
---
Team Members Working On This Page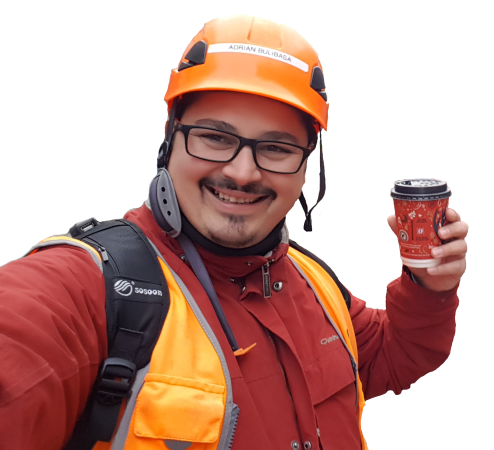 Construction Professional, driver, crane operator, cleaner, head chef … these are just some of the jobs I did in the past. Working in all these different environments taught me that having good footwear to protect your feet from different dangers at work IS PARAMOUNT for any worker! On this website, I aim to share all my knowledge and personal experience in dealing with different footwear and foot care issues, and hopefully, you can get something out of it. Enjoy!
Love technology, going to the beach, take care of my body, and writing (amongst other things). You'll see my face around here a little bit since I'm responsible for part of the research and writing of some of the articles you're reading on BestForMyFeet.com. I hope you'll find our content helpful and enjoyable! See you around, thanks for reading!