Hey, welcome to our Caterpillar Outline steel toe work boots review.
Adrian from our editorial team bought this steel toe work boot for his construction job and he wanted us to create a nice and in-depth review of this boot.
Buckle up. There's a lot of good info in here. So, Adrian, let's get into it
Unboxing the Caterpillar Outline work boots
I've just received my pair of Caterpillar Outline work boots today.
Let's see what's inside.
First impressions
As soon as you open the box you can see the awesome yellow full-grain leather that makes this boot look very stylish.
The combination of the colors on this boot is very pleasant to the eye. The Cat brand's colors (black and yellow) combine perfectly with the yellow leather of the boot.
Not as heavy as the previous work boots I've had, the Timberland Pit Boss with steel toe.
Very happy with how it looks.
Love the metal iron hooks on these. They're great for when you want to wear your boots a bit more tight (or loose depending on the situation). We'll see how long they last though.
So far so good…
Features and specs
Here are some of the most important features of the Caterpillar Outline work boot:
Slip resistant rubber outsole
Electrical hazard rated
Removable insole
Astm F2413-11 I/75 C/75 steel toe protects against impact and compression
Material used in the construction of the Caterpillar Outline work boot
| | |
| --- | --- |
| Sole | Rubber |
| Upper | Full-grain leather |
| Toe cap | Steel |
| Mesh | Nylon |
The Caterpillar Outline on the outside
Let's check out the outside of this boot.
1. Leather quality
The Caterpillar Outline is built with full-grain leather. Some people have said these boots are waterproof… but THEY ARE NOT WATERPROOF!

So don't buy it if you work a lot in rain and wet conditions. It can resist a little bit of water but if it doesn't get dry, you'll start to feel the water coming through!
It's a very nice yellowy/sandy color which makes this work boot look like a casual boot.
Not sure if you can make it water repellent by applying mink oil or wd 40 or something like that. If I end up doing it, I'll update this section with my experience!
2. Good outsole?
Caterpillar claims that the Outline work boot has a slip-resistant sole so you'll be fairly protected against slipping on wet floors and other slippery surfaces.
In my experience, wearing these work boots every day on construction sites, so far, never had a stone, a nail, or anything else penetrating the sole. So I can say the outsole is puncture resistant.
3. Shaft height
This boot's shaft measures 6" from the arch and about 7″ if you count from the floor as you can see in the image.
Inside the Caterpillar Outside work boots
Now let's have a look at the inside features.
1. Adding an extension to the tongue
This is one of the things I like to see in any work boot. It might seem a silly detail for those new to work boots. But if you're like me and you had to wear safety boots at work for years, you'll know how annoying it can be to have that stupid tongue flapping around.
That's one thing. A second annoying thing is when mud or sand or whatever gets in my boot through the space on each side of the tongue.
This detail on this Caterpillar Outline work boot helps to keep that dirt out of my boots. Lovely detail!
The only critique here is that this tongue extension it's not waterproof. So it will keep the dirt out but not water.
2. Removable insole
Many work boots out there don't come with a removable insole.
And that sucks. Because if you want to replace it down the road with a new one due to stinky feet or simply because it's worn, you can't!
This Caterpillar Outline work boot insole is removable and you can replace it. Actually, I suggest you replace it from day one.
It's ok to wear the boots with the provided insole for a day or two. But if you buy a better insole as soon as possible, the boot will make you feel more comfortable.
I bought different ones for myself. These are the latest ones.
3. Is the Caterpillar Outline good for wide feet?
I'd say my feet have an average width (if that's even a thing) I never had a problem with a boot being too tight for me right out of the box.
But here's how wide my foot is and how wide my Caterpillar Outline is so you can have an idea if this is too tight for you.
Apparently, you can buy the wide version of the Caterpillar Outline here.
Just go to the size dropdown and choose yours. In all honesty, though, I don't know how wide it is. So you might have to do a bit more research if you want to.
Caterpillar Outline overall quality
Overall, the Caterpillar is a great work boot with a lot of helpful features.
You will have of course unsatisfied customers like with any other product, but most owners were happy with their Caterpillar work boots.
One note I'd like to add. These boots are not for heavy-duty jobs. I have the feeling they'll break very fast. It's more for an indoor type of work:
Warehouse
Construction trades (electricians, plumbers, painters)
Retail
Drivers
Are they lightweight?
As you can imagine, the steel toe makes it heavier than other work boots. But they are not that heavy for being a work boot.
The weight is about 1 pound per boot or 700 grams.
Are they comfortable?
Yes, these Caterpillar Outline work boots are very comfortable for me.
You can make them even more comfortable by buying a better insole as we've mentioned above. Here are the ones I use.
Do they provide support?
Yes, as a matter of fact, the Caterpillar Outline boot provides great support.
And if you're looking for ankle support, this work boot does a great job with that too.
For extra support, I like to tighten the laces all the way up using the metal hooks to increase the tension in the laces thus making the boot stick to my feet and ankles like glue.
Are they true to size? Do they run small or large?
Usually, I wear size 9 for my normal footwear. But for work boots, in general, I go one size up. I like to have some room inside the toe box, especially if it's a steel toe box.
I made a mistake when I bought this Caterpillar Outline boot.
I got myself a size 9 instead of a size 10. To my surprise, it fits great with a pair of cotton socks. (not very thick though)
So in that sense, they were true to size for me.
From what I've seen reading other people's experiences, it's a mix of true and not true to size.
My recommendation? By one size up! (that's what I always do; except when I do mistakes and buy the wrong one like I did in this case :D)
What colors do they come in?
Caterpillar Outline boots come in a few colors.
The one that I have is yellow/honey and you can get it as well on
Break in period
It was great to wear the Caterpillar Outline straight away. Personally, I didn't have any issues whatsoever.
The leather is not that hard but it will take you a couple of days for sure to get used to the boot. That's normal.
So they were ready to use them for work right out of the box for me. No breaking in period!
Who do I recommend the Caterpillar Outline work boot to ?
It's definitely not for everybody. I don't know what your trade is or what your job is.
But like I said above, my first recommendation would be for plant operators, people working mostly indoors like plumbers, electricians, painters, drivers, warehouse workers, etc.
If you work outdoors with pipe installations, excavations, landscaping, and groundwork in general, I don't recommend this work boot.
Simply because it's NOT WATERPROOF and the leather is not that though. These pull-on work boots might be better for you in this case.
How long do the Caterpillar Outline boots will last?
I guess it will depend on the type of job you're doing. The more heavy-duty your job is, the easier they'll break. To me, they don't seem like a boot build to last in harsh environments.
I'll update this post as soon as mine breaks down and let you know.
But from what I've seen from other users, the Caterpillar Outline last anywhere from 8 months to a couple of years.
Price: how much does Caterpillar Outline cost?
It varies from shop to shop. As well as if a shop is local or online.
This model is one of the cheapest steel toe work boots you can buy (that are not totally crap)
So you'll find a lot of different prices for the Outline work boots. But if you want a rough number, the Outline work boot can cost anywhere from $66 all the way to $100 plus.
The best way to find out an up-to-date price is to check on Amazon by clicking here.
Where to buy Caterpillar Outline work boots?
Of course, the best place would be your local shop. You can feel the work boots, check if it fits you properly, and own it the same day.
But nowadays it's so convenient to buy online.
It's easy, safe, and even if you don't like it, or does not fit you, you can send it back at most online stores and get your money back or change it for a different one.
5 Alternatives to Caterpillar Outline work boots
Below I've added a few work boots that are in the same range as the Catwrpillar Outline. They're all in the same price range, mostly have the same features but the boot designs are a bit different of course.

Check them out to see what other options are available out there!
Do you prefer a video instead?
Check out our Caterpillar Outline Review on our YouTube channel
See what's inside these Caterpillar Outline work boots
Last words on this Caterpillar Outline steel toe boots review
Overall it's a good work boot for the money. It's not expensive but it's not cheap either.
Remember not to buy this boot if you do heavy work outdoors. It doesn't seem to be built to last. It's comfortable though. It has lots of safety features that you should expect from Cat boots.

And it looks very nice (not as bulky as some other safety work boots out here)

---
Team Members Working On This Page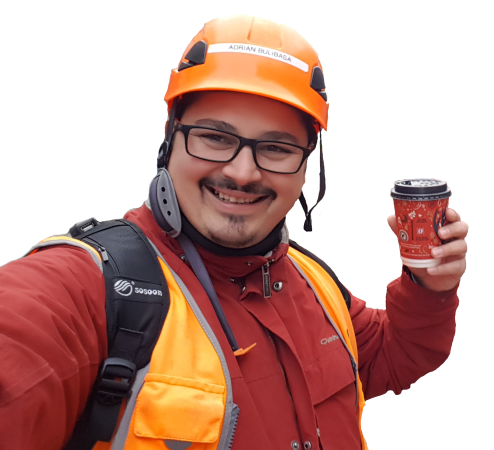 Construction Professional, driver, crane operator, cleaner, head chef … these are just some of the jobs I did in the past. Working in all these different environments taught me that having good footwear to protect your feet from different dangers at work IS PARAMOUNT for any worker! On this website, I aim to share all my knowledge and personal experience in dealing with different footwear and foot care issues, and hopefully, you can get something out of it. Enjoy!
Love technology, going to the beach, take care of my body, and writing (amongst other things). You'll see my face around here a little bit since I'm responsible for part of the research and writing of some of the articles you're reading on BestForMyFeet.com. I hope you'll find our content helpful and enjoyable! See you around, thanks for reading!