You'll often read (hear or see) about the stitching used on a work boot's sole. And I'd say that the most common ones you've come across in product descriptions are the Stitchdown sole construction and the Goodyear welted sole method.
But why? What's the deal? What does that even mean?
Stitchdown is a method used to attach the upper part of a boot or shoe to the sole. The same goes for Goodyear.
Believe it or not, workers and footwear enthusiasts constantly disagree over which is better, so to set the record once and for all, I felt it's time to bring out the facts.
This brings me to…
What is stitchdown construction?
First, let me start off with what exactly is stitchdown construction.
A work boot with a stitchdown construction is when the edge of the upper's leather is pulled over the midsole and stitched down to it and the outsole, which is why it's called stichdown.
Usually, this is done in a rapid stitch, which is basically stitching the upper to the midsole in the first stage, then in the second stage, another stitch is made to attach the upper, midsole, and outsole.
How do you tell if a shoe has a stitchdown construction?
If you ask me out of the blue how I would recognize a pair of stitchdown construction shoes or boots the first thing I'd look for is the double row of white stitches on the boot itself, which is more or less the easiest way to differentiate them from other shoe or boot construction methods.
Stitchdown vs. Goodyear welt: any differences?
Stitchdown work boots are tightly sealed from outside elements like moisture because the main parts of the boot are stitched and glued together directly, leaving no room for gaps.
This is the classical way that work boots were made for centuries, and it's as old-school as it gets, meaning that it takes more time and precision to produce each pair of work boots.
Things are a bit different with Goodyear welted work boots and any other type of footwear made using this method.
The Goodyear welt was created in the 1800s to reduce the complexity of manufacturing footwear and produce larger quantities.
The welt itself is just a strip of material attached to the edges of the upper, which is then stitched to the insole and upper, which simplifies the process.
Doesn't sound like a big deal, right?
Wrong.
The welt isn't the issue. The footwear it's used in is mass-produced by machines, which means that even low-quality work boots can have a Goodyear welt, and manufacturers often slap it on as an additional feature.
I want to point out that this doesn't mean that a Goodyear welt construction is bad, nor does it mean that work boots with a stitchdown construction are always durable.
But often you'll see that footwear that's more expensive and handmade usually comes with a stitchdown sole construction instead of a Goodyear welt.
Just like anything else that has to do with footwear, you need to understand what you're getting and make sure it's from a brand that values quality.
Can Stitchdown footwear be resoled? (and at what cost?)
What I really admire about most stitchdown work boots is their rugged build, so it'll be a while until you need to get them resoled.
If you're a smokejumper, construction worker, or work in any job where your soles will be abused, you'll be glad to know that they're also resoleable, just like a pair of quality Goodyear welt work boots.
But there's a catch.
Stitchdown work boots take a lot of time to be built and require specialized labor. Not many manufacturers offer repair services, meaning even fewer cobblers can fix them or even know how to fix them. 
Now let's talk about costs.
This will vary for you guys, but from my own experience, it'll cost around $100-$200 to get stitchdown work boots resoled, and about $300 to get them rebuilt. 
Assuming the upper isn't damaged or worn out, you can technically get them resoled as much as needed. I've heard people resoling their boots for up to five times.
Where can you see this type of stitching? 
After revisiting some of my top 10 work boot articles, I was surprised to see that even work boots with the highest ratings from customers aren't usually made using the stitchdown method.
I dug a bit deeper, and it all comes down to the jobs these types of boots are made for:
working in the wilderness or bushes
logging
construction
putting out fires
working with asphalt
and other demanding jobs.  
As far as brands go, Red Wing, Nicks, Wesco, Whites, and other reputable manufacturers are well known for their stitchdown work boots.
What are the pros and cons of stitchdown soles?
Not all footwear is created equally, regardless of the construction method used to attach the soles.
I hear you; stitchdown soles are great; it's why I'm a fan of Red Wing's work boots. But that doesn't mean that they'll meet your job's needs or tick all the right boxes.
To break it down, I've rounded up the main points you'll need to keep in mind when it comes to working boots or shoes built with a stitchdown construction:
Cons
1. Pricier
A pair of stitchdown construction work boots don't come cheap. The process of getting the upper's leather around the midsole needs to be done by hand, which adds to their overall production cost.
2. Heavier
It's not exactly a golden rule, but almost every stitchdown boot out there uses more solid and rigid materials that add to the overall weight.
3. Harder to repair
As I mentioned previously, it's harder to resole stitchdown construction work boots if a manufacturer doesn't have their own repair service.
On the other hand, a cobbler would need to repair the boots by hand or precisely hit the older stitch holes in the leather using a machine.
Pros
1. Better foot support
The leather and material used in constructing high-quality stitchdown footwear generally provide better support for your feet, especially when it comes to arch support.
2. Watertight 
The lack of additional material between the leather upper and the outsole stops liquids from getting to your feet (to a degree). 
3. Durable
I've noticed that most boots designed for heavy-duty jobs have a stitchdown construction.
The logger, asphalt work, and even the firefighter boots that I've wanted to get all feature a stitchdown construction, which makes sense since those work boots are designed to tolerate more punishment than most work boots can.
Examples of footwear using the Stitchdown sole method
These are just a few examples. You'll find all sorts of footwear that are made using this Stitchdown sole technique and it's used mostly by companies who build their footwear by hand.
Other types of sole construction in footwear
There are many other ways footwear is constructed and here are some of the most common out there:
The takeaway
If you want to get a pair of shoes or work boots that are durable, tough, repairable, and can keep up with the pace of your job or daily activities, then it's hard to go wrong with stitchdown construction footwear.
The most important thing you need to consider is that no matter how good reviews say they are, the construction method used is just one of many features that make a good work boot.
Sure, some folks might swear by stitchdown construction footwear and refuse to wear anything else, but remember that manufacturers use at least a dozen methods to attach the sole to the rest of a work boot, and realistically, the difference is barely noticeable for most jobs. 
---
Team Members Working On This Page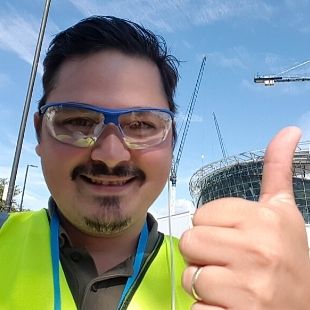 Construction Professional, driver, crane operator, cleaner, head chef … these are just some of the jobs I did in the past. Working in all these different environments taught me that having good footwear to protect your feet from different dangers at work IS PARAMOUNT for any worker! On this website, I aim to share all my knowledge and personal experience in dealing with different footwear and foot care issues, and hopefully, you can get something out of it. Enjoy!
Love technology, going to the beach, taking care of my body, and writing (amongst other things). You'll see my face around here a little bit since I'm responsible for part of the research and writing of some of the articles you're reading on BestForMyFeet.com. I hope you'll find our content helpful and enjoyable! See you around, thanks for reading!