If you're new to work boots I'm sure you have a lot of questions that need to be answered. And since you're here, you probably look at some moc toe work boots and want to know what's the deal with these types of work boots.
Well, in a nutshell, there is no functional difference between a moc toe and a round-toe work boot or any other toe cap style for that matter. It's simply a different style of work boot.
What's the point of a moc toe in a work boot?
The point of a moc toe in a pair of work boots it's more of a design characteristic rather than considering it a functional feature. For example, let's say you have to decide between a pair of soft toe box work boots versus a pair of composite toe box work boots.
The difference between these two is that the composite toe cap will prevent damage to your feet if something heavy fall or roll over your toes whereas the soft toe cap won't. So one can be used in dangerous work environments while the other can't.
When it comes to choosing a work boot with a moc toe vs a round toe cap work boot for example … it will make no difference which one you'll choose.
It's more of a personal choice that has to do with one's preference.
Is a moc toe better than other toe box styles?
Not really. As I said above, choosing a moc toe style boot vs a square toe boot or any other toe cap styles available in work boots mostly depends on your own style and preference.
Are moc toe work boots in style?
Well, you probably already know how fashion and style work. It changes all the time. So what might be trendy this year, might not be trendy the next year.
Also, the moc toe it's something regional. Depending on where you're from you might see a lot of people in your day-to-day wearing moc toe work boots or totally the opposite.
Personally, I like how the moc toe work boots look both in a construction environment and in an office setup as well when you wear them with a pair of jeans or chinos.
They look very stylish in my opinion.
Examples of moc toe work boots
Last notes on why moc toe work boots
Some people love moc toe work boots and some dislike this style of boots.
Also, keep in mind that the moc toe is simply a design, a style of boot, and not a feature.
Personally, I've had a few pairs of moc toe work boots over the years, and depending on what type of pants I'm wearing them with, they will look great on me or they'll make me look like a clown.
Some people I've talked to told me they've never seen someone wearing moc toe work boots at their workplace. So wearing moc toe work boots might be a regional thing too.
I'm based in London, UK and I was the only dude (out of almost 200 people working on my site) with a pair of moc toe work boots. That's the case with many parts of the US as well.
All in all, if you're after a new pair of work boots and you're not sure if you should go for a moc toe work boot or not, I'd say go for it. There's no reason why you shouldn't get a pair of these boots unless you don't like this style of boots.
---
Team Members Working On This Page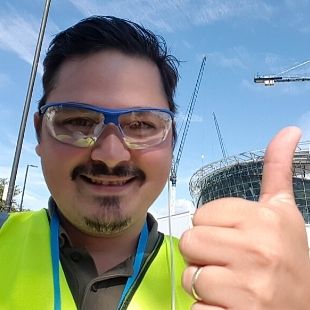 Construction Professional, driver, crane operator, cleaner, head chef … these are just some of the jobs I did in the past. Working in all these different environments taught me that having good footwear to protect your feet from different dangers at work IS PARAMOUNT for any worker! On this website, I aim to share all my knowledge and personal experience in dealing with different footwear and foot care issues, and hopefully, you can get something out of it. Enjoy!
Love technology, going to the beach, taking care of my body, and writing (amongst other things). You'll see my face around here a little bit since I'm responsible for part of the research and writing of some of the articles you're reading on BestForMyFeet.com. I hope you'll find our content helpful and enjoyable! See you around, thanks for reading!