I've bought these boots for my construction day job and right from the get-go I'm going to tell you that these were some of the most comfortable work boots for the money.
In this case, my friend and colleague, Peter wore the boots since I don't have time to wear and review all the boots you'll find on Best For My Feet.
You can read the DeWalt Newark full review here if you're curious to know more. In this article, we'll only talk about what's inside this boot or at least what materials I can identify as I'm deconstructing the boot.
About the boot
| | |
| --- | --- |
| Brand | DeWalt |
| Model | Newark |
| Shaft height | 6-inch from that arch |
| Heel height | 1.05 inch |
| Color | Brown |
| Toe cap | Steel toe box |
| Upper | Leather |
| Sole construction | Cemented |
| Price | Check on Amazon |
If you prefer, watch it on YouTube
How the boot was used
These safety steel toe work boots were used by my colleague Peter on a construction site where he works as a site manager He's duties don't involve heavy-duty tasks but he does walk a lot.
According to his smartwatch, he makes about 15000 steps per day. That's much more than I do.
Most of the time the boots were used to walk on concrete and sometimes soft ground and mud.
How long it lasted
The boot lasted 9 months roughly. In these 9 months, Peter did somewhere around 3 million steps. Most people don't do anywhere near this amount of steps.
The boot had to be replaced because the leather completely split around the foot ball area.
My guess is because Peter didn't know about conditioning the leather and taking care of it in general (or he simply doesn't have time for it). And also, don't forget the number of steps he did wearing these boots.
Alright, let's dig in.
Let's start with the sole of the DeWalt Newark
1. The outsole
When I read the product description of this work boot on Amazon or DeWalt's website it says the boots come with a TPU dual density outsole which is harder than pure rubber and will last longer since is more abrasion resistant than rubber.
The outsole is about 6mm thick.
2. The midsole
I can't find anything about the midsole, but in my opinion, the midsole is made of EVA (Ethylene-vinyl Acetate). I say this because the midsole is very soft, kinda like foam and that's what provides the cushioning in this boot.
It's about 16mm thick in the heel area where you need most cushioning and about 8.5mm thick in the rest of the sole.
3. Anti puncture metal plate
A great feature to have especially if you work in anything related to construction. There's always the possibility of stepping into a nail or screw, broken glass, and sharp-edged pipes, or exposed metal.
So in order to protect you against some of the hazards mentioned above, these DeWalt Newark boots come with a steel plate. The plate is fitted inside the midsole right under the fiberboard that keeps together the water membrane and lining.
It's 0.2mm thick so it doesn't add that much to the total weight of the boot. The plate weighs 37g give or take.
4. The insole
The insole is quite comfy right from the get-go so if you want to save money there and don't buy additional inserts, these will be comfortable for the first 2-3 months.
They're made of PU (polyurethane) and they feature moisture-wicking and anti-bacterial systems to help reduce stinky feet.
If you need arch support, they do provide a little bit. That's decent for a normal foot. If you have plantar fasciitis or maybe you have flat feet then you might have to look for a different option.
5. Construction type
This boot's construction is what's known as cemented sole construction where the sole of the boot is glued to the upper of the boot. There are pros and cons to this type of boot construction but the con that most interests you is that you can not resole these boots.
Or if you find a cobbler to do it, it might not be worth it since resoling a pair of work boots is not cheap either.
6. Does this boot has a shank?
No, the Dewalt Newar doesn't have a shank. And in all honesty, you won't need one with these work boots.
The main reason is that the heel is very low and also the steel plate acts a little bit as a shank on this occasion. But if you really want a real shank this boot doesn't have it.
7. Does this boot provides arch support?
Nope. This model from DeWalt doesn't provide arch support. The footbed is very flat but if you require arch support the good news is that the insole is removable so you can add something that fits your needs.
Let's talk about the upper of this DeWalt Newark
1. Material used in the upper
The upper contains a few different materials such as leather, fabric, and TPU as heel reinforcement.
According to DeWalt, these Newark safety work boots are made with Buffalo leather. It's 2mm thick which is decent for a work boot but I wasn't convinced by the quality.
2. The second layer (possible insulation)
I can't identify the second layer in the upper that comes after the leather. It's some kind of fabric that's 1.6mm thick and I think it serves as insulation. By the way, here's a quick guide to insulation in work boots if you want to learn more about the topic.
3. Is it waterproof?
On Dewalt's website, it says this boot comes with Hydroguard® lining.
Hydroguard® is basically a PU (polyurethane) membrane that will stop water coming into your boots even if the water or moisture might still come through seems and stitches holes.
Something similar happened to my boots too. The leather cracked and allowed water to penetrate into the boot but that was all good since the membrane would still keep my feet dry until this happened.
The water membrane has a nice big hole in it due to the friction between the toe and the membrane. Now every single little drop of water comes straight into the boot.
That's the reason why my buddy Peter stopped using these boots.
But if the membrane is in good shape, these work boots are indeed waterproof.
Parts 3 & 4 in the image above are what make the water membrane. Here's a test of the membrane:
4. Heel counter
The heel on this boot is made of paperboard and this option makes for a very poor quality boot in terms of structure.
That's probably the reason DeWalt went for a TPU exterior heel support. This feature will not only keep your heel in place as you walk but also will maintain the structure of the boot and even avoid some silly injuries in the heel area.
5. Padding
The boot has a lot of padding which is one of the reasons is so comfy. On the other hand that's probably why so many reviews out there say the boot will make your feet sweat.
I mean, there's a lot of material in this boot. The 2mm thick leather, the fabric between the leather and the water membrane, the membrane itself, and your socks …
… it's easy to see why you could sweat in these boots.
There's some foam padding in the tongue and around the ankle as well for added comfort!
6. Toe cap protection
This is a safety toe boot and it comes with a steel toe cap. So if you need a boot for construction work or any other industry that requires you a safety toe work boot, then this is a great option!
On top of the toe cap, you'll see an anti-scuff toe guard which makes the boot a little bit more durable by not allowing the leather to get worn and damaged leaving the toe cap exposed, forcing you to replace your work boots.
The toe cap itself is quite tough and it seems that I need to up my tools game here since I couldn't cut through the steel with my Bosch jigsaw.
You'll see how thick it is in the image above plus how wide and tall it is in case you need to know if your feet will fit in these boots.
Last words
I hope I didn't miss anything. Cutting my DeWalt Newark in half helped me learn a bit more about work boots and I hope it helped in any way.

Now I know why so many colleagues on my site wear these work boots. They're an affordable pair of safety boots, they're comfortable and they have a tone of good features.
Even though these boots are not made in America, they're not bad at all for the money you pay for them.
---
Team Members Working On This Page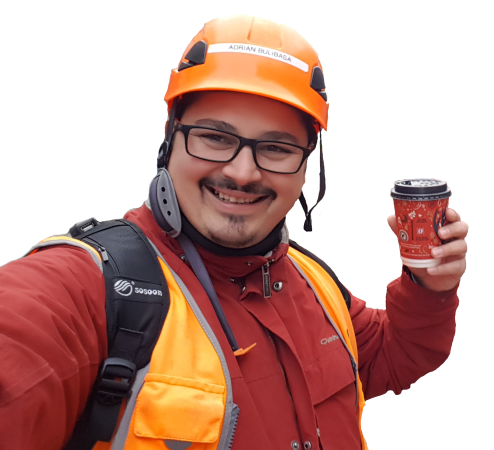 Construction Professional, driver, crane operator, cleaner, head chef … these are just some of the jobs I did in the past. Working in all these different environments taught me that having good footwear to protect your feet from different dangers at work IS PARAMOUNT for any worker! On this website, I aim to share all my knowledge and personal experience in dealing with different footwear and foot care issues, and hopefully, you can get something out of it. Enjoy!
Love technology, going to the beach, taking care of my body, and writing (amongst other things). You'll see my face around here a little bit since I'm responsible for part of the research and writing of some of the articles you're reading on BestForMyFeet.com. I hope you'll find our content helpful and enjoyable! See you around, thanks for reading!