I've bought these work boots for myself about a year ago and I have to retire them now. Although they didn't last that long, it's good because I can give you a fair review of these DeWalt safety boots and I hope it's helpful to you in some way.

Reviewing The DeWalt
Newark Steel Toe Boots
These work boots are an excellent option if you're looking for a pair of boots that are comfortable and affordable. They're not for heavy-duty tasks, in my opinion, they're great for light to medium-duty work.
Buckle up cause it's quite a long review. For your convenience, I've created a menu for this page that's helpful to jump to a specific section. Just click on the "What's inside" below to open it.
Let's get into it!
Btw, I've cut these DeWalt boots in half if you're curious to see what's inside them!
Unboxing of the DeWalt Newark
What I've always liked about the DeWalt work boots is that they come with a conformity certificate which basically means that these boots have passed whatever tests they need to pass in order to make them safe for us to wear.
And also they come with a couple of pages in which explains what features the boots have and what they mean for you and me.
It's the only brand that I've seen to do this. So kudos to DeWalt for this awesome detail.
First impressions
My first impression is that these boots are not only going to be comfy because of the padding I can see around the boot shaft, tongue, and on the inside as well.
But they'll also make me look cool on-site since the boots are very nice.
Not the most lightweight work boot I've had that could be to the steel toe and whatever might have inside.
I don't think this boot will last most than 12-14 months if you're working in construction.
That's because the boot comes with a cemented sole construction instead of a Goodyear welt sole, which is much more durable. Also, the leather doesn't seem to be for heavy-duty work but we'll see.
Features of the DeWalt Newark safety boot
| | |
| --- | --- |
| Cap protection | Steel toe cap |
| Outsole | Injected TPU/PU |
| Slip-resistant | Yes |
| Oil resistant | Yes |
| Shank | No mention of a shank |
| Insole | Removable PU insole |
| Upper | Leather + synthetic |
| Electrical hazard rated | Yes |
| Puncture resistant | Yes (steel midsole) |
| Waterproof | Waterproof membrane |
| Lining | Hydroguard Lining |
| Goodyear welt | No, cemented construction |
The DeWalt Newark on the outside
Alright, now let's have a look at what the boot has to offer looking at the exterior of the boot.
1. Leather quality
DeWalt claims this boot is made with Buffalo leather…
…I really didn't like the way the leather is creasing here. I'm not even sure if this is even real leather.
Time will tell! But for now, all I know is that the boot feels great.
2. Good out-sole?
Yes, the outsole on these DeWalt safety boots seems to be quite rugged. The sole offers slip resistance, especially on concrete floors and muddy construction environments.
If you work on smooth surfaces, make sure to scruff the sole a little bit with sandpaper before you start working. Or simply rub the sole of the boot on some unpolished concrete surface or concrete block or similar.
That's because this type of outsole is stiffer than rubber and is very slippery when is brand new.
The outsole, being made of TPU makes it a bit harder and it's a good thing in this case because it provides more support and stability. This is good for those of you with plantar fasciitis and weak arches or flat feet as well.
3. Anti scruff toe guard
Depending on what work you're doing, an auto mechanic, an electrician, plumber, etc …
… you might have to bend, flex, or crouch a lot and the first thing that will get damaged in your boots is the toe cap.
The TPU anti-scruff toe guard is an extra layer that can correct your boot and expand its lifespan.
4. TPU Heel Support
Do you see all that plasticky material going from the back of the heel all the way to the speed hooks?
If you didn't know, once you put your laces through those speed hooks and tighten your laces, the speed hooks will pull your heels towards the front of the boot.
This will make these boots much more comfortable since usually, the heel tends to move a lot inside the boot as you walk.
Not anymore!
Inside the DeWalt Newark work boot
Let's what features we can identify inside the boot now.
1. Gusseted tongue
The tongue on these DeWalt boots is gusseted quite high just as we've seen when we've reviewed the Wolverine Overpass composite toe boots.
It might require a bit more work on your part to put the boots on but having such a high gusseted tongue helps keep water, dirt, sand, and debris out of your boots.
2. Removable insole
The insole in this DeWalt is quite comfortable compared to the one I had in the Timberland PRO Pit Boss boot which was just a cheaply made insole that required a better one immediately.
In this case, you don't have to spend extra money on insoles. At least not for the first couple of months of using these boots.
The insole is made of PU (polyurethane) and is very light of course. It's thicker at the heel because of the cushion zone that absorbs the impacts as you walk.
This helps prevent back and knee pain that's so common amongst people wearing steel-toe work boots.
It also provides a little arch support but might not be enough if you're suffering from plantar fasciitis. You might need a better one in that case.
3. Lining
The lining in this boot is made out of Sympatex fabric which is both waterproof and breathable.
Even though this material won't let the water come into the boot, your feet will still be able to breathe (mind you, you'll still sweat a little bit, especially if it's hot outside).
4. Are they waterproof?
The Sympatex fabric plus the Hydroguard membrane makes this boot quite waterproof. As long as the upper is in good condition, your boot will remain waterproof.
As soon as the upper starts to crack you can get ready to start replacing your work boots.
That's especially true if you work with water or do work outdoors where it's raining. If it's just a little.
Here's why I had to retire this DeWalt Newark safety boots.
As anticipated in the first impression section, the leather cracked pretty bad. In all honesty, though, these boots have been put through a lot of punishment!
Will these DeWalt boots fit a wide feet?
This is a difficult question to answer so instead of telling if this will fit your wide feet, I'll just tell a picture and hopefully, this will tell you if it's good for you or not.
The width of this boot at the foot ball area is about 1000mm or 4 inches more or less.
Where are they made?
My DeWalt Newark safety boots are made in China.
What the letters stand for when it comes to the width of the boot? (W,M,D,E,etc)
There's a lot of confusion about these among people looking to buy a pair of work boots. Hopefully, the little table I've put together might help you understand what's that all about!
The letters simply represent how wide the work boots are.
| Letter | Meaning |
| --- | --- |
| N or A | Narrow |
| M, or D | Medium |
| W or 2E | Wide |
| XW or 3E | Xtra Wide |
Boot weight: Are they lightweight?
These Newark safety work boots are not the lightest work boots I've had, that's because of the steel toe cap and the anti-puncture steel plate.
The boots weigh almost 950g or just a little bit over 2 pounds.
Are they comfortable?
Even though they are a bit on the heavy side, these are some of the most comfortable work boots I had at this price tag.
Do they provide support?
Yes, they do provide good support in a few different departments.
For example, the insole will provide good heel cushioning that will absorb shocks as you're walking helping avoid foot fatigue and even plantar fasciitis.
Also, these boots will provide some arch support but the insole is quite soft and that means the arches will still sink a little bit as you're stepping. I prefer more rigid arch support like you can find in these insoles from EasyFeet.
Are they true to size? Do they run small or large?
They are true to size.
Break in period
These DeWalt Newark are great and ready to go to work as soon as you take them out of the box.
So no breaking-in period is required for these boots. If this is the first time wearing work boots you WILL feel strange a little bit but you'll get used to them in a day or two.
Where to buy the DeWalt Newark work boots?
There are a few different online stores you can get these work boots, one of them being Amazon.
Who do I recommend the DeWalt Newark work boot to?
Ok, based on my experience with these DeWalt boots I'd definitely not recommend these boots to anyone doing heavy-duty work, such as
ground workers
steel fixers
railways workers
etc
Also, based on how the leather cracked on these boots, I don't recommend it for you if your job requires a lot of bending and flexing.
I recommend it for all the other workers:
construction workers
electricians
plumbers
warehouse workers
etc
Pros and cons of this boot
Of the biggest cons is that these boots are not available in too many sizes. So you might struggle to find your size. Another con is that they are a bit heavy.
On the other hand, they are very comfortable right out of the box. They provide a lot of support in different areas and they're quite an affordable pair of safety boots.
Update: 1 year of wearing the DeWalt work boots
So here we are, almost one year later. I could still wear these work boots for a few more months but the weather is quite wet at the moment and the boots lost their waterproof capabilities.
I can still go through a puddle of water and be ok but if I have to work and walk a lot on rain or wet surfaces…the water will come through.
These boots have been put through A LOT. I've used the boots to work on a construction site, Monday to Saturday, and even Sundays doing more than 10 hours per day shifts.
I'm retiring them after 9 months of a lot of hard punishment!
And the only reason I'm retiring them is that the leather has split on my right boot leaving my foot exposed to water and other chemicals that might come into the boot.
Otherwise, an excellent work boot!
There are a lot of work boot models competing with the DeWalt work boots but I feel like the ones I selected above are the most notable ones within the same range.
They have lots of reviews, lots of happy customers too.
Watch the review on YouTube if you prefer
Verdict: Are these DeWalt Newark safety boots worth the money?
Yes, in my opinion, and experience, these work boots are worth the money.
They're comfortable and to me, that's the most important thing in a pair of work boots since that's where you're going to spend most of your day.
Also, you get a lot of good safety features any professional would like to see in a work boot …
…without breaking the bank!
---
Team Members Working On This Page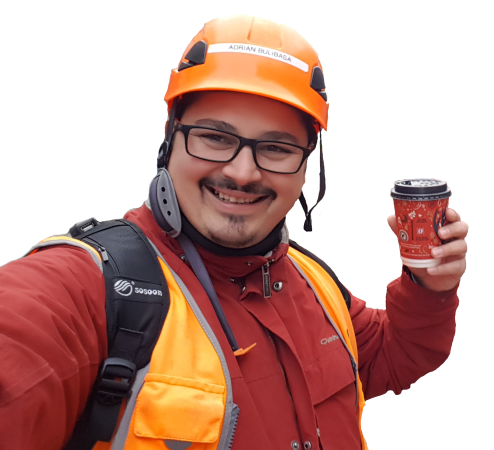 Construction Professional, driver, crane operator, cleaner, head chef … these are just some of the jobs I did in the past. Working in all these different environments taught me that having good footwear to protect your feet from different dangers at work IS PARAMOUNT for any worker! On this website, I aim to share all my knowledge and personal experience in dealing with different footwear and foot care issues, and hopefully, you can get something out of it. Enjoy!
Love technology, going to the beach, taking care of my body, and writing (amongst other things). You'll see my face around here a little bit since I'm responsible for part of the research and writing of some of the articles you're reading on BestForMyFeet.com. I hope you'll find our content helpful and enjoyable! See you around, thanks for reading!