I've personally used these Doc Martens on my construction site. It wasn't used for heavy-duty purposes. Mostly walking up and down the site through mud and poor weather most of the time.
Also, the majority of my work area was hard concrete surface so I wasn't sinking much in soft ground and things like that.
Here's the review article of these Dr. Martens steel toe boots or if you prefer a video instead of a blog post then check out my review on YouTube (heads up, the article it's usually more in-depth).
About the boot
| | |
| --- | --- |
| Brand | Dr. Martens |
| Model | Icon 7b10 |
| Shaft height | 5.50-inch from that arch |
| Heel height | 0.89 inch |
| Color | Black |
| Toe cap | Steel toe cap |
| Upper | Smooth leather |
| Sole construction | Hot knife welded |
| Price | Check on Amazon |
If you prefer, you can watch it on YouTube
How the boot was used
As I said, I work in construction and that means that the boots are going to be punished. Even though many people will consider Doc Martens as fashion boots, I didn't buy these to show off on my site (although I got a few comments like that).
So I was wearing these Dr. Martens steel toe work boots for light activities. At the time I had these boots I was doing a lot of plant operating (forklift, 360 telescopic handlers, etc).
How long it lasted
That's one thing I can't comment about these Docs since I didn't wear them as much as getting to the point of breaking them completely. I had them for about 6 months before I cut them in half.
Based on my experience though (and this is just a guess) they won't last longer than 1.5 years in medium-duty work environment.
Maybe if you work indoors or maybe driving trucks or something along those lines, you might get a bit more out of them as the (meah) leather on these boots won't be exposed to the elements and harsh work environments.
Let's dig in more…
Let's start with the sole of this Dr. Martens work boot
1. The outsole
These boots feature the famous "Air Wair" sole that you've probably seen at some point in your life. It's a transparent sole made of PVC that uses air pockets to make it lighter and more comfortable.
And I believe it comes with different strengths. In this particular case, the outsole is very soft, very gummy if you want and that can be good or bad depending on what type of work you're doing and what type of surfaces you're walking on.
Great grip on almost any surface I've walked on my site (concrete, tarmac, linoleum, carpet, grass, etc). I have to warn you about wearing these when the temperatures are close to zero and below.
When it's cold outside, the nice, soft, gummy, flexible outsole becomes as hard as concrete making the boots very slippery on smooth, flat surfaces.
The sole is about 24mm (0.95″) in thickness if you take into consideration all the layers and 35.9mm (1.41″) at the heel area.
2. The midsole
The midsole is a 2.8mm thick fiberboard that provides a little bit of cushioning between the sock liner and the sole.
3. The insole
These Doc Martens come with a removable insole that has no support whatsoever. It's very soft, very gelly, and that could be good for those of your with high arches but not the best for flat-footed people.
It's ok to wear it for a couple of months though if you want to save some money but I suggest getting something better for your feet depending on your needs.
4. Construction type
These work boots are Goodyear Welted, but it's not your typical Goodyear Welt construction process. Dr. Martens are doing it differently.
Instead of stitching the upper to the outsole they actually melt the PVC sole and as the sole is getting melted the upper is getting attached to it. This sole construction method is also called Hot Knife Welting Method.
Doc Martens claim this is a better way to do it and that's more waterproof than the traditional Goodyear Welt technique.
To me, it didn't make any difference since
5. Do they have a shank?
Yes, to my surprise these Doc Martens work boots come with a shank. Why do I say to my surprise?
Because usually a shank in a work boot will make the boot stiffer at the arch area to provide more support to the arch…and these boot's soles are bending as if there's nothing in there.
The shank is about 117.5mm long that goes from under your heel almost under the ball of your foot. It looks like it's made of plastic or something like that.
6. The heel
The heel is not that high measuring more or less 33.1mm or 1.3inches from the bottom of the sole to the Goodyear welt.
So they're not going to be a good option if you work outdoors as a logger or working in the deep forest. There are better options for that like these great logger work boots. The heel is elevated enough just to can take a bit of pressure from your knees as you walk or do other activities.
Also if you're looking for boots that can make look taller these can help by creating an illusion of longer legs since the boots but again the heel is that high. Logger-style work boots have a lot of models that will help you with that.
7. Arch support
If you need arch support in your work boots you need to know that these work boots don't have arch support. The footbed is almost flat which could make this boot a good work boot for workers with flat feet.
If you want to go for these boots despite this detail you can always get yourself a good insole with arch support and that will solve the problem.
8. Puncture resistant
Although the sock liner of these Doc Martens work boots is made out of though material (I'm sorry, I don't know what it is) I couldn't find a steel plate in the midsole or anything for that matter. So these boots are not puncture-resistant.
The upper of the Icon 7b10
Now that we've covered what's in the sole let's have a look at what we can find in the upper of these Doc Martens boots.
1. Material
The upper is made of industrial corrected grain leather which simply put it means that the leather has been sanded and buffed to remove any natural imperfections of the leather. And then you can artificially imprint a new layer on top to make it look super shiny.
It can be great since using this technique you can create some badass-looking boots … but for steel toe safety boots, I'd rather keep it simple and just use some good quality leather with no bells and whistles.
The positive thing I have to say about it though is that the leather is thicker than 2mm. Between 2 and 2.5mm leather thickness is considered to be good for work boots.
2. Are they waterproof?
Nope, these Doc Martens are not waterproof. You can go through a small patch of water and be fine but in my experience, they get wet if you step in deeper puddles or if you work in rain.
As I was cutting the boots I've realized that the stitching goes from the outside, all the way through the lining, and straight on the other side of the leather.
On the inside. This is bad!
Why?
Because as soon as those stitches are getting wet, the water and humidity will start to filter through straight onto your socks. So these boots are better for indoors or nice dry weather!
3. Lining
Some people don't like to have a lining in their boots whilst others prefer the lining. If you do like it you'll be happy to know that these Doc Martens are lined with a 2.7mm thick layer of lining and padding.
It makes the boot comfortable and at the same time, it helps wick away sweat and moisture.
4. Are they insulated?
No, they have no layer of insulation. The lining and padding mentioned above will provide a little bit of warmth when it's chilly but you'll feel cold when temperatures come to zero. Here's a list of insulated work boots for winter.
5. Toe cap
The toe cap in these boots is made out of steel so if you need work boots for construction or any other industry where a safety toe boot is required, these Doc Martens are up to the standard.
It measures 79.5mm wide and 25.9mm high.
Last words: Did I miss anything?
I hope I didn't miss anything and if I did I invite you to drop a comment below so I can address it asap!
I like how the boots look on me. Some people say the boots are overpriced for what they are and I'll leave that for you to decide now that you know about what's inside a pair of safety work boots from Dr. Martens.
Personally, I like the boots and I think Doc Martens could definitely do better for the money they charge for these boots.
---
Team Members Working On This Page
Love technology, going to the beach, taking care of my body, and writing (amongst other things). You'll see my face around here a little bit since I'm responsible for part of the research and writing of some of the articles you're reading on BestForMyFeet.com. I hope you'll find our content helpful and enjoyable! See you around, thanks for reading!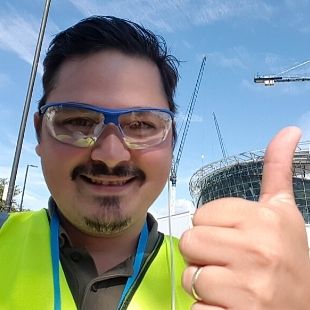 Construction Professional, driver, crane operator, cleaner, head chef … these are just some of the jobs I did in the past. Working in all these different environments taught me that having good footwear to protect your feet from different dangers at work IS PARAMOUNT for any worker! On this website, I aim to share all my knowledge and personal experience in dealing with different footwear and foot care issues, and hopefully, you can get something out of it. Enjoy!