I was browsing through Menards' website looking to see if they sell steel-toe work boots or any work boots for that matter.
But the only thing I could find in their Footwear and Footwear accessories section is some footwear-related accessories like socks, insoles, laces, etc but no work boots!
So, unfortunately, at the time I'm writing these lines, Menards does not sell work boots online.
How about in-store?
Menards doesn't sell work boots in store either. You might find a model or two of rubber boots or rain boots but that's all about it.
Here's a nice tour done by Optopolis of one of Menards' stores where you can see the different sections of the store. I could not see any footwear-related section…
Other similar stores that sell work boots in-store
So if you want to buy work boots locally you'll have to check out other local stores or buy them online.
These are more or less similar stores that sell work boots…
Alternatively, you can buy your work boots from the comfort of your sofa, and if you need inspiration here's a selection of the best work boots you can find on the market.
Please let us know if anything changes in the meantime so we can update this page. Thanks in advance!
Update #1
In order to be 100% sure I provide you with accurate information I went ahead and asked Menards customer service if they do sell work boots or not and the answer was: they do not! Here's a screenshot of our brief conversation on Facebook.
---
Team Members Working On This Page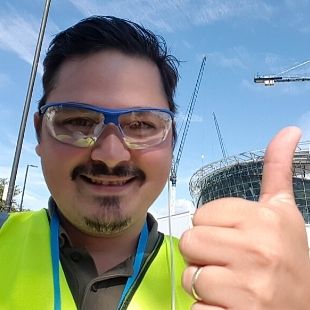 Construction Professional, driver, crane operator, cleaner, head chef … these are just some of the jobs I did in the past. Working in all these different environments taught me that having good footwear to protect your feet from different dangers at work IS PARAMOUNT for any worker! On this website, I aim to share all my knowledge and personal experience in dealing with different footwear and foot care issues, and hopefully, you can get something out of it. Enjoy!
Love technology, going to the beach, taking care of my body, and writing (amongst other things). You'll see my face around here a little bit since I'm responsible for part of the research and writing of some of the articles you're reading on BestForMyFeet.com. I hope you'll find our content helpful and enjoyable! See you around, thanks for reading!