My first pair of Blunnies. I've heard this Australian brand is a top work boot brand and that they make super comfortable slip-on work boots.
So I decided to buy a pair and try them out. I'll leave you a link to the review of these Blundstone BL990 work boots if you want to check it out. In this article, we'll talk only about what's inside this work boot.
About the boot
| | |
| --- | --- |
| Brand | Blundstone |
| Model | BL 990 |
| Shaft height | 6″ |
| Heel height | 1.99 inches |
| Color | Black |
| Toe cap | Steel toe cap |
| Upper | Leather |
| Sole construction | Cemented sole |
| Price | Check on Amazon |
If you prefer, you can watch it on YouTube
How the boot was used
Some of you might know me but if it's the first time reading my stuff, I'm a construction worker.
So that's the type of environment the boots were used in. The site I was working on whilst I was wearing these boots was a mix of concrete surfaces, tarmac, and other parts that were muddy with open trenches and all that good stuff.
Working on big construction sites I'm required to wear steel toe work boots (or any safety toe boots for that matter) and that's why I went for this model of Blunnies.
There were other models with a steel toe cap but I liked the very rugged lugs on these bad boys and also the anti-scuff rubber reinforcement on the top of the toe cap.
How long it lasted
This is one of the aspects I can't comment on since I don't wear the boots until they break. I usually wear them for 6 months to a year and if they don't break, I just go ahead and cut them in half.
This will allow me to learn more about the boot and move on and buy another boot and do more testing.
If I'd have to give you an estimate based on my experience wearing these boots on a construction site, I'd say they will last at least 14-18 months before they break. Remember, this is an estimate, and it's based on wearing them whilst doing heavy-duty work.
If you work in a warehouse for example they probably last much longer than that.
Let's start with the soles of these Blundstone work boots
1. The outsole
The outsoles on these Blunnies are made of rubber. These soles will provide you with short-term resistance to melting so it's safe for those of you working on hot surfaces (roofers, road maintenance, etc). Just be careful though, if temperatures are higher than 572 F the soles will start to melt.
The outsole also comes with some deep lugs which makes them great for traction especially when working outdoors and also have a good grip on slippery surfaces.
One thing I personally didn't like about these deep lugs is that once I was out of the mud onto flat and clean surfaces, the areas between the lugs were filled with that mud making the boot heavier.
Not to mention the cleaner on the site I was working on was not happy at all with me bringing all that mud into the canteen area. Keep that in mind if you want to buy these Blundstone work boots.
I took some measurements of the soles in case they might be of any help to you.
| | |
| --- | --- |
| Part being measured | Data |
| Thickness | ~ 0.17 inches |
| Width – heel area | ~ 3.68 inches |
| Width – arch area | ~3.47 inches |
| Width – foot ball area | ~ 4.47 inches |
| Arch height | ~ 1.43 inches |
| Lugs depth | ~ 0.22 inches |
2. The midsole
The midsole in these boots it's made with a technology called XRD which absorbs 90% of the impact caused by walking. So every time you take a step this material absorbs the shocks and helps put less pressure on your joints. This should help have less achy feet, back, and knees.
It looks and feels very similar to the midsoles I've seen that are made out of PU (polyurethane) like the one on my DeWalt Newark work boots when I've cut it in half.
The PU midsole seems a bit softer than that XRD so it's comfier but the XRD might last longer than PU, especially if you're a heavy dude or dudette.
Both of them were really comfortable for me anyway.
Here are a few measurements that might helpful to you
| | |
| --- | --- |
| Part being measured | Data |
| Thickness – heel area | ~ 1 inch |
| Thickness – arch area | no material in the arch |
| Thickness – forefoot area | ~ 0.37 inches |
3. Insole
The boots come with a removable insole which is always great since each one of us needs something different when it comes to insoles.
So if you don't like the one that comes with this boot, you can simply remove it and put in there whatever you need or like.
The insole doesn't have that much arch support. Usually, I'd change this insole straight away since I like insoles with higher arch support but in this particular boot, I didn't need to do that.
That's because the boot already comes with a high arch built-in which is much higher than usual and adding a footbed with a high arch would've made it so uncomfortable to wear at work.
So keep that in mind. If you want to wear these Blundstone boots with a particular insole. Make sure the arch is not too high. otherwise, you'll experience a lot of pain and discomfort in the arch area.
Overall, the insole that comes with the boot is a very comfortable insole. It's made out of polyurethane which provides that spongy feeling and it has a little Poron pad at the forefoot.
I took a few measurements of the insole that might be helpful to you…
| | |
| --- | --- |
| Part being measured | Data |
| Heel area | 0.43 inches thick |
| Forefoot area | 0.29 inches thick (including the Poron pad) |
| Arch height | 0.87 inches high |
| Width – Heel area | ~3.03 inches |
| Width – Arch area | ~3.43 inches |
| Width – Foot ball area | ~3.84 inches |
4. Construction type
These boots are put together using the direct attach method (cemented sole construction). Some people say this type of boot construction is less durable than others.
Personally didn't have any issues here. The adhesives used in the construction of these boots are very strong and will hold very well. The only downside is that you won't be able to resole the boot.
5. Does it have a shank?
Yes, it does come with a shank. According to the Blundstone USA website, the shank it's made out of steel but the shank in my boots seems like it's made out of plastic.
It didn't make any difference to me wearing the boots but it was interesting to see the discrepancy between the sale's page and what actually goes on the product.
6. Heel
I know some of you might be interested to know a bit more about the heel so I took a few measurements in the hope that they might be helpful to you in any way…
| | |
| --- | --- |
| Part being measured | Data |
| Just the heel (no footbed, no insole) | 1.25 inches |
| Heel & footbed | 1.46 inches |
| Heel + Footbed + Insole | 1.99 inches |
7. Arch support
These boots have one of the highest arches I've ever seen in a pair of work boots (excluding logger work boots and linemen work boots which we know have really high arches).
Some of you might like it, some won't.
To me was comfortable and I didn't have any issues wearing these boots on a mix of surfaces. Sometimes I was on rough terrain, a bit of mud, and soft ground, but mostly I was working on unpolished concrete and tarmac surfaces.
A piece of advice though …
Just like I said above in the insole section, do not wear high arch insoles when you're wearing these work boots. It will be very uncomfortable.
As you can see the arch in these boots is already very high so look for a more flat insole instead or an insole with a low arch.
8. Puncture resistant
There's nothing in the soles of these Blundstone work boots that makes them puncture-resistant. I work in construction and I step all the time on nails, screws, sharp stones, and other items that could penetrate the sole of the boots.
Personally, I didn't have issues whilst wearing the boots on-site walking on nails and screws or sharp stones.
But if you're looking for work boots that provide puncture resistance it's good to know that these Blundstones don't come with the puncture resistance feature.
The upper of the Blundstone 990
1. The material of the upper
The upper of these BLundstones 990 boots is made with 2.5mm thick leather. These boots are not waterproof work boots but Blundstones uses premium leather that's treated to provide extra water resistance.
You could make the boots waterproof by applying a few products to the leather but as we all know, if the boot doesn't have a waterproof membrane it won't be really waterproof.
2. Lining
These boots are not lined so they can make a good pair of summer work boots since your feet won't sweat as much as if the boot comes with some kind of lining.
The only thing you'll find in this boot that you could consider lining is this piece of fabric that sits at the front of the boot.
3. Toe cap
There's not much to say here about this other than the fact that these Blundstones do come with a steel toe cap so if you work in construction or any other industry that requires a safety steel toe cap boot then these are great.
Here are some measurements I took about the toe cap:
| | |
| --- | --- |
| Part being measured | Data |
| Width | ~ 3.20 inches |
| Depth | ~ 2.24 inches |
| Height | ~ 1.95 inches |
| Thickness | ~ 0.10 inches |
4. Anti-scuff cap reinforcement
This is a good feature in a work boot. Especially for those of you that need to crawl, crouch or kneel a lot.
Think of electricians, plumbers, mechanics, etc. I personally use the toe cap to rest materials whilst we're getting ready for a particular task.
For example, when I was working with the glazing crew I would often rest a piece of a small glass on my toe cap whilst the boys were getting ready the place where the glass would go.
One think I was curious about was if there's leather going under this bump cap or the leather ends exactly where the bump cap starts.
Now that I've cut in half these Blundstone boots I can tell you the leather stops where the bump starts.
I have no idea why Blundstone choosen not to put leather under the bump cap as well. Having leather all the way through will definatelly extend the life of the boot even more.
To me just having the TPU bump will help for sure since TPU is harder to scrach and damage than leather but if the bump gets damaged, there's nothing under that bump to keep the boot water tight.
If you'd have leather all the way through, you'll have to ut these boots through a lot of heavy duty work to damage the TPU bump AND the leather.
My 2 cents anyway…
4. Insulation
As we've seen above, there's no lining or padding or insulation in these work boots. I've brought these boots a few times at work in winter and my feet got really cold of course.
Even if you have some good wool socks, you'll still feel really cold in these boots so avoid buying them if you work in cold in winter time. (here are some good winter work boots)
Last words
There you have it, I've cut my pair of Blundstone 990 work boots in half so we can all learn more about these boots.
I've also created this article in order to help you understand more about this work boot and make an educated purchase if you decide to buy these work boots.
Personally I liked these work boots quite a lot, easy to put on and take off, comfortable on most surfaces I've worked on, good looking and rugged enough for construction.
Let me know if you have questions, corrections, suggestions or opinions related to what I've talked about above.
I hope this was helpful to you in any way.
---
Team Members Working On This Page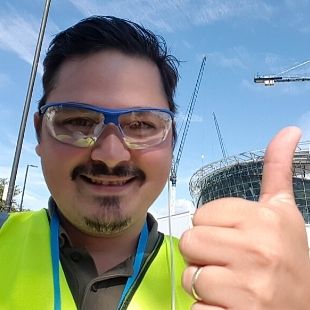 Construction Professional, driver, crane operator, cleaner, head chef … these are just some of the jobs I did in the past. Working in all these different environments taught me that having good footwear to protect your feet from different dangers at work IS PARAMOUNT for any worker! On this website, I aim to share all my knowledge and personal experience in dealing with different footwear and foot care issues, and hopefully, you can get something out of it. Enjoy!
Love technology, going to the beach, taking care of my body, and writing (amongst other things). You'll see my face around here a little bit since I'm responsible for part of the research and writing of some of the articles you're reading on BestForMyFeet.com. I hope you'll find our content helpful and enjoyable! See you around, thanks for reading!