After hearing so many people talking about these boots, I end up buying them to see how good or bad they are. If you want to learn more about them, here's a link to my full review of these Thorogood moc toe (steel toe) work boots.
I'm in the construction industry so I need safety toe cap work boots, but if you're working in a lighter environment, there's another version of this boot that comes with a plain, non-safety toe box and you can find it here.
Talking about plain toe work boots, Rose Anvil cut a pair of Thorogood boots on his channel as well and the boot he cut in half had a soft toe box. When I've asked people on Reddit and other places what they would like to know about these Thorogood steel toe boots when I'll cut them in half, many left comments like this one:
Save your money bro, there are people on YouTube already doing this…
Of course, the person was referring to Rose Anvil's video but as I explain in my video, I went through Rose Anvil's video playlist and I couldn't find a video of him cutting a steel toe work boot in half. The boots he cut in half were the soft-toe version of my boot, so practically, they are two different boots (or not?)
Let's find out if that's the case…
About the boot
| | |
| --- | --- |
| Brand | Thorogood |
| Model | 804-4200 |
| Shaft height | 5.50-inch from that arch |
| Heel height | 0.89 inch |
| Color | Tobacco |
| Toe cap | Steel toe cap |
| Upper | Tumbled leather |
| Sole construction | Goodyear welt |
| Price | Check on Amazon |
If you prefer, you can watch it on YouTube
How the boot was used
As I said above, I'm a construction worker and at the time of writing this article, I'm doing a lot of machinery work. So I might operate a telescopic forklift or maybe a mini crane.
Sometimes I walk through a lot of mud to get to the machine or out of it. On the site I'm currently on there's not a lot of mud unless it's raining so most of the time I walk on unpolished concrete floors and tarmac.
Other times I need to walk over the rebar and wet concrete but I avoided it as much as possible as the wet concrete "eats" through leather very fast and dry it leading to potential cracking of the leather.
How long it lasted
This is one of the things I can't comment on since I'm not able to wear them thill they break. Most of the time is because I want to try and wear as many work boots as possible per year so I can give you first-hand experience with a particular work boot.
In this case, I had to stop wearing these boots due to them being awfully tight for me (even though it was the right size and width.
Based on what other Thorogood boots owners have said and depending on what industry you're working in, of course, the boots can last anywhere from 1.5-2 years in construction for example and up to 3-4 years if you work as a warehouse picker for example.
That's before resolling them. The good thing about this boot is that you don't have to replace it if the sole wears out, you can simply resole the boot thanks to its Goodyear welt sole construction and keep enjoying the boot for a few more years.
It will last longer if you work mostly indoors. Maybe as an electrician or mechanic or something along these lines.
Let's start with the soles of these Thorogood work boots
1. The outsole
I was wondering what the outsole looks like once cut in half because I've always heard people talking about how soft it was and I was curious to see if it's made out of PU (polyurethane) or rubber.
As we all know the product descriptions sometimes differ from store to store which creates a bit of confusion.
This outsole is made out of Polyurethane (PU) which makes it a bit more cushioning than rubber outsoles. That's why many people working on their feet all day will recommend these wedge work boots.
They're able to absorb shocks caused by walking better than rubber. This will put less stress on your joints, ankle, knees, and back.
I was expecting to see some air bubbles in these outsoles like the Vibram Christy outsoles or the soles we've seen on my DeWalt Newark boots when I cut them in half.
I don't know if you can appreciate it in the image but the black sole (DeWalt boot) looks more spongy than the other sole (Thorogood boot) and it's more comfortable if what you're looking for is a really cushioned footbed.
I guess it depends on the density of the material since I couldn't see any air bubbles in my Thorogood soles. It's a bit harder than other wedge sole boots which in itself comes with some pros and cons.
One of the pros is that it will provide a lot more support under your feet especially when you work outdoors or on uneven ground. And one of the cons is that it won't be as cushioning as other soles out there that are a bit softer.
Anyway, the good thing is that this version of the sole which Thorogood calls MaxWear Wedge Sole is 20%-30% more durable than other types of soles (according to Weinbrenner's website (which is the company that makes Thorogood boots).
2. The midsole
Many of the boots I've had lately come with a PU midsole, in some cases EVA as well. I like both materials for the comfort and cushion they provide.
This Thorogood boot comes with a cork filling though. Some argue that this type of material is the best for a midsole since will mold to the shape of your feet over time making them very comfortable.
I don't you but in my experience, Polyurethane midsoles do this as well. But some people prefer the cork. Personally, I don't have any preference, to be honest.
Another thing I've heard people saying about cork midsoles is that absorb moisture much better than any other material which of course is very important. The presence of moisture in your work boots is asking for trouble.
3. The insole
I liked the insoles that came with my Thorogood boots. They're not the best insoles if what you're looking for is support in the arches.
Let's say you suffer from plantar fasciitis, these insoles are not good for you since they're too soft. You might want to change them with something like PowerStep Original or EasyFeet insoles. (also have a look at these good work boots for plantar fasciitis)
Both have more rigid arch support than the Thorogood original insoles and will help alleviate the pain in your heels.
On the other hand, if you have high arches or you simply like the comfort of a cushioning insole then the standard Thorogood insoles are going to be good for you.
I'll leave you below the arch height in the original insoles in case this might be helpful for you to know if there's enough arch support or not.
In any case, the best advice I can give you is to ALWAYS have a few pairs of insoles at hand so you can swap weekly and avoid stinky feet and prevent Athlete's foot and other foot-related issues. (additionally having a good pair of breathable work boots will help avoid bacteria and fungus developing in your boots).
4. The footbed
This boot has a really nice and comfy Poron footbed. This Poron is made out of Polyurethane material which is really soft and foamy and will provide another level of comfort for those of you standing all day in your line of work.
Another thing that makes Poron a great material to have in your boot is that it offers great recovery from compression compared to other types of material used in footwear footbeds that over a very short period of time compress and remain like that which makes the boot uncomfortable.
A great pro is that the Poron on this foot is for the whole length of the footbed.
Usually, manufacturers only place a little pad under the forefoot area and another little bit under the heel. But these Thorogood boots cover the whole area under your foot with Poron. Nice!
5. Sole construction
As you probably already know, some of the best Thorogood work boots are built using the Goodyear welt sole construction. And this one is no different.
After watching Weston's video in which he says that the second line of stitches on the welt is a fake stitch I had to look at mine as well and see if there's any difference there since my boots are considered safety boots. And when you think safety boots you usually think rugged boots, right?
So I thought that both stitches in my boot's welt had the purpose of making them more durable…but after cutting my Thorogood boot in half I've realized that one of the stitches is for decoration purposes as well. Just like it was the case with Rose Anvil's boot.
The welt is not leather, it's made of some kind of plastic material, I think it could be TPU. Some would say these are less durable than leather since they tend to crack and split faster than leather.
Even though this is true, I never had an issue where the welt of the boots cracked to the point of making the boot unwearable. In my work boots, the first thing that wears out the majority of the time is the outsole.
6. Does it have a shank?
Yes, these safety Thorogood boots come with a shank. It's a fiberglass shank to be more specific. I don't know if it helps to have this shank in there since the sole isn't that flexible anyway.
So by not being a flexible outsole, the boot won't bend at the arch area in order to cause you pain or discomfort. But hey, I guess it's a good feature that adds up to the overall quality of the boot.
7. Heel
This boot doesn't come with a heeled sole. But even though it doesn't come with a heel it's not necessarily a "no drop sole" as in completely flat. The boot sits higher at the heel area.
This will help elevate your body a little bit just to make it comfortable to wear for a whole day and also to put less pressure on the knees, hips, and back specifically. The heel is about 3.5cm or 1.37in high in case you want to know.
8. Arch support
There's minimum arch support in this boot. As I said above it's not a completely flat sole so it has a little bit of an arch.
It's not enough though if you have high arches but that's easy to fix nowadays by just getting an insole.
9. Puncture-resistant
Thorogood doesn't claim these boots to be anti-puncture but I know many people ask this type of question and I thought it might help someone by including it here. There's nothing in the sole of these boots that makes them puncture-resistant.
The upper of these Thorogood boots
1. Material of the upper
The upper of these Thorogood boots is made with a very soft full-grain leather. The leather is soft because of a process the leather goes through called "tumbling".
If you've never seen that before, imagine a huge washing machine where you'd put a lot of leather into it and then spin it, and spin it, and spin it until it becomes soft.
That's the process through which tumbled leather goes through in these massive industrial drums.
The good thing about this type of leather is that you don't need to suffer to break in your brand new leather work boots. The boot was comfortable and ready to go as soon as I took them out of the box.
The only con I see about this type of leather is that the leather is not as strong as in its original form so it's easier to puncture, scuff, or damage the leather. It's a matter of comfort vs durability.
2. Waterproofing features and lining
There's no lining or any waterproof membrane in these boots so if you're looking for a good waterproof work boot, this ain't it. Although you can make them water repellent to at least delay the water penetrating the leather but don't buy these if you work a lot in wet conditions.
There's a bit of lining (if you can consider it lining) in the toe box. Rose Anvil mentioned in his video that the lining started to come apart because the big toe was rubbing against the lining. You won't that issue though with the steel toe cap version of the boot.
That's because your toes will be inside the steel toe cap and it won't allow your toes to rub against the lining.
3. Are they insulated?
Also, there's no insulation in these Thorogood boots so unless you have some good wool socks to keep your feet warm, you might want to look into getting some insulated work boots for the winter season.
4. The toe box
These Thorogood boots are the famous American Heritage moc toe work boots.
If you're new to work boots and you're wondering what's the point of a moc toe in work boots, the answer is simple …
It's just a design choice. It's a style characteristic and it's not a feature therefore it adds no functionality.
As I've mentioned a few times there is a soft toe version of these boots and also a safety version of them.
The one we're talking about today, the 804-4200 model, comes with a steel toe cap so if you work in construction or any other job where you have to wear safety toe boots, these are a good option.
Personally, I didn't have any issues with the toe cap being too tight or rubbing against my feet in any way. I'll leave you below a couple of measurements in case they mean anything to you. So the toe cap is 31.6mm high (1.25inch) and 73.9mm wide (2.9 inches).
5. Heel counter
The heel counter is made out of leather which is better than fabric since it will last longer before it comes all apart and make the boot uncomfortable or even create blisters.
Behind the leather heel counter, there's another piece of some kind of material (plastic or just a piece of cupboard with adhesives) that will help the boot maintain its shape. That's helpful, especially for this boot since the leather it's so soft.
Last words (did I miss anything?)
It was pretty exciting to cut this Thorogood boot in half and learn about how such a popular work boot is made and what material goes into it.
I hope it helped you in any way and if I missed anything, please drop me a comment below and I'll get to it asap.
Oh, btw, my steel toe Thorogood work boots and Rose Anvil's soft toe Thorogood boots are basically the exact boot with the exception of the toe cap.
At least, Thorogood didn't charge me 80 bucks extra simply because they've slapped a steel toe cap on a "regular" Thorogood boot and charged me a premium just because now the boot is a safety-rated boot. So kudos to Thorogood for being a fair company,
---
Team Members Working On This Page
Love technology, going to the beach, taking care of my body, and writing (amongst other things). You'll see my face around here a little bit since I'm responsible for part of the research and writing of some of the articles you're reading on BestForMyFeet.com. I hope you'll find our content helpful and enjoyable! See you around, thanks for reading!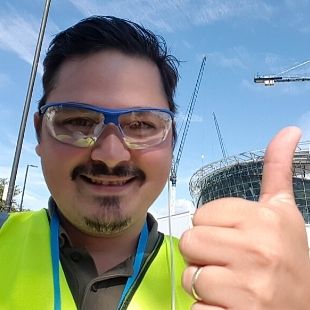 Construction Professional, driver, crane operator, cleaner, head chef … these are just some of the jobs I did in the past. Working in all these different environments taught me that having good footwear to protect your feet from different dangers at work IS PARAMOUNT for any worker! On this website, I aim to share all my knowledge and personal experience in dealing with different footwear and foot care issues, and hopefully, you can get something out of it. Enjoy!